"Marketers need to build digital relationships and reputation before closing a sale."….Chris Brogan.
Well, if you are into online business, then this is the most important piece of advice you need to remember. In today's world where online marketplace is over crowded with blogs and websites competing one another for customers' attention, only long lasting and impressionable relationship with your buyers can guarantee your success. And, how to create that? Through online marketing of course.
As a professional marketer or blogger, your mailing list is quite literally the source of your bread and butter. Your success depends mostly on developing a large mailing list and creating effective marketing communication. To carry out this task effectively, you would require an online marketing software of course. But there are so many online marketing software in the market today, that choosing the right one can be quite confusing. To make this process a little easier for you, today we'll be comparing two of the leading email marketing software, GetResponse Vs Mad Mimi.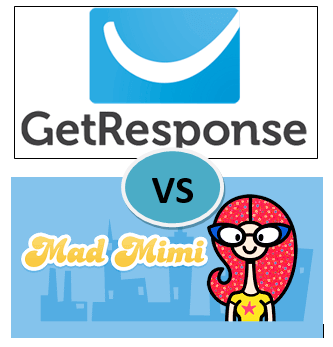 Both the software are quite well-known and have a considerable customer base. So, we are going to do a grid by grid comparison of the two, to give you a clearer and unbiased picture.
Let's start then!
GetResponse Va Mad Mimi: Appearance and overall presentation
Appearance of your marketing emails is one of the major factors to consider. If your customer is not attracted, he'll not visit your site, and if he doesn't visit the site you loose on your sales. You surely do not want that to happen.
GetResponse claims to the easiest online marketing softer available. The software offers over 500 newsletter templates and over 1000 free images to you to work on. So, even if you do not have any IT support, you will be able to create a professional looking email campaign without a sweat. The software offers an easy drag and drop editing platform where you can add designing elements such as texts, pictures, quotes, charts etc to enhance your communication. Another awesome feature that GetResponse offers is their 'responsive image designing'. This feature enables your emails to adjust itself according to the viewing platform i.e. computer screen, tablet or smartphone. So, no matter where your customer is reading your mail, it'll look perfect nonetheless.
Mad Mini definitely offers a fresh outlook towards designing your e-mails. The interface is chic and stylish and you can make unique campaigns by customizing the themes. You can also save the templates you create for future use or reference. Or if you want you can clone one template and edit the text to create a fresh email. While no doubt it is quite fresh and attractive, it can be a little difficult for someone new to the trade. We suggestt go ahead with it only if you have IT help or a designer at your call.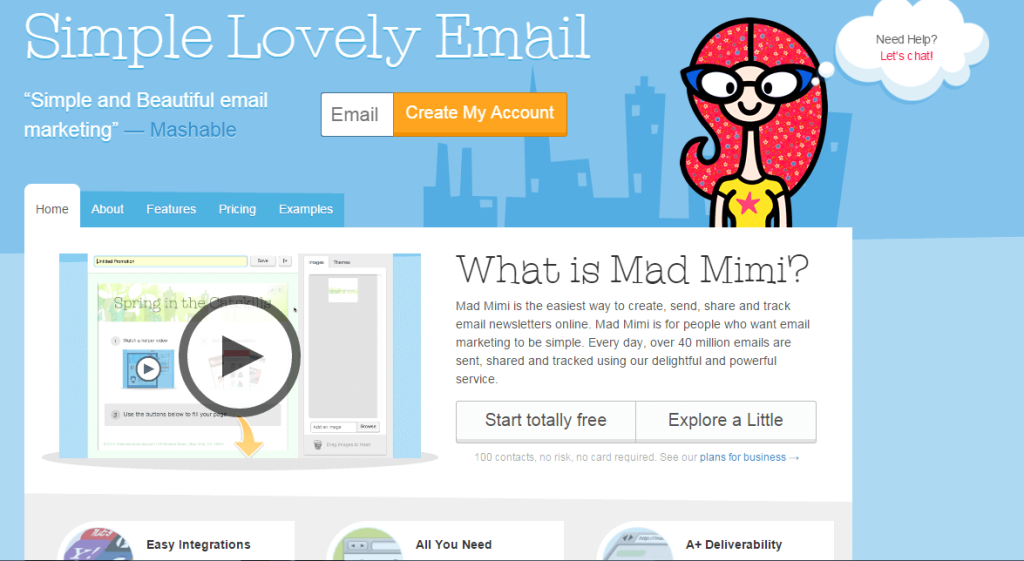 GetResponse Vs Mad Mimi: Landing Page
Now, Landing Page is another important aspect of your marketing strategy. A great looking and completely responsive Landing Page would help you grab the maximum number of subscribers. To be honest, we cannotemphasizee the importance of creating the best Landing Page possible for your site.
While most of the email marketing software do not include a Landing Page creator, GetResponse do. And to be honest, it is one of the best Landing Page creators in the market today. The software does not only provide you with a basic Landing Page creator facility but offers advanced features such as built-in web forms, easy photo editor, A/B testing, Google Analytics Integration etc. And you can use over 100 free templates to create your Landing Page. The editing interface is again simple drag and drop, so you can create the most effective and responsive Landing Page with no HTML coding. Cheers, to the novice marketers!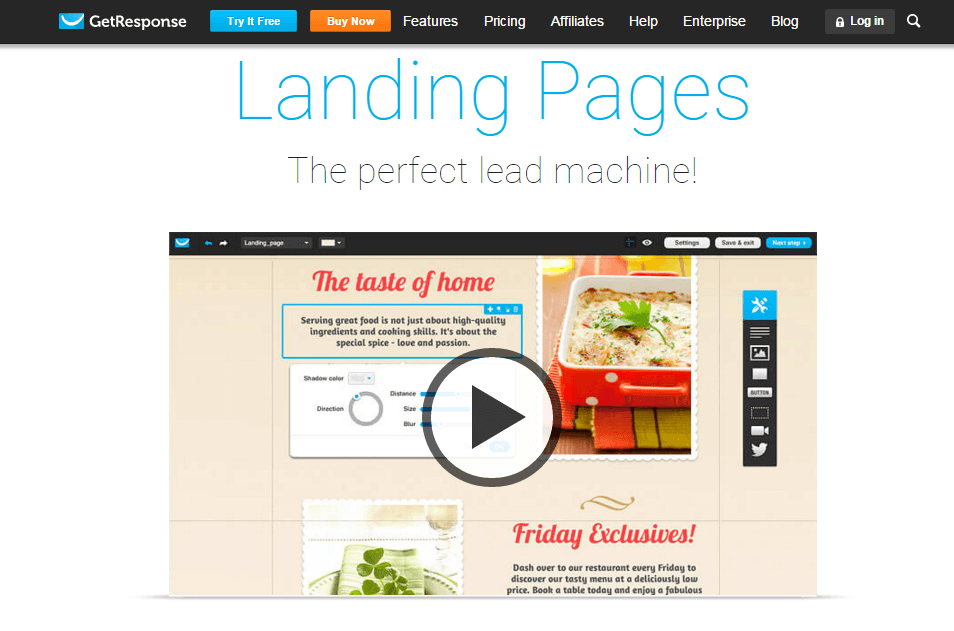 As for Mad Mimi, just like most other email marketing software, they do not provide any Landing Page creator. However, the software provides a pretty good list management feature. So, if you are using Mad Mimi be prepared to invest in a Landing Page software as well.
GetResponse Vs Mad Mimi: Delivery of emails and data security
Once you create a powerful e-mail marketing campaign your goal is to deliver it to your subscribers. Now, to make it most effective you'll have send out relevant information at a proper time and also in a secure way.
Here, GetResponse scores a brownie point for sure. The software employs the advanced Autoresponders 2.0 that can gather email intelligence on your customer and deliver him/her the relevant communication. This certainly does enhance the number of clicks and thus the number of sales.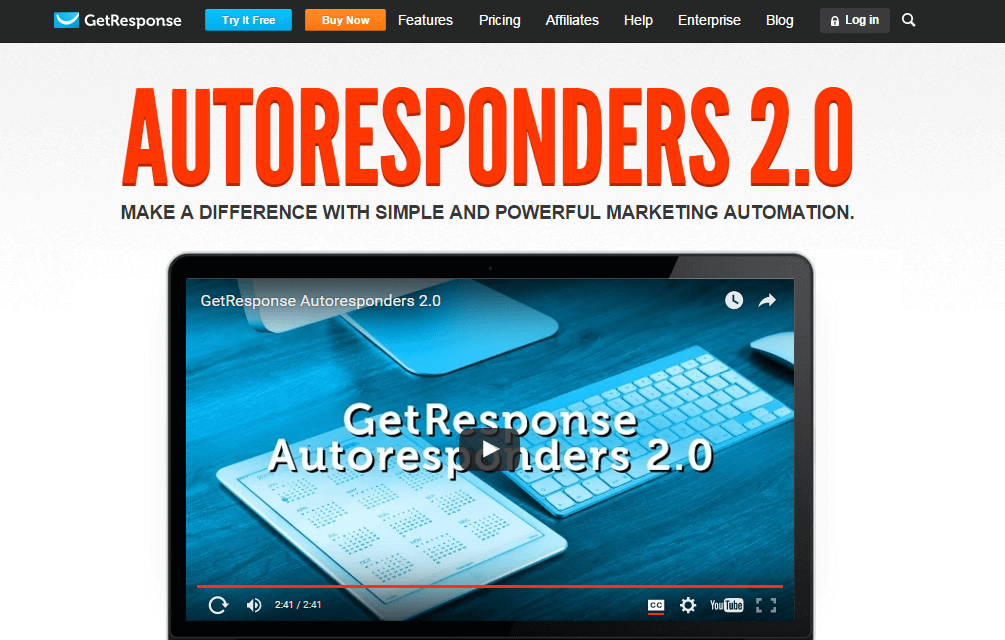 On the other hand though Mad Mimi does not offer any Autoresponder technology, they have a quite top-notch data security feature in place. Using SSL security system for all their emails, the software protects your contacts from any kind of tampering or forgery.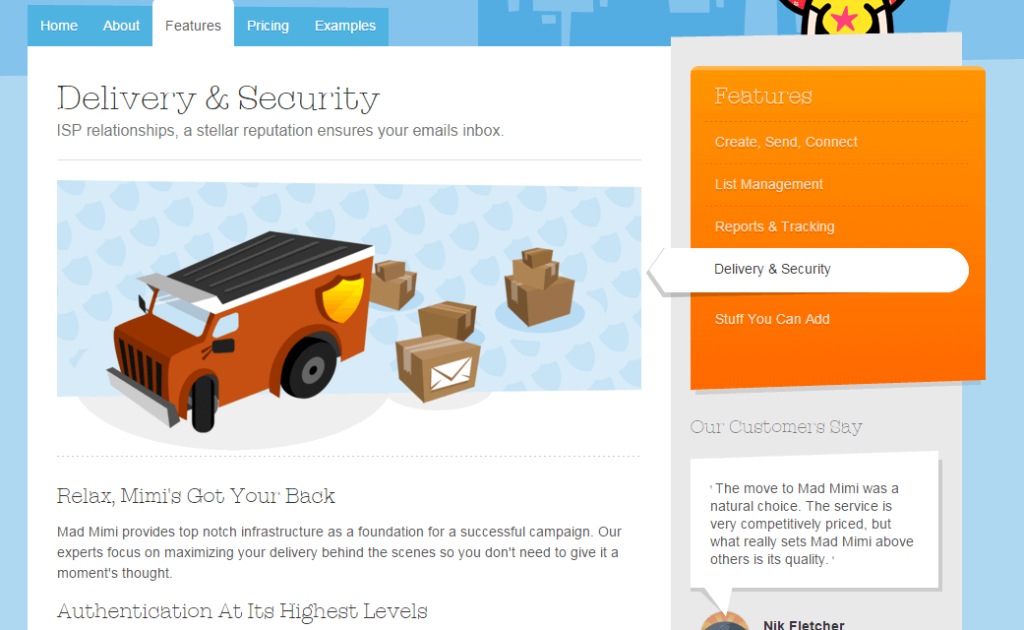 GetResponse Vs Mad Mimi: Pricing & Free Trail
At the end it all comes down to Dollars and Cents, is it not? When you are buying any service, you want to get the best service at the best price. But here you have a better option. You can try it for free. Both the software offers one month free trial period during which you can use all their features and decide on whether to invest in the software or not.
As for the pricing plans, we find the GetResponse Pricing Plans to be way competitive and flexible than Mad Mimi's. You can take a look at both the pricing plans and decide on your own though.
GetResponse Pricing Plans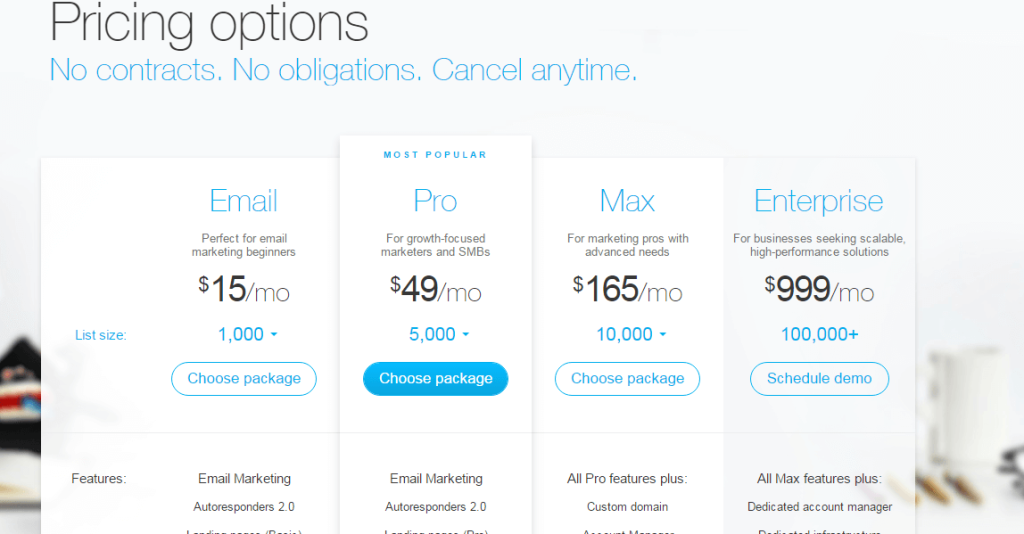 Mad Mimi Pricing Plans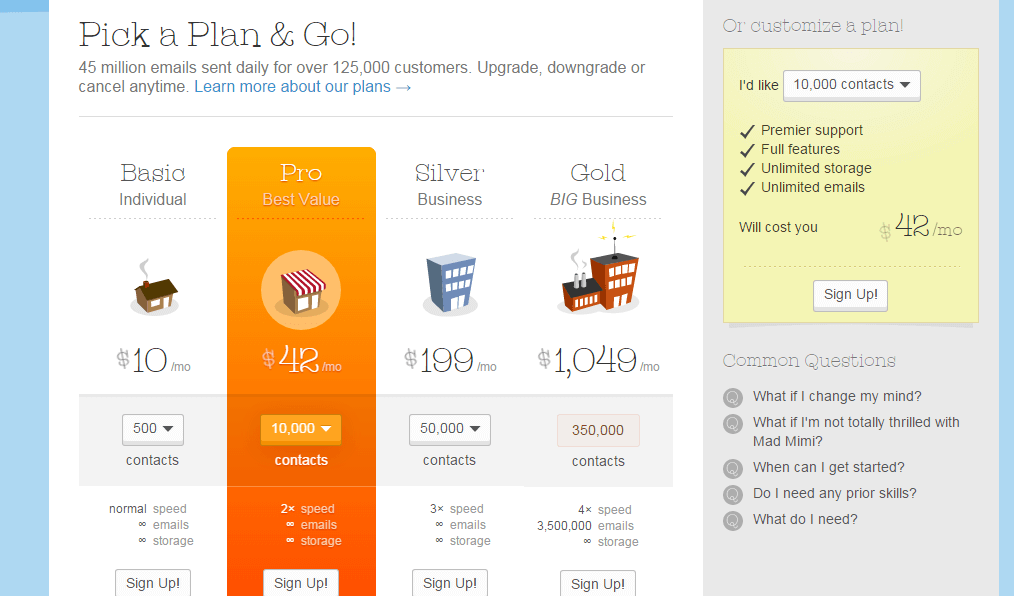 GetResponse Vs Mad Mimi: Customer Service
GetResponse provides 24*7 customer services through telephone, email and live chat. But the USP of the software is their self explaining tutorial materials provided to the customers. The software offers regular webinar, conferences and also provides tutorial materials on its website to constantly updating their customers about the latest email marketing tricks and tips.
Mad Mimi provides customer support through live chat, email and telephonic services as well.
The Champion
Well, we have analysed the most important aspects of both the software. And we find GetResponse to be the winner for the following reasons:
No knowledge required editing interface
Great Landing Page Creator. No need to spend extra bucks on another software
AutoResponder 2.0 is the coolest feature that can gives you total customer intelligence
The pricing is way competitive
The tutorial materials are definitely an add on
Well, that's what our verdict is. I'm certainly going for GetResponse, what would you prefer?
What is the email marketing software you are using? Do let us know in the comment section.