Best File Transfer Apps for Android: In this 21st century, things run a speed faster than a rocket nowadays. I guess, you all agree with my point of view that sharing files from one device to another is quite painstaking and time-consuming. How can then one spend their precious time in transferring files to the person right next to him.
There are various apps that not only allow you to transfer data but also, create the replica of your file to keep it safe and secure in an emergency. These apps are easily available on the Google PlayStore and other application stores.
Therefore, downloading these apps is not difficult at all. Now what we have to see is which app is the best for your devices. There are a variety of ways to look at an application, but the best way to judge it is through its features.
So let's discuss the top 3 file transferring applications and its powerful features :-
Top 3 Best File Transfer Apps for Android
Lenovo's SHAREit especially designed and created for Android phones, is now one of the best application available for file transfer from one device to another. There is no doubt that SHAREit 4.0 works 200 times better and faster than Bluetooth.
SHAREit keeps the ability to share files like photos, videos, heavy documents, folders, contact list and much more. Lenovo has other applications too, for instance, REACH it, WRITEit, CLONEit and much more. They all practice the same features but with minor differences. You can download SHAREit for Android, iPhone & Mac PC, Windows phone & PC.XenderXender
2.

Xender
Xender is an excellent alternative to SHAREit or Bluetooth. Xender allows you to share files, documents, photos, videos, apps and games wirelessly. It has a very simple and easy to understand user interface. Works amazingly well on a limited device. It is only available for Android, Windows phone and iPhone devices.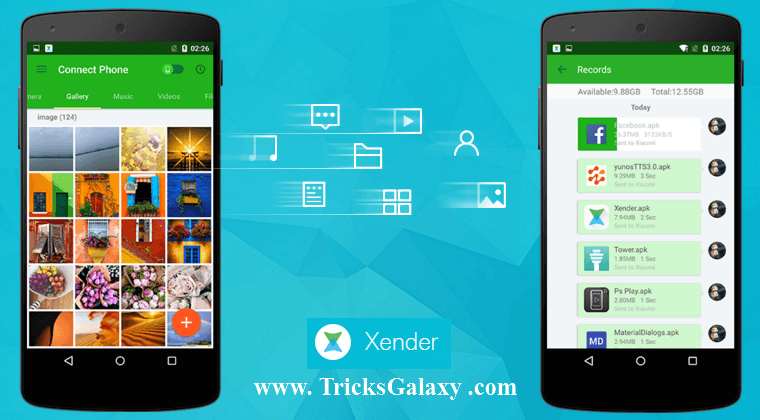 One of the reasons for Xender to be highly popular amongst its competitors is due of its easy to digest user interface and its record keeping techniques. It saves a copy of your file transferred so that can be used in the coming future.
Cshare is an application that allows you to share files like photos, Videos, apps, files, folders, and documents. It is quite old looking app but very simple to use. Though it works very well on devices, it is not known to many people due to its lack in features. Therefore, we have kept this app on number 3 for you. It is compatible with Android devices only.
Conclusion
These File Transfer Apps surely provide you all with unlimited data sharing option that too without any extra cables. Totally easy to use and simple to understand. I guess every mobile should have this application on their phones. They make your work easy and comfortable.