Undeniably, Android is the popular mobile operating system available right now. One of the prime reasons that made Android stand out from the rest is the availability of diverse applications itself.
You can find tons of impressive applications from official Google Play Store. Today, I am going to share a few useful and at the same time coolest Android apps with you.
All the applications you will read about here are handpicked by me. Without further ado, let's get into the core of this post.
Cool Android Apps List 2017: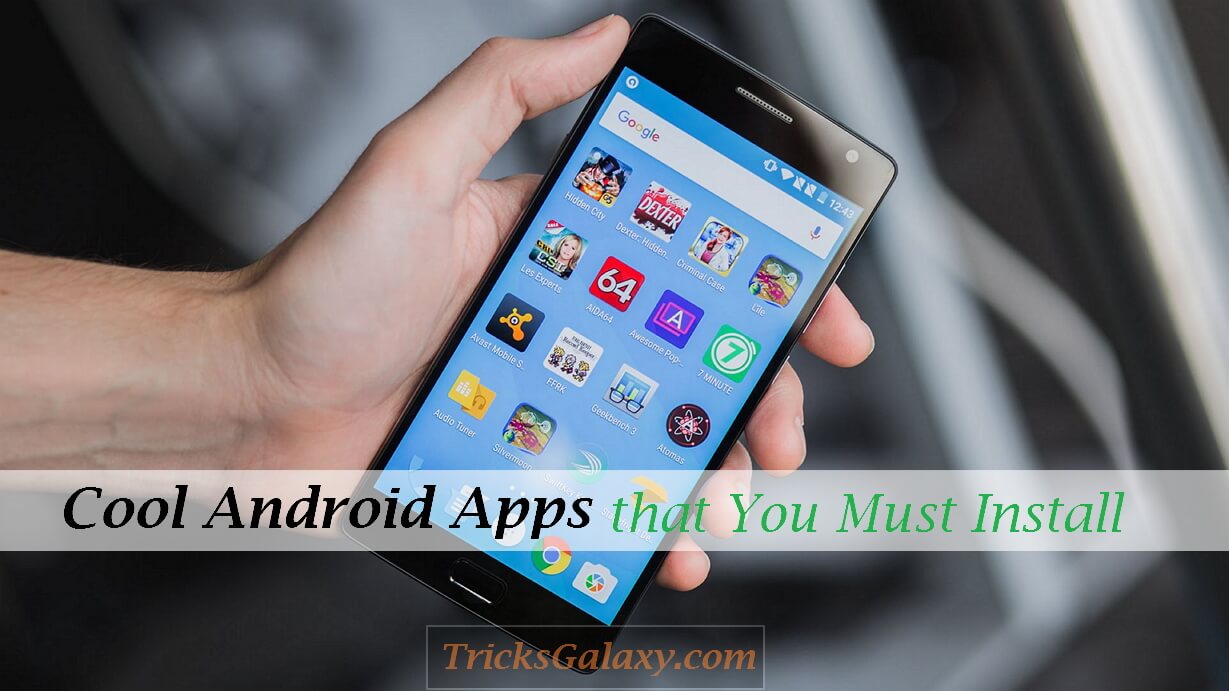 You can find the coolest apps for Android below.
#1

Pocket

Do you have a habit of reading online articles? Sometimes we run into interesting articles and we need to skip them due to lack of time. But it is never going to happen to you.

All you have to do is just install Pocket. Whenever you find a good article during a busy time, just add the same to Pocket. Then, you will be able to read it even if you are not online.
There is a Chrome extension available that extends the use to the desktop as well.
#2

Native Clipboard Manager

We deal with copy-paste a lot of time on our smartphones. When it comes to pasting a text after we copy another one is impossible on any platform, let alone on Android because the first item gets overwritten by the second.
But Native Clipboard Manager offers the perfect solution to this problem. You have to double-tap on the text field for pasting a text. Once you do so, it will present you a small portion with all the texts you have copied so far. Hence, the overwriting issue will never bother you.
#3

UC Mini

You face massive lagging when you operate with Google Chrome? That means you need another browser that uses very few system resources.

UC Mini is the best lightweight browser you can ever download. Can you guess the size of it?
You are wrong! It is only 1.7 MB!
The developers have integrated techniques to reduce the data usage as well. And, it shows minimal versions of websites for faster access.
#4

Goodreads

You might have heard about Goodreads. It is a community of book lovers where one can rata and review books.
If you are a person who loves reading books, you must install this app on your Android device. You can search for your Facebook friends and their engagements on this app like a walk in the park.
The barcode scanner helps you scan books onto your Goodreads shelf. They have got more than 35 million members and details of 100 million books as well.
#5

Hide Photos, Video-Hide it Pro

When I first installed this app, it was available as Audio Manager. Then the developer changed the name to Hide it Pro. Finally, the one I gave above.

Do you have files you don't want others to see? Then, Hide it Pro comes handy for you as it hides the files you specify. In order to fool others who open the app, they have multiple interfaces like audio controller and currency converter (fully functional). You can choose between both PIN and password based lock screens as well.
#6

Money Lover

Money managing is always a headache. No matter how much money you get, after a few days, you will painfully find out that every single penny is spent. It is a hazardous task to recall the spending.

Money Lover is a handy money manager app for Android, in which you can add your expenses and income. It has an innate feature of scanning your phones for messages from your bank. Based on such messages, it will create a data tree on the app as well.
#7

Poweramp Music Player

Everyone loves music. And, a smartphone user can't avoid using a music player app. Of course, there are many such applications available for Android including Google's own Play Music. Nevertheless, what I think to be the best is  .

It supports almost all the audio formats and playlist file types. The 10 band equalizer along with bass and surrounding sound support boost the listening experience. The app is a paid one but, you can avail a trial period.
#8

ZigZag

Here comes a lightweight game to kick off boredom in your leisure time. All you have to do is just controlling a ball through a narrow path in the zigzag direction.

A tap on the screen changes the direction of the ball. But the secret to the success remains the timing of the tap.
I have been using this along with Twist (from the same developer) for a while now. At first, you will find it difficult to control the ball in both the games. But with time, the app will turn out to be addictive for you.
#9

APK Extractor

Being an Android user, I hope you know what an APK file is. Simply, put is the raw content of an app.

Using an APK file of an app, you can install that particular one on your mobile. Google doesn't officially support APK files as it makes us directly install apps from Play Store. There are no inbuilt methods to extract APK from an installed app. But with APK extractor, you can do the same.
Wrapping Up
So, you have got nine coolest apps for Android now. Of course, there are tons of them that couldn't make it to this article. It is practically impossible for anyone to include all such apps into one blog post.
In case you still think I missed any pivotal app, feel free to use the comment section below to let me know about the same. And, I want your feedbacks on the applications I have shared as well. Hope you have liked these 9 Best Coolest Android Apps.