What the heck is TV remote control app? You should be thinking it after reading the title of this post. Aren't you? Do you know about IR Blaster app for Android? Probably not. Isn't it?
IR Blaster is a lesser known feature of Android device. It lets you do some amazing things, but the main highlight is that you can use it as a remote control for your TV.
Yep. That's right. You heard me. There are many apps for this purpose, but it's the most reliable TV remote app from others.
Let me tell you more IR Blaster app and why you should give it a try on your Android device. You're going to find every bit of information in this article. So, without any further ado let's scroll. Shall we?
What is TV Remote Control App?
You should get a brief idea about TV remote control for Android before learning about its usage. There aren't many Android smartphones IR blaster nowadays. Thus, you need to know about the best TV remote control apps to install on your phone currently. However, you can control your smart TV via your smartphone through Wi-Fi. But not many people have smart TV.
Many flagships Android smartphone excluded IR Blaster and that's quite unfortunate. No need to bother as you are going to discover top 10 TV remote control apps to use on your Android device at present.
What Can You Do with TV Remote Control App?
Remote is everywhere whether it's AC, TV, set-top box, camera or something else. We have connected our smartphone with an IR blaster recently. It wouldn't be bad to have a universal remote that you can control via your smartphone. Isn't it?
No need to look for your remote anywhere, and it's kind of swag too. Who doesn't want to access his/her TV by using an Android device? Hmph! You may have enough reason to try an IR blaster app. So, let's go to…
Top & Best Free TV Remote Control Apps:
You read about TV remote control apps and why you should use a TV remote control app till now. Now, let me show top 10 TV remote controls apps to use in 2017. Are you ready to explore? Alright. Let's begin. Shall we?
List of TV Remote Control Apps:–
#1

Smart IR Remote – AnyMote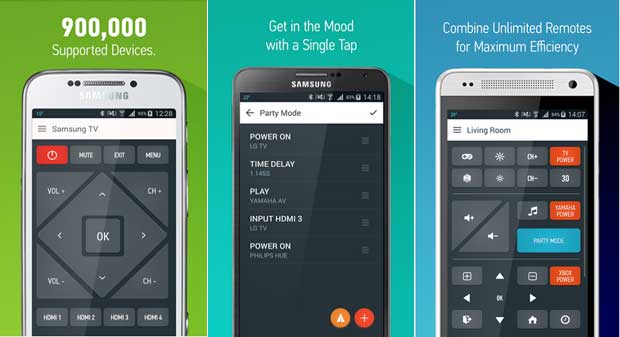 AnyMote Smart Remote is one of the best and most reliable IR remote apps available on the app store at present. Furthermore, it comes with a built-in IR frequencies for all of your devices such as TV, AC, Fridge, Fan, Set Top Box, etc. Anymote Smart Remote app has manual frequency feature too. It lets you catch signals from your regular remote through your smartphone.
Hence, you can use Anymote Smart Remote like a universal remote control. Also, it has standard customization feature along with Wi-Fi remote access.
#2

Easy Universal TV Remote
Easy Universal TV Remote is the first TV remote control app on Google Play which developed to make your smartphone or tablet a remote control device. It's easy to use, and it works same as your regular remote. You should give it a try if you are looking for a decent TV Remote control app.
#3

Peel Smart Remote TV
You can use Peel Smart Remote TV like TV Guide apart from remote control feature. Yep. That's tight. It's a bit different than any other TV remote apps for Android. It shows suggestion basted on your previous channels by default.
You wouldn't go to your regular remote anytime soon. I told you that it works as a TV guide, and so no need to switch channels. You'll see all of your favorite shows on your Android device.
#4

Sure Universal TV Remote
Sure Universal Remote comes next in the list of best TV remote app for Android in 2018.  Sure Universal Remote is another great IR Remote app for Android and is a good alternative to ANymote smart remote. You can use it hassle-free and the interface is very user-friendly. Also, you will get dual band remote control IR and Wi-Fi by using this IR blaster app.
#5

LG TV Remote Control App
LG TV Remote is exclusively for LG. It isn't well-known as Samsung or Sony, LG TVs. But still, it works quite well. You should try this app if you own LG TV. It allows you to control pointer (on the screen) on your smart TV.
#6

ASmart Remote IR
Are you facing a problem to manage Anymote Smart Remote app? Well. It could bother sometimes due to its complex controls. Thus, you should try ASmart Remote IR mobile app.
It's compatible with top brands, and you can use it on DLSR cameras apart from TV, set-top box and AC.
You can make separate rooms with remote sets and sync between then by using tabs for smooth control. You can download this remote for free. You would see the manual option like AnyMote on this app.
#7

Galaxy Universal Remote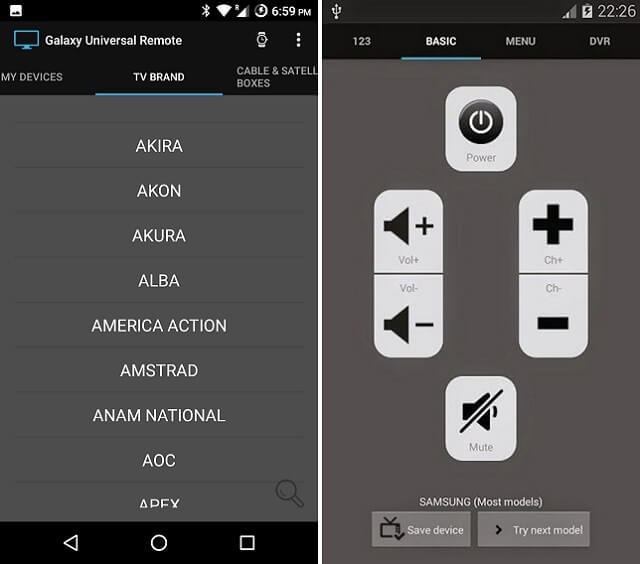 Galaxy Universal Remote is another exceptional TV remote control app for smartphone and tablet users. It lets you control your TV, Set-top box, AC, DLSR camera, sound system, amplifier, DVD player, Blu-ray player, PS4, Xbox and more. Don't think. Just try it.
#8

Unified TV Remote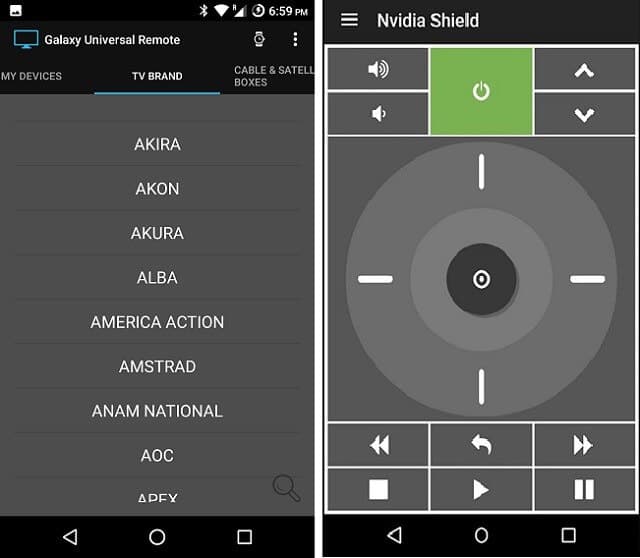 Unified Remote comes next in the list of best TV remote control apps for Android. It's compatible with PC, Mac, and Linux. Plus, you'll get loads of feature to access your TV, set-top box, AC etc. on this app.
You can control your computer via Unified Remote. Yeah! That's true. It lets you use mouse and keyboard for clicking and typing. You'll get HTPC setups, Raspberry Pi devices, and Arduino Yun devices. Unified Remote offers both free and premium version.
#9 

Super TV Remote Control
Super TV Remote Control is another excellent TV remote app for Android users. It's compatible with many popular TV brands. You'll notice an on/off button along with the mute button. Furthermore, it has a simple and user-friendly interface, quick navigation and easy setup features.
#10

Twinone IR Remote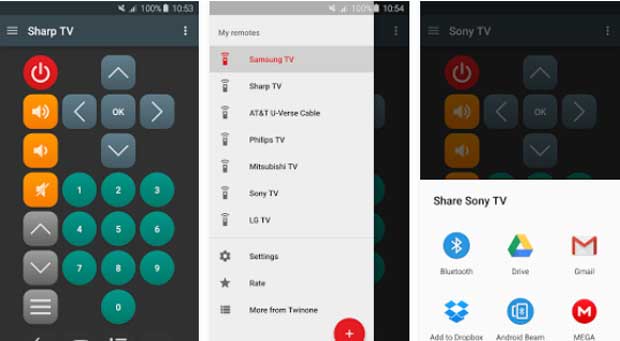 Twinone IR Remote is a significant app to manage your TV, set-top box, ACs etc. The interface has a simple and neat design for Android users. You can get it for free, but it's going to show ads. There is no premium of this app till now. The developers are working on it as some people would prefer ad-free version. But you can use it for free as long as you have no problem with ads.
Bonus:

Other Best IR Blaster or Remote Control App for Android

:
#11

ZaZa Remote – Universal Remote
ZaZa Remote Control App is another excellent TV remote app to manage home or office electronics comfortably. There's not much to say about this app, but you should give it a try if you are looking for a lightweight remote control app without any fuss.
#12

Android TV Remote Control
If you are more of the Android TV persuasion, then this will be an app you should have already downloaded. This is the official Android TV app and works with most, if not all, Android TV devices. In truth, it is a little on the basic side in terms of functionality, but the core ability to control your Android TV device is there.
Attention: Keep in mind that many devices offer their own remote app for free. so, if your Android smartphone comes with any preinstalled Remote Control App then it may be better to use such apps than installing any 3rd party IR Blaster app. Most of these apps are user-friendly and easy to use. You may not need to download any other TV remote control apps.