Lot's of Funnel Builders and Landing page builders are there in the market. So, what's special in FlexiFunnels?
I'm presenting this in-depth review of FlexiFunnels to share everything about FlexiFunnels and this is the only guide you need on FlexiFunnels Review in 2022 & future.
FlexiFunnels is a funnel builder with drag & drop landing page builder and bunch of different features integrated that you need to run an online business, all at one place. So, you no longer need to waste time & money on 10+ different tools.
In this in-depth FlexiFunnels review, I have shared top 21 benefits of FlexiFunnels for your online business.
What is FlexiFunnel?
FlexiFunnels is India's first funnel builder software. It lets you create high-converting funnels, design landing pages, squeeze pages, email automation, and much more.
TL;DR (for Lazy People):
Creator
Saurabh Bhatnagar & Teams
Product
FlexiFunnels
Category
All-in-One Funnel Builder
Launched Date
15th August, 2022
CEO
Saurabh Bhatnagar
Official Website
Flexifunnels.com
Refund Guarantee
Yes (30 Days Money Back Guarantee)
Support
24/7 Live Chat Support (Excellent Support)
Best In
Funnel Builder
Pricing
Coming Soon
Features
Funnel Builder,
Bump Offers,
Sales Reporting,
Product Creator,
Landing Page Builder,
Advanced Funnel Logics
Course membership area,
Automatic SSL Enabled,
Converting Checkout Page, etc.
Official Website
Flexifunnels.com
Buy Now
Click Here
With FlexiFunnels, you can effortlessly run an online business from scratch without prior coding knowledge, and FlexiFunnels streamlines the operation for beginners.
Due to FlexiFunnels' advanced funnel builder features, you no longer have to use a multitude of tools at once. It's all here for you to run your online business smoothly.
You can focus on what's really important to you when you have everything organized in one place. This is all the more significant when you lack the funds and resources to build a large team. It's for this reason that funnel builders are incredibly useful.
In a nutshell, FlexiFunnels let you run your entire online business. In your online business journey, FlexiFunnels is the only tools you need, you'll never have to use 10+ different tools.
FlexiFunnels Review: My Honest Opinion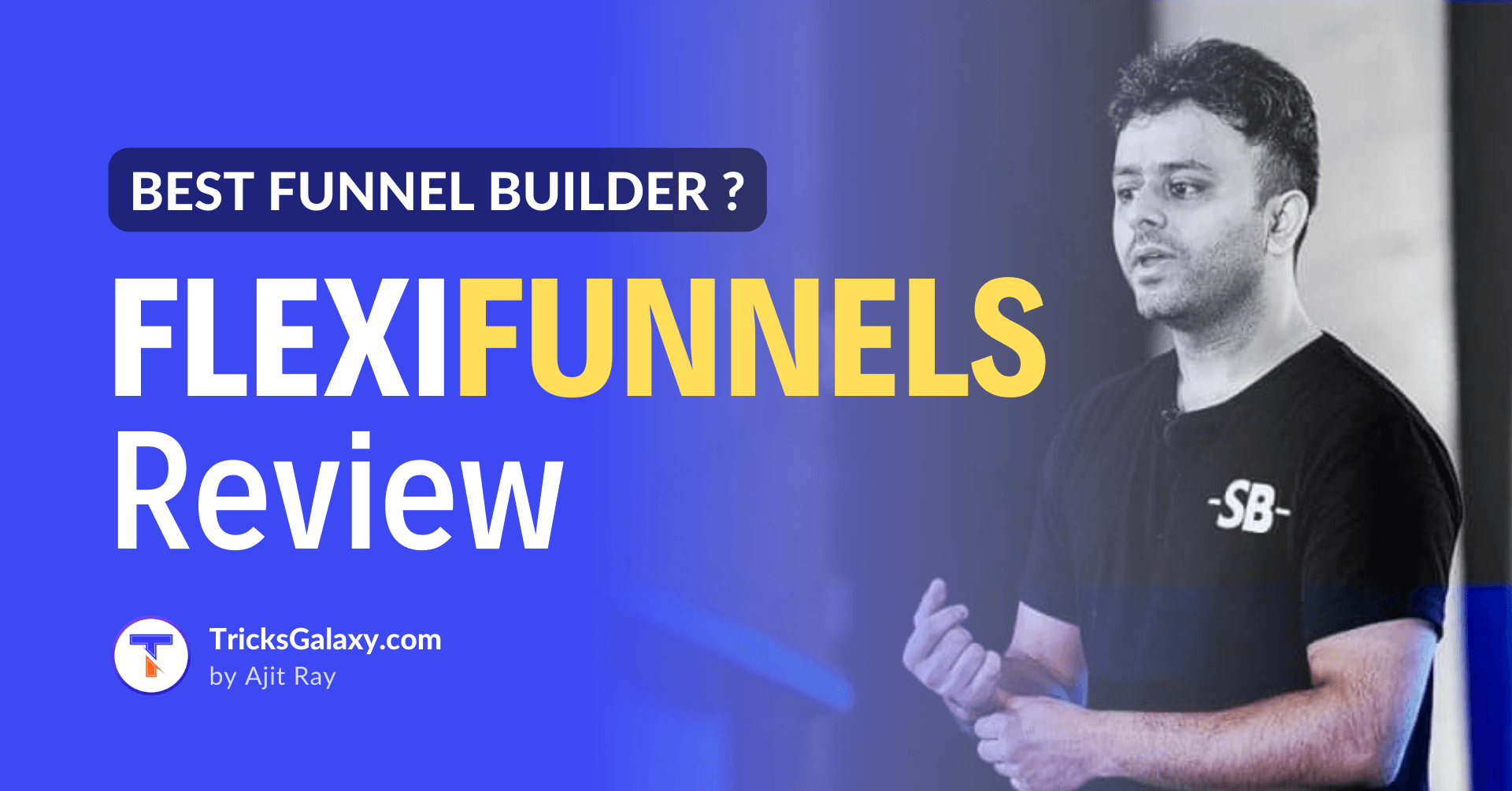 Pros of FlexiFunnels:
In this FlexiFunnels Review, I have crafted top 21 reasons to use FlexiFunnels that offers you the opportunity to centralize your online business without wasting time & money on 10+ different tools.
#1 Drag & Drop Page Builder of FlexiFunnels
FlexiFunnel's Drag & Drop landing page builder lets you create a highly converting landing page with no coding experience or even no technical knowledge. That's the best part.
For instance, you can create landing pages simply by choosing from the options on the screen; images, video backgrounds, widgets, banners, contact forms, etc., and dragging it where it's needed. And you're done.
It's very easy to use. You will love how easy it is to use.
#2 FlexiFunnels offers Super Fast Hosting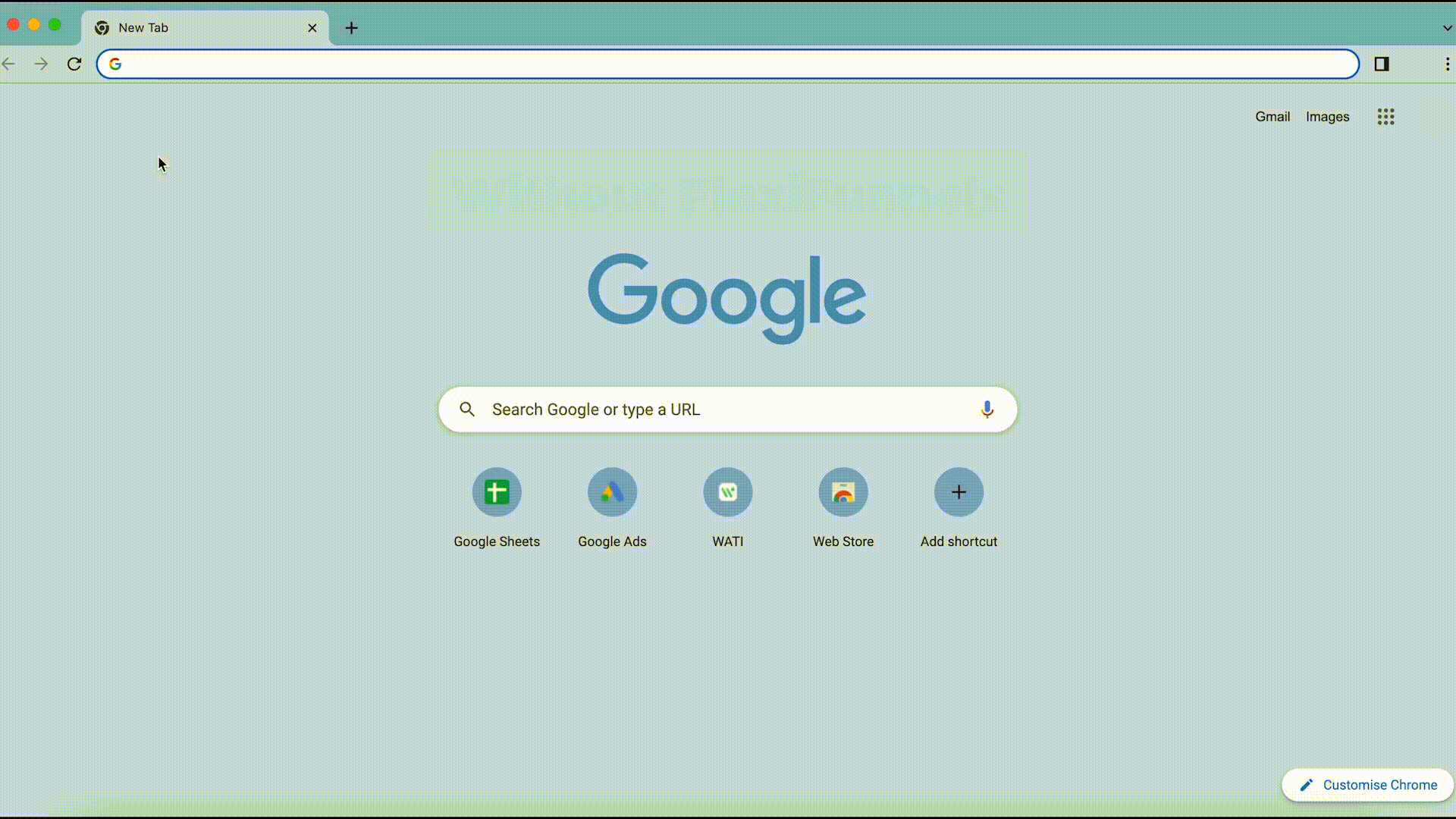 Accelerated page delivery of FlexiFunnels is an extremely important features that I love. Page speed is very important factor when it comes to online business. There must be a quick loading time for your website. The slower your website loads, the more sales you lose.
In other words, speed loading is the key to attracting higher traffic. The search engine giant also loves fast loading speeds.
And thankfully, it takes only a few seconds for FlexiFunnels to optimize your landing pages or website for faster loading. Using FlexiFunnels, you'll be pleasantly surprised by how fast pages load.
As a result, your business will be able to generate higher revenue.
#3 Integrate Payment Gateways with FlexiFunnels: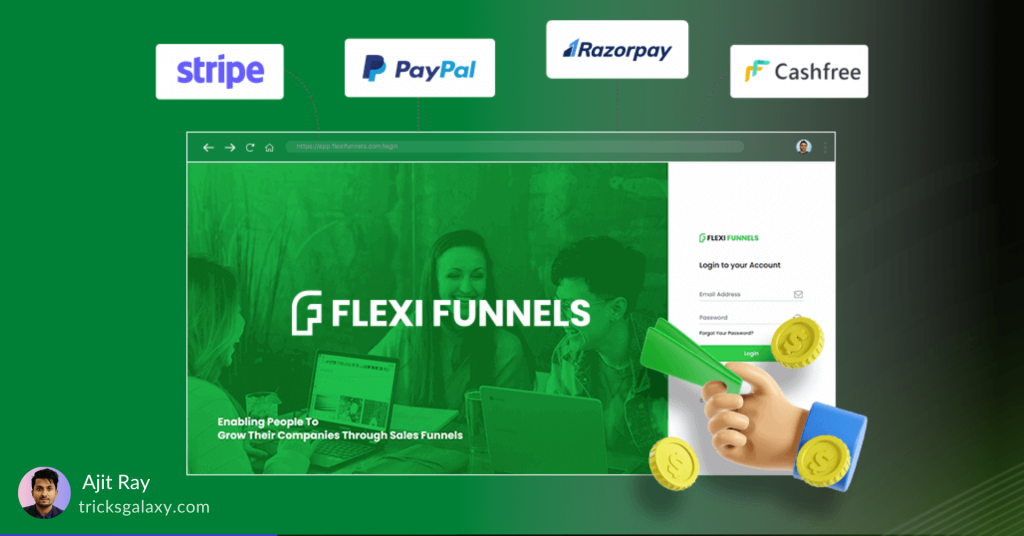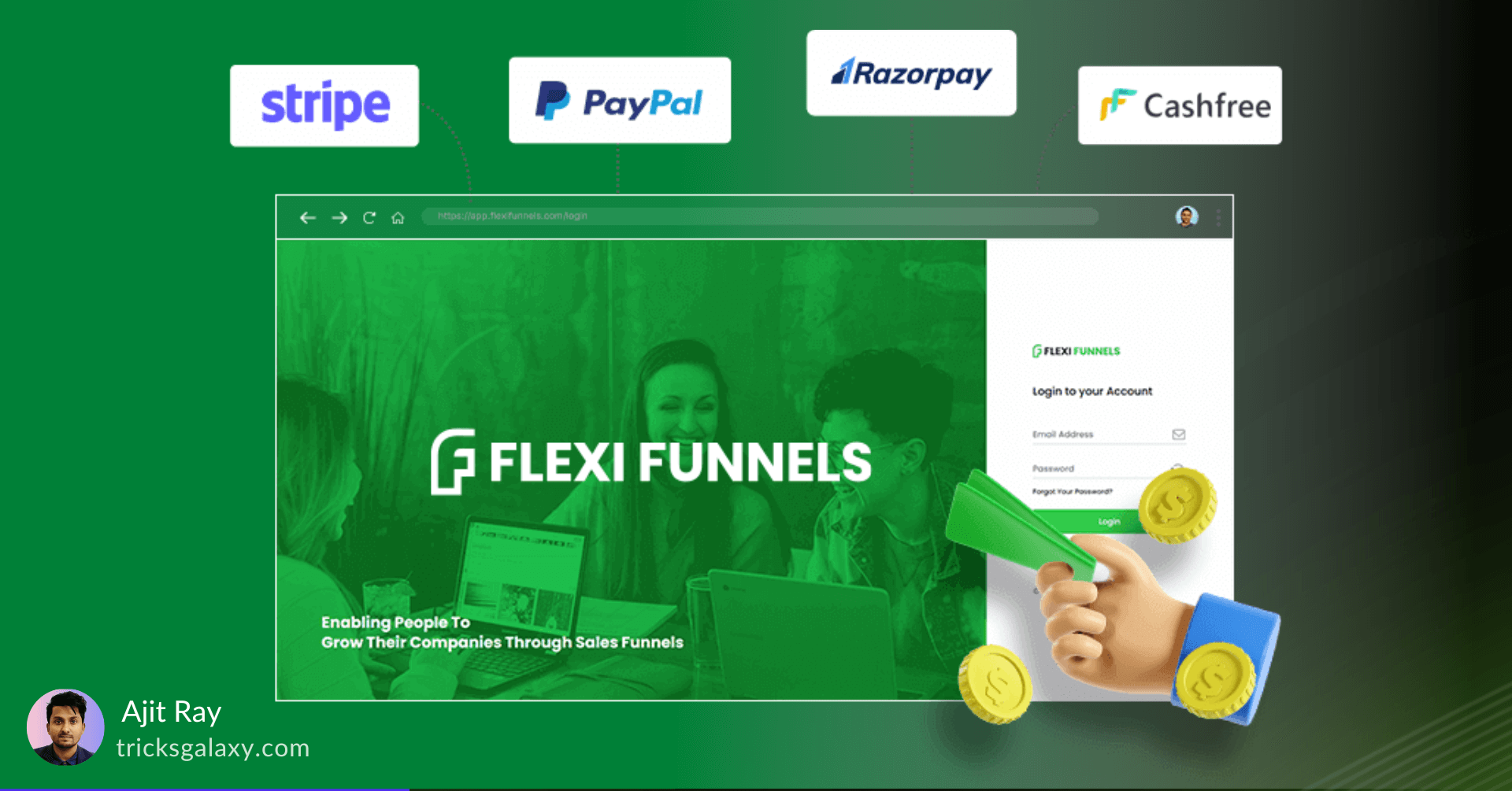 The most crucial aspect of any landing page builder is that it must have a payment gateway so your customers can easily purchase your products or services.
FlexiFunnels provides users with access to all sorts of payment gateways, you won't need to worry about integrating them.
The payment gateway integration options available in FlexiFunnels are- PayPal, Instamojo, Razorpay, Stripe, etc.
#4 Design High-Converting Checkout Pages with FlexiFunnels


There is absolutely no limit to what you can insert on the payment check-out page, including Text, Images, Videos, Timer, or any other features.
Many option are available in market like ThriveCart etc. that provides same features and are paid tool.
But, for FlexiFunnels user, you're getting these all awesome features for free within your account.
Thus, you can design your own Checkout page and make them highly converting.
#5 FlexiFunnels Bump Offer
Boosting your sales using a bump offer is extremely effective. With this method, you can bump up your average cart by 15–40% without doing anything extra.
Offering bump offers to your customers is an opportunity to provide them with more services/products.
E.g. You can provide an option to buy a case/cover while checking out for a new smartphone. It will increase the average customer value.
#6 Create Advanced Funnels Logics with FlexiFunnels: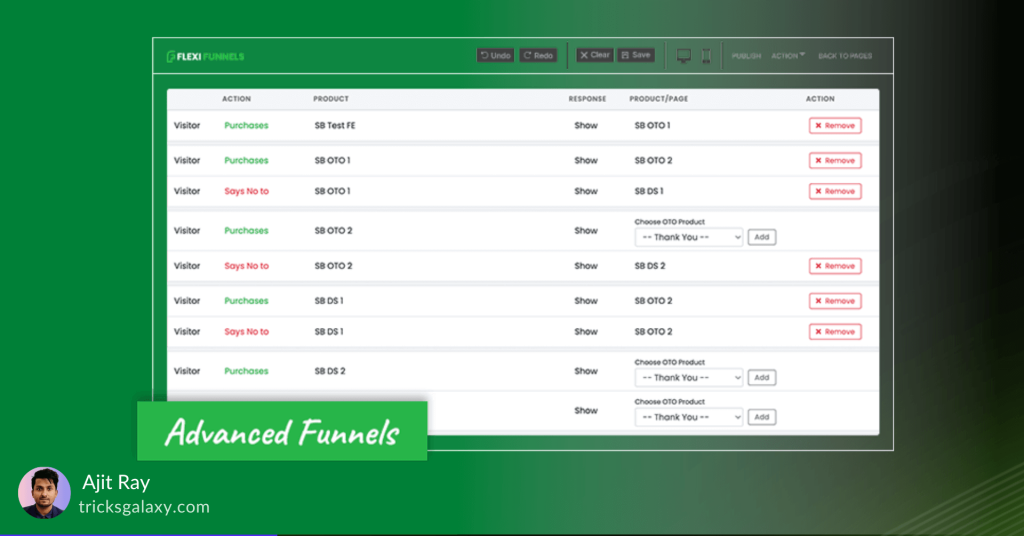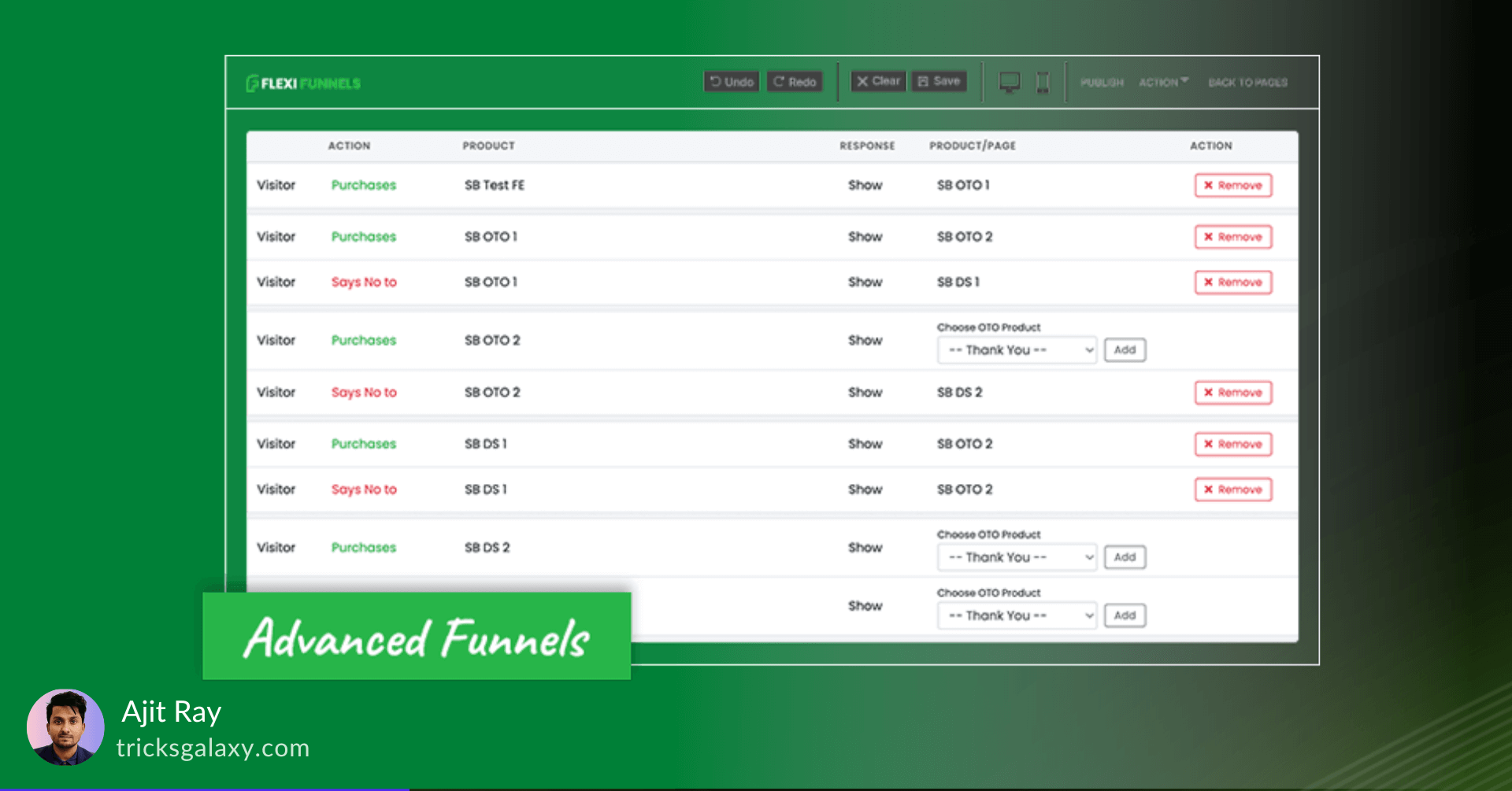 In order to create advanced funnels, you need to invest in a very expensive tool like ClickFunnels, which costs around $97/month. It is not feasible for everyone to afford this tool.
You can get all these extraordinary features within FlexiFunnels dashboard.
It is likely that you will easily make 10 times more profit than your nearest competitor if you master just this one thing.
FlexiFunnels advanced funnel builder provides you with all the advanced logic you need to create upsells, downsells, and lead gen funnels. You can create webinar funnels, membership funnels or any other type of funnel you like.
It is impossible to find software like FlexiFunnels at such an affordable price.
Checkout: How to Build High Converting Sales Funnels in WordPress (6 Steps)
#7 Create "Course Membership Site" with FlexiFunnels
Within FlexiFunnels you have the option to host your course in the built-in member area.
There are no hidden fees and you do not need 3rd party membership platforms to host your course.
#8 FlexiFunnels provides Advanced Integration with third party tools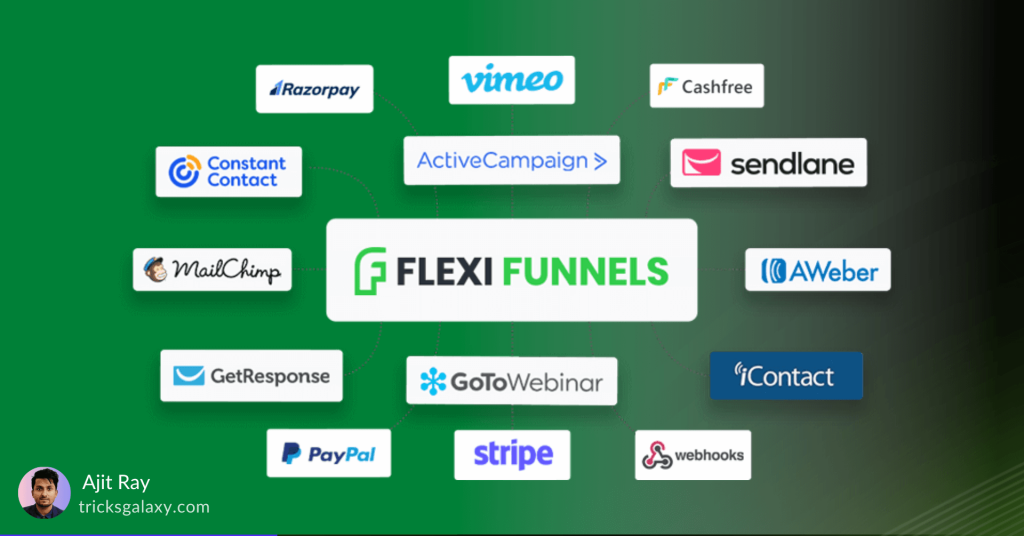 It is a really remarkable feature of FlexiFunnels that eliminates the use of Zapier or similar tool. In order to connect email autoresponders and other services, you had to purchase Zapier that cost $588/year for 2000 tasks.
Now the use of Zapier is no longer necessary.
There are no limits to what you can accomplish with Flexifunnels, and you can do a limitless degree of coordination.
Before, it was incredibly agonizing for me to prescribe to customers. When they were told they needed to purchase such tools, they were reluctant to do so. Now, it became easier to integrate
#9 500+ Done For You (DFY) Templates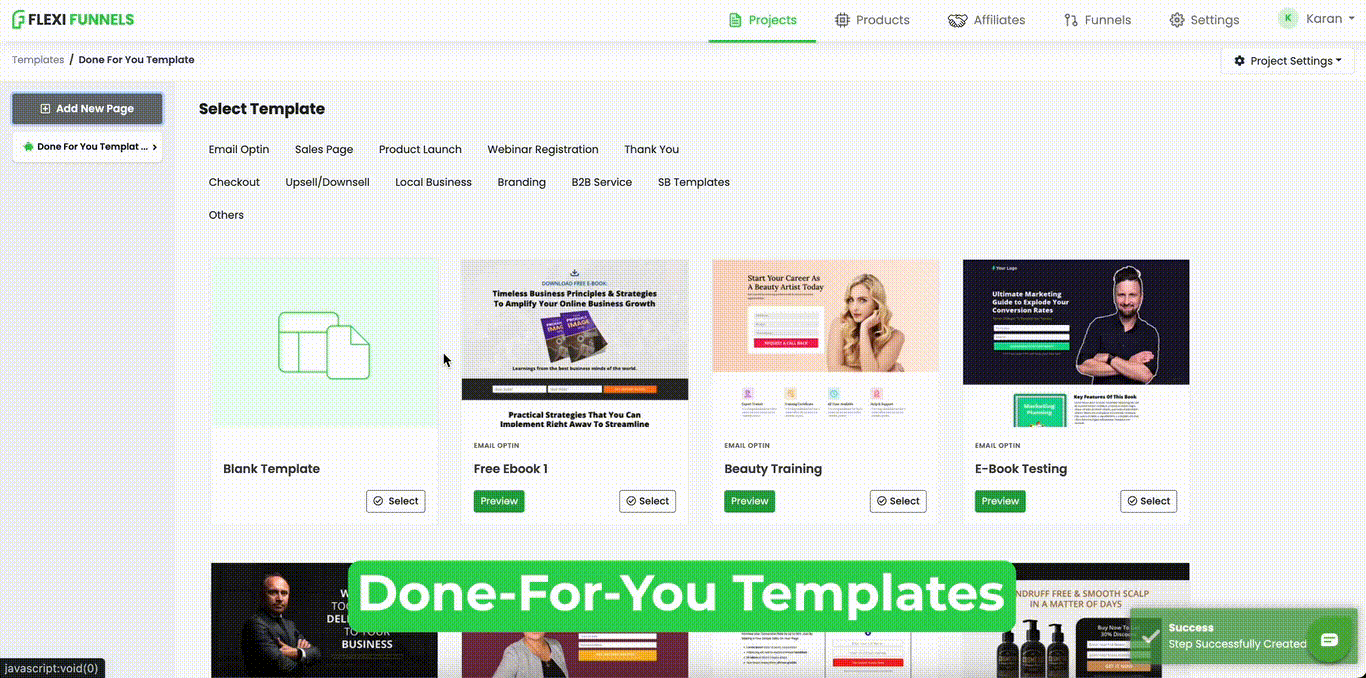 With 500+ done for you landing pages, you can just change your product details and have your landing page ready to earn you revenue without hustle.
It is categorized into different landing page template categories, helping you choose the perfect fit for your product.
Here are some of the categories where you can get your pages Done:
Lead gen page /Optin page
Webinar registration page
Thank you page
Sales page
Upsell page
Downsell page
Registration page
Membership page
Membership templates
Webinar replay page
Value nurturing sequence page
Webinar indoctrination sequence page
SAAS pages
Free online event sign up
Online businesses
Local business pages for 100+ different local businesses
And much, much more
Additionally, you can use local Business Pages templates to create landing pages/websites for a local business nearby. And charge them however you like.
#10 Page designed on FlexiFunnels are Fully Mobile Responsive:
There will be no need to adjust any settings on your Flexifunnels landing page or website because all of them will all be mobile-responsive automatically.
By doing this, your business will be able to expand to different types of customers, such as mobile users and computer users.
You don't need to struggle with coding for making your pages mobile-responsive anymore.
#11 Automatic Split-Testing on FlexiFunnels
Split testing is feature to create multiple copy and test the conversion of each copy. So, you can optimize and improve your conversion by 1% everyday.
Testing high-converting pages with automatic split testing will save you a lot of time and effort. The conversion rate of one page is higher than the conversion rate of another.
To generate more sales for your business, redirect more traffic to the high-converting page. The split testing feature of FlexiFunnels allows you to optimize your pages for conversions.
#12 Automated Emails with FlexiFunnels.
FlexiFunnel allows you to connect with your favorite autoresponder tool / email marketing tool, allowing you to automatically send follow-up emails to your leads.
It lets you create email sequences easily.
In my opinion, it is a very useful feature in the new funnel creator. There have never been any such automated emails or autoresponders used before.
Your FlexifFunnels will let you create the following sequence for your contacts within seconds.
#13 You can Create Digital Assets with FlexiFunnels
With this feature, you will not have to redirect your buyers to Google Drive or external links that confuse them when they subscribe / buy..
You can upload simple digital assets such as PDFs, RK studies, or anything up to 3 MB, which you can easily provide to them when they subscribe for it. The entire process will take place within the FlexiFunnel ecosystem.
#14 Connect Custom Domain with FlexiFunnels:
One of FlexiFunnels' coolest features is that it lets you map your custom domains. The pages and funnels you create, will still be hosted by FlexiFunnels and run on your domain.
Although they host these for you, your domain & branding will be visible to your customers.
FlexiFunnels domain mapping feature is incredibly easy to use & takes no more than a couple of minutes to perform.
#15 SEO Optimization & Meta Tags available on FlexiFunnels
SEO meta tags on your website provide search engines with information about your page.
Simply put, they are vital for SEO because they enable search engines to determine what your content is all about. You can Rank higher on search engines by using this helpful technique.
FlexiFunnels lets you set SEO meta title tag & description of your landing page.
#16 You can Integrate FB Pixels
By adding tracking pixels from Facebook, Google, or any other tracking service, you can also track various types of user traffic on your website.
They are really good for retargeting.
Users who have visited your website. Some of them have purchased your product and some have left without purchasing.
Pixels will help you in creating custom audiences and retarget them.
There by increasing more sales.
#17 Contacts Centralization
On the dashboard, you can view all the contacts generated during sales and promotions.
There is no way for anyone else to see or challenge their privacy.
#18 Sales Reporting Dashboard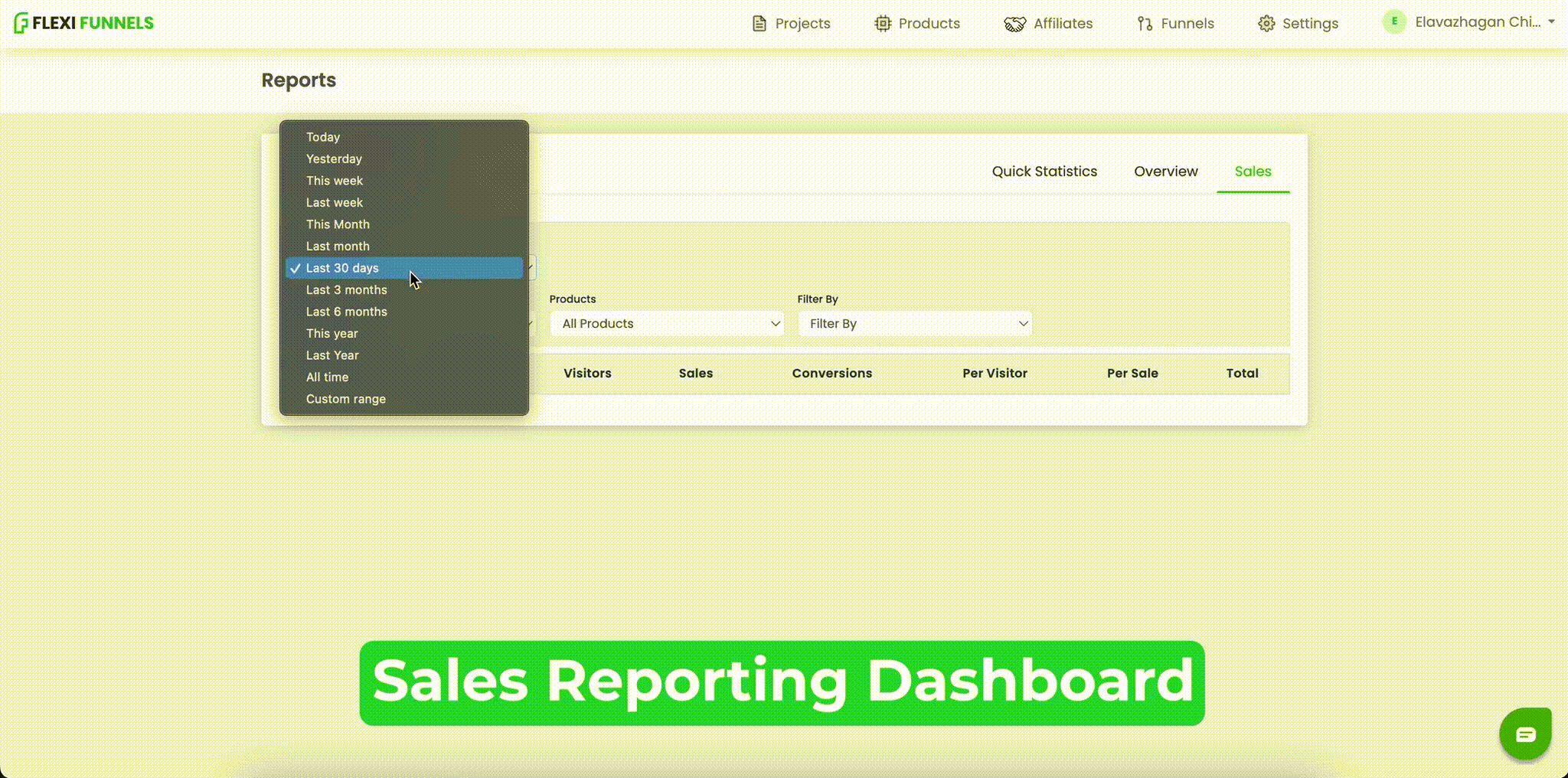 To know how much revenue you're generating and how many potential visitors you're attracting, you need to monitor and track your sales report.
The Flexifunnels feature allows you to easily track your sales reports and gain insight into the growth of your business.
#19 Automatic SSL for free:
If you are choosing a landing page builder, SSL is an important feature to consider.
Your potential customers will be more likely to trust you if your website is SSL encrypted. In order to attract more customers to your website, your website needs to be as engaging as possible.
FlexiFunnels offer features that allow you to create a website with an SSL certificate. This way, you can create a website that is authentic for free. Isn't that great?
#20 FlexiFunnels Affiliate Program:
Flexifunnels affiliate program is one of the finest opportunities that Flexifunnels can provide to all the Bloggers and Marketers.
You can promote FlexiFunnels on your Blog, social media etc. and earn 20% commission on sales done through your affiliate link. It's really the great way to generates revenue and profits.
Also, you make more profit on each renewal.
More promotion = more earnings.
The process is so simple.
You can add an affiliate badge to all pages that say 'made with FlexiFunnels'. When someone clicks on that badge and makes a payment, you will earn affiliate commissions even if you haven't promoted Flexi Funnels. Easy as nothing.
#21 Cart Abandonment Feature:
Using FlexiFunnels, you can have access to a Cart Abandonment feature as well. Suppose a customer tries to pay but couldn't due to some reason. By sending him an email, FlexiFunnels will ask him to pay you again, which will increase your revenue significantly.
FlexiFunnels Pricing:
Pricing of different plans of FlexiFunnels Funnel builder will be updated here once the FlexiFunnels has been released.
Official release date of FlexiFunnel is 15th August 2022.
Reasons to Use FlexiFunnels:
#1 Business Centralization
FlexiFunnels eliminates the use of 10+ different tools, you will no longer have to depend on various tools to run your online business. It lets you centralize the business at one place. So, you don't need to waste your time in learning & managing different tools.
Compared to managing and running 10 different software at the same time, this will save your precious time.
#2 Reduced Costs
One FlexiFunnels account offers various features that 10 different tools provide. So, the overall cost will lesser for you to handle the whole process.
Thus, it results into reduced cost with no headaches of multitasking.
One FlexiFunnels account will let you handle the whole process.
Thus, you can focus on other important aspects of your site.
#3 Scale Your Business & Increase Profit​
In FlexiFunnels, there are many features that enable you to generate more revenue than you would normally be able to generate.
They may include advanced funnels that use local payment gateways, highly optimized checkout pages, bump offers, inbuilt membership areas, superfast hosting, and many more.
You'll still be able to keep your costs under much lower levels.
There is no doubt that you will make much more money and profit margins will be much higher than before.
Being a business owner, you may know that even a small increase in profit margins can lead to a significant increase in revenue.
Using FlexiFunnels to the fullest degree here can increase your business margins tenfold or more.
#3 In-depth Mentoring by the Founder
The Founder, Saurabh Bhatnagar himself will mentor you in a Facebook group.
When will FlexiFunnels Launch?
FlexiFunnels is going to launch on 15th August 2022 as shared by Saurabh Bhatnagar himself.
Saurabh Bhatnagar, a fast-evolving entrepreneur who has launched numerous websites, tools, and software products over the last few years, is set to launch another game-changing product in India.
How to Get Access to FlexiFunnels before Launch?
As of right now, FlexiFunnels is in its beta phase and is yet to be launched. You can get access to FlexiFunnels + 1 Year FREE Access (after launch) if you enroll in his program "Timeline Domination".
Who is the founder of FlexiFunnels?
Saurabh Bhatnagar is the founder of FlexiFunnels.
He has invested his everything to develop this software for entrepreneurs and people who wish to start an online business but do not have time or money to study all the details, integrate all the payment methods, build email campaigns, and set up test funnels, or host.
Saurabh Bhatnagar is one of the world's most recognized growth strategists in the world of online business.
The goal of Saurabh Bhatnagar is to help businesses and individuals get more customers and clients using online marketing.
His mentorship has resulted in multiple businesses reaching six and seven-figure revenue levels. You too might know some of them.
Types of Funnels You can Build with FlexiFunnels:
In both the online and offline worlds, funnels are used by marketers in various ways.
Below are all the popular marketing funnels used by companies and marketers.
1. Squeeze Page Funnel
Using this funnel, you can collect users' email addresses in exchange for free resources such as ebooks, mini-courses, or case studies.
2. OTO-based Funnel
With this funnel, you can sell multiple products through a variety of offers, squeeze pages, and sales pages. Through this method, you can generate greater revenue and profits by upselling your products or services through OTOs.
3. The Membership Funnel
A funnel like this is mainly used for giving paid users access to our newsletter, courses, or blog posts. You can sell subscriptions to your courses to members by creating a membership website.
4. Subscription Base Funnel
As part of this process, marketers offer their free trial software, tools, or courses for a limited time, and then they try to sell their premium products to users who are already using the free versions.
It is one of the most popular and profitable funnels.
And it is possible to create all kinds of funnels with FlexiFunnels.
Why FlexiFunnels?
The purpose of FlexiFunnels is to reduce the stress of running a business online for entrepreneurs like you.
Running an online business requires you to buy many products. If you run an online business, you might know how many products you need to purchase. Your website is a must, along with your funnel, your payment integration, and so on and so forth.
Do you agree?
The solution to this problem is Flexi Funnels.
FlexiFunnels will equip you with a majority of services such as website creation, funnel building, product pages, and payment integration, you will need fewer tools and software to run your company.
It's great that FlexiFunnels are so fast (the speed is not even 1 second) and your funnels will load within a few seconds.
Regardless of how many 4K HD images we have on our page, the page will load within milliseconds (less than 1 second).
The loading speed of our website is of the utmost importance. Flexi Funnels provides us with Superfast Hosting.
That's what make FlexiFunnels stand out from other funnel builders
FAQs about FlexiFunnels
What is a Funnel?
A Funnel is the roadmap of the customer value journey from converting an unknown person to a customer who not only buys the product but also advocates & promotes your product.
A Funnel, depending upon offer, may include various things like – Lead magnet, Front end product, UpSells / OTO, Downsell, Bump Offer, Core product, Tripwire, Webinar, Landing page, Copywriting, etc.
If you want to build a successful online business, you must have Funnel.
A good Funnel is your best sales person working for you 24×7, answering all the queries without getting tired.
1. What is FlexiFunnels?
FlexiFunnels is India's first and best funnel building software. In addition to running an online business, you can also run your entire sales funnel with FlexiFunnels.
2. How much does FlexiFunnels cost?
In spite of the fact that the price of FlexiFunnels will be affordable, the price will be updated when the product enters the market on 15 August, 2022
3. How did FlexiFunnels get started?
FlexibleFunnels was founded by Saurabh Bhatnagar. Being an established marketer in India, he has a lot of experience. In the past year, he has generated more than $3 Million dollars (INR 20 crores) in revenue online. 

He has already launched a number of successful software products including MarketPresso, Timeline Domination, AdsCrisp, and many others.
4. FlexiFunnels Vs Clickfunnels? Which one is the Best Funnel Builder?
In my opinion, Flexi Funnels and Click Funnels are both amazing funnel builder platforms. But Flexi Funnels has more integrated platforms like payment gateways, webinars, and bump offers than click funnels.

As far as price is concerned, Flexi Funnels has the edge. There is currently no better funnel builder on the market than Flexi Funnels. So, you can prefer FlexiFunnels over ClickFunnels.
5. Is FlexiFunnels compatible with Indian payment gateways?
Definitely yes, it is possible to integrate Indian payment gateways like Razorpay and Instamojo through Flexi Funnels.
6. Is Founder Serious about FlexiFunnels?
Saurabh Bhatnagar has concentrated his time and energy on creating this software to simplify, automate, and accelerate the process of creating funnels and websites. He is on mission to help people easily create their own funnels.
Final Words:
I have personally used FlexiFunnels and I must say – FlexiFunnels is exactly what you need to Start & Become Successful at Online Business.
Using FlexiFunnels, you can design website and landing page with drag & drop landing page builder which are automatically mobile responsive.
The basic minimum need of a hosting, page builder, checkout pages, is solved by FlexiFunnels.
FlexiFunnels offers all of it at one place.
Advanced funnel logic & Inbuilt membership area is no-brainer for course creators to sell & host their programs in one single place.
Finally, FlexiFunnels is a product that you need if you want to start or grow your business online in 2022.