Are you looking for a Software which can Play Video, Music as well as works as a Video Downloader?
Well, you're at the right place.
Today, I'm going to share an awesome software which is 5KPlayer.
5KPlayer is the all-in-one software for HD video player, music player, DLNA & AirPlay-enabled media streamer and online video downloader. There are many great things that 5KPlayer offers.
There are billions of hours worth of free audio and video content available online including latest movies, songs, podcasts, and much more.
With so much content to watch and listen to, it only makes sense to have a media player software that can help you in seamlessly playing any content of your choice without having to face any hassles.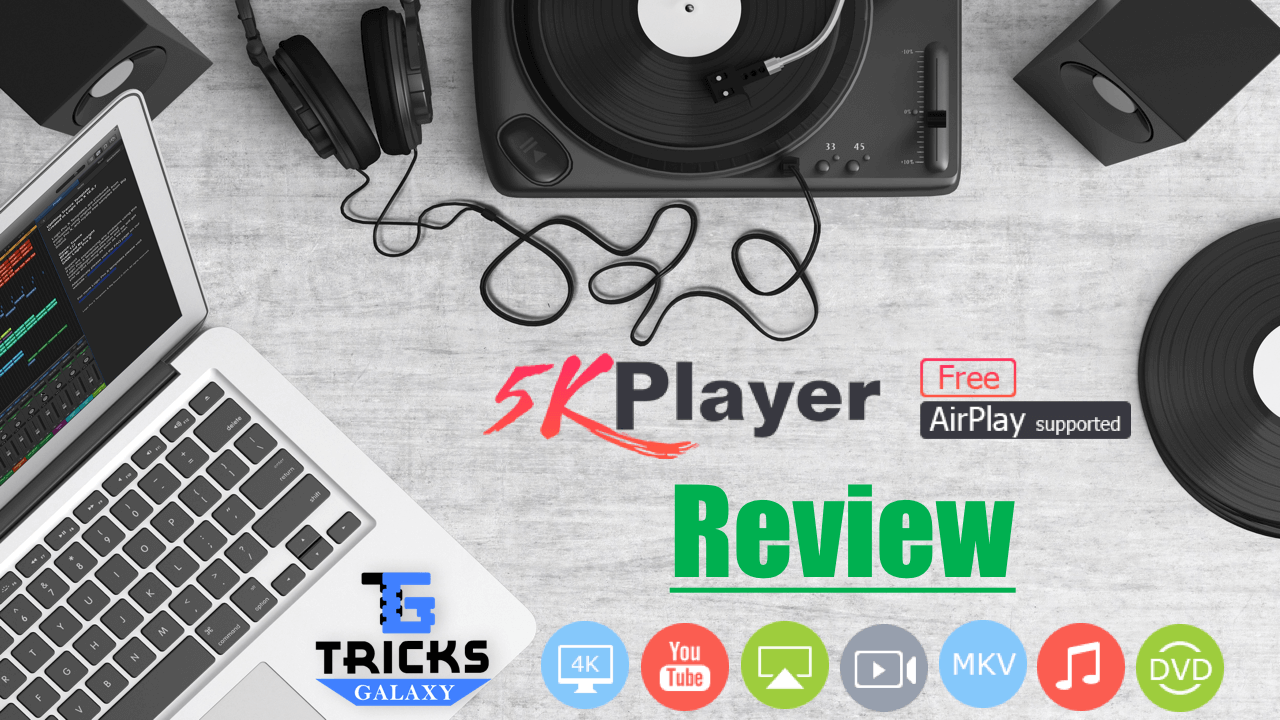 Even though there are lots of media player applications out there, most of the software are quite monotonous in what they offer and such players do not offer users with any extra features or functionalities in order to make the media-consuming experience more appealing.
We Recently Came Across The 5KPlayer And Was Honestly Quite Impressed With The Set Of Features That The 5KPlayer Offers.
To give you a better understanding of what the 5KPlayer offers to its users, today we are here with a detailed 5KPlayer review describing all the features available within the 5KPlayer.
What is 5KPlayer?
5KPlayer is basically a media player software that offers some awesome additional features than just allowing them to play audio and video content like the ability to download videos from popular online websites and more, about which we will discuss further ahead in this review.
5KPlayer software is developed by DearMob and the developers are well-known for their other software as well including DearMob iPhone Manager and the free DearMob iPhone Photo/Music Manager.
5KPlayer is available for free and currently supports both the Windows and macOS operating systems. For Windows systems, the software supports Windows XP and above versions. In the case of Mac systems, OS X and above versions are compatible to run the 5KPlayer.
Key Features of 5KPlayer:
Let us start talking about the features of the 5KPlayer software by looking into the type of audio and video files that the media player can play.
1
Video Player
5KPlayer is not just capable of playing 5K resolution videos as the name suggests, but can also playback videos up to 8K in resolution.
So no matter whether you are trying to play a Full-HD, 4K, 5K, or 8K video file, this media player can handle all resolution videos without any hassles and also supports all major video file formats including DVD, MKV, MP4 and more.
2
Music Player
5KPlayer can also play audio files and all popular file formats like MP3, FLAC, APE, and AAC are supported by the player.
3
Support for Apple AirPlay and DLNA Tech
You can also listen to radio stations, stream audio or video content via DLNA or AirPlay using this software thus allowing you to directly stream audio or video content on to your television or any monitor instantly using the app.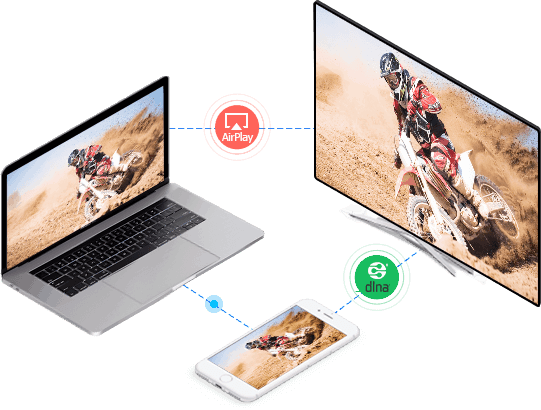 4
Video Downloader
Apart from allowing you to play content that is locally stored, you can also choose to use the 5KPlayer software as a video downloader and sites that are supported to download videos from including Vimeo, DailyMotion, YouTube and more.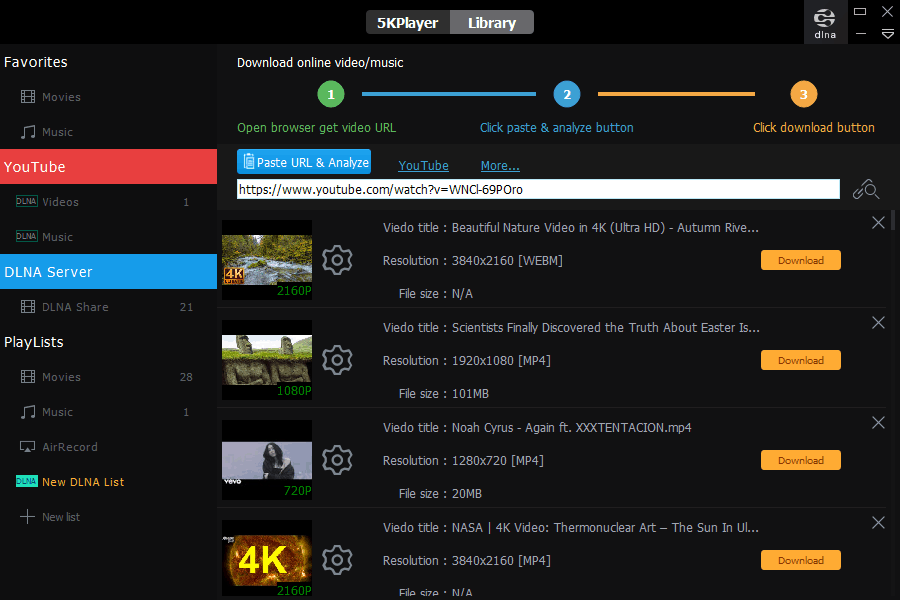 5
Create Personal Playlist
You can create a new personal playlist within the 5KPlayer software or you can also opt to import your existing YouTube playlist to the application and then watch videos and manage your YouTube playlist from right within the 5KPlayer application without having to launch the YouTube app or website.
6
Performance
Another awesome feature of the 5KPlayer is that it features hardware acceleration powered by DXVA 2.0, Intel and Nvidia.The hardware acceleration is what allows the software to playback high-res videos and audio without losing any detail or resolution.
Overview of 5KPlayer
The features offered by the 5KPlayer software seems too good to be true, especially for a free application.
However, the doubts are cleared the moment you launch the 5KPlayer for the first time on your system.
No Bloatware: The software features no bloatware or adware like many other media player applications and the application also just takes about 40 MB of storage space, which is too low compared to what the player offers in terms of performance.
User Interface: The user interface of the software is done so as to help users find and use all the features within the 5KPlayer application swiftly. The player is basically divided into two sections: 5KPlayer and Library.
5KPlayer Section is basically where you get to search and find the new content.
Library Section, as it sounds, is where you manage the content that you have either downloaded using the 5KPlayer application or are locally stored on your system already.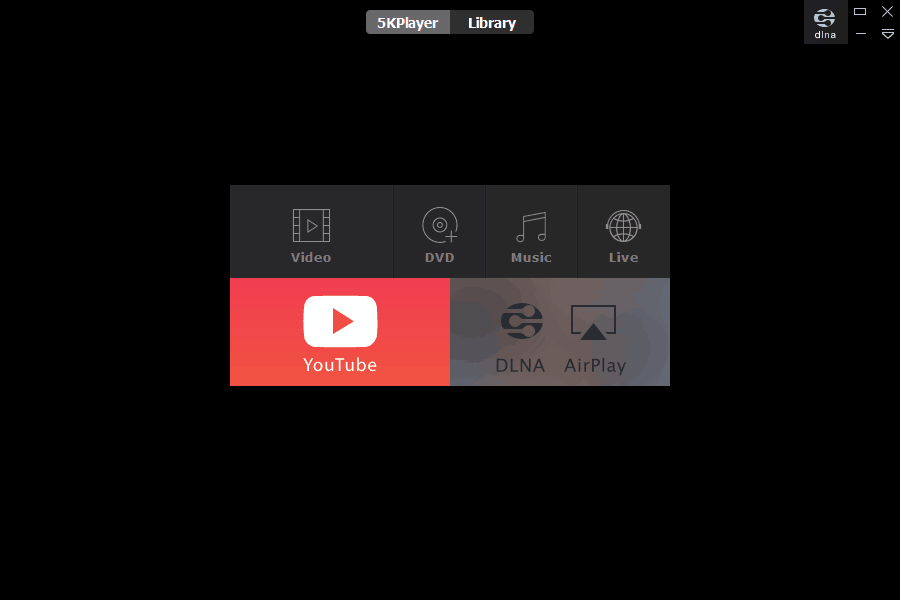 The software is able to play all major video and audio file formats as previously mentioned and even though loading the video or audio file for the first time may take a couple of minutes if the file is of a large size, later on when you subsequently open the files, then it starts playing almost instantly.
Easy to Use: Even though the 5KPlayer software has features that make it very appealing for the tech-savvy people, the overall design of the user interface is done in such a way that the application remains easy to use and navigate for amateur users.
Well, there are other media player software programs that can stream high-res audio and videos files. However, what makes the 5KPlayer software different from the other similar apps out there is definitely the resource utilization.
Most of the other software that can run high-res audio and video files bogs down the system resources, the 5KPlayer uses minimum system resources, thanks to hardware acceleration that the application comes with.
Therefore, you can multitask with other applications on your system even while playing high-res audio or video using the 5KPlayer app.
How to Download 5KPlayer & Install on Windows/macOS?
Below is a step-by-step tutorial on how to download and install the 5KPlayer on any Windows or macOS system.
First of all, download 5KPlayer installer for Windows from here or download 5KPlayer for macOS from here.
After the download completes, go ahead and launch the 5KPlayer installer file.
Complete the on-screen instructions to install the 5KPlayer on your system.
Go ahead and launch the 5KPlayer shortcut that should appear on your system desktop once the installation completes successfully.
Final Words:
I hope, this helped you in getting to know the 5KPlayer better. In our use of the 5KPlayer, we really enjoyed the experience and frankly speaking the software offers quite a lot of features than other media player software for Windows and macOS.
If you liked the 5KPlayer software, then go ahead and install this software on your Windows or macOS PC. Also, if you are already using the 5K Player software on your system, then do leave a comment below mentioning your experience using the 5K media player and video downloader.