admitad Review: The boom of the Internet and the revolutionary of social media has opened new doors of possibilities in the world of businesses. While brand building has undergone a revamp there surely is increased competition in the industry, it has become increasingly challenging to stand out. The cut throat competition in the business world now requires the help of a seamless, foolproof marketing strategy that generates the maximum traffic and attention over the others.
With Affiliate Marketing faithfully serving the marketing professionals and business holders alike, this traditional and tested marketing system involves rewards and perks for the affiliate for every visitor on their domain. This performance based marketing has objectively dominated the marketing industry.
The cost per action (CPA) principle of affiliate marketing is a reliable benchmark to assess as well as reward performances by the company as well as the advertisers. The publishers in turn receive treasure in the form of huge traffic statistics on their sites. As simple as is, affiliate marketing is the most efficient, and reliable method to ensure skyrocketing sales and revenues for businesses. A paragon for this kind of marketing is what we'll discuss today, admitad.
Why admitad?
One of the biggest networks for CPA affiliates worldwide, admitad has a extremely accessible interface and makes up the best bet for your advertising needs. There is such a wide array of categories that you can choose from which have been specially crafted in tune with your needs, preferences and ensures your satisfaction and maximum yield. And the icing on the cake is the unique payment protocols that gives you a wide host of payment modes to choose from. All this on a global platform, available at the click of a mouse!
admitad took shape in the year 2010 and was launched with the headquarters located at Heilbronn. admitad has so far given wings to so many dream businesses helping them establish themselves in the industry from scratch. admitad finally blossomed with over 7 offices located in various corners of the world. The conviction and drive to provide innovative and cutting edge marketing solutions in the arena have given them a formidable reputation and admitad has now merged with over 1300 internationally known brands and over 550,000 publishers and the number is just growing everyday.
The countries where admitad has the strongest geo by volume include USA, India, Western Europe, Russia and the UK. With international leaders and brands like Aliexpress, Nike, Adidas, eBay, Target, Booking.com, Citibank and much more in its portfolio.
Advantage of Using admitad:
Advertisers Benefits:
#1

admitad is One of the largest Global platform:

What makes a business successful? International recognition? Being a household name? Yes. admitad makes it possible to achieve this with minimal effort and investment. You just need to sign up and just get ready to expand your horizons and possibilities by just widening your network base and exhibiting and advertising your products on a global level.
#2

admitad Provides Option to Choose Your Partners:

During the moderation process admitad gives an opportunity to its advertisers to get segmented choices of those publishers who suggest certain sources of traffic which an advertiser needs. And you have full discretion to choose your partners and platforms as per your requirements and you can even freely choose your traffic sources as per the same.
#3

Finally A Flawless organization:

The mantra for the successful operation of admitad is the seamless organization and commitment towards service to their advertisers. This is why personalized sessions are organized for advertisers and publishers so as to facilitate a healthy and accurate discussion of terms and policies. Client satisfaction is a priority for everyone at admitad.
Publishers Advantages:
#1

admitad Offers A Wide Range of Categories:

The mergers of admitad with a huge range of organizations with authentic and high quality products and services ensures that you get the best on your plate. The advertisements are top notch and the reward system is a lucrative bet indeed.
#2

Unique Payment Structure:

The universal selling point for admitad is the weekly payment protocol that they follow as opposed to a monthly system which is conventionally followed by most ad affiliate networks. The variety of payment modes makes it even more easier to keep on the tab. And hassle free payments are ensured. The payments are seamless and quick, this means that admitad doesn't wait for the advertisers to pay them but instead provide timely, secure and payments to the publishers even if the advertisers are running low or negative on balance.
#3

Creating a Common Space:

admitad trying to make their platform much reliable for both advertisers and publishers. They create a safe space for both the parties and organize trilateral meetings with admitad manager to get the most optimum marketing strategy.
#4

admitad took the interesting initiative

admitad took the interesting initiative to educate the affiliate marketers about the importance of neutral advertising. Overall, they are trying to up skill the Internet user's knowledge by differentiating the spam and reliable advertisement to create the transparency.
How to Join admitad CPA Network?
The accessible and easy to operate interface offered by admitad is a sure fire way to ensure a smooth advertising process and the easy sign in protocol is a bonus. This saves you a lot of time and has a different method for publishers and advertisers respectively.
For publishers

: 3-Steps Process & Takes about 30 Seconds

Step 1: account information: Just fill your details including your name, email id and other contact info. Then just secure your account with a hack proof password and go on to the next step by clicking on agree to the terms and conditions.
Step 2: create an ad space: Here just specify the specifications of your required advertisement. If your requirements are concise and precise, you can get the best advertisers on the network.
Step 3: complete sign up: You can also individually select the advertiser you want to work with and the primary details of the same can be provided for completing the signup process.
For advertiser: it is a 1 step process which includes:
Registration Request of
Advertiser

:

This single step just requires you to specify your contact information and the link address for your website. Also, there will be an option where you have to mention the category of your affiliate programme, whether it's private or belongs to the other CPA networks. Complete this step and a registration request will be sent to the system.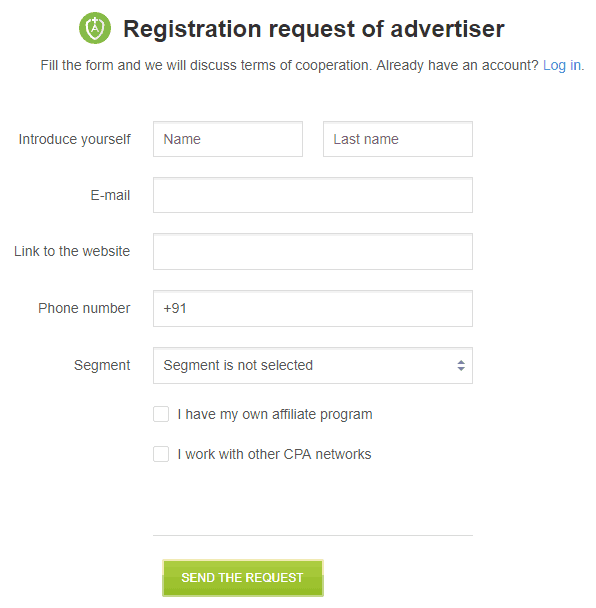 Last Words:
admitad continues to unite a wide range of satisfied clients globally and has been serving the cause to uplift businesses very successfully and effortlessly. Choose "admitad CPA affiliate network" to secure permanent, profitable, fulfilling relationships between advertisers and publishers. The security system and high end high quality tools and procedures make it the best option for your business to prosper and maintain a strong hold in the industry. So what are you waiting for? Sign up for admitad today and make revolutionary changes to your life starting now!