Auto Call Recorder app lets you record outgoing and incoming calls in WAV or AMR format. Some Android phones come with an inbuilt option or pre-installed apps to save a record of all calls.
However, most Android phones do not come with this feature, so you have to install a third-party app to get this feature.
Do you have any Automatic Call Recording facility in your Android smartphone?
No?
The majority of phones manufactured do not have these features.
And if Smartphones are making our/your life smarter and easier, they are also lagging behind in this technology.
Maybe the reason why smartphones don't come with Auto Call Recording is that it is against the Law & Rules in some countries to record a conversation without both parties consenting.
Whatever the reason. If you want to record Incoming or outgoing calls on your Android phone then let me tell you, there are plenty of Call Recording Apps. I have listed the Top 10+ Best Auto Call Recording Apps for Android.
All you need to do is install any of these apps which will automatically record all calls made on your Smartphones.
There are many additional WOW functions available nowadays.
10+ Best Auto Call Recorder Apps for 2022: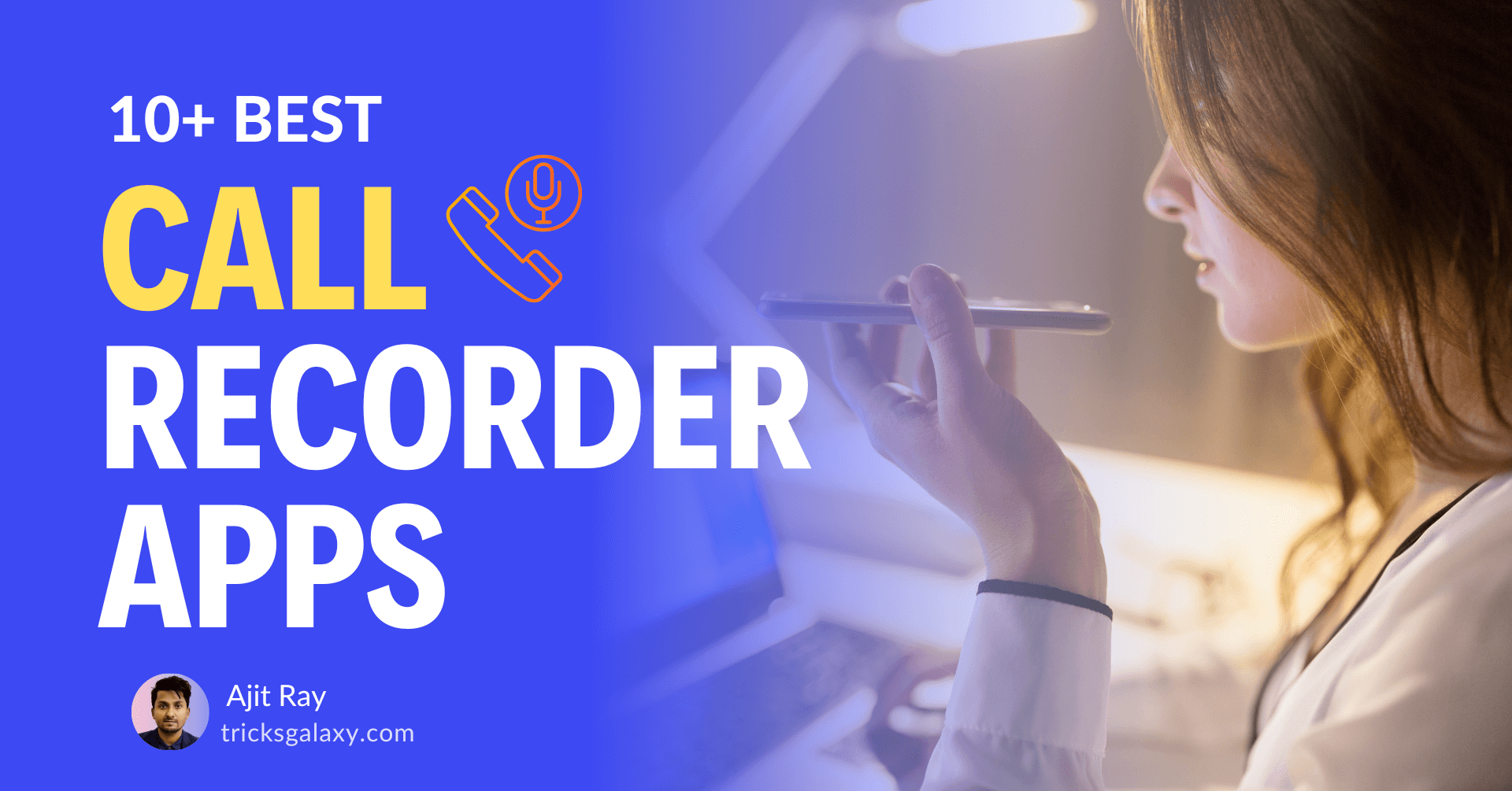 #1

Automatic Call Recorder (Free + Paid) – best call recorder app
Automatic Call Recorder is the best because of it's quality of recording. Yes, It can record every Incoming and Outgoing Calls and auto save it as the best sound quality. This is the reason why this "Automatic Call Recorder" is listed as #1 in Call Recording Software.
Automatic Call Recorder is one of the best call recorder apps that let the user record phone calls of their choice.
Users can have an option to record or ignore the calls as they want. One of the best features of this app is, it is integrated with the cloud.
[appbox googleplay com.appstar.callrecorder]
Best features of Automatic Call Recorder:
Easy to set which calls are to be recorded and which are to be ignored
Listen to the recorded audio whenever wanted
Option to Auto save recordings to Google Drive™ and Dropbox
Enable a Call Summary Menu in order to appear immediately after a call.
Search for recordings by contact, phone number etc.
Automatic Call Recorder App has an option to record and sync the call and even save to Google Drive or DropBox.
The recorded calls are easy to search by phone number, name or any associated note.
It has an additional feature that is, it saves the important calls to the saved call folder to check the list later.
This Call Recorder App also has three call recording options such as Ignore contacts, Ignore everything and Record everything and it automatically deletes the old records.
The pro version comes with a support of auto record calls for selected contacts.
#2

Call Recorder: – Another Best Call Recorder App

Call Recorder is an also one of the best and simple recorder app that can recorder the calls made from your Android. Some best features of Call Recorder are:

[appbox googleplay polis.app.callrecorder]
You can Enable or disable call recording anytime
It can record all your phone calls
You can Play/Stop any of the recorded audio by touching them
It allow you to delete the recorded items
You can also lock the items to prevent from mistakenly deleting or auto-cleaning.
#3

Galaxy Call Recorder: – top auto call recorder app for android
Like other top recording apps, Galaxy Call Recorder program also allows to record phone calls. This recorder is designed to be a very simple in use. Galaxy Call Recorder gives options to delete records automatically when they becoming old.
[appbox googleplay com.oduzhar.galaxycallrecorder]
So guys, if you own a phone from Samsung Galaxy Series then this app would best choice to save voice conversation. Galaxy Call Recorder specially designed for Samsung Galaxy Series Android phones, some best features are:
It give ability to use automatic and manual recording modes
It shows grouped records with contact information (i.e. name and icon)
Option to disable recording when headphones on or Bluetooth device connected
You can disable recording for incoming or/and outgoing call and for some contacts you want.
You can stop recording from a notification bar
Easy to Play, delete the recent record from a notification
Galaxy Call Recorder has the ability to delete records automatically if want.
You can save records to MicroSD card, DropBox disk directly.
#4

Call Recorder – ACR : free call recorder app

Call Recorder ACR is one of the most popular call recorder application available on Google Play Store at free of cost.

This app makes easy for you to search the calls by organizing the recorded call group together. This app is available in both free and pro versions.

In the pro version, it enables the user to get access to integration with cloud drives such as Google Drive and DropBox to sync the records.
ACR offers tons of features such as:
Grouping recordings by date
Auto delete old recordings
Marking recordings as important so they don't get auto deleted
Multi select, delete, send
Displaying contact name and photo
Excluded numbers
Password protection of recordings
Lots of recording formats
Ability start delayed recording
Different recording modes by number, contact, non-contact or just selected contacts and many more…
[appbox googleplay com.nll.acr]
You can also get more extended features in pro version:(PRO Features)
Dropbox integration
Google Drive integration
WebDAV integration
FTP integration
Auto or Manual call recording
Auto email
Call Recorder ACR app saves voice data on the phone and automatically deletes old records to save memory. It consists of various features like Auto Call recording option, delayed recording, password protection to the records and manual call recording.
#5

All Call Recorder – Free Android call recorder app
All Call Recorder is the top leading call recorder for Android. It is made it very simple to record all incoming and outgoing calls and can share them on Facebook, Twitter, Dropbox, Google Drive and etc. It allows you to secure the files with password in order to protect recordings from others.
All Call Recorder comes with both FREE and Paid versions. Free version is with Ads-integrated if you want you can buy their pro versions. I suggest to use this app for call recording only if you have not any other option because It received poor reviews from its user (as per PlayStore).
[appbox googleplay androidlab.allcall]
#6

Easy Voice Recorder

Easy Voice Recorder app is mostly known for its great features and also for its high-quality audio recordings.

It not only records incoming and outgoing calls but also record meetings, classes, songs, personal notes and much more.

[appbox googleplay com.coffeebeanventures.easyvoicerecorder&hl=en]

In addition to this, it allows the user to share the call recordings with their friends. It is easy to use and it has a very light theme which makes everything simple.

The Easy Voice Recorder embedded with fine tune feature to make the call recording better.

Through this app, one can easily organize the call recording very easily and get the best experience.
#7

Cube Call Recorder

Cube Call Recorder not only records calls from normal calls but also record calls from various VoIP services such as WhatsApp, Skype, Facebook, Viber, Telegram, Hangouts, Slack, IMO, Line and much more.

[appbox googleplay com.catalinagroup.callrecorder]

The VoIP service doesn't support all Android devices but once you install this Cube Call Recorder, you can experience its best features on your smartphone.

The best part of this app is, it is available for free and doesn't contain any annoying ads.

With this Cube Call Recorder app, users can get best call recording experience at free of cost.
#8

Google Voice

One of the best ways to record the calls on Android smartphone is by using the Google Voice application. It supports in only selected countries.

[appbox googleplay com.google.android.apps.googlevoice&hl=en]

This Google Voice app provides you a free number and you have to use that free number to call, text, check voicemail and much more.

This app works on all devices so that it is easy to connect and communicate as you wish.

The registration process for this application is very easy. To use this app, just go to settings then advanced settings then incoming call options and then click on enable.
#9

Call Recorder by Quality Apps

This application is almost similar to Call Recorder 2018 app and also has similar features.

The Call Recorder by Quality Apps enables the user to record incoming and outgoing calls.

It has best features such as mark important calls as favourites, search inside the recorded calls, can set a PIN to protect the calls, can save the calls in MP3 and WAV format and much more.

[appbox googleplay com.call.callrecorder.voice]

The free version comes with annoying ads, but the pro version provides you free from ads and also gives you additional features. So it is free to download but to get rid of ads you need to buy the pro version.
#10

RMC Android Call Recorder

This call recorder application refers to as one of the most versatile call recorder apps that are available on Google Play Store.

It not only records the calls into MP3 and WAV formats but also records in other formats such as MP4, 3GP and AMR.

This app automatically records both incoming and outgoing calls and helps to sort and search the calls.

[appbox googleplay com.record.my.call&rdid=com.record.my.call]

It consists of a built-in trash folder which helps in retrieving the records which are deleted accidentally.

Users can customize various features like recording channels, bit rate, and sample rate. It comes with a cloud integration support with Dropbox and Google Drive.
#11

Smart Auto Call Recorder

It is one of the best call recording applications for Android that is available on Google Play Store at free of cost.

It can record both incoming and outgoing calls automatically without pressing any record option.

[appbox googleplay com.wooks.callrecorder&hl=en]

This callrecorder app consists of the best feature, where users can set automatic deletion of call records after the certain time. According to the user requirements, they can save the call recordings in MP4 and 3GP formats.

People can set PIN for records, can sync recordings to cloud storage and much more features.
#12

Super Call Recorder

Super Call Recorder allows the user to record the calls in real time. It can record both incoming and outgoing calls automatically on your Android devices without any hassle.

It is completely free to use and it also supports Android 2.1 and up devices.

[appbox googleplay com.meihillman.callrecorder&hl=en]

Through this app, you can easily export the call recordings to SD card, WhatsApp via available sources.

This app comes with built-in playback to record calls in MP3 format.
#13

Automatic Call Recorder Pro

It is yet another cool call recording app to download and install on Android devices from Google Play Store without paying any cent.

[appbox googleplay com.smsrobot.callu]

If you are afraid of losing call recording or if you have lost your phone?

Don't worry, this app saves all the recordings in the DropBox account saved on cloud storage which is linked to this app.

So, you will never lose your call recordings.
Conclusion
Hence, this is the complete information regarding Top 10+ Call Recorder App for Android smartphones.
If you want the best call recorder app, you can select one of these call recording apps from the above list.
Download and install the app on your Android devices and experience its best features.
Comment below if you've any question related to this post and share your feedback in comments and also let me know which auto call recorder app is your favorite!