Best Browser for Windows PC with Superfast Browsing Speed
Whenever you do your work online on the Internet, Your Internet activity & Productivity mostly depends on your Browsers. So, having a Good Web Browser is most important.
If you use a Browser that can't fulfil your browsing needs, then what're the benefits of using it. Just throw that browser out of your Laptop/PC. Yeah, it will surely badly affect your Internet experience.
Now, Which Browser is Best for You (Windows 10/8.1/7)?
Yeah, this is the question that probably comes in your mind. Isn't it.
Ok, I am going to share Top 5 Best Browser for your Windows OS PC/Laptop, each browser has its own features, each made to take care of different needs.
5 Best Browser for Windows PC
Basically, some browser focus on performance, some of the browser looks great i.e. has a great design and some offer Add-ONs, security & privacy & more amazing features. So, you have to choose The Best Browser among the Best that completely focus on what you need. Below, I have mentioned 5 Best Browsers which are Truely best from almost all aspects.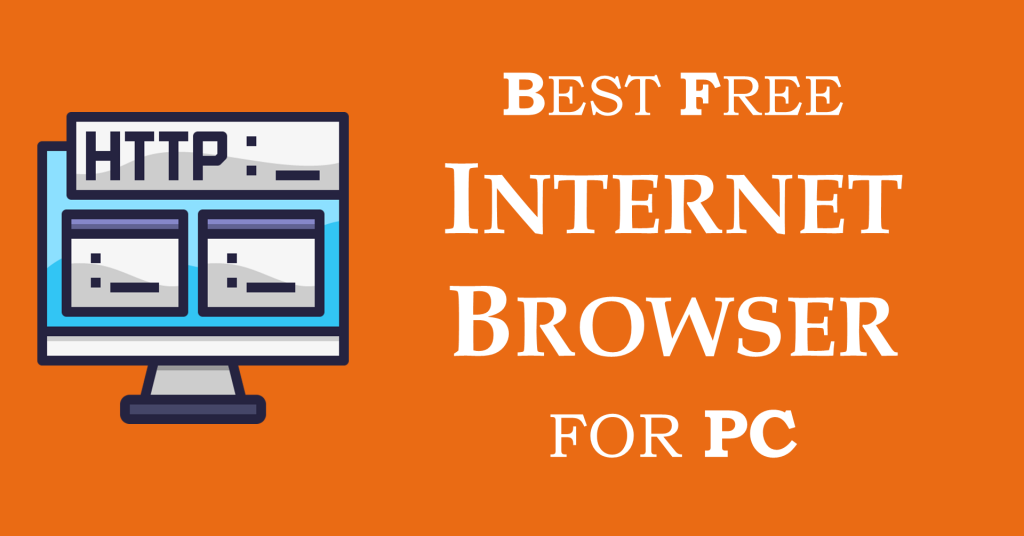 #1

Google Chrome: The Winner of this Browser Race.

The first one is Google Chrome. Yeah, no doubt Chrome is the Best Browser. As the name implies, Chrome is a Google product, all-rounder browser from all aspect such as the design, speed, features, security etc and offers a ton of Extensions which you can install into your Chrome Browser from "Chrome Web Store".

Google Chrome is free, trusted and best web browser from Google. Chrome is also known for its Amazing Speed and Google Chrome for Windows is the excellent choice when you need a multipurpose tool for Pro Web Experiences.

Google Chrome is Most Popular and Most used Internet Browser which offers lots of impressive features in terms of protection, it scans for both harmful websites and downloads and tons of features and customization option to make your browsing perfect and make you feel like a Pro.

Everything in this world have some downsides may be big or small, Chrome has also. What the disadvantages of Google Chrome is that it is very heavy on the resources and eat 2-3 (appx.) more memory than other web browsers.

Google allows you to download both Offline as well as Online Setup file. You might have already installed Google Chrome on your Windows PC if no then you can download Google Chrome offline installer setup file.
#2

Mozilla Firefox:

Mozilla Firefox – often known as Firefox is the free web browser powered by Mozilla Foundation and like Google Chrome, Mozilla Firefox is also an open-source program available Windows PC as well as other platforms.

Mozilla Firefox is popular in privacy & security and you can completely customize your privacy setting and you will always have full control of your information. All the data is encrypted while browsing to protect and keep your searches safe.

Firefox has been the most successful alternative web browser, also very light on the resources and lets you open dozens of TABs without hanging or slowing down your performance.

In Firefox Store, there are several Add-ons available for Firefox browser, it may not be as much as Chrome but there are enough add-ons which can fulfil your needs, you can install any add-ons according to your needs.

So finally, Mozilla Firefox is a standard web browser that comes with many developer-oriented features. You'll have the option to use it as you need, also has the better level of security. If you're interested, you can go with Firefox web browser.
#3

Microsoft Edge Web Browser

Microsoft Edge is a brand new browser launched by Microsoft and comes inbuilt with Windows 10, as the default web browser. It is actually Microsoft's trump card against Google Chrome, as the latter dominates Windows!.

Microsoft Edge is still in the early stages of development, so we can't compare it directly with Top Browsers. However, it has reliable speed and many unique features worth trying that is why it is listed here. Microsoft's Virtual Assistant, Cortana etc are integrated into the Microsoft Edge browser

Edge still doesn't have support for extensions like Google Chrome & Mozilla Firefox but it is under development and should be available soon. So, if you prefer a native, fast and simple web browser then Microsoft Edge is something great for you.
#4

Opera Web Browser:

Are you looking for a really fast & light web browser for your computer? Opera Browser is worth trying. Actually, Opera doesn't offer all the features as Firefox or Chrome, but it is a perfect browser for those internet users who are looking for the lightest web browser.

Yeah..! Opera is very light on resources, it doesn't eat too much RAM as the RAM killer Google Chrome does. Opera consumes the almost negligible amount of resources and intern gives amazing browsing speed even on the slow network.

Opera has "Turbo Mode" feature, so if you need more browsing speed then you can speed it up just by enabling Turbo mode that will automatically compress all the web pages you visit and makes it more easier to load pages and also uses lesser Internet data.

Furthermore, some websites have some heavy images which take some time to load when you visit that web page. So, Opera offers you an option by which you can turn off images to make it, even more, faster as the browser will not have to load that heavy images.

Like Mozilla Firefox, you can also set Proxy Server in Opera Web Browser. So finally, Opera is also the best web browser that you should install.
#5

Comodo Dragon Internet Browser:

Dragon Internet Browser is Fast and versatile Internet Browser based on Chromium like Chrome, with the highest level of security! Yes, Dragon Browser is the browser that comprises all the awesome features of Top Browsers.

The Comodo is innovative and prolific developers of online security and trust assurance solutions. The Comodo Dragon Internet Browser has taken the latest Chromium technology

Comodo Dragon also gives better user-friendly & smooth browsing experiences and keep you safe and secure. Some best features of Comodo Dragon Internet Browser are as follows:
Keep you safe and secure
Give you unsurpassed speed
A friendly user interface to start
Provide Customized plugins and add-ons
End crashes or frozen windows
Conclusion:
These are the Top 5 Best Browser for Windows 10/8/7 PC or Laptop considering all the best features such as Better User Experiences, Faster Speed, Smooth Browsing experiences, User-friendly design, privacy & security, customizable or extendable features (extension & add-ons), the level of security etc. You can comment below in if you think any more browser which should be there.
Also, don't forget to mention here which is your favourite & Best Web Browser for you.