Best Keyboard Apps for Android: Being an Android user, you would be relying on the default keyboard app pre-installed on the Android device. But you would be astounded to know that there are numerous options available as far as the keyboard is concerned.
So, here we share the list of 20 best-trusted keyboard apps that you can use as an alternative for your default keyboard.
Top 20 Best Keyboard Apps for Android: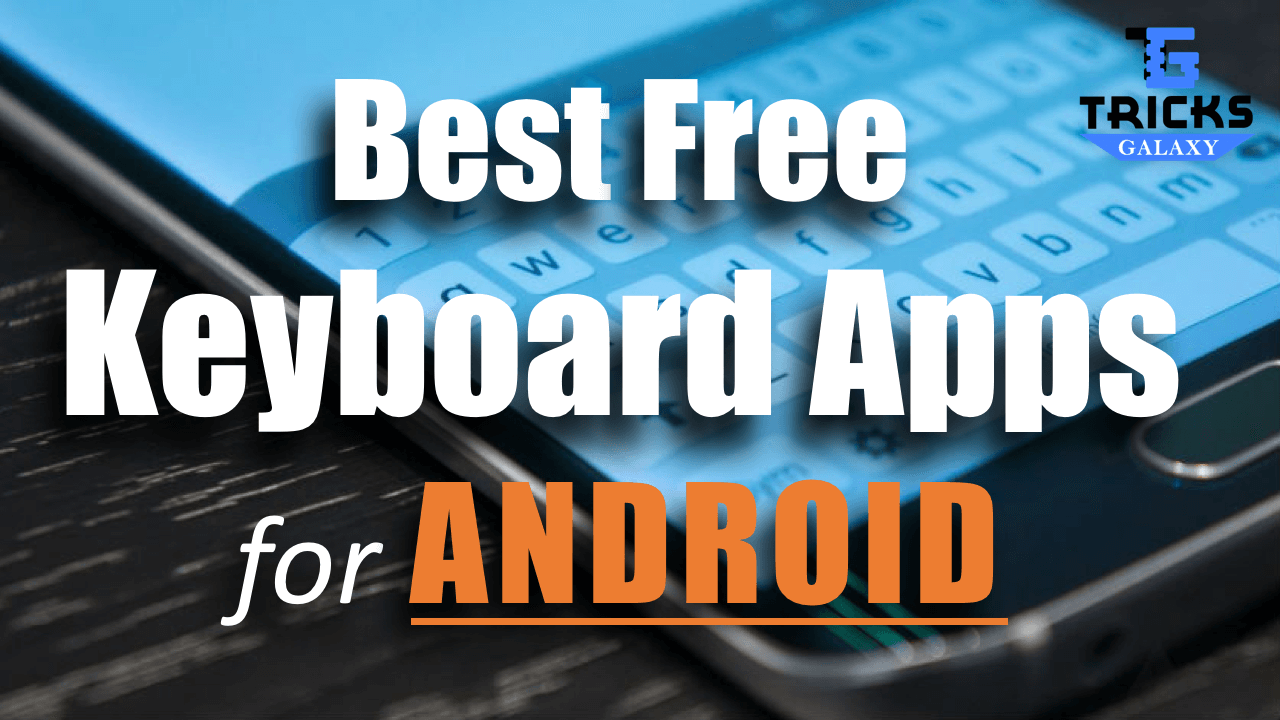 #1

 Gboard – the Google Keyboard

Gboard is Google keyboard that makes typing easy and fast. You can type with voice and gesture by entering words.

Just lifting your finger would leave space between words. Hence, you don't need any spacebar.

It offers personalized suggestions, completions, and corrections.

The keyboard host dictionaries for 26 languages, and provides space-aware gesture typing.

With advanced keyboard layouts, it comes with different layouts and emoji entry points.
#2

Fleksy

Fleksy is the Android keyword app that comes with some unique functions, which distinguishes it from numerous other keyboards.

This keyboard app provides gesture type typing where you can drag the finger to the right in order to add space or hold to the left to delete the last typed word.

Flesky allows you to add numbers to a line by installing an extension.

Adding other extensions would provide you with smart cuts functions. It supports emoji and GIF animations.
#3

SwiftKey Keyboard

SwiftKey Keyboard app is for iOS and Android devices.

It houses powerful tools for enhanced text input and error tracking, which is great for instant messaging and chats on social networks.

Besides the rich built-in dictionary, it has the power to determine and rectify all common mistakes.

It carefully tracks and activates user actions in various applications.

Also, you can customize communication profiles, setlists for frequently used words, and change keyboard appearance as per preference.
#4

 TouchPal Keyboard

TouchPal is another excellent keyboard app that comes with solid functionality.

It is packed with great features and is expected to come from Android keyboard apps.

It holds contextual predictions and robust error corrections.

Additionally, you can customize the keyboard for vibration, sound, height, width, or font. Even, you can custom keyboard keys with ease.
#5

 Minuum Keyboard + Smart Emoji

As the name suggests, this is a small or miniature keyboard for Androids.

It is a QWERTY keyboard that breaks it down into one row and lets you use the screen estate in the glory.

It depends on auto correction and excellent word prediction.

Besides cursor control, emoji support, clipboard control, it monitors the typing speed.

You can use the free trial for at least 30 days.
#6

AI Type Keyboard

This is a Pro keyboard app that is another robust option.

It includes prediction, keyboard customization, and auto-complete emoji. The keyboard comes with thousands of themes that can be added to the customization.

You can try the free version available for 18 days, but after that, a few features will disappear. It is among few keyboards for Android with a number row.
#7

Thumb Keyboard

This keyboard app comes with numerous advanced customization options that enable users to adjust the usability as per preferences. This is a groundbreaking keyboard introducing lots of innovations.

The keyboard comes with a flexible layout, highly customizable functionalities, multi-touch, auto-correction, and swipe gesture support.

You can experience text to speech feedback as well as alter sizes and colours of fonts, keys, and more.
#8

 GO Keyboard – Cute Emojis, Themes and GIFs

With Go Keyboard app, you can turn the plain text into emoticons and emojis.

Communicating with it becomes 1000 times louder than words.

It supports more than a thousand themes and 60 languages. The sticker, emoji, and emoticons in the keyboard are compatible across all popular apps.

It is a smart option to offer corrective suggestions and determine to mistype. It is an AZERTY keyboard pad tablet.
#9

Kii Keyboard 2

This is an alternative keyboard on an Android device that is the successor of the original famous Kii keyboard.

It is free to use and features the support messaging option. The messaging supports emoji to Android and iOS.

It is one of the best keyboards optimized for tablets and phones.

It offers smart and accurate keyboard predictions. The users can define text shortcuts as well as use the keyboard to optimize both tablets as well as a phone.
#10

Multiling O Keyboard + Emoji

It supports Swype and dialing method.

You can enter the keyboard details by long pressing the buttons or through a gesture.

It offers the option to choose from QWERTZ, QWERTY, Neo, AZERTY, Bepo, and Dvorak layout supports.

It offers endless customization possibilities.

You can download useful dictionaries. It is possible to prioritize words and use screens with control keys.

This also makes editing much easier.
#11

NextApp Technical Keyboard

NextApp Technical Keyboard is based on AOSP and has numerous functionalities common to Google Keyboard.

Besides supporting the classical Swype and input method, it is ideal for the advanced users.

Switching between the languages is quite easy and can be selected from the layout of QWERTZ, QWERTY, Colemak, Dvorak, and AZERTY.

It supports automatic correction. The navigation keys can be moved to the cursor.

It even supports various dictionaries and allows you to select from different themes of material and holo design.
#12

Chrooma Keyboard

Chrooma keyboard app comes with an interesting and vast colour scheme.

You can select a bluish hue for Google Docs app while yellow colour for Google Play music.

The Options screen of the keyboard is adapted to high material design standards.

It comes with a night mode that makes it easier to use it at night.

Using the free package would offer you access to all the main functions, but the premium package would offer you with additional rich features.
#13

Ginger Keyboard

Ginger keyboard has a modern design that makes it more comfortable to use.

It comes with three different set of free themes. It guarantees only correct construction of thoughts.

With the intellectual tool, you would be able to select an appropriate offer, pick up the best definitions and synonyms.

It supports around 40 languages with the facility of translation. Reading aloud, useful advice for a language and sharing content on social networks are additional features of this keyboard.
#14

GIF Keyboard by Tenor

If you did not spend words on describing feelings and emotions, then you can use smiled mentioned in this application.

GIF keyboard offers you access to numerous GIFs. Even you can generate personalized GIF using this keyboard.

Besides selecting from already existing GIFs, it comes with thematic sections that allow you to navigate and distribute GIF into different categories conveniently.
#15

Grammarly Keyboard

Grammarly is the newest keyboard for Androids. It was initially introduced only for Chrome extension but is now available for other use as well.

It allows typing as well as correct spelling and grammar easily. It is an excellent and simple solution to your needs.
#16

Typanny Keyboard

Typanny Keyboard is another wonderful keyboard loaded with tons of features. It comes with rich stickers, emoji, themes, and other functionalities.

It supports 90 languages and includes auto-correction, prediction, and numerous other keyboard layouts. It is an extremely solid option and one of the best keyboard apps offering high functionality.
#17

Hitap Indic Keyboard

Supporting more than 80 languages, this is another keyboard app available for Android users.

It includes 12 native Indian languages and has already been used by more than 5 million people.

The keyboard offers picture theme, music themes, emoji, stickers, and emoticons making the process funnier and easier.

You can download numerous keyboard themes and click on distinct sounds, font themes, and special effects. It is also possible to adjust the size of the keyword to operation gestures as per your preference.
#18

Khmer Smart Keyboard

It is one of the simplest keyboard apps that come with intuitive gestures and incredible animations.

All this makes this keyboard a fantastic tool for Android users.

You can delete by swiping left, predict words, and alter writing modes by swiping right.

Additionally, it comes with efficient typing of flick gesture and swipe spacebar right or left to switch between distinct languages.

Using this keyboard is going to make typing easier and convenient for you.
#19

Kika Keyboard – Emoji Keyboard, Emoticon, GIF

This Android keyboard app by the Kika group is one of the highly rated and efficient keyboards available for Android users.

It is an excellent solution for those who wish to converse through Emojis. It brings you various emoji layouts as well as allow you to download new ones with ease.

You can also customize the keyboard for various uses.

The keyboard comes with plugins, such as emoji bar, and a selector that allows you to search the ability to alter sounds and fonts.

It also hosts numerous advanced options such as language switch key, custom input styles, slide indicators, and more.
#20

iKeyboard

ikeyboard is another finest keyboard app available for Android smartphones.

The keyboard is filled with more than 100 creative themes, and this theme is updated on a regular basis. Besides this, it has some great features, such as smart correction, word prediction, and more.

It comes with more than 100 customizable and colourful themes, more than 1200 emoji, emoticons, and smileys.
These are the best keyboard apps available on your Android device.
Last Words:
This was all about Android Keyboard Apps and we have shared Top 20 Best Free Keyboard Apps for Android.
Now, You can Select a keyboard App as per your specific needs like great gesture typing, intuitive typing styles, language support, and more.
Hope you are able to find the keyboard app that meets your requirements at its best.
Which Keyboard App you generally use on your Android Smartphone..?