Are you looking for the best MS Office alternatives? Well, here I have shared some of the top & best alternatives to Microsoft Office that you can use in 2020. Let's get started…!
In the world of office productivity software, Microsoft Office has its own significance and no other software has like its presence.
The company developed a software which can do any task in the modern office. The MS Office consists of many niches and specifications.
We can say it is one of the best software developed by the Microsoft Corporation.
Generally, we use MS office in our daily basis and it is also one of the essential software on Windows PC. Whether you are a student, blogger, employee, businessman, surely you will depend on this software in most of the times.
Most of the organizations throughout the world use Microsoft Office in various ways, such as spreadsheet, word documents, presentations, seminars and much more. It can do a lot of work and it helps the people in most of the ways.
But one has to remember that this software is a paid version if you want to use this software you have to buy its licensed version.
In case, if you don't want to buy its licensed version but want to use its features, don't worry.
There are some alternatives to MS Office which will provide you with the same features and you can easily create and edit the documents.
To make easier for you, we have furnished the list of Top 10 Best MS Office Alternatives on this page. Without further ado, let's jump to the main part about alternatives.
Top 10 Microsoft Office Alternatives:
#1

Libre Office – best MS Office Alternative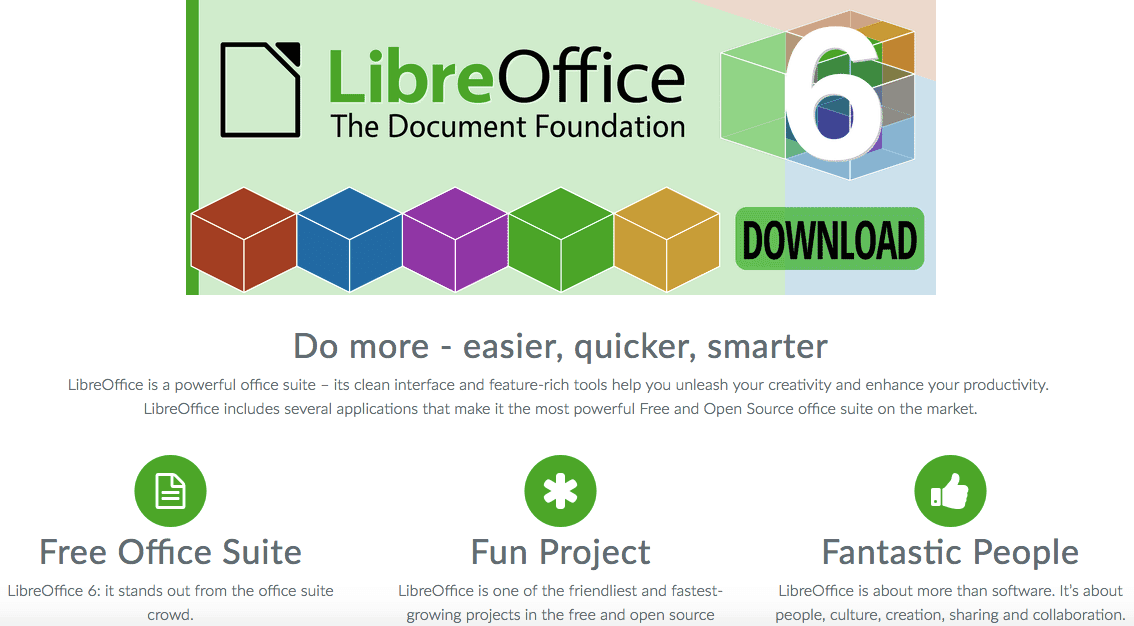 Libre Office is one of the most popular alternatives to Microsoft Office that is available for free to use.
This Libre Office consists of various amazing features like spreadsheet, presentation, editing the documents and database needs.
In addition to these features, it also consists of various tools such as Impress presentation (powerpoint), Writer document (Word), Draw Drawing, Calc spreadsheet (Excel), Math formula and Database.
This software consists of portable version and it can be used on Linux, Windows and Mac operating systems.
It is a feature rich free alternative to MS Office where you can install anything of its option and it works without an internet connection.
#2

Google Docs
Google is known for its best services in many fields of technology. Its online Google Docs consists of a presentation app which are slides, spreadsheet known as sheets and word processor for Docs.
In addition to these primary office applications, it also consists of Google Forms and drawings.
Google Docs can be accessed for free at anywhere at any time you want.
But to enjoy these features, you need to create a Google Account and a stable internet connection.
It supports standard document formats such as PDF, Microsoft Docx and much more and it is similar in Sheets and Slides Google Office apps.
In this Google Docs, people can upload and edit the files from their Google Drive. You can even also invite your friends to edit.
#3

Office Online
If you still want to use the Microsoft Office apps, then Office Online is the best option for you.
This Office Online app works on web browser and can be accessed using Microsoft account.
At present, this app consists of cloud-based versions such as PowePoint, Word, Excel, Sway, OneNote, Flow and much more.
People can edit their files that are stored in OneDrive account.
It is compatible with Android and iOS devices.
It consists of Skype Integration option, where people can chat with other while edited a shared document or presentation.
#4

WPS Office
This is another cool office application Android, which is an alternative to MS Office.
It was previously known as Kingsoft Office and later renamed as WPS Office.
The WPS Office 2016 Version is available to the Windows users for free, but with non-interrupting ads.
It consists of the presentation, spreadsheet, word document making applications.
The WPS Office also contains cloud sync option that allows the user to sync the progress of their documents across various devices.
The free version of inbuilt Word to PDF converter contains the limited number of conversations.
It is available in both free and paid versions, but in the paid version, people can get additional options.
#5

Apple iWork
In terms of consumer operating systems, this Apple iWork is the biggest competitor of MS Office.
It is available only in Mac Operating System (OS X) at free of cost.
This application consists of the similar features of Microsoft Office such as word processing, presentation, spreadsheet and much more.
It provides the people with many easy to use features and it is easy to use without any dongles.
Earlier, iCloud (cloud-based version) is only available for Apple users, but now it is compatible with other platforms of iWork apps.
To enjoy these services and features, all you need to have is Apple ID.
#6

Calligra Office
It is an open source office suite that is built upon Qt toolkit.
This Calligra Office consists of more application than other MS Office alternative app i.e., Libra Office.
If you want a simple office suite with some features like image manipulation, database management and flowcharts then this app is apt for you.
Like other MS Office alternative apps, it also contains both free and premium versions. But in order to get all applications, you need to buy the premium version which is cost effective.
#7

Zoho Workplace – Office Suite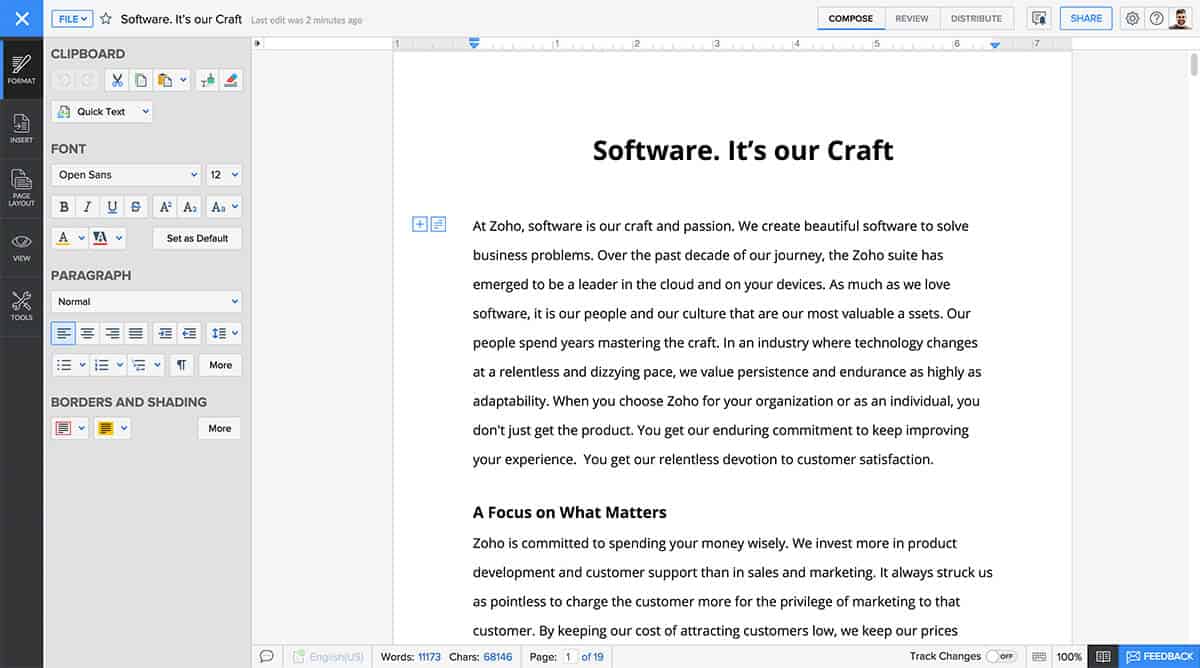 Zoho Office Suite offers about 20 online applications for free which also include the writer for word processing.
People can easily link their Zoho account with Google and Yahoo accounts.
The Zoho Office Suite includes Zoho Writer for Text documents, Zoho Sheet for spreadsheets and Zoho Show for presentation.
It has best features like other office suite alternatives, some are real-time collaboration, two-way file synchronization, secure file sharing, multi-level folders and much more.
It supports all MS Office file formats.
This office suite is mobile compatible available for Android and iOS.
#8

SoftMaker Free Office

SoftMaker FreeOffice is one of the best MS Office alternatives which is available for free.

It easily works with the presentation, spreadsheet and word document files without any hassles.

This office suite consists of a set of tools such as Presentations, PlanMaker (Excel alternative) and TextMaker.

It is also compatible with MS Office file formats.

The PlanMaker tool consists of additional features such as spell checking, synonym dictionaries, pivot tables and conditional formatting.

This SoftMaker FreeOffice suite is available for Windows and Linux operating systems.
#9

Apache OpenOffice

It is one of the best Microsoft Office alternatives which is available for free and also it is open source.

This office suite comes with a simple standard application such as spreadsheet application, presentation software, word processor, DBMS manager and graphics editor.

It is fully compatible with MS Office file formats and also some other formats as well.

Apache OpenOffice functionality can be extended with its numerous extensions.

It is available for Mac OS, Windows and Linux operating system.
#10

DropBox Paper
DropBox is the only place to store documents for a long time.
With the new DropBox Paper, it replaces Microsoft Office and Google Docs.
Through this office suite, people can create and edit documents, can collaborate with others, project management and team communication.
It is simple and comes with a clear interface for collaborative editing of documents and presentations.
Conclusion:
So guys, this is a complete list of information about Top 10 Best MS Office Alternatives.
If you want to try something new office suite other than Microsoft Office, then you choose any of the alternatives from the above list. Install one of the above office suites of your choice and experience its best features.
If you have any queries about this topic, just drop them in the comment box below.