Just having a good anti-virus app, it doesn't mean a complete Security for your Android Smartphone. You should also install a good Security app to protect your privacy.
Here are Top 6 Best Android Security Apps. An Android Device Security is comprised of many different Security features, such as:
A good encryption functionality.
A blacklist for undesirable calls,
Permission & restrictions for different apps,
An excellent backup protection, in case if your smartphone gets into trouble.
Data privacy and security features.
Android is the popular mobile Operating System as compared with others. This high-level of popularity gives the opportunity to the hacker to target the Android users(you) with many security threats.
The common malware, phishing, and annoying adware are the major concern for Android users. You have to protect your personal and sensitive data from these security threats.
No doubt, Google Play Store is the best place to download free android apps and has numbers of security apps, and it's quite difficult for you to select the ones that meet all your expectations. So, here I have listed Top 6 Security Apps for Android Smartphone.
5 Best Security Apps For Android 2017
#1 CM Security Antivirus AppLock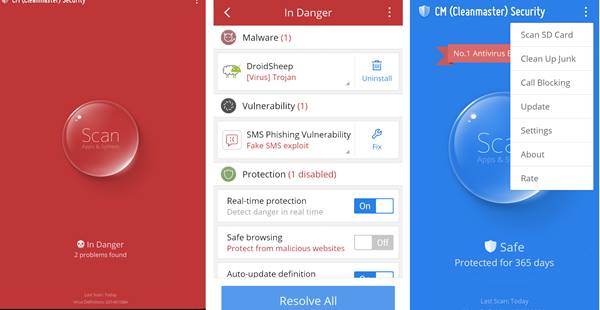 CM Security is a one of the top leading Security tool or you can say the best antivirus for Android that provide protection against all the external security threats. It gives you option to scan out all the malicious apps that you have been installed in your android phone.
CM Security is not only a good antivirus but also an AppLocker. You can use it as AppLock tool to protect your app with password from unauthorized access.
Features of CM Security:
AppLock & Vault – The fastest & safest app lock for android in the world. Lock your photos, gallery and messages etc.
Cleaner & Phone Booster: It has Ram booster and CPU booster. Your device can be lighter, faster and protected.
Find Phone | Anti-Theft: Locate your phone on a map. Lock the device to protect your privacy.
App & System Scanner: Scan whole system and apps with a click.
SD Card Scan: Scan external SD cards thoroughly to detect and delete threats.
Real-Time Scan: Prevent harm to your device with real-time scanning of new applications and updates.
Call Blocking: Block unwanted phone calls.
Safe Browsing: Block malicious URLs and protect yourself against phishing websites.
Download CM Security from Google PlayStore
#2 360 Security – Antivirus Boost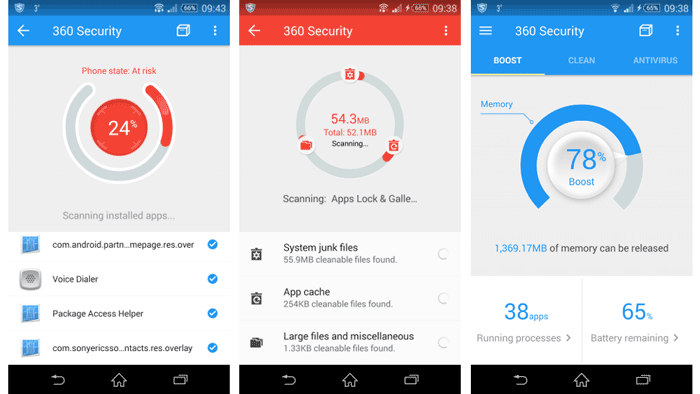 360 Security is all-in-one Speed Booster app that optimizes your Android phone's background apps, memory space, junk(cache) files and battery power.
It is also one of the best Antivirus apps that keep your device safe from virus and trojan. 360 Security's protection is against viruses, adware, malware, trojan and more.
Features of 360 Security – Antivirus:
Security & Antivirus: Scan installed apps, memory card, new apps automatically and protect against viruses, adware, malware, trojan and more.
Junk File Cleaner: Delete useless system files, large files, app caches for an instant speed boost.
Memory Boost: Free up memory (RAM) and boost your mobile phone.
Power Saver: Intelligently saves your device's power.
Anti-theft: An all-in-one anti-theft solution. Erase, Locate, Alarm and Lock can assist you with retrieving a lost device and protecting personal data.
Privacy & App Lock: Prevent apps, SMS, photo albums, and other important and private documents from falling into the wrong hands.
Real-time protection: Scan installed apps, APK files in real time.
You can Download 360 Security from PlayStore.
#3 AVL for Android: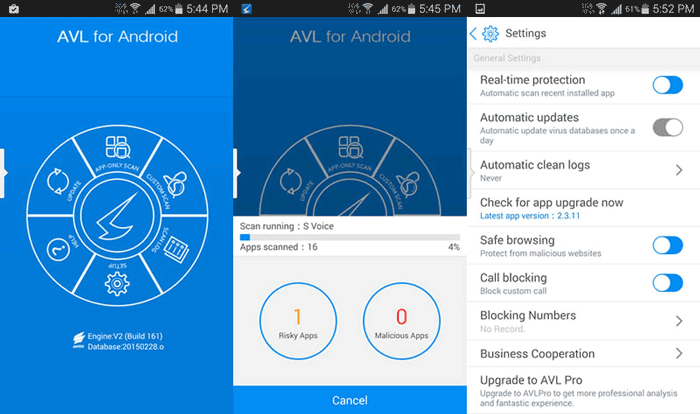 You might probably just looking for malware protection. If you don't want anti-theft tools or any of the other superfluous features that come in many Security apps then AVL will be best for you.
AVL is the antivirus software produced by Antiy Labs that is applicable for Android system. This is the App that displays the mobile antivirus engine of AVL SDK, which provides the basic functionality of virus scan to protect your Android system and application programs.
Features:
Comprehensive Detection,
Efficient Detection,
Strong Support System.
Download AVL from Google PlayStore
#4 AppLock: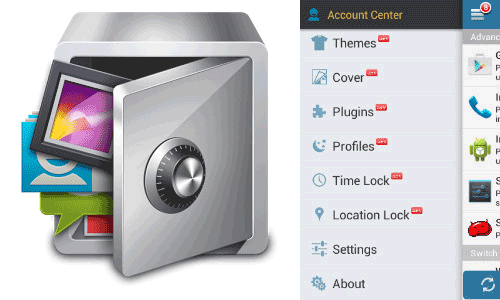 Some of you are probably keep sharing your device with others, but at the same time your privacy can be in risk. So, you can use one of the best app protecting tool called AppLock that protects you app with the password. Yes, that you have heard is true. You can password protect any app like – WhatsApp, Facebook, Messengers, Gallary, Browsers etc.
Features of AppLock:
You can protect any apps using password or pattern
Easy to change profiles,  the locks.
It can automatic lock at given time or at given location
AppLock offers random keyboard
It made it simple to lock incoming or outgoing calls
You can easily lock Google Play Store, Gallary, WhatsApp etc.
It can prevent apps from being uninstalled
AppLock can be prevented from being uninstall
AppLock cannot be killed by task killers
You can freely download AppLock from PlayStore
#5 Avast Mobile Security Antivirus & Anti-Theft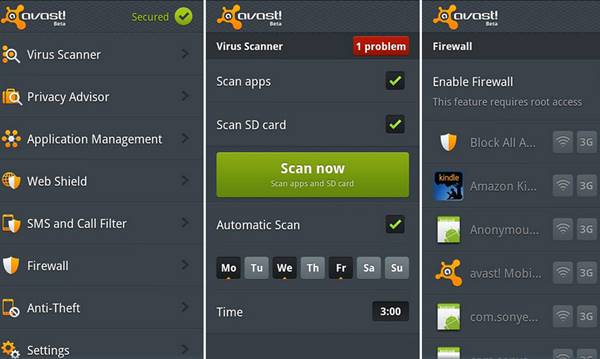 Avast is a reputation antivirus and you might have used their PC version. Similarly, Avast Mobile Security is free antivirus made for Android mobile device which can protect your smartphone unwanted phishing, malware, spyware, and malicious viruses such as trojans and many different spam apps that try to steals your data. Their Anti-theft feature helps in tracking device against loss or theft.
Features of Avast Mobile Security:
Locate and Track your lost phone.
Control your cell phone remotely.
Set up a SIM-card-change notification to another device.
App Locking: Locks an unlimited number of apps.
Security tools like virus and malware scanner, trojan removal for infected files, protector, network meter, app manager, app lock, and firewall.
Download Avast Mobile Security
Download Avast Anti-Theft from Play store.
#6 App Ops:
App Ops is a security app for android that allows you to block permissions to any installed apps. This is really a great app that allow you to block unnecessary app permissions of certain apps that do not have anything to do with the main functions of the apps.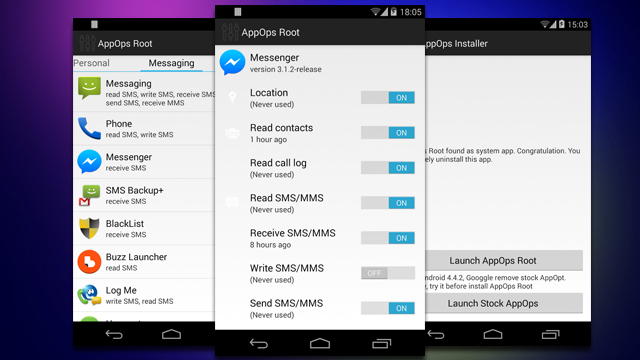 Android OS is built with an in-built app permission system and when you install any app from Google PlayStore you are asked to grant the list of permissions that the app requests. If you decline it, that app is not installed. In other words, to install any app on your android, you must accept and give those permissions.
App Ops is the app which allows you to change the app permissions. For example,if you don't want yout flashlight app to collect your location-based data, which is being used by ad agencies, then you can easily block that permission for that particular app.
Download App Ops from PlayStore
Conclusion (Security Apps)
So, these are the Top 6 Best Security apps for Android that protect your Android Smartphone from various security threats such as – viruses, adware, malware, trojan and more.
The cleaner apps scan external SD cards, Phone memory, the whole system, apps etc thoroughly to detect and delete threats. These apps also optimize your Android phone's background apps, memory space, junk (cache) files and battery power.
Using these Android Security Apps, also you can protect your private apps (i.e. Whatsapp, Facebook, Gallary, Messengers etc) with password or pattern. Enjoy your smartphone.
Feel free to ask if you have any doubt regarding this topic and don't forget to share your views/ideas/suggestion in comments.