Have you ever heard about OTG Cable? Do you want to know the amazing features of USB OTG Cable?
Well, Today I'm going to present Top 10 Most Amazing Uses of OTG Cable.
OTG is undoubtedly one of the coolest features of Android. It will be used in many ways where it acts as a USB drive.
What is OTG Cable?
First of all, Your Android phone has standard female micro-USB (or Type-C) port and normally most of the USB Device comes with a full-size male USB port.
So, How will you solve this problem? Of course, using OTG Cable.
OTG (On-The-Go) cable comes with Male micro-USB port on one side and Female Full-Size USB Port on another.
So, by using an OTG Cable, You can connect any USB Device like- Keyboard, Mouse, External Hard Disks, Camera, Pen Drive, DSLR etc. with your Smartphone.
Isn't it Interesting? Yes, it is.
OTG Cable allows USB OTG compatible devices to act as host (or as a controller) for other USB gadgets like keyboard, game controllers, flash drives and much more.
Android devices don't need any Computer to act as a host between two USB devices to share images, files or any other functions.
Through this USB OTG Cable, the functionality of the Android smartphone has been expanding in numerous ways.
Some of the coolest functions are accessing data stored on two USB devices, used as a charging other phone and much more.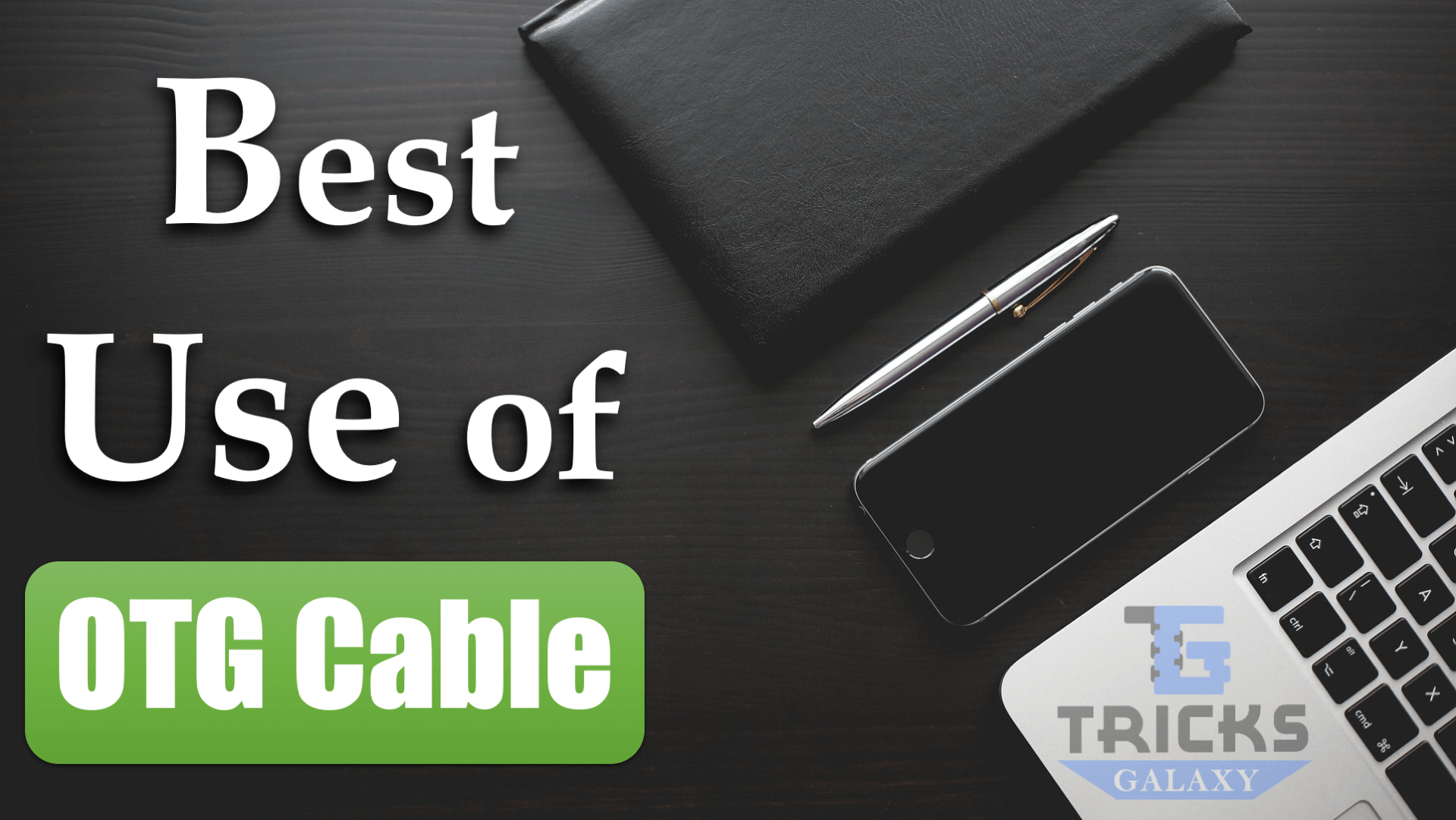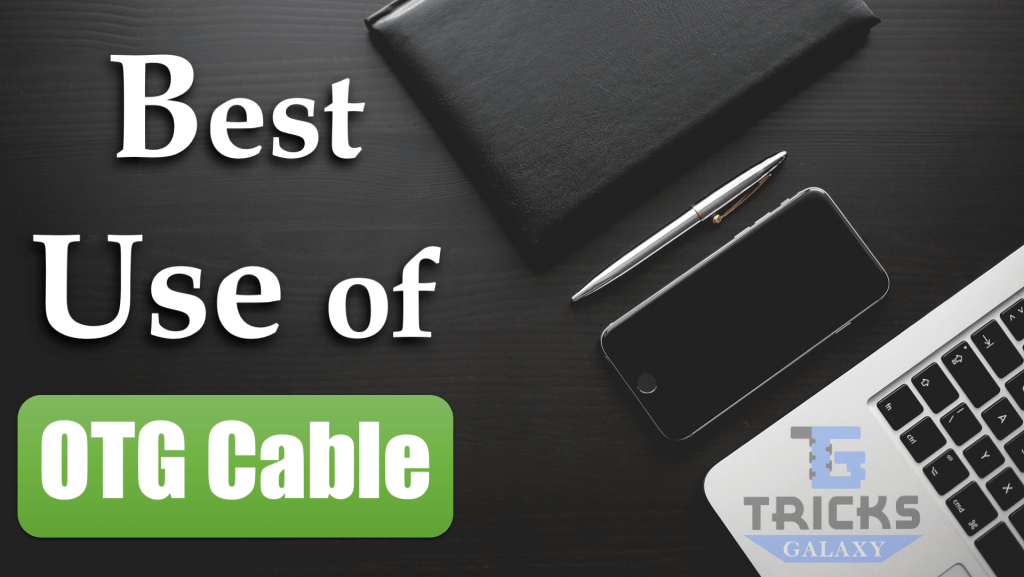 Top 10 Best Uses of OTG Cable:
Here on this page, we have furnished the Top 10 Best Interesting Ways to Use an OTG Cable.
#1

Charge other Android devices

If you are lack of battery charge and your friend has a full battery charge, then it is very easy to charge your phone by connecting it to your friend's phone.

Yes, you heard it right!!! Through this amazing USB OTG cable, one can easily transfer the battery charge from one device to another device.

To do this, just connect one device to OTG cable and another with power cable. The device which is connected to power cable will get charged from the connected OTG cable.

That's it. It will be very easy to transfer the battery charge now.
#2

Use OTG as Music Instrument

Are you an aspiring singer or a YouTuber then this OTG cable will be helpful for you. It allows the user to get the best recording quality.

Through this OTG cable, you can create your own music on your smartphone.

Generally, the musical instruments are connected to the computer via MIDI Standard. But through this USB OTG cable, now you can connect MIDI controllers to your smartphone via USB.

In order to use MIDI controllers properly, you need to download the TouchDaw application. Now it will be easy to connect all the musical instruments to your computer with the help of the USB OTG cable.
#3

Game Controllers

Smartphone games are getting best and becoming more powerful day by day.

There will be a lot of games available on the Google Play Store.

But some of the games come with the on-screen control which is a little annoying thing because it is hard to control via mobile.

Don't worry, with the help of OTG cable just connect your smartphone to the game controller and play the game like a pro.

This USB OTG cable is very useful for action, adventure, and shooter games. By controlling the game with controllers is more comfortable than tapping on the screen.
#4

Use Mouse or Keyboard on Smartphone via OTG Cable.

If you want to navigate your Android smartphone with a mouse or a keyboard, just like you do on your computer?

Then now it will be very easy for you to use.

Just hook up your USB cable to the smartphone via USB OTG cable and start experiencing the keyboard and mouse feel on your smartphone.

You can navigate through the mouse and type with the keyboard just by connecting the OTG cable to your smartphone.

Not only on the computer, now you can avail this mouse or keyboard functionality on your Android device.
#5

Transfer Data and Media Playback

It will be very useful in transferring important data on your Android smartphone to the USB Flash drive and vice versa.

In order to transfer the data, just connect the flash drive to the OTG cable and use any one of the file manager apps to copy and move data and same process with the flash drive to the smartphone.

If you want to enjoy any songs or movie on your smartphone, connect it to OTG cable and transfer to phone storage without any hassle.

It is one of the coolest uses of OTG cable for transferring any type of data from the device to USB flash drive and vice versa.
#6

Control DSLR Camera

This is most preferred by the pro photographers and to the beginners these days. DSLR camera offers various features such as best class image quality, extensive manual controls and a wide range of accessories.

But now, you can easily control the DSLR camera and eventually tweak its manual controls with the help of a USB OTG cable.

Just connect your smartphone directly to the camera by using an OTG cable.

Those who feel copying images from the camera is a tedious task, can use this cable and perform the copy paste job in a very easy manner without any hassle.
#7

Access Ethernet Directly using OTG Cable

In order to access the internet on your smartphone, WiFi is the general way to go with apart from mobile data.

But there might be sometimes, there will be a problem with the wireless internet where you can't access the internet on your smartphones.

It is really an annoying thing when we are doing some work.

Yes Right!!!

Now that problem has been solved, just connect the LAN wire to the USBOTG cable and then connect the cable to your smartphone.

Now you can enjoy high speed and stable internet connection directly on your smartphone without any dongles. One has to remember that, to do this process along with OTG cable they need to have a USB Ethernet adapter.
#8

Print Documents

Generally, printing documents require either a computer program, i.e., Microsoft Word or copying the information to the USB Flash drive and connect it to printer USB.

Now, this process has become very easy and simple with the help of a USB OTG cable.

Just connect the printer directly to the smartphone with the help of OTG cable and it will be very easy to print the documents in a short time. But to do this, you need to have PrinterShare application.

This app directly downloads the printer drivers to the smartphone and provides the people with many advanced options.
#9

USB Accessories

Have you ever imagined that your phone works as LED light and portable fan?

If you want to use your smartphone as a light, just connect the USB LED light to your Android smartphone by using the OTG cable.

People can also connect the LED flashlight for capturing images at night if the phone doesn't contain the front flashlight feature.

You can even have a cool breeze in summer by using this cable.

Connect the portable fan to the OTG cable and then connect it to your smartphone. That's it. Now you can enjoy both LED light and portable fan through this cable.
#10

Transfer Messages, Contacts to Other phones

The first thing that we all do after getting a new smartphone is set it up.

This setup process includes transferring of messages, contacts and other settings from the old smartphone to the new one.

Now with the help of USB OTG cable, the transferring of various information will be very easy and simple to use also.

To do this process, you need the SmartSwitch application on your smartphone.

This app helps in transferring the messages, calls and other information between two Android smartphones. It can also be used in Apple and Blackberry devices as well.
Conclusion
So, guys, this is the complete information regarding Top 10 Best Uses of OTG Cable. There are many amazing uses through the OTG cable.
Get this cable, connect it your Android smartphone and experience best uses of it in many ways. If you have any doubts regarding this topic, just mention them in the comment box below.