Grabbing lead's attention and converting them into paying customers is more psychological than technical. The conversion totally depends on how strategically your sales funnel is designed.
Without a strong sales funnel, it's nearly impossible to convert a lead.
Learning sales funnels and using it for your business could be one of the best things you can do to increase your bottom line. Ever tried to build a sales funnel in WordPress?
Making high converting funnels is now easier with WordPress. It's easier to build a strong funnel system in WordPress without hustle by using a funnel builder plugin.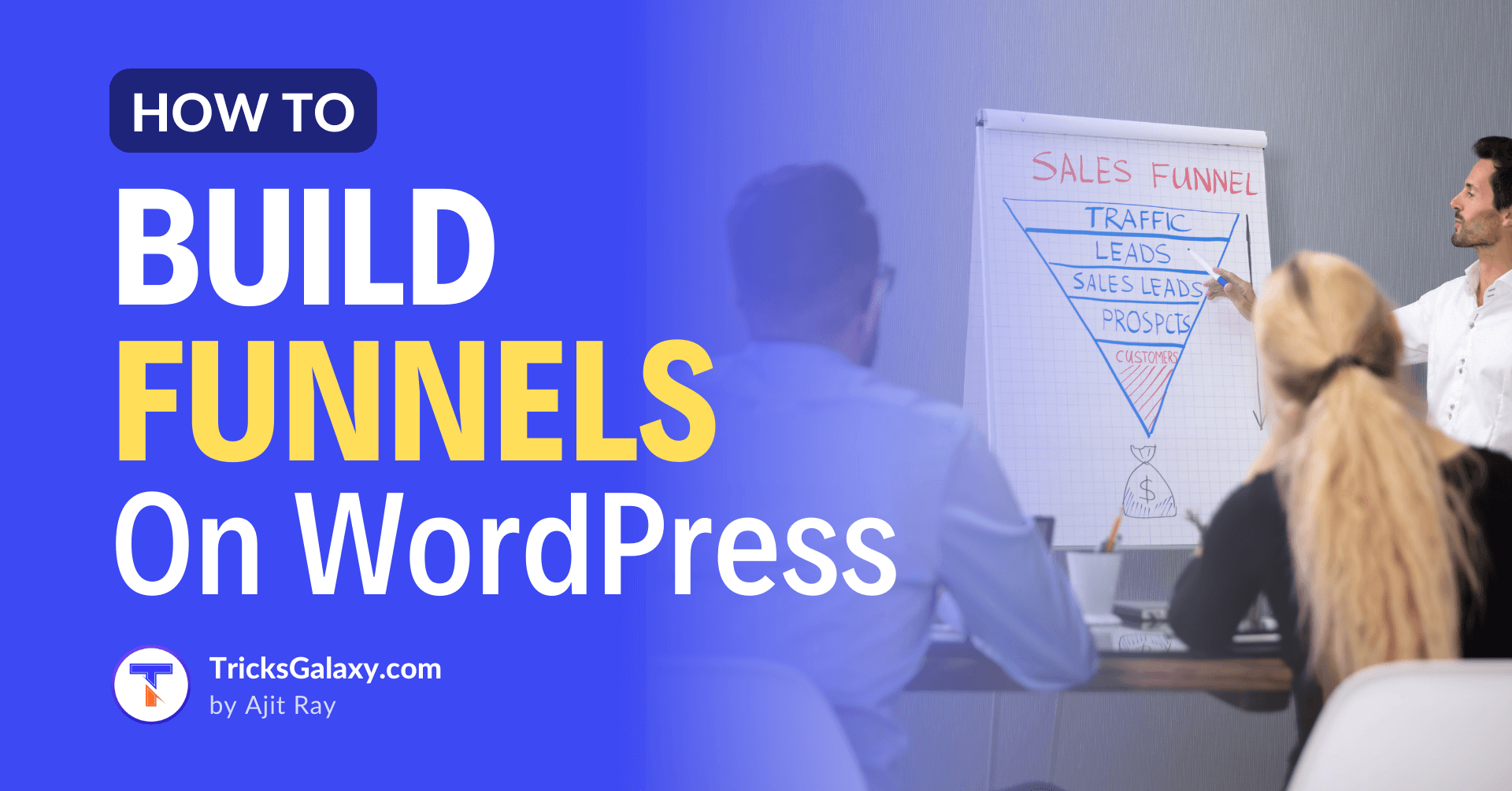 Well, in this article I am gonna show you everything you need to make a sales funnel with WordPress that a user can't resist themself and end up buying your offering.
What is a Sales Funnel?
A sales funnel is the path potential customers take to purchase your offering.
Every sales funnel is designed in such a way to turn visitors into leads and leads into paying customers. The goal is to attract potential customers and provide them an easy & distraction-free path for purchasing.

Website don't sell, sales funnel sells
If you're serious about sales, then you must have a converting sales funnel and you don't have other option.
Websites are good for branding but websites don't sell. It's the sales funnel that sells. It's easy to build sales funnel in WordPress.
Imagine a website listing many products has many distractions like – navigation menu, blogs, ads etc. Do you think leads will buy? They won't, unless the website is most popular like – Amazon, Flipkart etc.
Also, having too many products confuse the leads and " A Confused mind always say – NO"
Whereas, a sales funnel – kills all the objections – set of a few steps strategically designed for conversion.
How does Sales Funnel Work?
The primary goal is to convert your prospects into paid customers, which is done by providing values at each step and encouraging them to complete a series of predefined steps.
So, what are the steps involved in a sales funnel?
There are mainly 4 stages involved in the journey of creating awareness among potential prospects and converting into paying customers.
Attention: The first step in a funnel is to grab leads' attention. A great marketer will always invest most of their copywriting budget in writing Headlines that stops them scrolling.
Interest: Once you have grabbed attention, now it's time to build interest. You can show benefits of your product / offers (avoid writing features, it's boring) and also touch the pain point of your audiences.
Decision: People are now interested in your offering. In the next stage of your funnel, you should focus on killing objections that may come in their mind. There should be only ONE goal of a particular stage of a funnel.
Action: At this stage, a lead buys your product and becomes a paid customer.
Parts of a Converting Sales Funnel:
Web Hosting: The first thing you will need is a web hosting server. Make sure it's super fast without downtime. I use & recommend WPX Hosting.
Landing Page Builder: It is a simple drag & drop page builder that lets you design a web page without knowledge of coding.
Funnel Logics: Funnel builder tool helps you setting up funnel logic (also called Steps or sequence) for your sales journey.
Checkout Page: This is the page that opens when a buyer clicks "Buy" button where they enter the delivery address / email and make payment to purchase.
Working SSL: SSL is the most important part of any website especially which deals with selling. Without SSL, a customer will not feel safe to buy from your page.
Email Marketing Tool: Also called "Auto responder" is the tool responsible for sending purchase information, delivering product or services after a customer makes the purchase.
Ecommerce plugin: This tool lets you create your online store where you create & sell your product.
Best Funnel Builders for WordPress:
1. CartFlows: It is a powerful sales funnel builder for WordPress that lets you convert your simple WP website into an advanced selling machine. With CartFlows, you can easily create & design your funnels logic with Upsells, Bump offers, A/B testing, Converting checkout page and much more.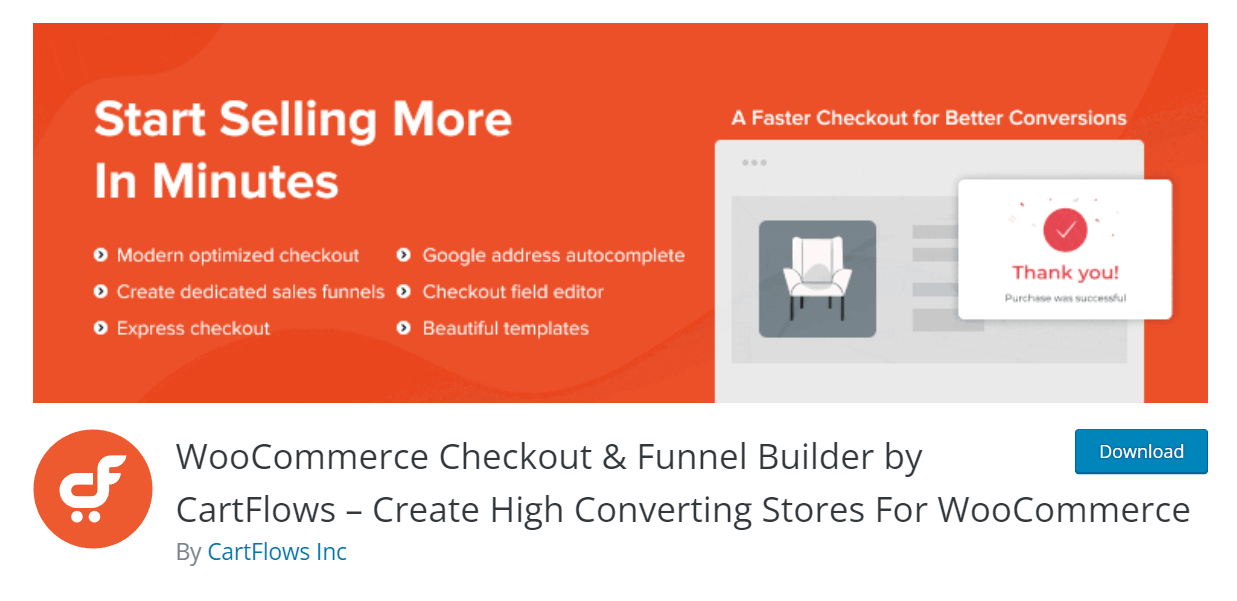 2. WooFunnels: WooFunnels is another best WordPress funnel builder to create high-converting checkouts, one click upsells, order bumps & automations that boost conversion & profit.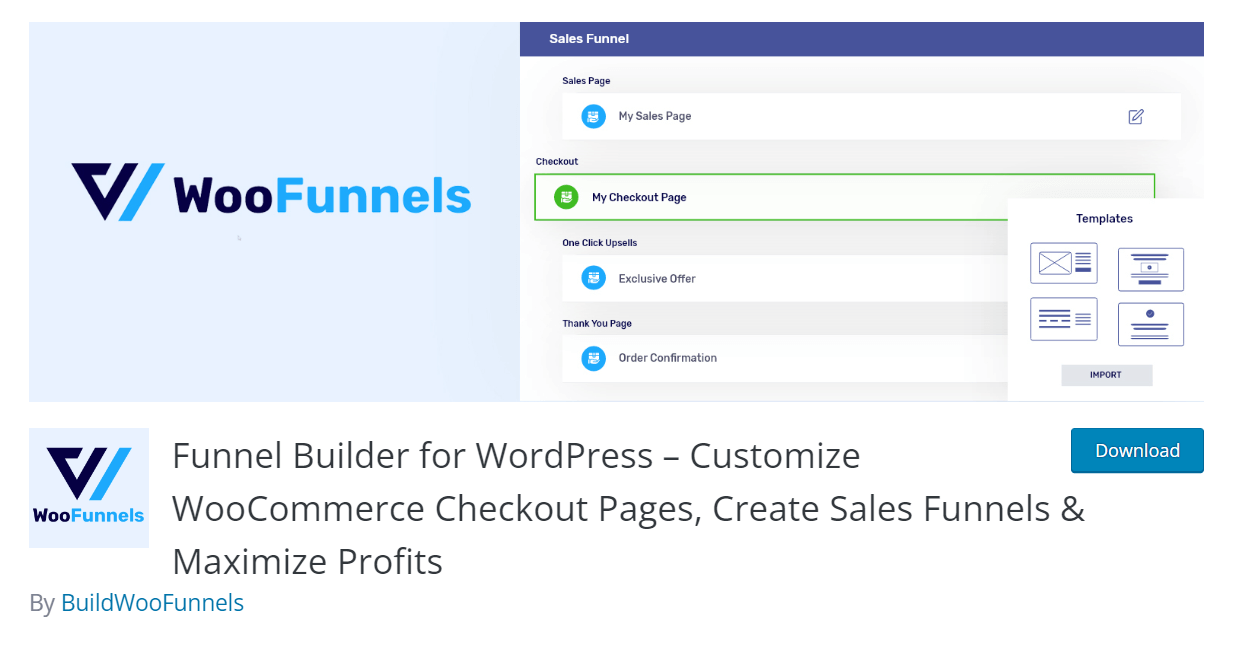 3. WPFunnels: It is a drag & drop funnels builder on a Canvas for WordPress. The free version of WPFunnels offers canvas funnel builder and opt-in forms feature. In order to create upsells/downsells, more conditional logic, you will need to buy pro version.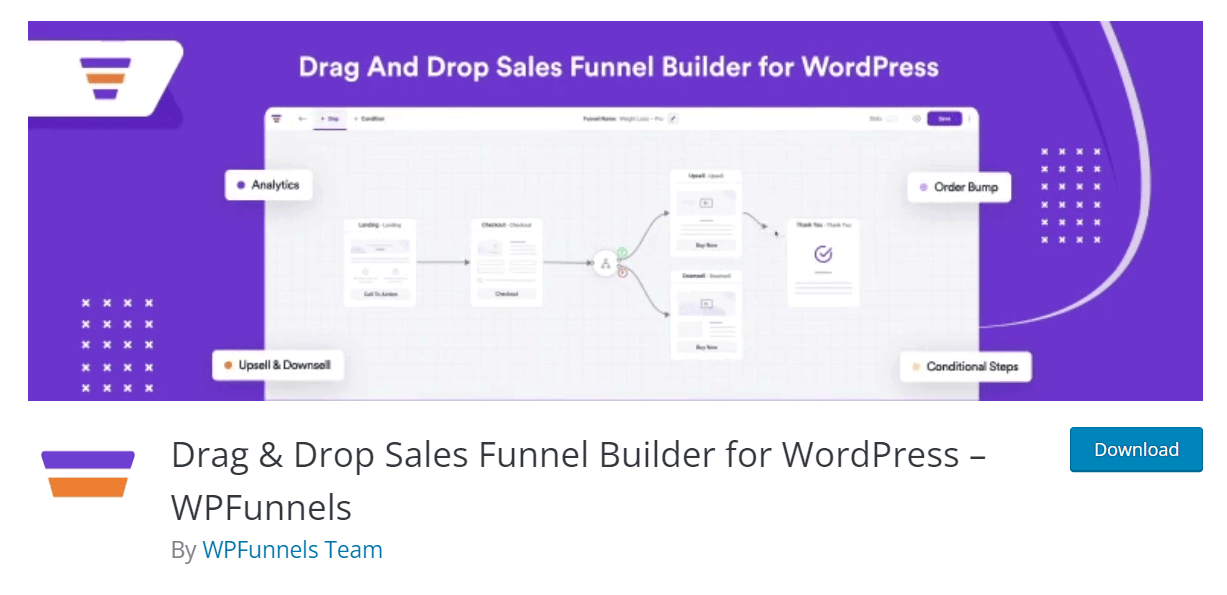 How to Build Sales Funnel in WordPress with CartFlows
In this step by step tutorial, I have shared how you can easily build a simple sales funnel (as shown in screenshot below) with the help of CartFlows in WordPress site.
Step 1: Setup your WordPress Website
Step 2: Create Sales Funnels with CartFlows:
Now, you have your WordPress site ready WooCommerce. It's time to create sales funnel.
In order to create sales funnel on WordPress, we're gonna use CartFlows WordPress plugin.
You need to go to your WordPress Dashboard > Plugins > Add New > Search for "CartFlows" and just install and activate it.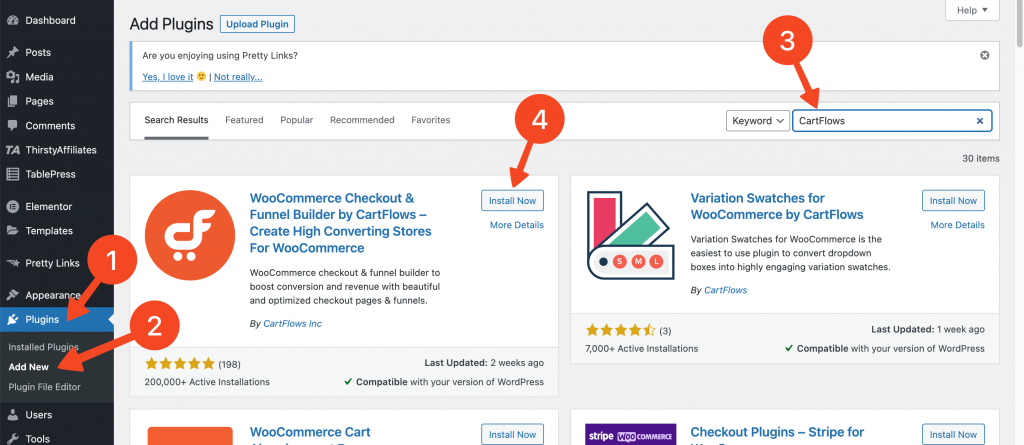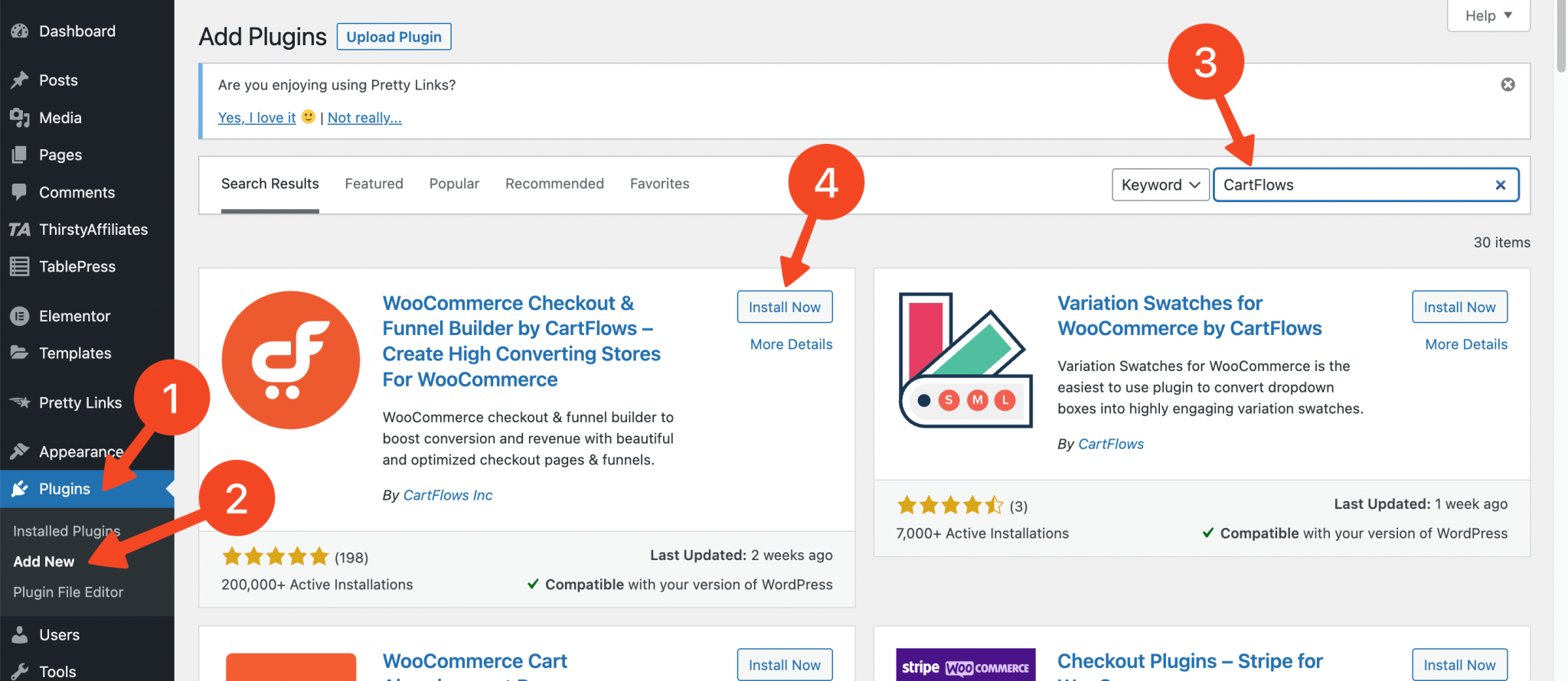 Once you have installed and activated CartFlows plugin, it will ask for initial setup and setup screen will be displayed. Just click on "Start Setup".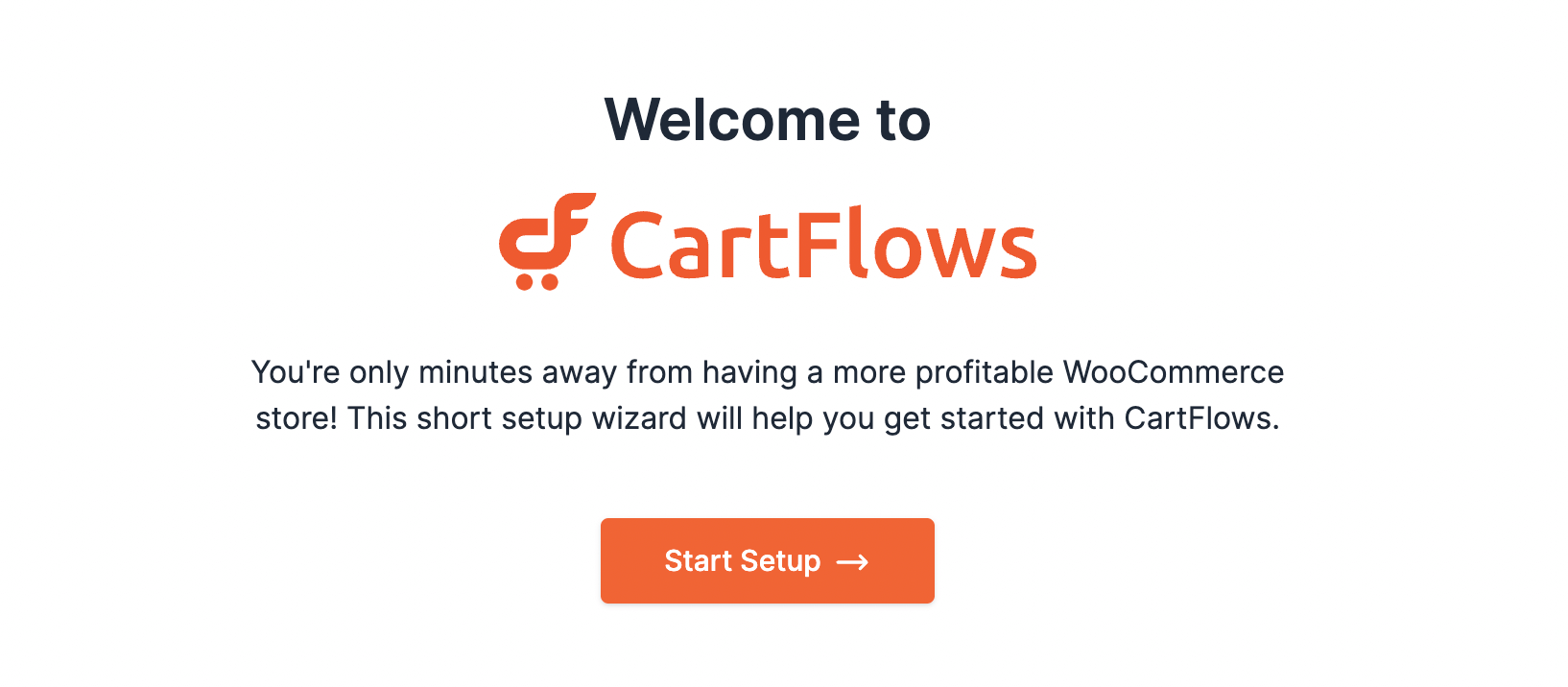 Now select your page builder that you're using (i.e. Elementor) as shown and click on "Save & Continue"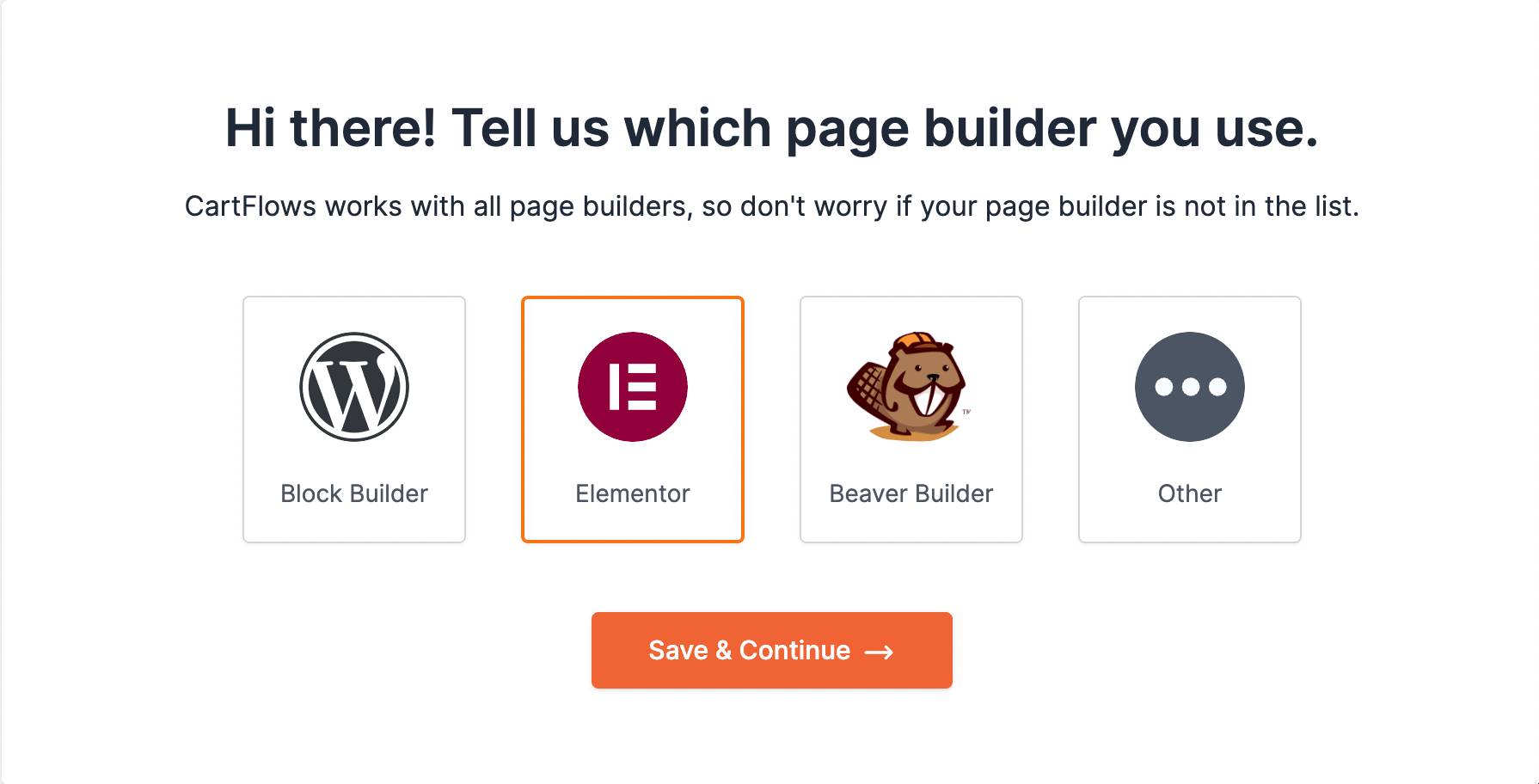 In the next screen, you will be asked to select your Checkout page design layout. Select the layout of your choice.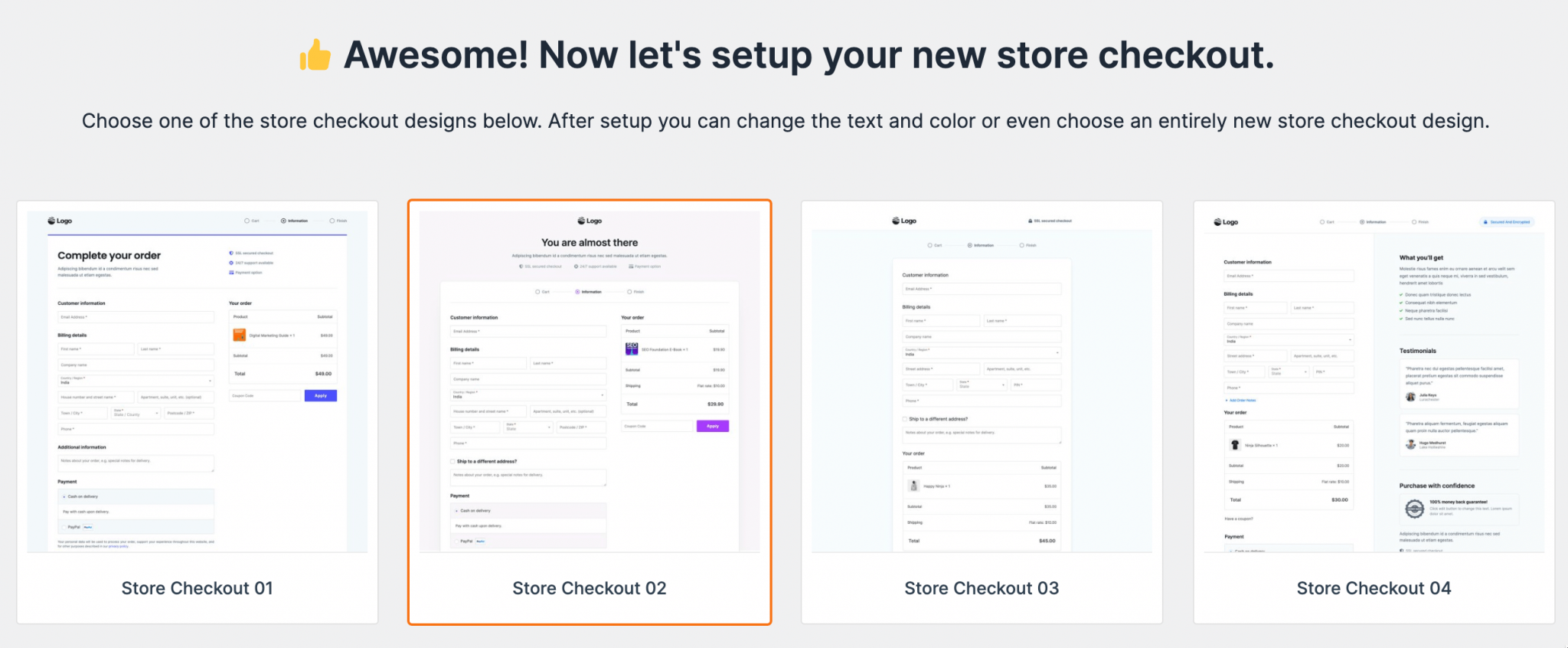 You can customize everything on that page like – Your Logo, Product details, Address field, Testimonials, FAQs etc.
You have successfully completed the initial setup of CartFlows plugin.
In order to create Flows (i.e. Sequence of funnels), you need to go to CartFlows > Flows > Add New (as shown below)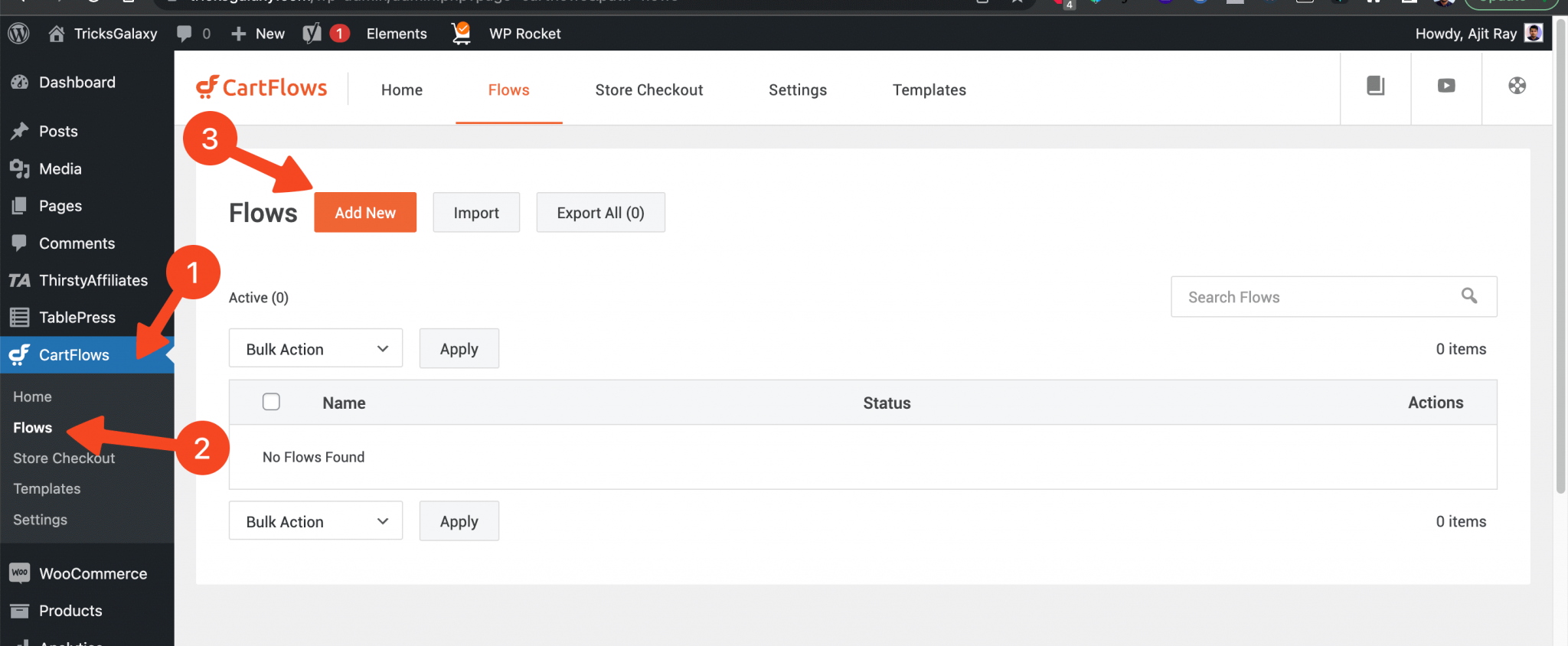 Type the name of your sales funnel e.g. TricksGalaxy Funnel (shown below)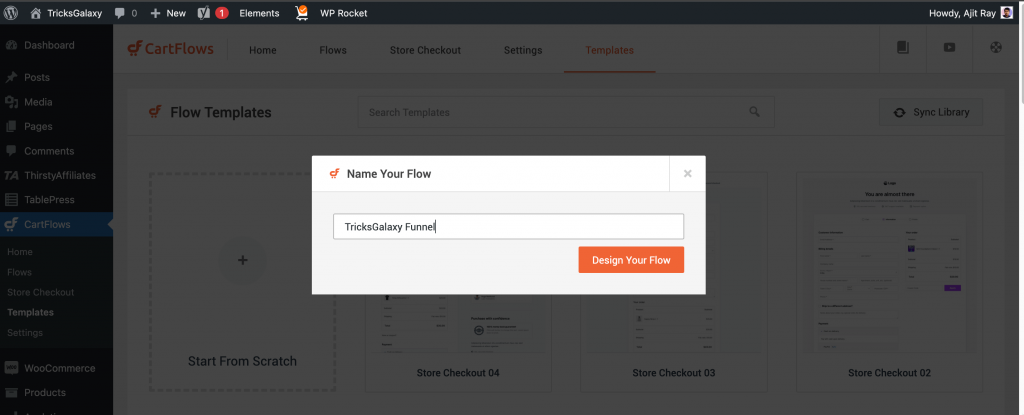 Now, you will have your new Flow ready with landing page, checkout page & thank you page. You can even drag these steps around or even go to the Canvas tab for a 2D Funnel logic map of your sales funnel)
Additional steps can be added by clicking on Add New Step button.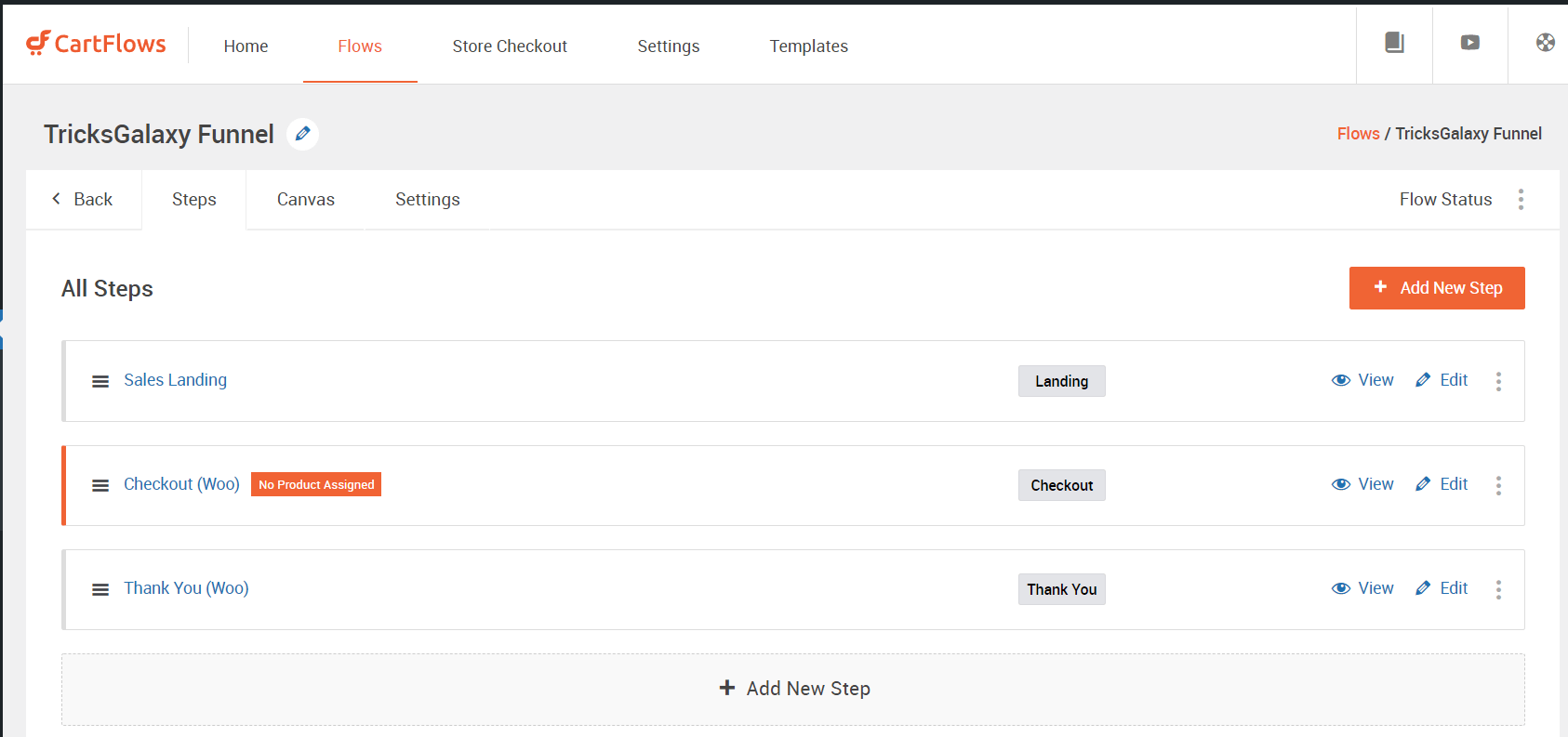 Step 3: Design Landing Page & Thank You Page:
Now, design your landing page for your product or offering using Elementor. You can also choose from the templates which are ready to use, just customize and change the Headlines, images & other texts according to your product you're promoting.
You don't need worry about the compatibilities as CartFlows supports third-party WordPress page builders like- Elementor, Divi Builder, etc.
You are free to use any landing page builder of your choice. However, I recommend you to go with Elementor, that's what I use to design all my pages and even this blog.
Step 4: Additional Options inside CartFlows
As marketer, you should configure these important setting of CartFlows which will help you with running ads and proper reporting of customers data.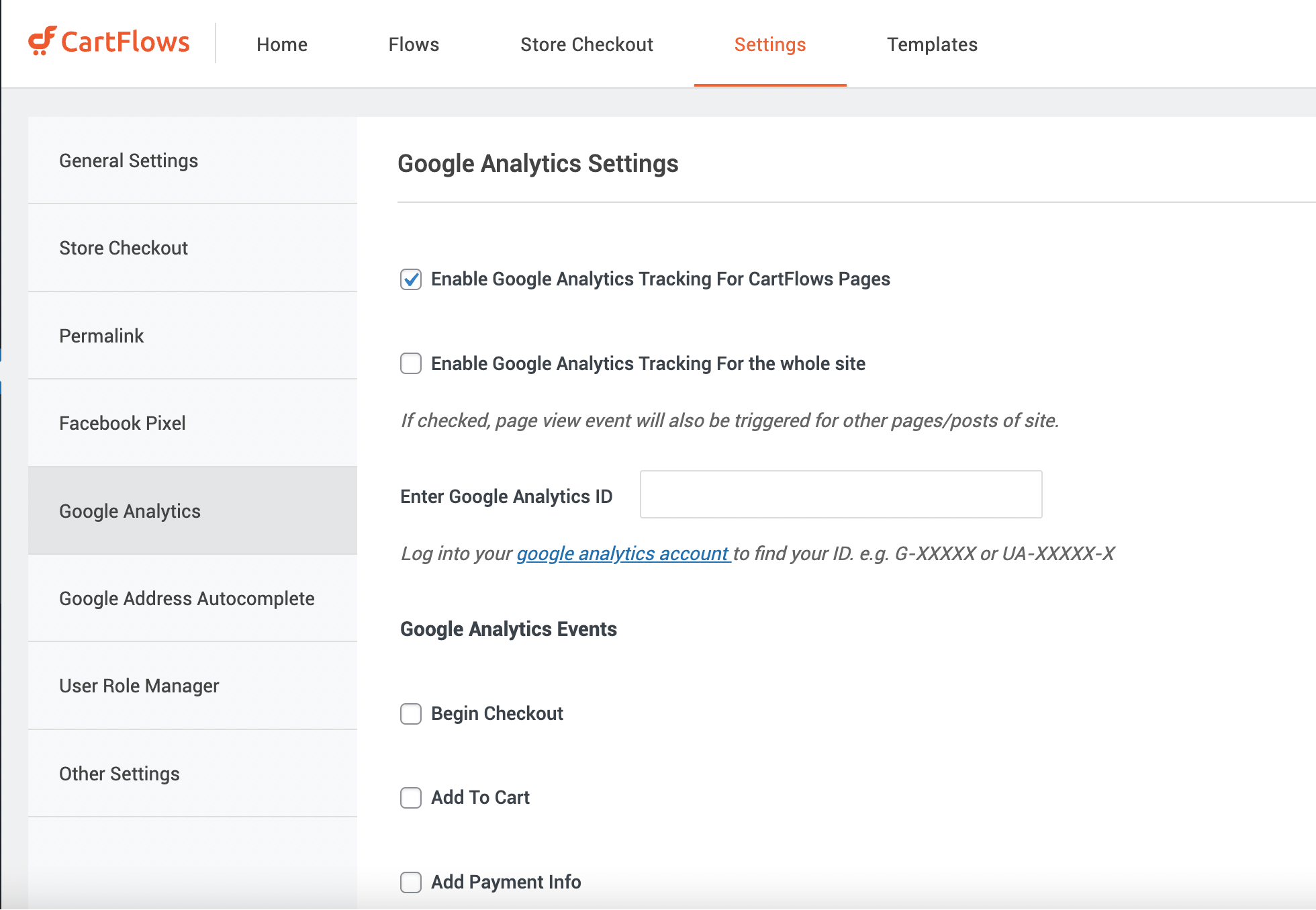 Facebook Pixel Integration:
Step 5: Add upsell pages (optional)
Upsell is nothing but the product which enhances the value of front end product that a customer has just bought. The idea of upsell product is to increase the average order value of a customer.
Suppose, if your lead has signed up "No-Code Workshop", you may offer them an eBook on "101 No-Code Tools" at a special price. This eBook will enhance the value of workshop.
Upsell feature is available for premium version of CartFlows but you can use upsell feature by adding one more "Step" in flow and design your upsell page from scratch.
Step 6: Test your Sales Funnel:
Congrats, you have successfully created a sales funnel with WordPress using CartFlows plugin.
It's important the test the entire sales funnel before launching it and driving traffic / leads to your landing page.
Get CartFlows
Final Words:
A sales funnel is the most important element of your online business to boost conversions. The best part is creating funnel in WordPress is very simple with the help of right plugins.
If you have any questions related to building a sales funnel in WordPress, kindly ask in comment section.
Want me to build a converting sales funnel for you? Feel free to contact me.