Hoverwatch Review (2017 Edition): In this era where the world is drifting towards a digital world at a faster rate, it has become important to move along with the changes that we come across. With every bygone year, we have witnessed a new growth in the technology. It has redefined the meaning of convenience and also it has empowered us with a unique authority. We have the privilege to use internet anywhere and everywhere, and we can have access to almost all the information through this facility.
In this context, we have also seen young kids getting involved with the Internet and it is sad that sometimes they forget to put a speed breaker in their activities. Hence, it is important to have a parental control system and we have this technology with us which enables us to watch our kids for their benefits. One of the most preferred software for parental control and internet security is Hoverwatch Software. We'll be discussing the monitoring service of HoverWatch.
Hoverwatch Review in Details ( Is it Best Phone Tracker Software?)
Why Use Tracker App?
Nowadays, we have seen the emergence of a lot of crimes happening over the internet, and it is necessary to watch the activities which are done through our devices. It is important to keep a track of these activities for a safe and secure future. Protecting yourself from getting exposed to unsafe and inappropriate content on a digital platform has become a part of our daily life. Most of the times we never get to know about the activities which are done by our kids on laptop or through internet.
And, it is also not safe to point out our children for what they are doing, as they may get offended. Hence, we must make sure that we track their activities in an unconscious manner so that they remain safe from malicious contents without getting offended. It also tells us if we or any of our family members are getting be fooled by some online criminals through their well-portrayed image. For all these activities, the presence of Tracker App in our device has become one of the most crucial needs as per present day scenario.
What is Hoverwatch Software?
Hoverwatch is amazing software for your Android devices as well as devices embedded with iOS or Windows operating system. It is one of the most relevant software that helps you in tracking and monitoring all the activities that are happening on your device. The things which you can track include SMS, call history, audio, camera, locations, WhatsApp, Facebook, internet activity, calendar, and contacts.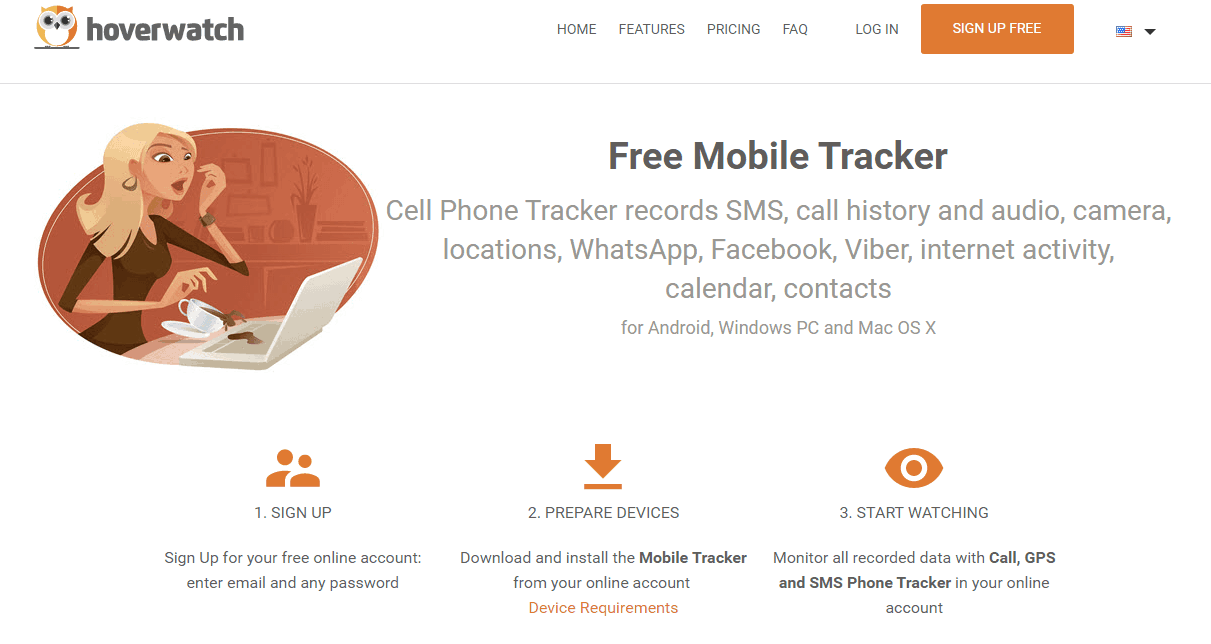 Hoverwatch covers these wide ranges of activities which can be monitored and tracked without making much effort. This software is developed and designed by Refog, Inc. and this software is compatible for Android, Windows, and Mac. It is embedded with a large number of features and amazing facilities which help you in keeping a track of all the activities which are happening on your device.
This app will help you in monitoring a large number of activities for your kids as well as any other person who is using your phone, laptop, or any other device. As a parent, you have the right to know their whereabouts and the activities they do online. Similarly, if you have lost your any of your device you can make sure that any fraudulent activity is not taking place from your device. All these things can be controlled using Hoverwatch Software in a very convenient manner.
Features of Hoverwatch Android App
With the help of this wonderful app you can keep track of all the messages and calls which are incoming and outgoing through your very device. You can also monitor the messages and MMS which are sent or received through your device.
You can also track the browsing history of your device using this app and it will tell you about all the websites and their URL which were visited from your device along with the time.
This amazing app will also track your WhatsApp and Facebook activities. It will let you know about all the conversations which are taking place at through these two messaging apps. You can also monitor the files which are being exchanged through your phone on these messenger apps.
It will inform you about the exact location of your phone.
Even if the SIM card is replaced by a new card, it will send a notification about the location of your device.
It will automatically capture a photo of the user who unlocks the phone and will send you a notification.
It will remain invisible and it will monitor all the activities silently on your phone.
Features of Hoverwatch  Windows Software
It will tell you about the browsing history of your laptop and will inform you about the URL and name of the website along with the time.
User has the privilege to take the screenshot of the desktop from time to time to monitor the activity.
It will also fetch you the Facebook messages and search requests, texts typed through the keyboard and also the usernames.
It will let you know the details of Skype calls and messages which are taking place through your device.
It will help you get the pictures of the user through the webcam.
It works like a silent watchman who monitors everything without even letting you know.
Features of Hoverwatch on Mac
Tell you about internet history.
Sends you the regular screenshot of the user.
Details of username, search history, texts which are typed, and Facebook details.
Keeps track of all the conversations done on Skype, Adium, Chime and other messenger apps.
Works silently without letting the user know.
Plans and subscription
Hoverwatch is offering two plans – Personal and Family. So, it's up to you, you can go with any plan that suits you.
How to use Hoverwatch?
Given below are the steps which will guide on how to operate this tracker app.
Open the official website and create your account on the same.
A screen will appear and you have to choose the type of device for which it will be used.
Install the software and log in with your account.
After adding your account, you can hide this software on your device.
Now, it is ready for use.
Conclusion:
Pros: It provides features and facilities in bulk amount which cannot be compared with any other software. The services are upgrading day by day and the users are very much satisfied with the function and output. The best part is that you can use the free demo version to have an experience of how it actually works. It can be used very easily because of its simple and systematic procedure and very uncomplicated features.
Cons: As of now, the market place only provides the software which is compatible for Android supported devices and you cannot get the software which can be used for Windows and iPhones. Apart from this single demerit, Hoverwatch does not possess any other disadvantage and is very convenient to use.
The overall rating and reviews for this software is satisfactorily positive and no bugs have been reported so far. The customers are really happy with the results and its features, and it has become one of the most preferred device tracker software in the market within a very short span of time.