How to Create Paypal Account and Get Verified in India:
Hello friends,
Today, I'll be talking about Paypal, How to make Paypal Account, How to Verify Paypal in India. If you know these all you can skip this article. Yesterday, when I updated a status on Facebook about I GOT SUCCESSFULLY VERIFIED MY PAYPAL ACCOUNT then many of my friends asked me to post a tutorial on how you have verified your PayPal and which results in creation of this topic.
Well, when you start working online, you need a payment method to send and receive payment. For making payment online you can use your debit card or credit card but to receive Payment, you need to take help of some trusted online services. For this, Paypal is the best option, It is the one of the oldest and trusted service to send and receive Payment. Especially, for
Especially, for Indian users, Paypal is the first best mode to get Payment from any countries in the world without exposing your Bank or Credit card details to the users. Once you create a PayPal account in India, you can start sending payment right away after linking with you credit card. But, you need to link your Bank account with your PayPal account which will remove the withdrawal limit from your PayPal account.You will be start getting your payment to your Bank account. Below is the step by step guide to create and verify PayPal account in India.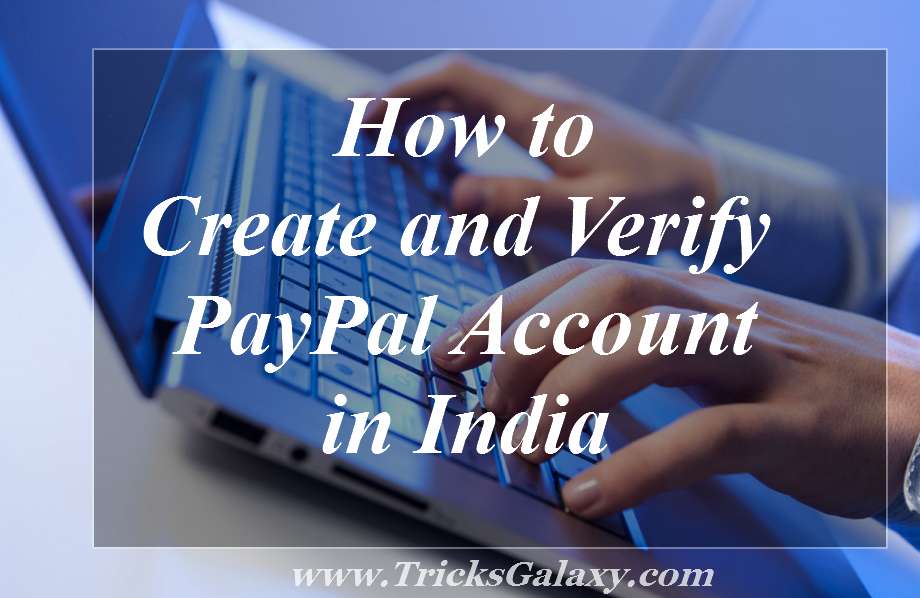 Steps to Create & Verify PayPal Account:
Step 1: First of all, open official site of PayPal to make an account. You can visit directly the Signup page given below.
Step 2: Now, Select India as you Country if you're from India and Get started with following things (see image for more clarification)
An Account for Individuals: If you're using Paypal as Individual purpose, if you're Blogger etc. then get started with Individuals account.
An Account for Businesses: If you're using Paypal as business purpose, then go with the business account.
So, click on Get started.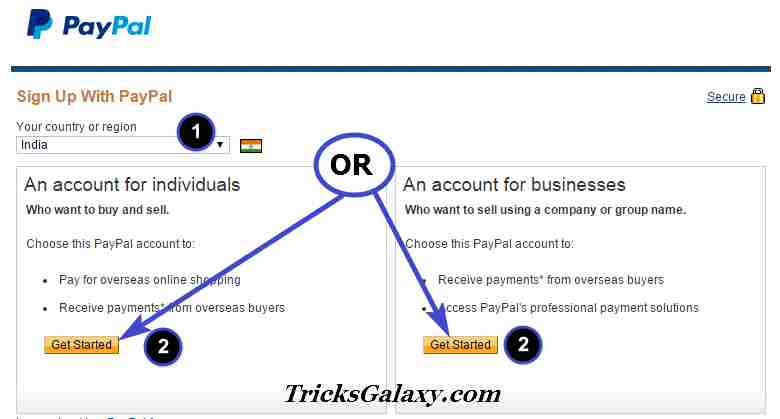 Step 3: Once you click on Get started, in the next page you will get sign up form. Fill up the form with all your real information. If you have Credit/Debit card then, you can enter you Credit/Debit card detail or can skip it for later to send Payment. But, remember one thing that all the details (Full Name, etc) must be genuine as per your PAN card. After filling up the form, click on Agree and Create Account.
Step 4: In the next page, enter the Captcha as shown in the picture displayed there. It's just for verification purpose that you are human, not a robot. Click on Continue after filling it correctly.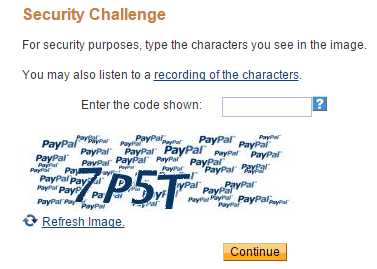 Step 5: After that, it will again ask you to fill the Credit card or Debit card details, If you have it then, you can enter you Credit/Debit card detail there or can skip it for later.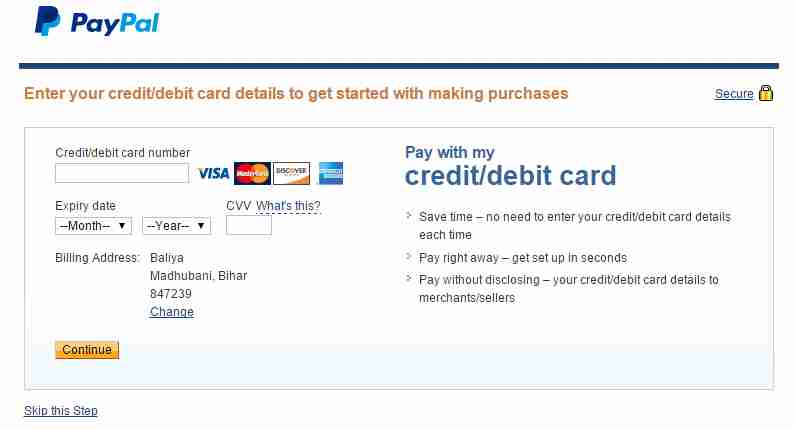 Step 6: Congratulation.! Your PayPal account is created successfully. Check your email which will be about "Your PayPal Account has been limited". PayPal will mention some tasks you have to complete for the full verification of your PayPal account.
Step 7: Now, login to your PayPal account. It will ask you to set security questions. Complete that steps and Submit it.
Step 8: Now, you will see some notification in your PayPal account which is telling about "to receive payment as per Indian regulation you have to complete some tasks". Click on "complete your tasks".

Step 9: In the next screen, you will get the list of 4 task that you need to complete in order to verify your PayPal account in India and to receive Payments.
Task 1 (Add your PAN card): Submit your PAN card number correctly and remember one thing that if the PayPal account is of your name then enter your PAN number, not your father's or other.
Task 2 (Confirm Email): You will get an email to confirm your account when you do signup, as mentioned in Step 6. Check your Gmail ID, you will have confirmation mail from PayPal, click on the verification link to verify your email ID.

Task 3 (Add bank account)

: Add you bank account on which you prefer to receive your payment or withdraw it. Once you add Bank account.
Task 4 (Purpose Code): By adding Purpose Code, PayPal will know for what purpose you want to receive payments into your PayPal Account. Please make sure you select the Purpose Code that accurately describes your business transactions.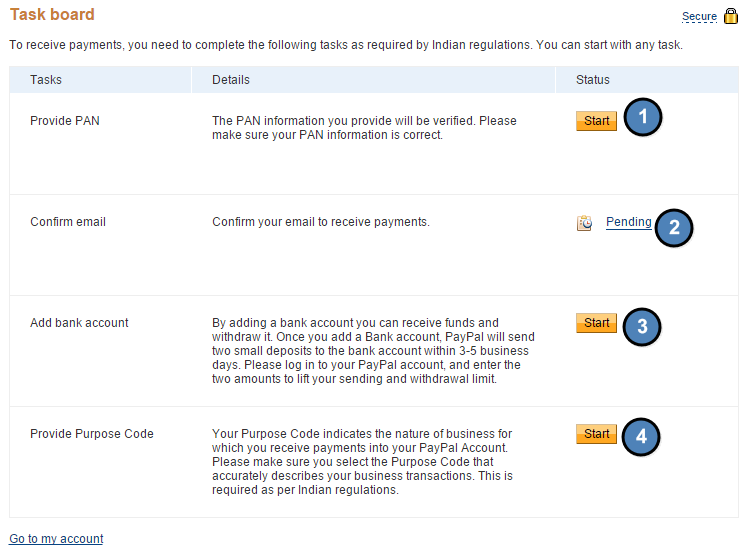 PayPal will send 2 small amount to your bank, you will receive within 3-6 days. When you will get this 2 small deposits, login to you PayPal > Click on Confirm Bank account > enter the two amounts. Once you done, it will remove withdrawal limit and your Indian PayPal Account will get Verified Successfully.

Last Words:
If you're a blogger, online earners then you must have a Verified PayPal account. I hope this tutorial will help you in Creating PayPal Account and getting Full Verified PayPal Account. So, this article was about How to Verify PayPal Account in India. Hope you like it. Share your feedback in Comments. Thanks for reading.