Recently some users asked me questions related to Windows 10 i.e. How do I stop apps from running in the background?
Well, that results in the creation of this topic.
Microsoft recently launched Windows 10 with tons of featured apps.
Windows 10 is truly a great operating system. It has many built-in apps and you can also download more apps from the store or Microsoft website.
Do you know some apps always runs in the background which can receive info, send and give notifications, and stay up-to-date even when you don't use them.? It's true, these apps can:
S

lightly Slow Down your Windows 10 PC/Laptop,

Some background apps can eat your Internet data for doing nothing useful,

Drain your Laptop's battery.
But, using this tutorial, you can STOP them from running and it will only run when you need that app.
Yes, it's true, In Windows 10, you can choose which apps can receive info, send notifications, and stay up-to-date, even when they're not in use.
After Turing Background Apps OFF, What I will Get?
Good Question, Turning background apps off can do the following things:
First of all, It will slightly improve your Windows 10 Laptop/PC speed,

Better battery life,

There is saving in some Internet data and much more.
How to Disable/Enable Background Apps in Windows 10:
Step 1: Click Start button > then select Setting.
Step 2: Tap/Click on the Privacy icon.
Step 3: Click on Background Apps from the left side, you will see Turn ON (by default). Just do ON or OFF as per your necessities.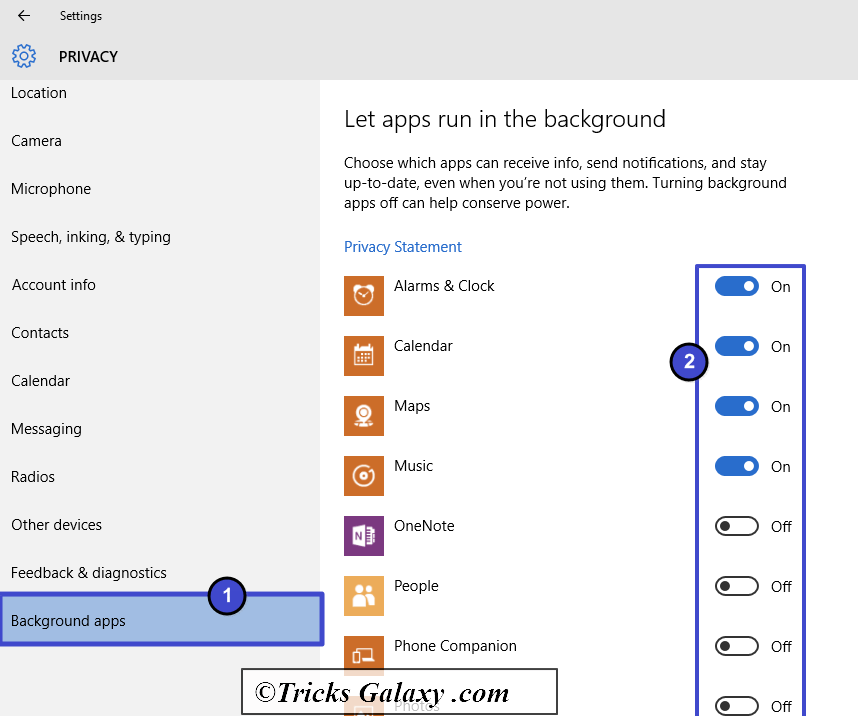 That's it.
You can use the above method to Enable or Disable Background Apps in your Windows 10.
There is the same process for Turning OFF/ON apps that you download from Microsoft or store.