Two Methods about How to Send Video in Kik Messenger
In the era of advanced tech, People are getting lot options to enhance the experience of chatting. Video messaging is the new trend among the users. It gives the users an edge to express in the exact way they want to.  KIK have always tried to give its users the best chatting experience. That's why KIK also have the feature of sending video to your friends.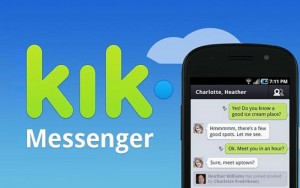 How to Send Video on KIK Messenger?
Sending video messages on KIK is a bit different. That is why we are going to tell you how to send KIK message videos.
There are two methods to send video on KIK. In one method you can send the already recorded video or record a new video and send. The other method is sending a video through YouTube.
Steps to Send a Recorded video on KIK (

Method 1

):
In this method, we will tell you how to send a recorded message video on KIK. It is very simple. You just have to follow the steps given below.
Select the KIK friend you want to send the video to.
Now, from the chat screen, Tap on the plus sign (+).
You would see two options to choose.
Note: One option is to send the video from Gallery of your phone. The other one is to send the video by first recording it with the camera and then send it.
After choosing the video. Just tap on the bubble icon on the bottom right side to send the video.
This was the first method by which you can send video on KIK online to your friends.  To learn the method to send video message over YouTube read ahead.
Steps to Send video on KIK from YouTube (

Method 2

):
First of all, you just have to record the video which you want to send on KIK and then upload it on YouTube.
Now, open the chat of your KIK friend to whom you want to send the video.
Click on the plus sign on the chat screen.
You will see many options. You have to select YouTube video from them.
After that, you just have to select the video which you have uploaded on it.
The last step is to click on the blue button to send YouTube video to your friend.
That's all. Now you have learned all the methods to send KIK video messages. If you have any doubts then you can comment below we will try to help you.