Awesome… 👌 Your interest shows you're serious about Blogging and trying hard to learn How to Start Blogging that generates money.
I have seen many peoples like you who actually want to start blogging, but are confused about where to start, how much it costs!
That's resulted in the creation of this topic.
Well, in this blogging guide [How to Start Blogging Like a Pro] you're going to learn everything that you will need to create a blog in very simple steps.
So, without wasting time, let's start..!
But, first of all, let me explain what blogging is…
What is Blogging?
Blogging is one of the best methods to share your ideas/ knowledge with millions of people worldwide. It's the best way to speak your words, share your expertise, and make money from it.
Blogging bridges the gaps in many ways.
It connects Information seekers with providers, product owners with consumers, learners with mentors, etc.
There are chances that you may have landed on this blog by searching "How to start a blog", "how to start blogging" or maybe after getting recommended from friends.
But the main thing is, You wanted to learn blogging to start a blog and you're currently reading this blog and learning it.
That's become possible because of blogging. 😂😂
Isn't it?
That's what the Blogging is.
Benefits of Blogging:
We always look for benefits in everything, of course, knowing benefits motivates us, so there are some awesome benefits of blogging too: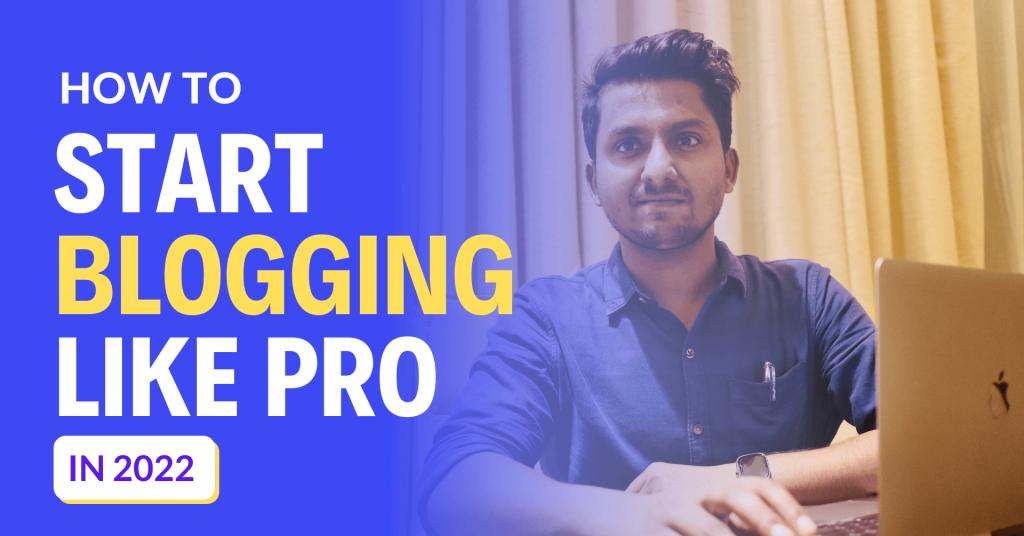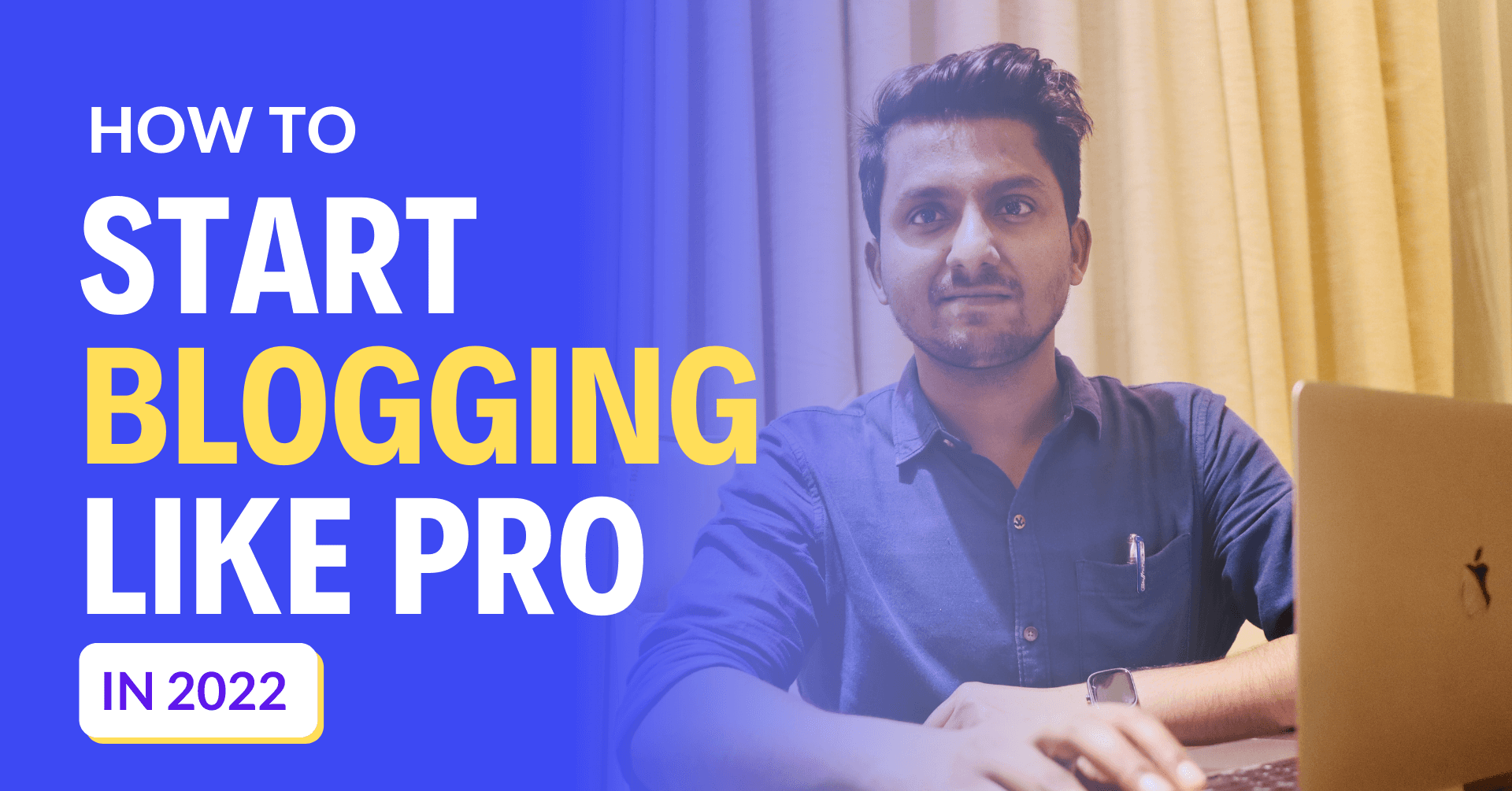 How to Start Blogging?
At the time of writing, there are over 570 million blogs on the internet.
However, creating a blog and earning money from it isn't as easy as it seems.
It involves a step-by-step process.
To make your blogging journey easier, I have compiled 10 micro steps you can follow to start your blog without any hassle. 💪 🚀
Here's what we need to know.
Step 1: Choose a Profitable Niche for your Blog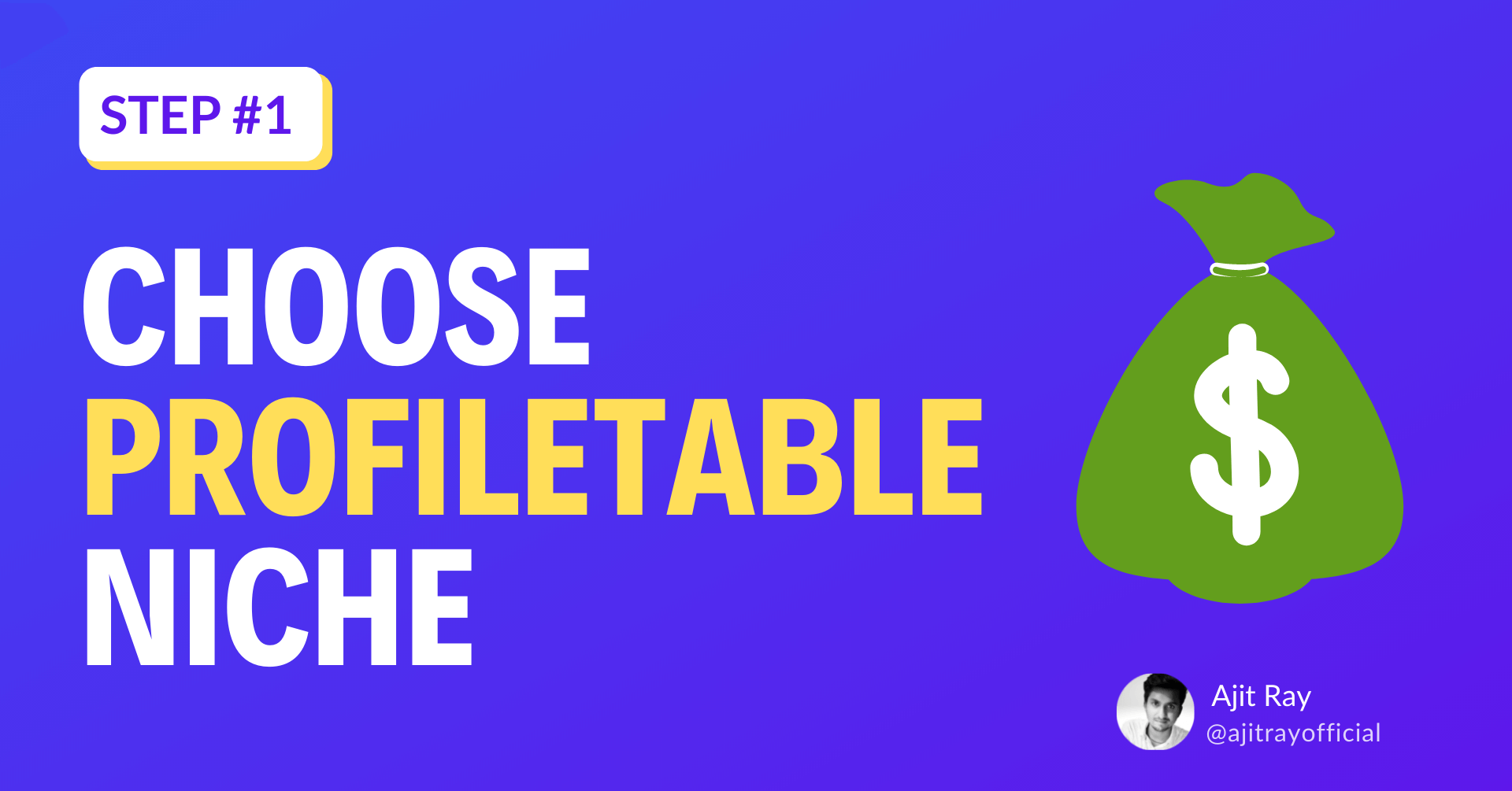 A blog niche is a topic or subject on which you'll be writing your blog articles.
While you're thinking of starting a blog, it's natural for your mind to wander to a variety of topics, and it's also natural for you to be uncertain about which niche to pursue.
To begin, identify your passions, as well as the topics in which you are most relaxed and proficient.
While picking a niche, think about a subject you're confident in your ability to write thoroughly and efficiently.
Be sure you're mindful of current trends and consider the ideas of leading blogs before deciding on a niche.
Also, ensure the niche you are selecting has enough audience interest and maximum people are searching for it.
If you don't choose a fruitful niche at the beginning itself, you may lose the drive to produce timely content for your blog.
That's why it's essential to choose the ideal niche for your blog by checking niche size, conducting competitor analysis, and exploring monetization opportunities.
Step 2: Choose your Blog name (Your Brand Name)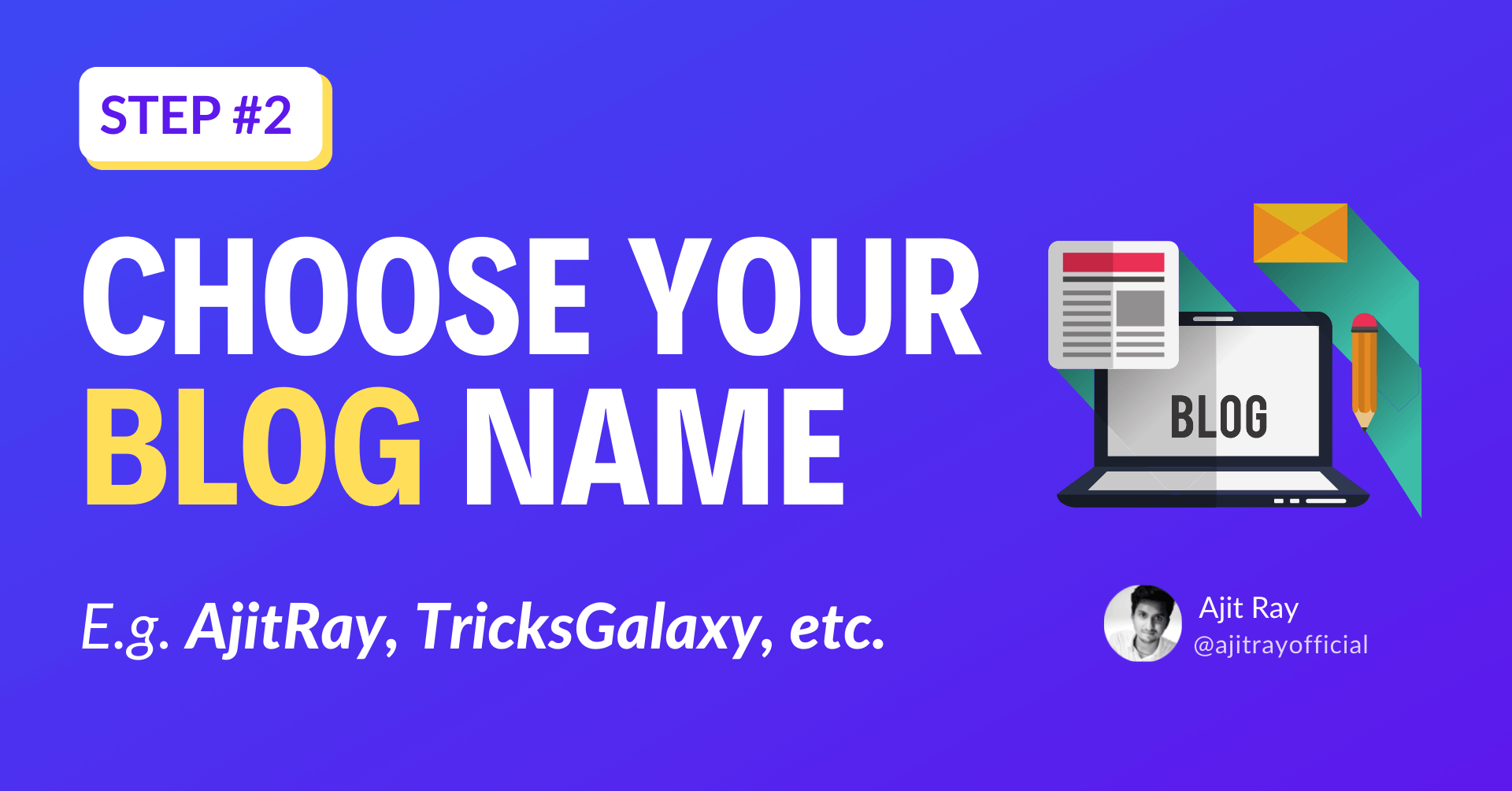 In order to start blogging, the first thing you have to do is to decide your blog name.
Choosing a blog name isn't as simple as people think.
Do not put a random name for your blog.
If you want to grow your blog and want your brand name to get identified by all, you have to choose a unique name that is special only for your blog.
Here is my checklist for choosing a blog name:
Tips on Choosing Blog Name:
Step 3: Get Domain Name for your Blog
A domain name is the web address for a blog that a visitor can use to access it.
Example of a domain name: AjitRay.com
Here, AjitRay is a domain name and .COM is a TLD (top-level domain)
Here are my tips for you that will help you in selecting the right domain for your blog.
Tips on Choosing Right Domain Name:
Keep is short and easy to remember.
Pick a domain name that reflects your blog's content.
Avoid using hyphens (-), underscores (_), or numbers (123) in your domain name, as it looks spammy.
Don't use super-long words – try to keep it under 12 characters long at most.
Choose a catchy domain name that people will want to search for online.
Double-check for typos before purchasing your new domain name!
Use a top-level domain (.com) if you want to be taken more seriously by readers or search engines
Include keywords in your domain name to improve SEO rankings.
How to Purchase a Domain Name:
It's very easy to purchase a domain name nowadays.
There are lots of Domain Name Registrar available from where you can purchase your domain name.
Some popular are: Google Domains, Godaddy, Namecheap, etc.
So, here is how you can get one:
Visit Godaddy.com
Search for your domain name.
Select domain name you want to buy and click "add to cart"
Enter your contact information, payment, and billing address.
Confirm purchase of domain name by clicking "check out now" button
Make the payment and boom!!!
Congrats, you have a domain name now.
Step 4: Get Web Hosting & Install WordPress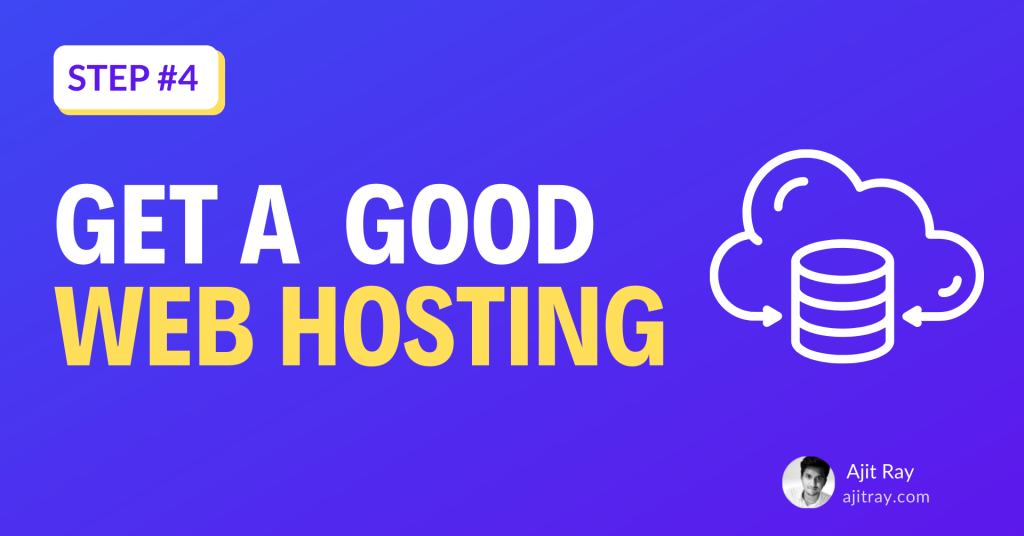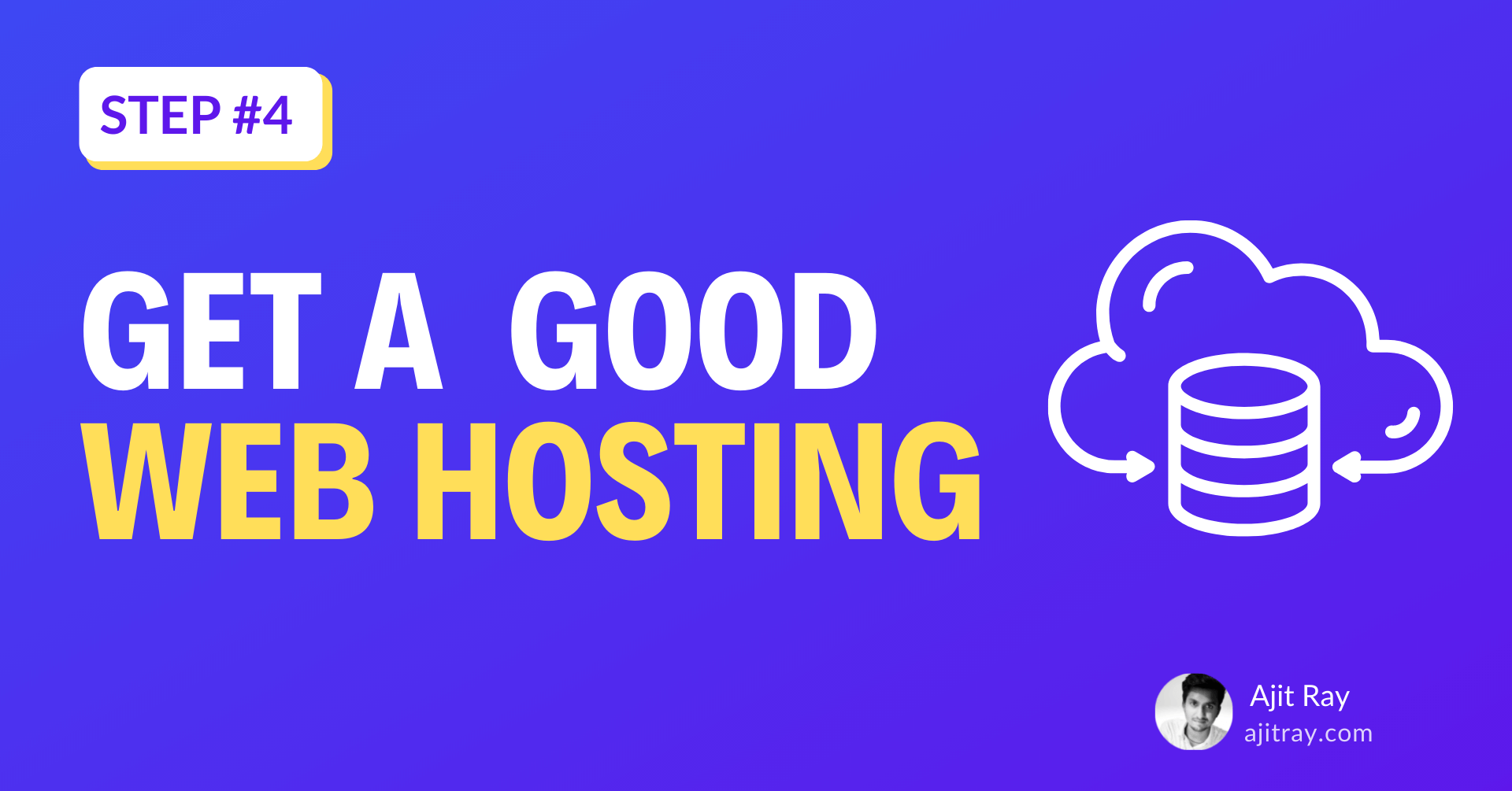 Choosing a good web hosting is one of the most important decisions you'll make when starting your blog.
You need a reliable WordPress hosting provider that has been around for years, offers 24/7 support via phone or live chat, and provides easy-to-use tools for managing your website content without any coding knowledge required.
If you choose the wrong hosting, your site may be down for hours and your visitors may leave frustrated when they try to access your blog posts.
Good Web Hosting should have:
Reliability – Your website needs to be up and running at all times.
Speed – Your website should load quickly for visitors.
Security – Your website needs to be protected from hackers and other online threats.
Customer Support – You need to be able to easily reach customer service if for any issues with your account
Price – The features you're getting should be worth the price.
Ease of use – Web hosting control panel should be easy to understand and use.
Some hosting providers even offer a free domain name for first-time buyer
Many hosting providers out there to choose from, but I have selected the top 3 best web hosting according to the Price & Features they provide.
You can go with anyone:
Best for Starting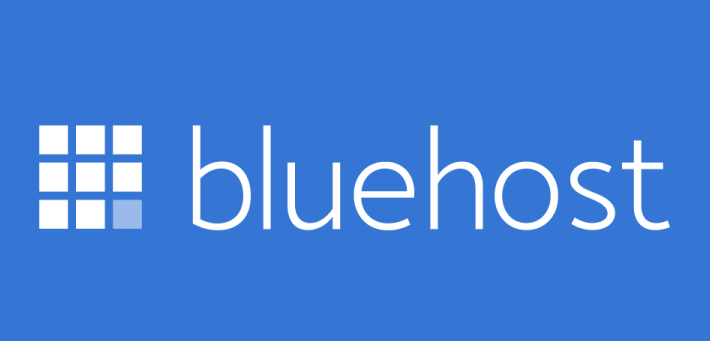 BlueHost Web Hosting
BlueHost has become the largest brand name when it comes to WordPress hosting. It's one of the oldest hosting and best to start blogging.
Step 5: Select Stunning Theme and Design your Blog
Your blog's design is the first impression of your blog.
Good design ensures that your reader will like your blog or not, it will be the most critical feature to consider for your blog.
Several free and paid themes are available for WordPress.
I'll recommend getting a premium looking theme that have Clean, SEO optimized & user-friendly design.
Want to know the theme that I'm using on this blog?
It's GeneratePress theme.
In my opinion, GeneratePress is the perfect WordPress theme with tons of features and ready-to-use designs.
GeneratePress is SEO-friendly fully customizable theme that can handle any scenario you put at it, and it comes with innovative features which maintain your page fast and stable.
Step 6: Install Necessary Plugins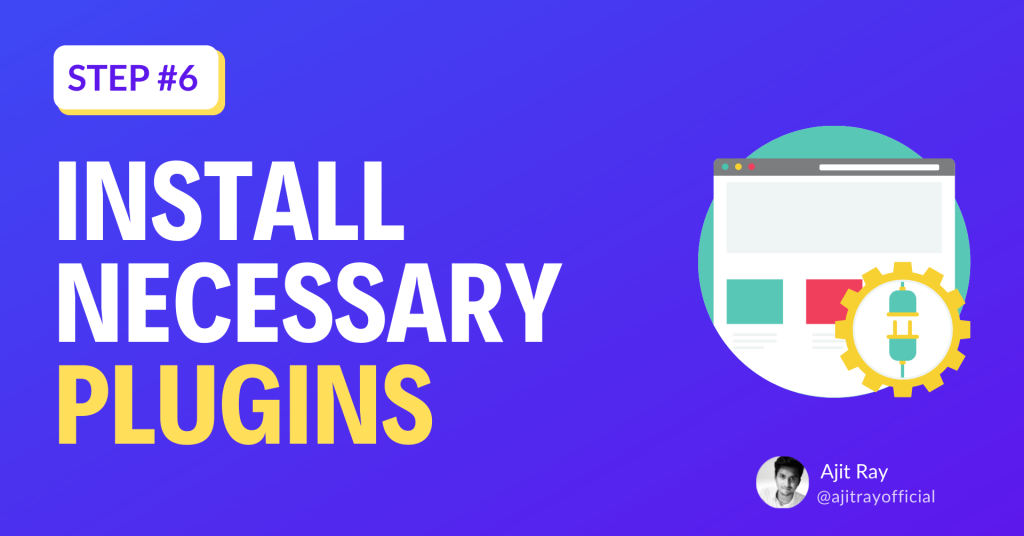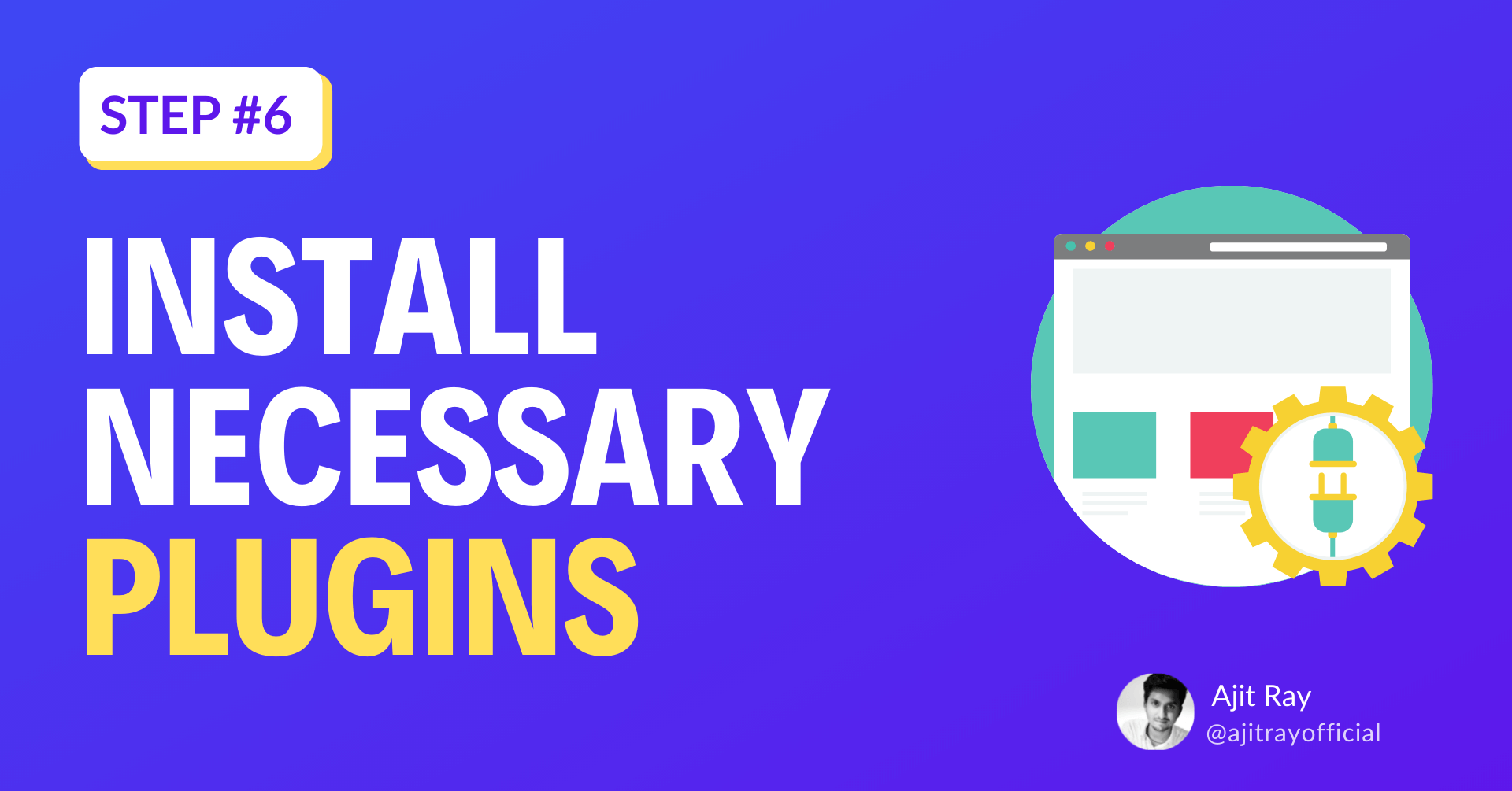 Plugins are what make WordPress interesting.
For every purpose, there is a WP Plugin available.
That's why most bloggers and marketers prefer WordPress over any platform.
Plugins are a combination of codes that helps you do whatever you want to, with your WordPress blog.
There are plenty of WordPress plugins available on the internet.
At present, WordPress has over 57000 different plugins in its database.
Here are some plugins that I personally use on my blog and that you can install on your newly developed WordPress blog:
WP Rocket

: WP Rocket is #1 caching plugin available right now. It's paid plugin. If you can afford it, get it, otherwise, you can start with some free options.
Elementor Pro

: I use Elementor Pro plugin to design all my landing pages, blog homepage, blog posts, sales pages, and opt-in pages..
Google XML Sitemaps

: This plugin improves SEO using sitemaps for best indexation by search engines like Google, Bing, Yahoo and others.
Insert Headers and Footers

: Allows you to insert code or text in the header or footer of your WordPress blog
TablePress

: Embed beautiful and feature-rich tables into your posts and pages, without having to write code.
Yoast SEO

: The first true all-in-one SEO solution for WordPress, including on-page content analysis, XML sitemaps and much more.
Step 7: Create Important Pages (About, Contact & Privacy Policy)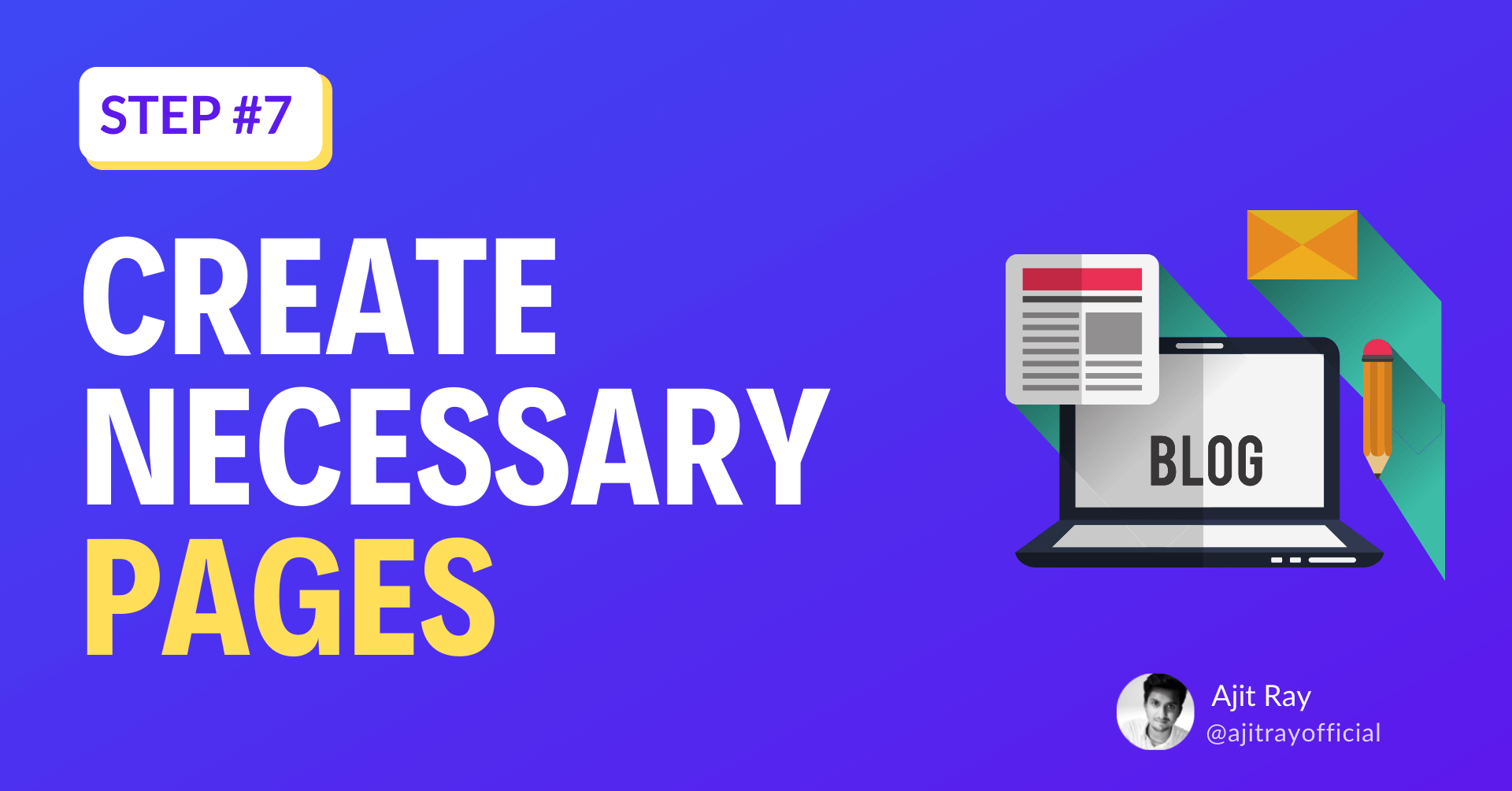 Before starting publishing your blog posts, I recommend you to prepare these 3 important pages on your blog:
About Us:
It may seem self-evident, but the 'about me' section must include some basic information about you and your purpose for starting a blog in your selected niche. You can also include: Your location – this is helpful to fans and Public Relations.
Contact us:
If you start a new blog, that's one of the initial pages you build. Isn't it natural that you want people to applaud us, give you generous sponsorship opportunities, and beg you to make amazing material for them?
Create a content page with a working contact form and also share your email id so others can contact you for help, suggestion, or sponsorship.
Privacy Policy:
It is necessary to compose a privacy policy for your blog.
It shows the authenticity of your blog, along with some of the other significant advantages that come with it.
Creating a decent privacy policy page is one-time work and would save you a lot of headaches in the future.
Users must understand why they need their personal details and how they intend to use them.
Step 8: Write and publish your first Blog Post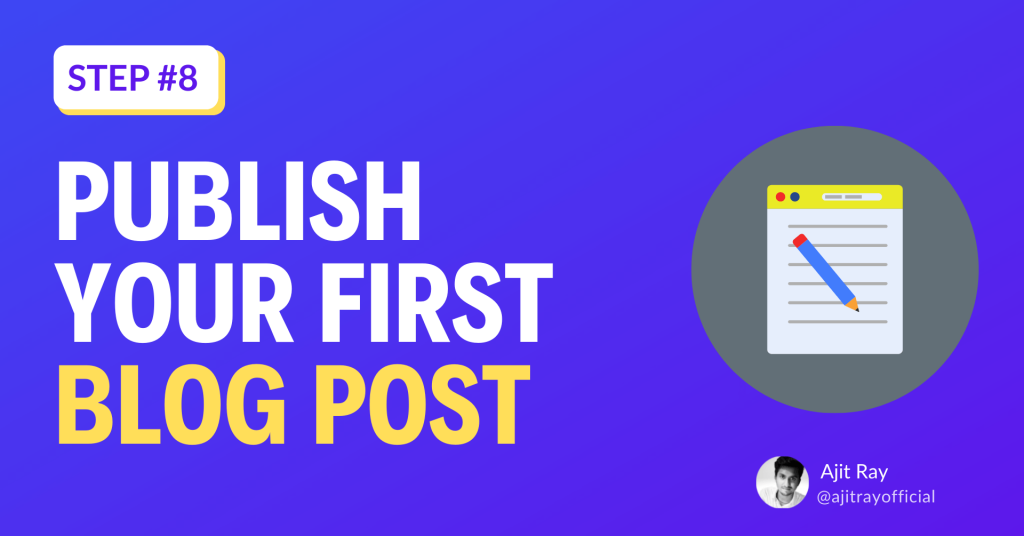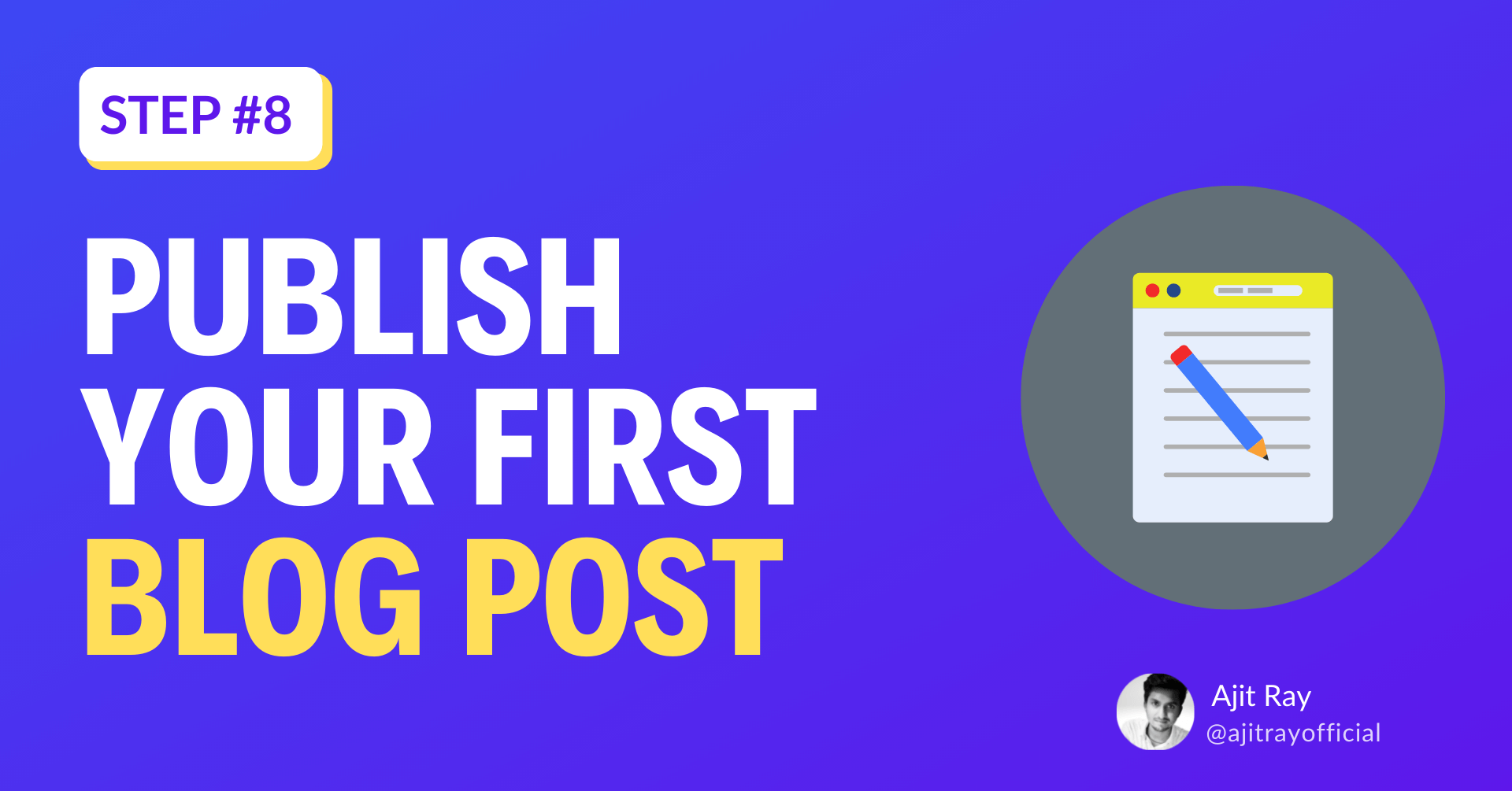 No matter how many times you edit or rewrite the content, your first blog post will always be imperfect.
Your first post will suck.
But without it, you won't have your 50th post that will Rock.
Don't think about the quality too much.
It's gonna improve from writing and publishing content on your blog consistently.
Just write it clearly.
The purpose is not just writing well, also in such a way that it engages audiences to read till the end and take action through your post.
Here is how you can do that.
Tips on Writing Your Blog Content:
Try Now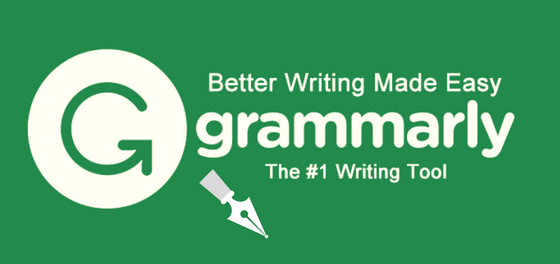 Grammarly's
Grammarly's AI-powered app checks for grammar, spelling, punctuation, and style mistakes so you can write with confidence.
Step 9: Optimize your blog content for SEO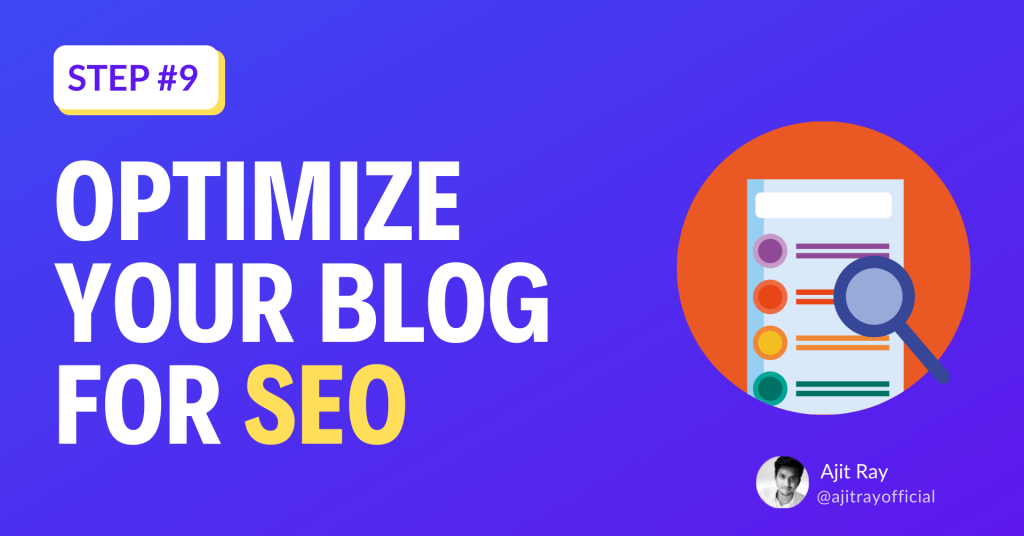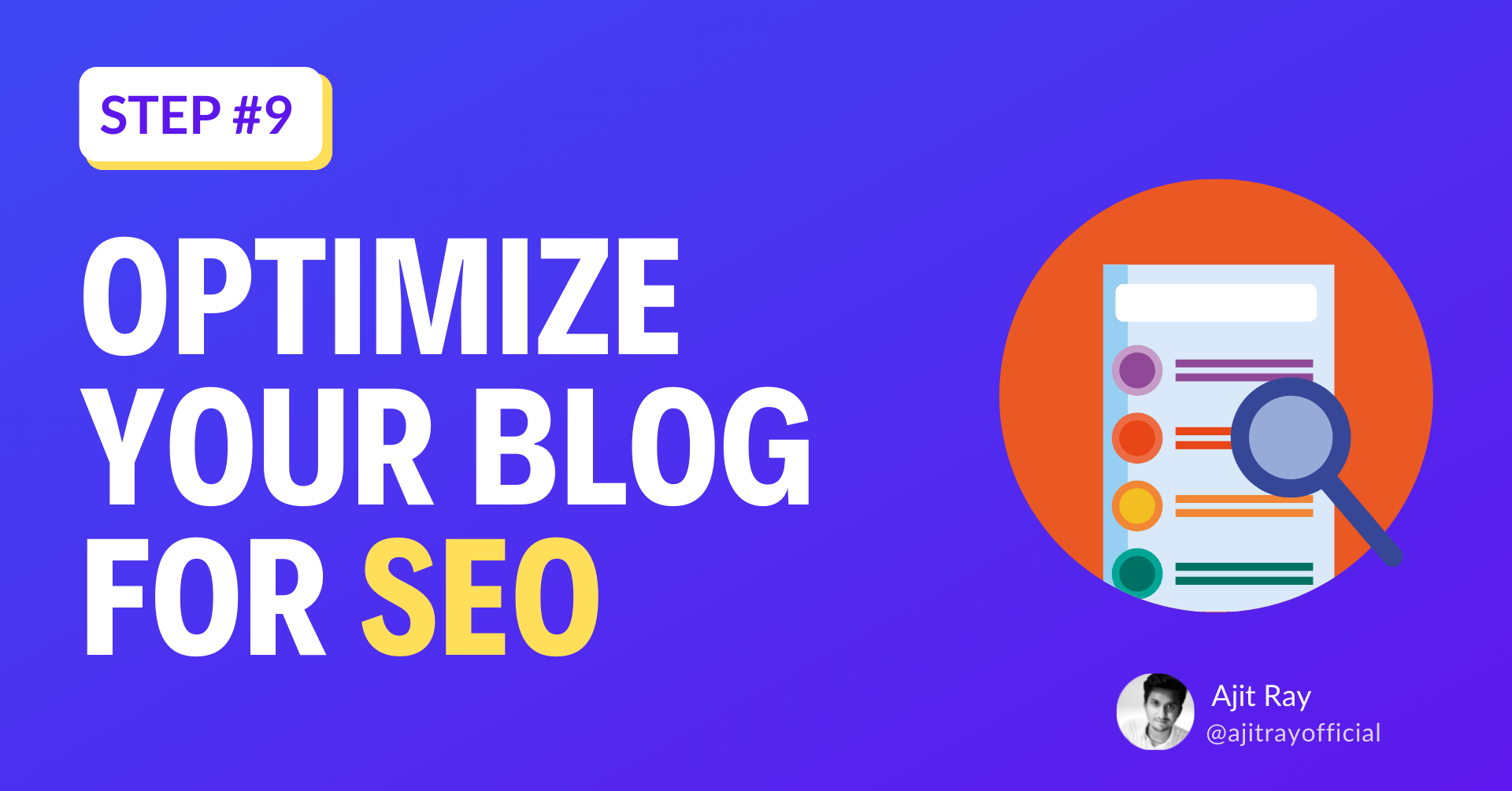 You must Optimize Your Blog for SEO if you want your blog to have organic traffics for search engines.
What is SEO Optimization?
SEO means Search Engine Optimization.
By SEO-Optimizing your blog, you're telling Search Engine that my blog is about this and please show it to people who are searching for it.
So, Google will rank your blog post for that particular keyword.
When it comes to SEO, keywords are the most important factor to consider. Keywords are the linchpin between what your readers are searching for and the content you provide to fulfil their query.
Make sure that your blog has a proper keyword strategy.
You can use many free tools in beginning like KwFinder to find low competition keywords with high search volume that are easy to rank.
Once you have done your keyword research, the next is to optimize your posts according to the keywords you want to rank for.
This is where Yoast SEO plugin can help you.
Yoast SEO plugin analyzes your content and helps you optimize it by determining your content scores for various ranking factors such as keyword density, text length, internal or external links, featured image, meta description, etc.
It also checks your content on different factors including use of transition words, use of active voice, and sentence or paragraph length to improvise the readability of your content.
Competitor research and analysis is another important component of SEO that cannot be overlooked.
Semrush is an amazing SEO tool that helps you analyze your website as well as your competitor's website and optimize your content accordingly.
With Semrush you can know about your website's technical issues, identify various backlinks opportunities, and get the best suggestions for using keywords.
You can also analyze the SEO performance of your competitor websites– their keywords, website traffic, backlinks, etc to outrank them.
Step 10: Promote Your Blog Content on Your Social Media Profiles.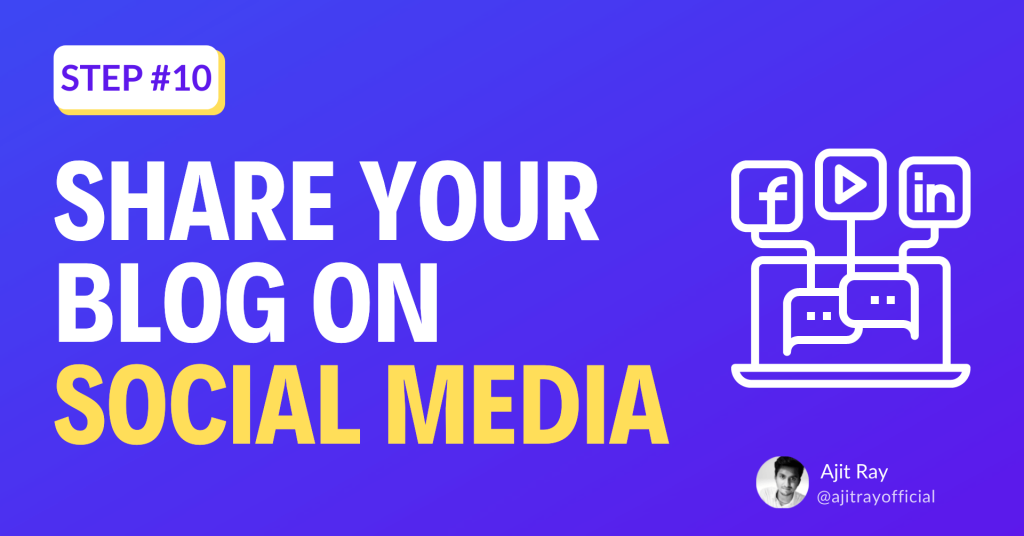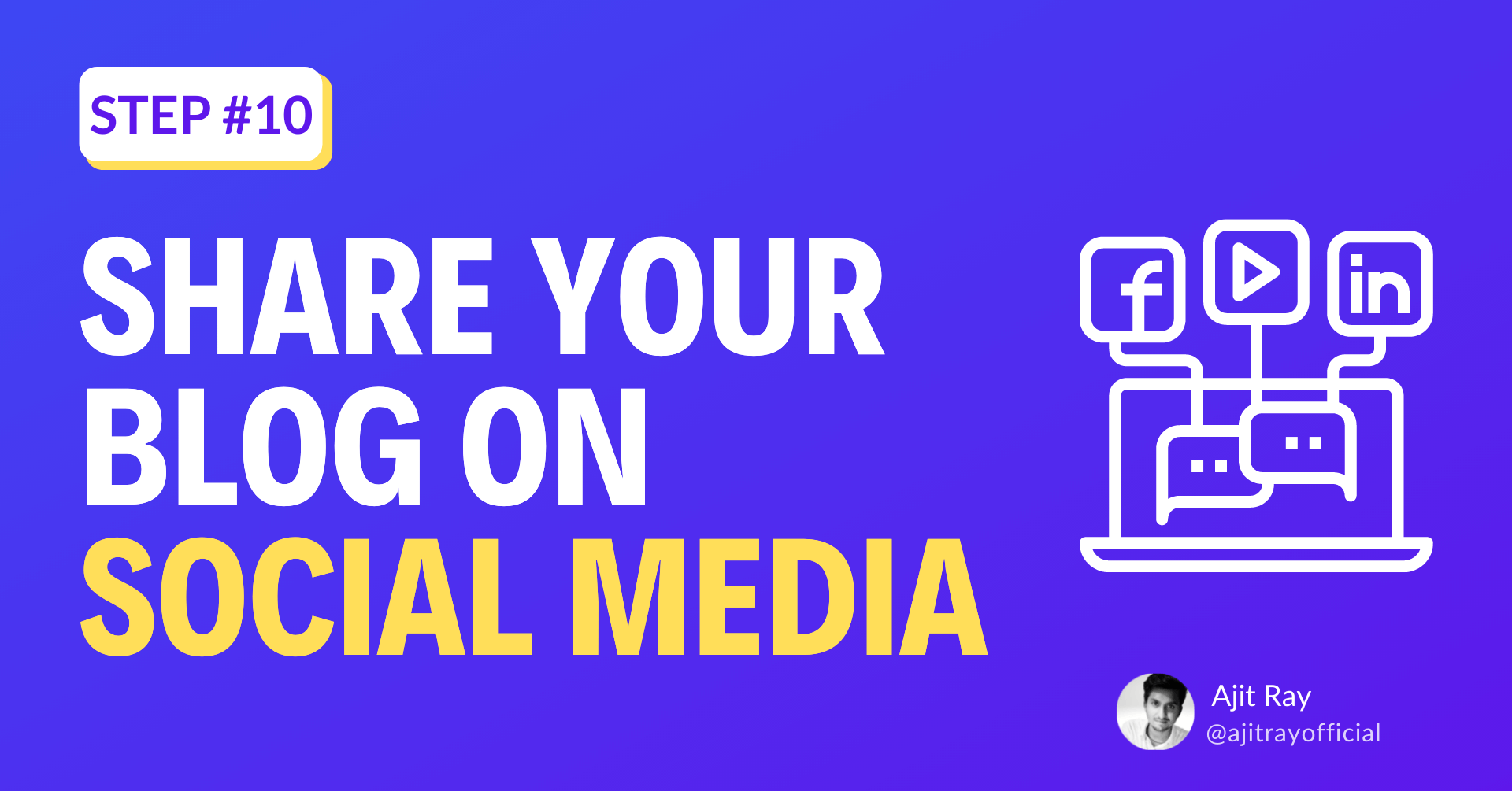 In today's world, you cannot undermine the huge potential of social media platforms like Facebook, Instagram, and Twitter to promote your blog content among millions of users.
Try to establish a robust presence on social media.
You need to be extraordinary and extremely valuable in order to get more traffic/readers on your blog through social media.
Here are a few tips to promote your blog on social media and get the most out of it:
Use suitable social media that best fits your own niche and unique style.
Ensure the content you create must be interesting and informative, with valuable facts that can't be obtained elsewhere.
People would be less likely to share your content if your images are not eye-catching and unique.
Don't forget to include hashtags and catchy captions with your images to get more engagement.
It is also essential to interact with other writers and bloggers on social by sharing their content with your audience, liking and commenting on their posts and supporting them whichever way you can.
FAQs Related to Blogging:
1) How much does it cost to start a blog?
Starting a blog usually costs about $100 to $250. A domain name, hosting, and a personalized web page theme is all included in this price. You can budget approximately $25 to $150 a month for and other blogging software, services, and necessary plugins, in addition to your initial investment.
2) What are the benefits of having a blog?
Blogs can be used for almost anything, which entails sharing or posting material on the internet. Education, scientific, and commercial applications are all popular. Your blog can also be used as a personal journal, a guide, or other methods of sharing and posting content on the internet.
3) How do I get traffic on my blog?
According to studies, the more frequently you post on your blog, the more visitors it will attract. Google prioritizes blogs with new posts, so refresh your blog at least two to three times each week if you'd like to get some more exposure from the Google organic search.
4) How do Bloggers Get Paid?
Google AdSense is the primary source of Income for most of the blogger. Apart from this, hundreds of bloggers benefit from their posts by renting advertising space, promoting their own product lines, or participating in affiliate programs. They offer their own goods, but they still benefit from affiliate ads and ad space revenue.
5) Where do I buy my domain name?
Bluehost appears to be the most prominent platform for purchasing a domain name. It has gained popularity as a result of its unique features. However, you can purchase your domain name from any domain registrar like Godaddy, Hostgator, Namecheap, etc.
6) Is blogging still profitable in 2022?
Yes, in 2022, blogging is still lucrative. Blogging has been one of the most robust online job choices in today's modern age of digital marketing explosion. Blogging is indeed profitable for many individuals who earn huge amounts of money from their blogs.
7) How do I connect my domain name to my hosting?
In order to connect your domain to hosting, first of all you need to point your domain's to name servers of your hosting and finally, add your domain name in your hosting.

Congrats, you have successfully connected your domain name with your hosting.
Conclusion:
That's how you can start blogging in 2022 that makes money. You should treat Blogging as a long-term journey.
Have you have enjoyed it. Share your questions / doubts / suggestions in comment box.