Are you looking for the best meme maker apps for Android?
Well, you're at the right place.
Today on TricksGalaxy, we have shared top 10 best apps to create meme on your Android smartphone.
Over the years, memes have gained immense popularity on the internet. There is no social network doing without them.
For this reason, having them on your Android device is a great idea.
The incredible thing is that you can create customized memes for free using some excellent meme generator apps. These apps come with fantastic collections of memes.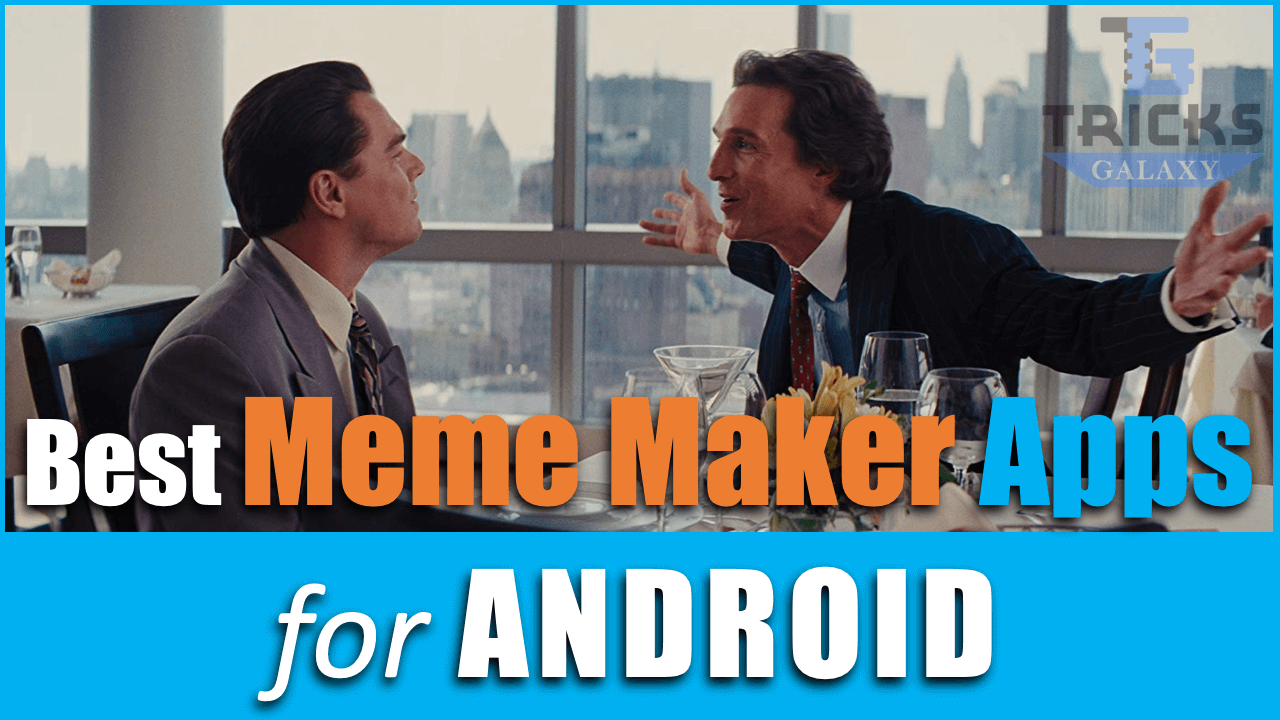 Even you can use personal images with most of the apps and make creative edits to get amazing customized memes. So, you want to know about such wonderful meme generator apps, look down at the best Meme apps for your Android.
Top 10 Best Meme Maker/Creator Apps for Android:
#1

Meme Generator Free

Meme Generator Free is an incredible app to find out the funniest and highly interesting memes that you can share on Twitter, Facebook, WhatsApp, Instagram, Google+, Messenger, Drive, Dropbox, Email, and Snapchat.

The meme creator app showcases meme in different categories and houses more than 700 examples.

With this meme generator app, you can create new memes using images from your phone.

Once creates you can save it and share it across different platforms.

With an immense range of colour, stickers, and text settings, you can create different sorts of meme.

Besides adding up 10 signatures to the picture, you can display your memes on the menu and keep adding new ones constantly.
#2

Memes Editor Photos

Memes Editor Photo is another excellent app to edit your images and pictures.

This app allows creating a meme for free and with a twist and modifications.

Once you open this app, you would get two distinct options. You can either click a picture from the camera or import from your phone's gallery.

In addition to this, you can place the meme on the face of the person in the image options.

Then you can rotate it and pinch it in order to avail the desired results.

Though this app is an excellent solution, it has experienced some crashes while loading images from the gallery.

Hence, still, some bugs have to be fixed beforehand.
#3

Mematic – Make your own Meme

Another excellent meme maker app housing the simplest user interface is mematic.

Mematic app is extremely easy to use and allows you to make a meme with ease and in very less time. You can use this app to create a meme of different kinds and even add dialogue to it.

Once you would click to create a meme option, you would be shifted to another page and select a pre-existing image.

Even, you can select an image from the apps gallery. Another great thing about this meme generator app is that it allows you to simply ad text and alters the background.

You can create the meme, save it, and share it anywhere.
#4

Meme Creator Pro

Meme Creator Pro is a wonderful tool to create memes on Android devices.

The app is from developer Sylvain Saurel. This app houses various pictures and funny images and offers an absolutely distinct functionality for self-creation of impressive memes on the device.

The minimalistic and simple style of this app ensures that you can create funny images in a simple and time-intensive way.

You need to select an image from your phone's gallery.

Once you've downloaded it, you can select a suggested text style and create a customized meme. A unique feature of this app is file format extension.
#5

 Ololoid Meme Generator

This is a free and an excellent meme creator for androids that allows you to create memes of distinct sorts.

You can use it to generate online images from your pictures and generate images from the Internet. Using special templates and adding creativity can make you create a meme that is funny.

Furthermore, the app allows you to publish posts in the social network. The app hosts more than 900 templates that can be cropped and rotated to create a unique meme.

You can search for distinct sorts of images from the search bar. If your meme is spoiled while creating it, then you can undo it with a single button.
#6

Giphy

GIPHY is not an app exclusively designed to create a meme, but instead, it is a GIF repository.

The app allows you to find relevant GIFs using this app. It claims to be the biggest GIF library in the world and to deliver accurate solutions.

Besides featuring a vast collection of GIFs, the app holds a separate sub-category for a meme.

You can select animated GIFs in order to easily create a unique meme and forward it to other platforms among your friends.

The great thing is that Giphy also supports Whatsapp.
#7

Meme Builder

Now, if you are looking for a meme generator app that offers you rich features and functionalities, then Meme Builder is an amazing platform.

This app hosts great features that allow you to click photos from the camera's screen and create memes.

This app supports full-screen functionality and allows saving and sharing the meme in just a single click option.

Also, it allows you to fetch images from the profile of your friends with Google plus, which can be edited to create customized solutions.

The app survives on ads and hence is available for absolutely free.
#8

Meme Factory

Just as its name suggests, this is the perfect app for those who want to create innumerable memes in just minutes.

The app allows you to create memorable and funny memes using your creativity and fantasy.

You can join numerous users on this app in order to determine countless images for memes, which you have not witnessed before.

Using this app, you can rate a meme, browse it, and even download it. It also helps you to organize things and sort memes through their name, randomness, or date.

You can even check the already create memes on this app through the search bar. Customize and edit the pictures using a special option. Once a meme is created, you can publish it on Instagram, Facebook, and other social networking sites.
#9

InstaMeme

InstaMeme is an exclusive meme maker app that enables you to create beautiful memes for free.

This meme generator app offers sporting Android material design and is perfect to craft beautiful memes with ease.

The app comes with an excellent user interface and allows you to scroll through hundreds of Memes that can be shared with your friends.

You can select from thousands of templates mentioned in the app. The UI is intuitive, and hence you can create wonderful apps without experiencing any hassle.
#10

Meme Producer

You can make more meaningful and attractive images by using this amazing meme generator app – Meme Producer.

The app has already hit more than 2 million downloads and is perfect to c clean neat and wonderful images.

First, you can search for an image on the app and depict an imaginary situation where you can implement a creative idea.

Once you've determined one, you can alter captions and make necessary edits. Also, you can add information to your meme.

If you are not able to determine an appropriate image from the android, then you can upload it from the gadget.
Final Words
There are numerous Meme maker or meme generator apps on the Play Store. You can create an impressive meme only when you select a robust and reliable meme generator app.
So, check for the apps mentioned in our list to enjoy free memes that cater your needs well.