Best Music Player App for Android.
There are apps for everything nowadays, and you should know very well as Android users. You'll see various Android apps in every category on play store. Isn't it? Needless to say; there will be some amazing Android music apps available
People tend to listen to music on their Android smartphone as it's very convenient. Plus, there are loads of music apps for downloading and streaming songs online for free. You wouldn't want to pay for a separate music device when you have a smartphone already. Would you?
Best Music Player App for Android
It's fine if you don't like the default music player on your phone. You can download a suitable music player from Play Store at once.
But it could be a daunting task to find and sort and it takes some time as well. You won't need to waste your energy or valuable time as we have prepared a list of best music player for Android. So, without any further ado let's explore. Shall we?
Top 10 Best Music Player for Android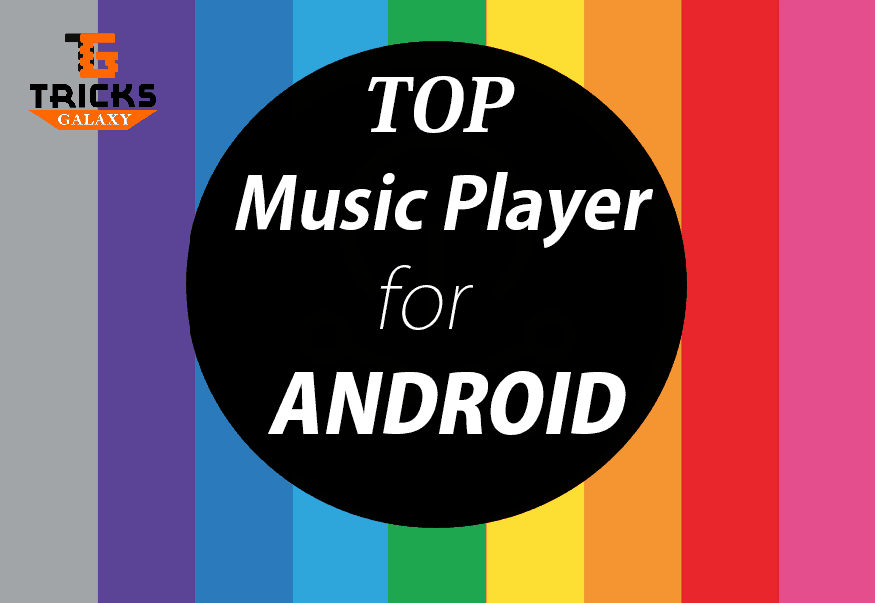 List of 10+ Top Mp3 Player App without WiFi
#1

Poweramp Music Player (Trial)

Poweramp is an excellent music player for Android It has several features to replace the default music player on your smartphone.

You can play mp3, mp4/m4a (incl. alac), ogg, wma*, flac, wav, ape, wv, tta, mpc etc. Also, it comes with 10 bands graphical equalizer, custom presets separate bass, treble adjustment, stereo expansion, mono mixing, gaples, reaply gain and much more.

However, it is not a free version; but you can use it for 15 days to avail the trail period. You need to pay a small amount if you want full features on your Android mobile.
#2

VLC for Android

VLC media player is one of the best and most popular open-source cross-platform music players among the users. It's a top-rated music player on Play Store to play all kind of music formats that includes Mp3, MP4, M4V, AVI and much more.

Plus, it has some other significant features like subtitles, multi-core decoding, multi-audio selection, gestures, headphones control, audio equalizer, etc.
#3

BlackPlayer Music Player

Blackplayer is another excellent free music app for music lovers. It comes with a user-friendly interface along with many more features such as equalizer, widgets, scrobbling, an ID3 tag editor, no ads, themes, and compatible with almost every music files (extensions).

No need to overthink about it. Just go to Play Store and begin downloading on your phone. It wouldn't hurt to try a free app. What do you say?
#4

Google Play Music

Google Play Music is a well-known music player among Android music lovers. It brings radio feature just in case if you want to listen to music rather than downloading or streaming online. Also, you can make your own collection by uploading thousands of songs without any hassle.

Furthermore, Google Play Music offers on-demand access to massive collection songs at a low price. You will get YouTube Red membership if you want to watch your favourite videos ad-free.
#5

Pulsar Music Player

Pulsar Music Player is another spending pick for all Android users out there. Are you unhappy with your current music player on your phone? You should try Pulsar Music Player to get a better experience.

It's developed by Rhythm Software and comes with an elegant interface and useful features for music lovers.
#6

n7player Music Player

n7player Music Player takes the next spot with a different style to browse music. The user interface is designed for music freaks. It lets you find songs quickly than any other music player on Android.

We've already mentioned that it's easy to use (due to the user-friendly interface). Plus, it has every feature that you expect from an excellent Android music player. Don't believe me. Just go to Play Store and download n7player Music Player to see it for yourself. Are you waiting still?
#7

PlayerPro Music Player

PlayerPro brings an advanced feature to the table for all music lovers. It's a beautiful, easy to use and user-friendly media player with impressive features. It has acquired with some powerful features to provide the best experience for Android users.

You can install the trial version for a limited time to try, but you have to pay to attain the Pro version with more features.
#8

Phonograph Music Player

Phonograph Music Player is my next choice for the best music player for Android users in 2017. It has a simple, clean and easy to use interface to provide the best experience to music enthusiasts.

Phonograph can gather info about your artists (like bio) to integrate with Last.fm app. There's another significant feature, i.e., known as the tag editor. It allows you to change music tags like title, artist, album name for a particular song or whole album.
#9

MediaMonkey

MediaMonkey is one of my favorite music players on this list. It lets you navigate, manage and make your music collections easily. You can create playlists, give ratings, see lyrics, play history etc.

Let me spit out some more features such as sleep timer, cast to Google Chrome cast, auto support, bookmark large files, access files from servers, widgets, multiple data management, third-party integration (Simple Last.fm, Scrobble Droid, Last.fm), Full-library search, etc. Would it be enough for you?
#10

Neutron Music Player (Eval)

Neutron is an outstanding media player with an audio rendering engine for high-quality sound performance. It has an incomparable DSP effect that you won't see in any other music player on Android right now.

Neutron can read music files from your phone memory (& SD card) or network sources (SMB/CIFS, UPnP/DLNA, FTP, WebDAV) and send it to headphones, or USB directly. You should check it out and give it a try.
Extra Music Player (Bonus)
#11

jetAudio HD Music Player Plus

Do you know jetAudio media player for Android? You might be unaware that it's the most downloaded music player on CNET.COM.

You can play all types of music files such as .wav, .mp3, .ogg, .flac, .m4a, .mpc, .tta, .wv, .ape, .mod, .spx, .opus, .wma etc) along with a high sound quality audio with several effects and, it provides a very high-quality sound with various effects and enhancements. What are the features are you going to obtain with jetAudio?

You'll have many useful features like 32 equalizers, sound customization, graphic equalizer, crossfading and much much more.

You can download it for free, but you can get the pro version by paying a small amount if you want more features. The free version has more than enough feature to meet your expectations for a music player.
Conclusion
We've reached at the end of the best music player for Android. You can most of these apps if you desire; it wouldn't harm to download an app from Play Store. What's your favourite music player for your Android device?
What's your current media player on your smartphone right now? Let me know anything that you want to say about this article. Don't forget to hit the share this information with your friends on social media platforms. You wouldn't. Right?