The Entire success of Keyword Research & Backlinks audit depends on the SEO tool you use. You might have used many SEO Tools like – SEMRush, Ahrefs, Long Tail Pro etc but SERPstat is the tool which you'll try and say "Why isn't anyone talking about this?".
When we talk about SEO, especially keyword research & backlink analysis, I was always using SEMrush & Ahrefs; SEMrush mainly for keyword research and competition analysis and Ahrefs for backlink analysis. I never thought I would find an SEO tool which alone does the whole job. Yeah, I'm talking about Serpstat.
Now after using Serpstat for the past few weeks, I realized that this is most amazing SEO tool with amazing UI and capable of tracking key SEO metrics in real-time to get the secret behind-the-scenes of your top performing competitors and backlinks audit.
Serpstat Review
Serpstat is a truly an all in one SEO tools for keyword research and ranking analysis. Initially, it was used within the Ukrainian marketing agency Netpeak, which became its primary investor afterward. Serpstat's database includes information on 12 geographical regions of Google namely USA, Australia, United Kingdom, Bulgaria, Latvia, Lithuania, Ukraine, Russia, Kazakhstan, South Africa, Canada, Belarus and three regional databases of Yandex.
Also, it is worthwhile to mention here that Serpstat grew their AU, UK, and CA Google Databases. So, you can find even more Long-tail Keywords using Serpstat
Serpstat was initially started as keyword research tool in 2013 for their internal purpose at their company, Netpeak digital marketing agency. They grew much faster in the past two years, the tool has been used by over 60000 internet marketers and digital agencies over the world.
While writing this Serpstat Review, I got many questions from my fellow bloggers such as all the SEO tools does the same things then why are you presenting this one?
The answer is simple – Majestic in 2004, SEMRush in 2008, Ahrefs born in 2011 and then Serpstat in 2013. The growth of Serpstat is much faster as compared to every other SEO tool in the market.
Let's talk about the features of Serpstat which clearly defines that it is #1 growth hacking tool for all SEO needs.
Features of Serpstat:
Serpstat is really the powerful all-in-one SEO platform which offers following features:
Keyword Research
Search Analytics
Advertising Analysis
Content Marketing Ideation
Competitor Research
Rank Tracking
Market Intelligence
On-page Audit
Reports and Infographics
Developer-friendly API
Backlinks Analysis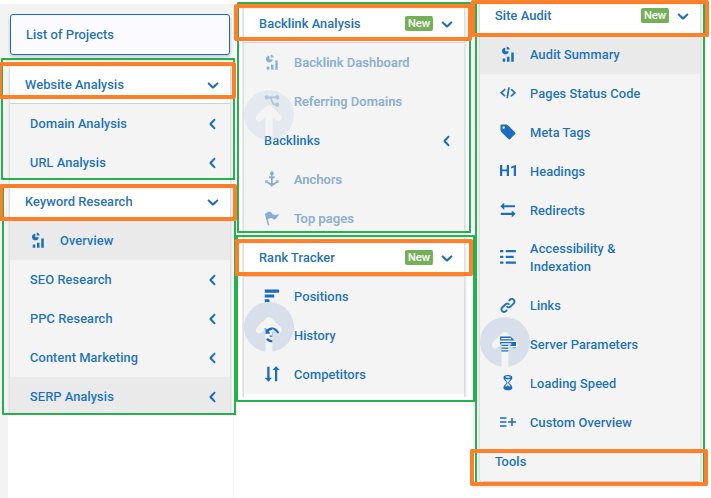 #1

Website Analysis

Serpstat offers a lot of powerful tools for website analysis. It's divided into two aspects, i.e., URL Analysis and Domain Analysis. Under domain analysis, it has many tools like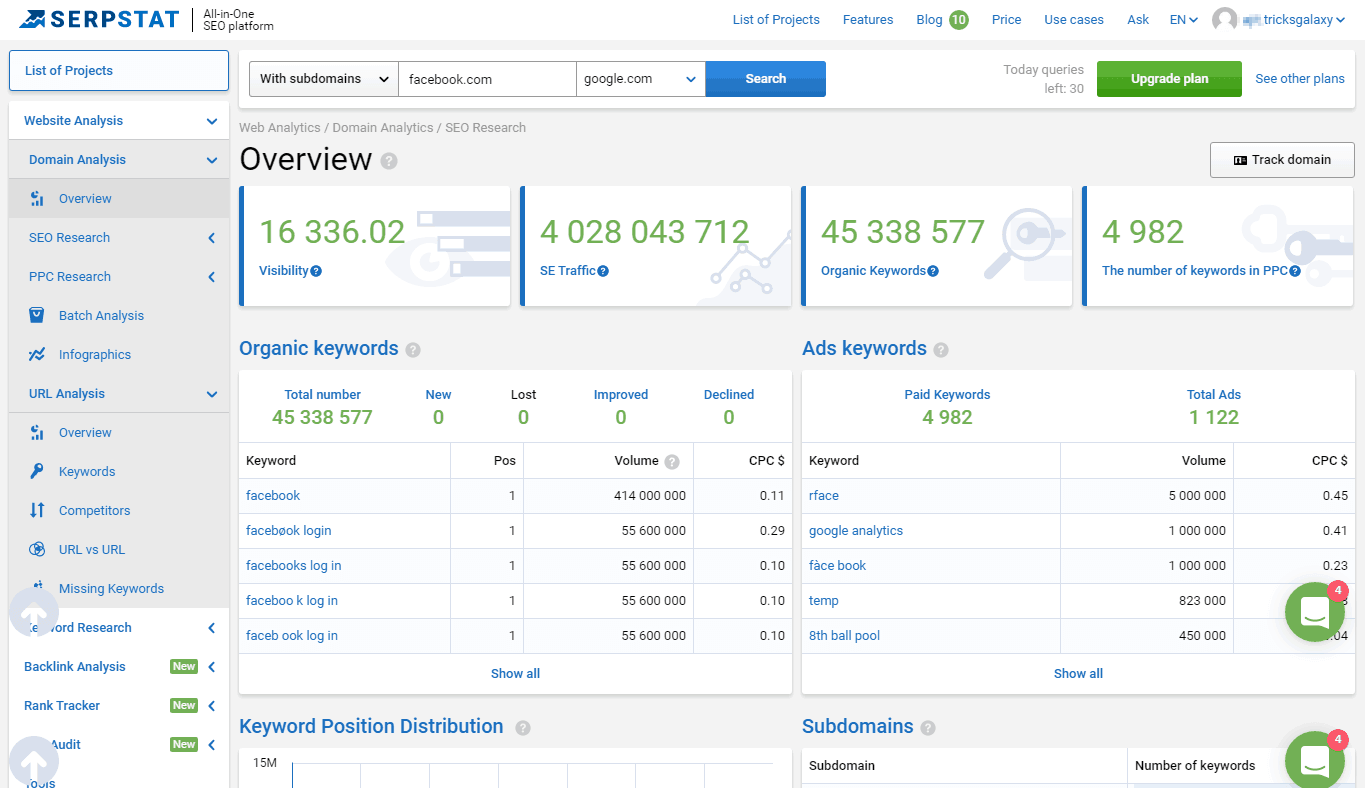 Domain Analysis: Under domain analysis, it has many tools like domain to domain comparison, identify the top competitor for your website, the tree view for keywords, etc. The tool allows you to compare metrics of up to 200 domains. You can see metrics like traffic estimate, total keywords, new keywords, lost keywords, etc. The site also displays some charts for your site's visibility, organic keywords, search traffic, ads, etc.
URL Analysis: If we talk about URL Analysis, you can enter an URL in the search box and get the list of the keyword and the site's ranking on Google. The site also displays the competitor for the website entered in the search box. URL vs. URL tool allows you to compare two or three competing URL with your URL, get details about the common or unique keywords from specific sites. It also tells the user about the missing keywords that are present in competitor site but not in yours.
#2

Keyword Research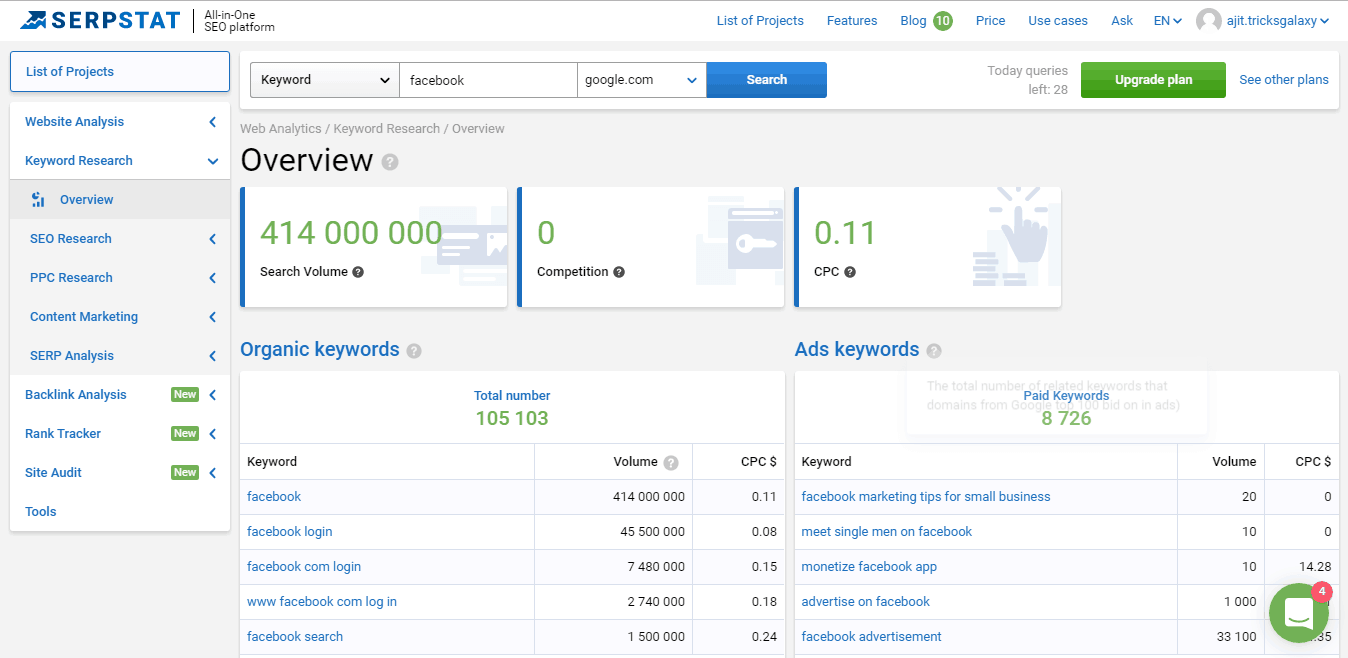 Serpstat allows you to quickly get the list of all the common keywords you and your competitors are ranking for, as well as provide you with lots of new keywords that your competitors are targeting, but you may have missed.
Serpstat offers SEO Research tools which form keyword selection report for matched keywords, do a cluster research for LSI Keywords, search suggestions, top pages and competitors for that keyword.
It also offers PPC Research tools which include a list of paid keywords, a list of competitors for the paid keywords, ad examples, and ad research reports.
Content Marketing tools are also present which includes search questions which contain all interrogative search suggestions containing the keyword and also display the top 100 Google results for organic and paid search for the keyword.
Huge Keyword Database: They grew their AU, UK, and CA Google Databases which brings you the opportunity to find more Long-tail Keywords within few clicks.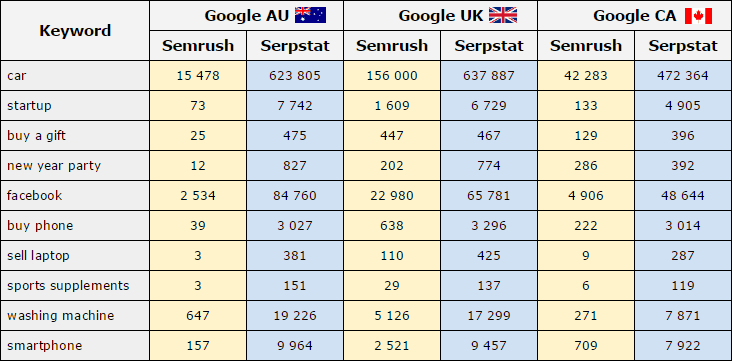 #3

Backlink Analysis

The site offers you the capability to analyze your link profile as well as your competitors' backlink profiles. This feature allows you to find your competition's link building strategies and displays new sources you can use to build your backlinks.
It also provides you with a backlink dashboard. It gives a brief overview of your site's referring domains, pages, referring pages, total pages indexed, and so on. You can also view the list of referring domains to your website corresponding with their Alexa rank.
The site also allows the user to see the new as well as the lost backlinks to their sites. On Serpstat, you can get to see an anchor cloud and a list of keywords used as anchor text to link back to your website. Serpstat also allows you to view the top pages on your site by the number of backlinks.
#4

Rank Tracker

It is one of the most powerful tools for keeping you updated about the rank of your keywords, as the search engine ranking for keywords changes frequently. It also allows you to see your site rank distribution on search engines. It also shows you the historical data on domains position for that particular keywords.
#5

Site Audit

Serpstat also has a Site Audit tool. The Site Audit tool gives you a complete analysis of your site's overall SEO score, displaying all the errors that need to get fixed.
It informs you the error in you site tags like title tag, Meta tags, Meta descriptions along with their priority for you to fix that. It also displays you high, medium, and low priority errors on the heading of your site. It provides a report on the total number of redirects on your site and informs the user if any wrong or corrupt redirect is present.
It also displays pages with canonical tags, flash elements on the page, low word count, etc. It also displays the error if your content has any problem with external links. It also displays several other errors like issues with HTTP/HTTPS on your site and reasons of slow loading of your website.
#6

Tools

Now, the Tools section on Serpstat gives you the access to view the history of your queries on Serpstat. You can view or export the list of keywords and reports, upload and check for quality keywords.

Depending on your plan, you will be able to add a list of projects to your dashboard. This is the section where you can access data related to your site such as site audit, rank tracking, backlinks data, keywords data, etc.
Pricing of Serpstat:
Serpstat offers both Free as well as Paid membership plans. Of course, free plan only has basic features, for the advanced feature like In-depth URL Analysis, Missing Keywords, Cluster Research, etc. are not available in the free plan. The paid plan starts from as low as $19 per month and goes up to $299 per month. The site loads the results very quickly and is very accurate regarding keyword report.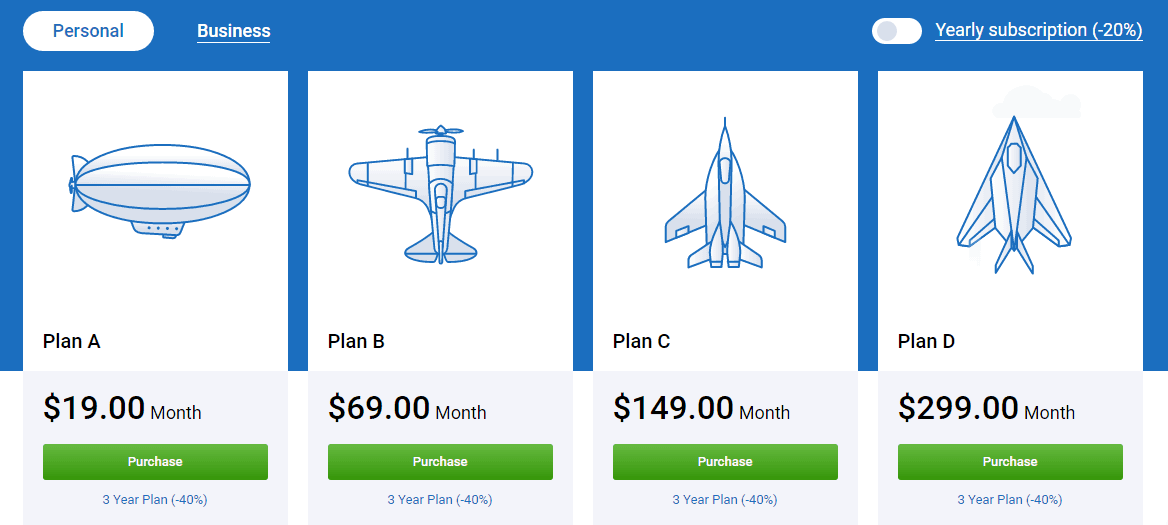 Final Words
The great User-Interface of Serpstat makes it very simple and easy to use without any hassle. I would personally recommend everyone to try Serpstat.com once and you will know how awesome this SEO tool is. So, finally Serpstat is an all-in-one platform for SEO and no doubt, it is the best tool for doing SEO for your all purpose.