Looking for some best apps to research in Stock Market? Well, Here is our handpicked List of Top 15 Indian Stock Market Apps to use in 2022.
Savings is a term widely known in the Indian community but channelizing these funds is lesser known. A higher yield or a higher return on investment is forever in demand and diversification is the key which would unleash your expectations.
Investing in equity is unrivalled, as the return is comprehensively higher. For all the people fond of trading, but lacking the experience or the capital, here is a convenient way of trading while you make a quick buck.
This article showcases all such Stock Market apps which might come handy to start trading on your own.
15 Best Indian Stock Market Apps: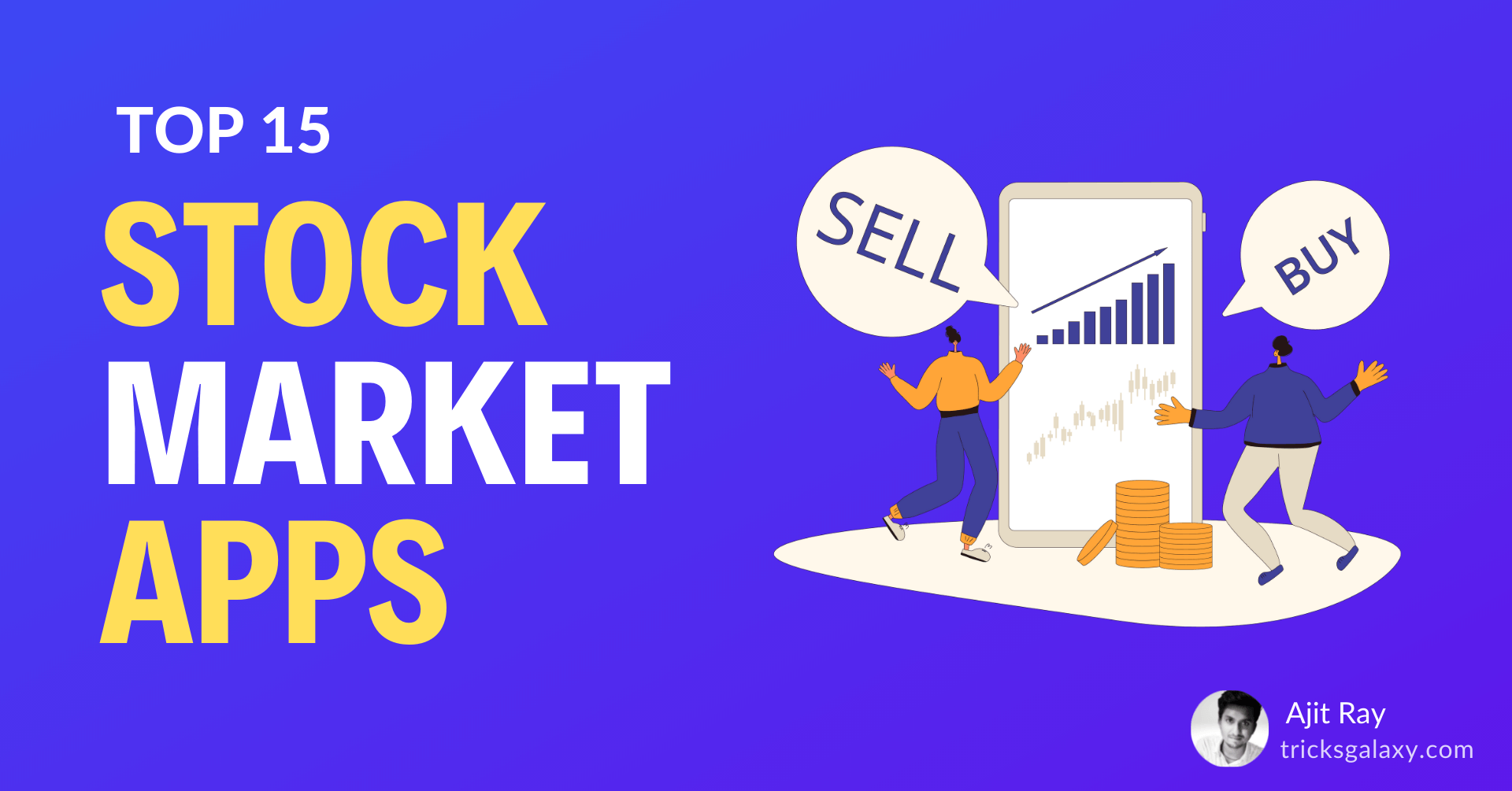 #1

MoneyControl App

MoneyControl is the highly related app for the Indian stock market, for the popularity it holds. You'll find every comprehensive feature of a trading app at one stop. Also, live streaming news has never been easily facilitated before. CNBC-TV18 (English), CNBC AWAAZ (Hindi), CNBC BAJAR (Gujarati) and CNBC PRIME HD, you name it, the app provides it.
Availability of every such necessary detail and information
Keep track of all the marketable securities traded in financial markets, both from within the nation as well as outside.
Trade in all the exchange at one stop, including BSE, NSE, MCX, and NCDEX
Easily check out all the securities i.e. mutual funds, commodities, equity shares, currencies, etc.
Make a follow-up plan by following all the day's news along with the interview of the senior management.
The best part for the last, Moneycontrol actually keeps a track of your portfolio as per its performance and advises or alerts according to the investments you own.
#2

ET Market App

Information is the key to master anything; ET Market keeps track of all the live market data which helps you take the required decisions.

While the markets, business, and economy fluctuate you will be readily informed through the app, and so can you keep notes on your investments to wisely choose what would accommodate your interest. Some competitive and unique feature it offers are:
Stocks charted in an advanced way, easy-to-go live indices and share prices.
More than the regular chart type, comprising of technical indicators and comparisons alongside SENSEX, NIFTY stocks.
Live Streaming of ETNOW TV facilitates immediate news sharing and self-awareness of the latest happenings. Only audio streams are also available.
Keep an eye on all the share, Sensex, Nifty, Mutual Funds and also Forex ETFs.
Perform smart voice searches to discover what's new and also, track your investments.
Make a Watchlist of desirable stocks and track the position it holds via market gainers, losers, movers, etc.
#3

Investing.com App

The benefits here are diversified into 2 apps, each of which has its own separate purpose. If you are in search of a typical trading app, the first app will be of your interest. It has a typical working nature including stocks, forex, etc.

If you wish to trade as well as keep yourself updated with all the prices and market conditions, the second app provides just that.

The Investing.com app provides base information on exchange rates, news, cryptocurrencies, etc. Track every minute change which happens in the market.

Speaking in terms of the look and feel, the simple material design with tons of information is a very good UI choice. It is also advertisement free for people who wish to opt for a subscription.
#4

MarketWatch App

An app with universal applicability i.e. for both iOS and Android.

The latest update is on par with all the demands of the traders. News and data have been made accessible and available at the fingertips.

The design of this stock market app has been made after careful evaluation including design, interface, section browsing, interactive graphs, search functionality, etc.
Keep track on index movement, stock prices, market movement, and other securities
Featured latest market, finance and business news
Customized lists to monitor various companies and their stock prices
Data updated at real-time
Pages with quoted prices and key trading information
Also view MarketWatch stories, share and save them for later viewing.
#5

StockWatch App

This app, without any doubt, has all the common features and as an addition, the app can monitor top fund houses and analyst views on a few specified stocks. You can search and sort stocks as there is a search suggest and sort functionality.

With all these features available, the app is absolutely easy to use. Track, create a watchlist, get tips, search, obtain information on leading indices in a matter of minutes.
Live Feeds provided, and Live Stock Prizes showcased enabling visitors to stay updated with stock and index prizes like Nifty and Sensex.
Specialized tips offered to the traders through leading fund houses
Stock price refreshed in real time as you keep an eye on the stocks of your interest or the investments.
Included snapshots of Nasdaq, DAX, FTSE, etc., at one platform.
#6

StockEdge App

Research benefits literally anything and everything. If you wish to perform fundamental as well as technical research on any of the stocks listed in the market, you can do it through this Stock Market app.

StockEdge app has all such tools which would facilitate effective and efficient research. Visualize and analyze stock prices based on frequent intervals.
One can obtain derivatives data on 3 intervals, namely daily, monthly and yearly.
Perform opportunity cost as per high and low of months, weeks, days, stock volume, delivery, moving average, pattern charts,
Research guides made available in easy and common language.
Almost all the information provided about big investors and so can you add or create a group of individual investors.
#7

IIFL Market App

The best part about this app is its user interface. Features of this app are definitely attractive but the interface is worth it.
A dashboard has been provided which keeps track of all the prices of securities, including equity, commodity and also currency.
Trading at different indices is easier than ever, be it either BSE, NSE, MCX or NCDEX.
Investing in IPO and OFS always comes along some issues; this app provides ease of investment in such markets.
You have complete control over all the options of your demat account and can easily sort it out with the help of your broker.
Create and customize your Watchlist at your will and interest.
#8

Kite by Zerodha

The application offered by this company is absolutely simple yet is so powerful. This app has been built without any outsourcing and entirely in-house by its abled team. This is also the reason why it is the easiest and most accessible app available in the stores. The features of this app mainly target advanced traders though it is a simple app.
Available in 11 languages
Full MarketWatch, extensive charts with 100+ indicators.
Ease of fund transfer and withdrawal
Traders can place advanced orders
Better Management of portfolios as per holding and position
Availability of five market depts.
#9

MSN Money App

Financial news can be viewed in real time because of the connection with higher sources, such as the Wall Street Journal, Bloomberg, etc. This app has all the features of a regular trading app along with pro information which would save you a lot of time sneaking around.
Keep the user update with financial news from greater authorities and sources
Keep track of the major indexes irrespective of the country
Know other information other than securities, such as the currency rates
Set up a watchlist comprising of your desired stocks
This app has a number of inbuilt tools
#10

NSE Mobile Trading

This app is simple to trade as per your interests, yet in a convenient way. Applicable for all the iOS, Android as well as Windows users. Register yourself with a broker and obtain all the information from them and use the information to log onto this app and start trading. Make sure you create a unique password while signing in as it is very important to safeguard your account.
The market can be seamlessly monitored in real time as per streaming quotes, charts, etc.
Keep a track on the portfolio and also the holdings
Credits and funds are facilitated to be transferred easily.
#11

BSE India Mobile App

BSE or Bombay Stock Exchange offers all the required information about the nature and significance of the stock market. Along with the list of stocks and their real-time price, it also provides day to day losers, indices, and turnover.
Customize your home page
Design and options of the app are well configured with ease of understanding
Indices of BSE and CMIE available
The Sensex heat map is facilitated where you will find all 30 securities at once
Find and deal in all new listing IPO/OFS
Easy re-order tabs
Create your portfolio and get additional information on it
Availability of a number of graphs showcasing the price and index value.
#12

Investar App

This app is popular owing to the two special features it offers. The first feature is the navigation system and the second feature is the interactive charts. Through this app, you can obtain the service of chart analysis which is based on a per day live basis. The app updates all the analysis and the charts within a time frame of one to five minutes, i.e. in the quickest form.
Real-time data provided and also real-time charts update for every traded stock within a duration of 1 minute.
Immediate support and resistance are provided and stops loss including on intraday basis, as technical chart analysis is provided.
The watchlist can be synced unlimited times as per your close watch.
Set up a desired price target and you will be notified when it does hit the mentioned numerical figures. Combination of basic as well as advanced 35+ indicators offered.
#13

Yahoo! Finance App

You need to actually set this app and spend quite a lot of time for the same before you actually start attaining the benefits of the apps. Follow all the instructions of setting up the app carefully such as the country, language of the nation, accepting the terms and conditions, etc.
Know what goes on in the market and decide your profit strategy as per the availability of the news, and stock price quotes
Obtain information about the basics, equities, world indices and also other necessary information such as currencies, bonds, commodities, etc.
This app is a base for all HT financial information such as dividend, bonus share and stock split
Also is the offered information included with the price of bitcoin, Etherium, Litecoin, and other cryptocurrencies. This stands the most unique feature available in the stock market apps.
#14

Market Mojo App

This app calls out for all the professional traders out there. It is in great demand for the pros because it provides an insight or most probably a pre-analysis on the stock price movement. The availability of technical support such as resistance, stop loss on intraday trading is also taken into consideration. All in all, this app is the best for all the experts out there, who consider themselves pro at trading.
The base of comparison between the two companies is made available. The comparison is made in terms of debt ratio, sales, profit margin, EBITDA, return on equity, etc.
Suggestions are as well provided which depend upon the long term performance in the past and so is the future performance predicted.
The valuation status is as well provided so as to check the nature of the same.
A quick check on your portfolio
Evaluation of your holdings
#15

Market Pulse App

Catch a glimpse of each and every happening of the market through this app, where you have no chances of missing anything out. Also, get tips from the market and investments. Trading at its best, this app has it all for all the professional traders out there.
All the available news is handpicked by our
Analyze the market activity on the basis of daily, weekly, monthly by FIIs and DIIs.
A collection of pro tools available for better and profitable trading
Scan out all the profitable investments through our scanner
The alerting system included to help you with price and readymade strategies
Pro charts are available with necessary indicators
Highly customizable watchlist.
Wrapping Up!
So all you need to get started with equity (or derivatives) trading is a strong will and access to at least one of the apps mentioned above. Remember to study the market and its trends before actually investing your hard-earned money.
And remember to never follow the herd. As the illustrious investor Warren Buffett once said, "Be fearful when others are greedy and greedy only when others are fearful,".