Android Emulator for PC
Do you wanna run Android Apps on your Windows 10/8.1/7 PC?
Are you looking for the Best Android Emulator for Windows PC/Laptop?
You are at the right place.
Android Emulators for Windows PC are the great software which is required when you run Android Apps or Games on PC.
No matter which version of Windows you are using whether it is Windows 7 or Windows 8/8.1 or Windows 10, Android emulator gives to the powerful opportunity to run any Android apps & games on your Windows PC.
Choosing the correct & best Android emulator is most important and might become a bit difficult task as some Android emulator can really slow down your PC.
But don't worry about that – Today, I made the list of Top 6 best Android Emulators which you can use to run Android apps on PC – Windows 7/8.1/ Windows 10.
Top 6 Android Emulator for Windows
PC
#1

AndyRoid – Andy Android Emulator
AndyRoid is the Most Powerful Android Emulator that breaks down the barrier between desktop and mobile computing.
Using AndyRoid Android Emulator, you can not only run Android (APK) Apps on your Windows 7, 8, 8.1, 10 but also you can play Android Games on your PC/Laptop.
AndyRoid supports some unique power features which aren't supported by any other Android emulator.
This Android Emulator also requires virtual box support to Android Apps.
Features of AndyRoid Android Emulator:
It gives freedom to Run any Android Apps on Windows PC
You can Use your phone as a remote control when playing games
You can Play your favourite Android Games on PC
Run all your communication apps from your desktop (SnapChat, Facebook, Viber, WhatsApp etc)
Provides seamless sync between desktop and mobile devices
It Connects Win/Mac with Android apps for launching, push notifications and storage
Enables app download from any desktop browser direct to Andy OS
Ensures most up to date Android OS at all times
#2

Droid4x Android Emulator – Most New Android Emulator
Droid4X is the Android app emulator/simulator which gives you the best mobile experience on the desktop.
Droid4x is the newest emulator among all of which I have mentioned in this Emulator list.
Droid4x Android Emulator has many salient features-
It comes Pre-Rooted
Google Play Store comes pre-installed
This emulator is pretty fast,
It never lags,
Zoom In- Out supported by Central mouse – wheel (Scrollbar Zoom-in/out).
You can configure your keyboard as a controller for the emulator.
Provides inbuilt app for keyboard mapping
#3

BlueStacks Android Emulator – Most Widely Used Android Emulator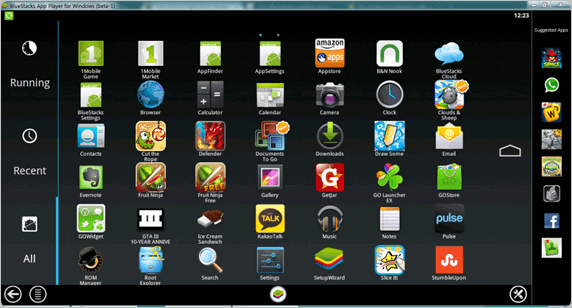 BlueStacks is the most widely used Android emulator to run any Android Apps or APK Apps on your Windows PC.
You may have heard about it or used this emulator in past. It is freely available.
BlueStacks provide one-click installation and come with both Online as well as Offline Installer Setup.
It doesn't require VirtualBox support to create the runtime environment for Android Apps & Games. Let's see the features of BlueStacks.
Best Features of BlueStacks Android Emulator:
BlueStacks have #1 place in App Compatibility & Game Compatibility.
Easily run Android App on PC
You can Move files between Windows and Android
It has sensors Integrated
You can easily install 3rd party apk's or any android apps by simply double-clicking on the apk files
It doesn't require any other-3rd party virtualization required (VirtualBox isn't required)
Easy One-click installation on the Windows 7, 8, 8.1, 10 (Online Installer, as well as Offline BlueStacks Installer, is available)
Mouse, Keyboard, Microphone Integrated.
#4

GenyMotion Android Emulator – The Best Android Emulator for Windows
GenyMotion is also one of the best Android Emulator to Run Android Apps on PC.
It is similar to AndyRoid Android Emulator, once you install GenyMotion it also install Oracle VirtualBox to create Runtime Environment for Android Apps.
GenyMotion is also available for free.
The mind-blowing feature of GenyMoton is that It also gives you the option to choose from many Android Smartphones and tablets and enjoy its features on your Windows 7, 8/8.1, 10 PC. It provides the full Android experience.
#5

Windroy (The Powerful Android emulator with a Windows Kernel! 2017)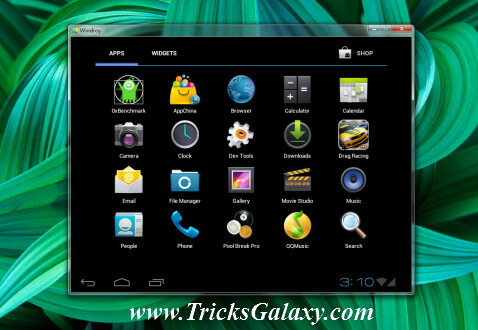 Windroy is commonly used most unique Android Emulator. It has most unique As its name suggests – It completely runs using the Windows kernel!
Windroy doesn't require any external Virtualbox support, unlike GenyMotion & AndyRoid. Windroy is truly quite lightweight Android Emulator and handy to use.
#6

YouWave Android Emulator
YouWave Emulator is another most popular (like BlueStacks) Android Emulator for PC.
It offers you with two screen parts – the left part shows the installed applications and the right part shows the view of your mobile screen.
YouWave can be called as the combination of BlueStacks and Native Emulator.
It is not available for free, it offers 10 days free trial with its free version. YouWave also requires VirtualBox for the runtime environment.
Conclusion:
So guys, this is the list of Top 6 Best Android Emulator for Windows 7, 8/8.1, 10.
By using any of the above listed Android Emulator you can run your favourite Android Apps, Play Android Games on your PC/Laptop.
I will be more than happy if you share your views/ideas/suggestion/feedback about this article in the Comment box.
Don't forget to mention which is your favourite Android Emulator Software you generally use.