Best SEO Optimized & AdSense Ready Blogger Templates/Themes: Are you a Blogger? Looking for some Best SEO Optimized Blogger templates? Well, here I have shared the Top 10 Best Blogger Templates that you should use on your Blog. Yup, these are the perfect blogger themes. So, let's get started.
Blogger is the #1 blogging platform to start blogging if you don't want to invest a single coin. Every professional blogger starts their Blogging career from Blogger platform, even I had started TricksGalaxy with Blogger and for more flexibility later I shifted to Self Hosted WordPress platform.
No matter if you're new to blogging or already a part/full time professional blogger. We must use the best out of best blogger templates. The blogger templates must be SEO Optimized for better ranking in SERP, AdSense Friendly for placing Google Ads without disturbing user experience, Template must be Responsive so your blog can open in any Device without layout problem and it also must be Highly User-Friendly to present information easily for your audience.
Top 10+ SEO Optimized Blogger Templates & AdSense Ready: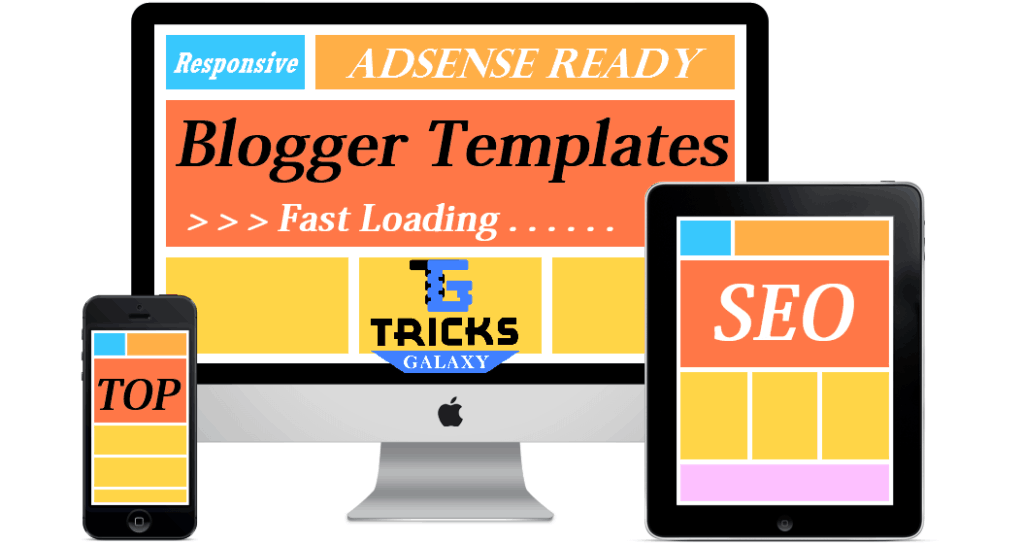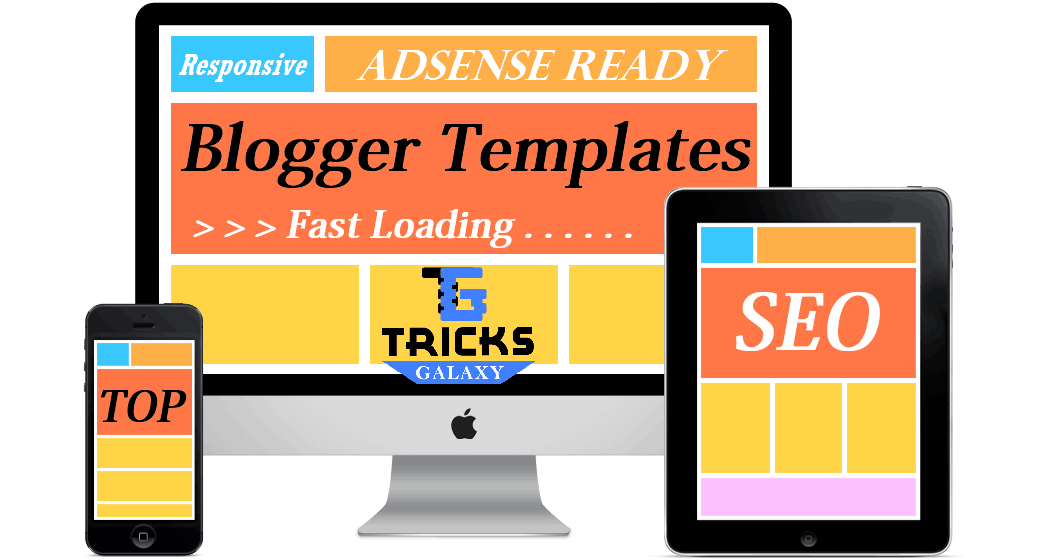 Here is the list of Top 10 Best SEO Optimized and AdSense Friendly Blogger Templates or Themes for Blogspot blog which are rich in all terms like – Fully SEO Optimized, AdSense Ready, Responsive, Highly User-friendly, Mobile friendly. Here, you can also get the complete list of all the features offered by these Templates.
List of Top 10 Best Blogger Templates in 2017
#1

ATB Style Eleven40 Blogger Template: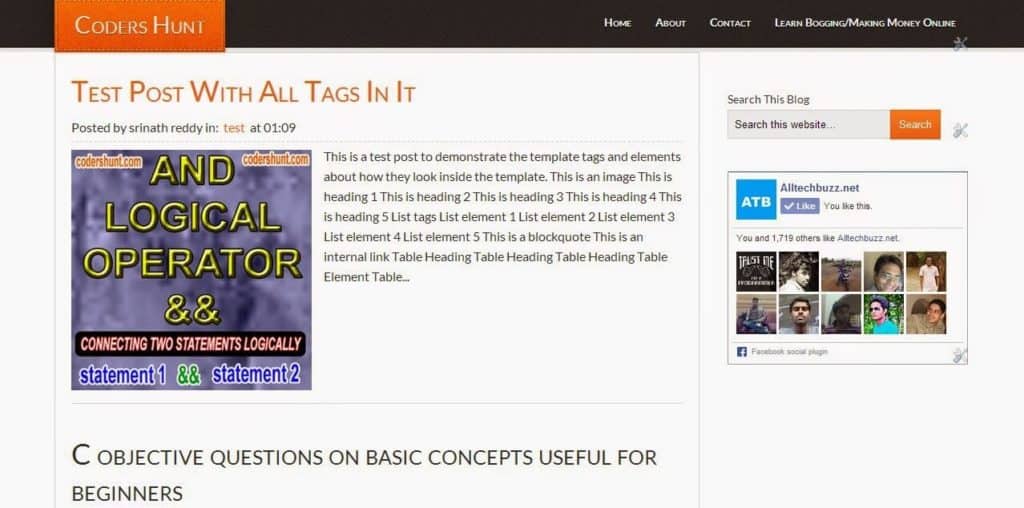 ATB Style Eleven40 Blogger Template is one of the most advanced blogger theme in terms of SEO optimization and also features a responsive design. This blogger template is developed by Srinath Reddy Doodi of AllTechMedia.
Other features of the ATB Style Eleven40 Blogger Template include a navigation menu that is easy to use and interact with, a social share plugin that features conditional loading, a footer of three columns and more.
This blogger template also features several customization options including the ability to add your blog description, featured links and navigation links in the template footer and also add a custom search box.
Most advanced SEO Optimized.
Responsive Template.
Easy To Use Navigation Menu.
Conditionally Loading Social Share Plugins.
Three Column Footer.
Many More Features.
#2

Bresponsive Blogger Template: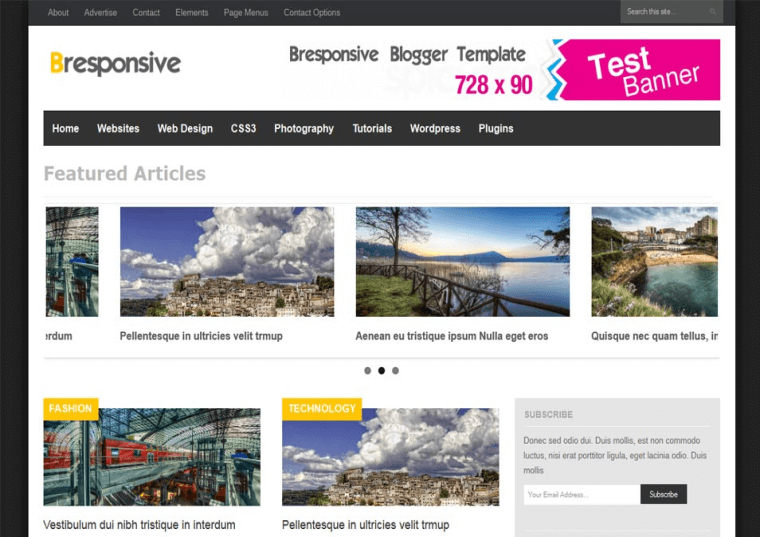 As the name itself indicates, the Bresponsive Blogger Template is a completely responsive blogger theme that is also fully optimized for SEO and Google Adsense as well. Bresponsive Blogger Template is developed by the team at SpicyTricks and features a bevy of features.
The features of the Bresponsive Blogger Template include Feature Carousel-type slider for top and home widget, magazine-type home page, social share and subscribe widgets, tabbed layout for popular and recent content and also for the latest comments and tags.
As this is an Adsense friendly blogger template, there are special ad spots in the header and sidebar of the template to feature your Google Adsense advertisements.
Fully Responsive
Mutiple Category posts Widgets in Footer
Featured Carousel slider Top (Automatic Update)
Featured Carousel slider Home Widget (Automatic Update)
Magazine styled Home Page
Subscribe Widget, Social Icons Widget
Tabbed content Widget for Blogger(Popular,Recent,comments,Tag)
Category Posts widget with Small thumbnails
Recent Posts widget with Small thumbnails
Popular Posts widget with Small thumbnails
Latest Tweets Widget
Cool page navigation like Word press.
Related post box at the end of every post (To improve Page Views).
Horizontal Category Navigation
Advertisements supported in header and Sidebar(Adsense Ready)
Search Engine optimized Blogger Template (SEO)
#3

Frontier Blogger Template: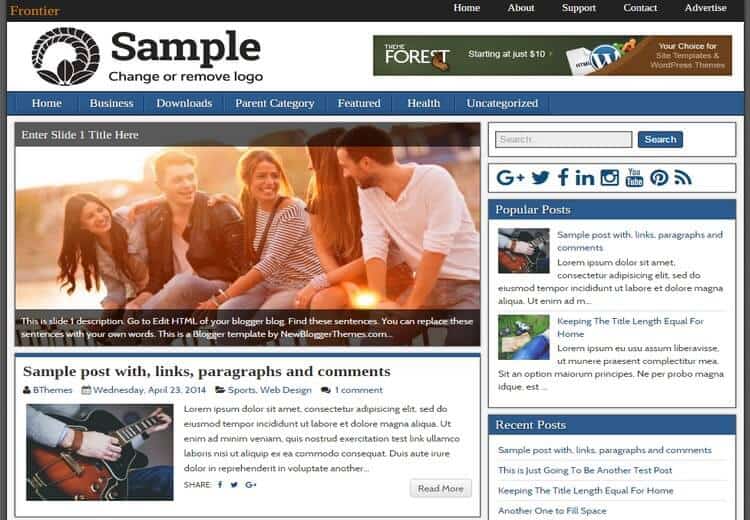 Frontier Blogger Template is developer by NewBloggerThemes and not only a fully responsive theme for blogger but is a multi-purpose blogger theme thus fitting best for blogs of any kind. The Frontier is built on HTML5 and CSS3 and features a very elegant look.
Frontier Blogger template features a sidebar to the right of the template along with a footer section that can hold 3 columns of widgets. This theme is adapted from a WordPress theme so as to give your Blogger blog a very professional look and feel.
#4

ATB Responsive Blogger Template:
ATB Responsive Blogger Template is the theme used by AllTechBuzz when they hosted their site on Blogger. Due to popular demand, the ATB Blogger theme is now available for free for anyone to download.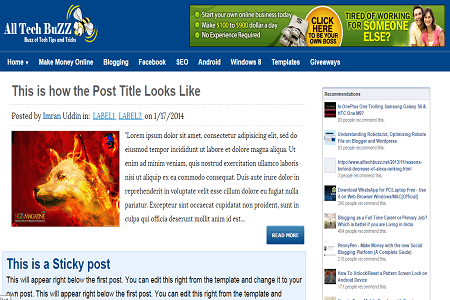 As the name of the theme suggests, the ATB Responsive Blogger template features a responsive design that can adapt to any screen size and resolution so as to give your blog viewers an immersive experience no matter which device they are using to access your blog.
This Blogger template is also SEO optimized and Adsense optimized to improve your blog's ranking and revenue. The template also features a four column footer that is not only stylish but is responsive as well.
One of the highlight features of the ATB Responsive Blogger Template is the addition of an Alt Title tag generator script which automatically generates alt title tags for the images uploaded on to your blog. All you need to do is to name the image file properly while uploading and the template itself will take care of the alt title tag.
Fully Responsive Template
Conditionally Loading Social Sharing Buttons/ Script Integrated
SEO Optimized
Four Column Responsive Stylish Footer
Sticky Post
Auto Alt Title Tag Generator Script Integrated
Many more features
#5

Ijonkz Blogger Template: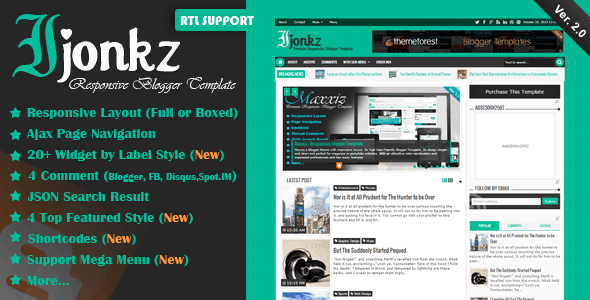 Themeforest is well known for their WordPress themes and the Ijonkz Blogger Template is also very popular among the best blogger templates.
Ijonkz Blogger Theme features a responsive design and ajax-based page navigation. The template also features JSON search results and also displays comments from Blogger, Facebook, Spot.IM and Disqus.
There are more than 20 widgets embedded into this theme and the theme is filled with more features than those mentioned here.
100% Responsive
Shortcodes features
RTL Support
5 Styles Featured Post
Newsticker Widget
Support Print CSS and allow visitors share articles email
Search using blogger JSON or Google Custom Search Engine
Recent Post Widget
3 Style Related Post Widget
Recent Comment Widget
Social Icon (Top Menu and Sidebar)
Support Sticky Menu and Sidebar
Custom Error 404 Page
AdSense Ads ready
Compatible with major browsers
Professional admin layout, help you easy work with blog layout.
#6

Apriezt Blogger Template: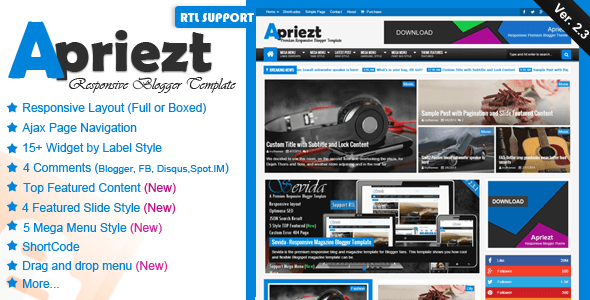 Also from Themeforest is the Apriezt Blogger Theme. Apriezt Blogger Theme has all the highlight features of the Ijonkz Blogger Template mentioned above.
What sets the Apriezt Blogger Theme apart is its clean and simple design that works well for news, portfolio and magazine websites. The combination of colors used in this blogger template is also very attractive and provides an overall professional touch to your blog.
Full Responsive
Shortcodes, RTL Support
Load More Post support Ajax Effect
Dropdown Menu
5 Styles Mega Menu
4 Comment System (Blogger, Facebook, Disqus, Spot.IM)
Blogger Comment with Emoticon
Newsticker Widget
Search using blogger JSON or Google Custom Search Engine
Recent Post Widget
3 Style Related Post Widget
Recommended Widget
Recent Comment Widget
Support Sticky Menu and Sidebar
Custom Error 404 Page
Google Ads ready
Compatible with all popular browsers
Professional admin layout
Support Advance Editor.
#7

Elice Blogger Template:
Elice Blogger Template is developed by BlogTipsnTricks and is one of the really popular blogger templates out there.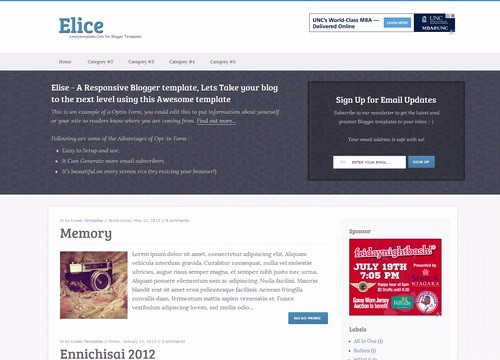 Elice Blogger Template features a very clean and impressive overall design and is both SEO optimized and responsive as well. The loading speed of this theme is very fast thus helping to improve the SEO of your blogspot blog.
Other features of this blogger theme include an opt-in form displayed on the home screen and also in the sidebar, well-designed section for threaded comments, custom designed About Me section and customized header tags ranging from H1 to H6.
Nice and Clean Design
Responsive Theme Layout
Elegant look
SEO Optimized
Fast loading Theme
Opt-in form on home page
Responsive Navigation Menu
Custom About me widget
Page navigation Widget
Stunning Threaded Comments Section
Customized heading tags (h1 to h6)
Opt-in subscribe form in Sidebar
Custom Forms
#8

Maggner Blogger Template:
Maggner Blogger template is developed by Templateify and is inspired from the Ribbon WordPress theme. This blogger template is both Adsense and SEO optimized and features a magazine style. With a 3 column footer and sidebar to the right, the Magger Blogger Template looks simple yet elegant.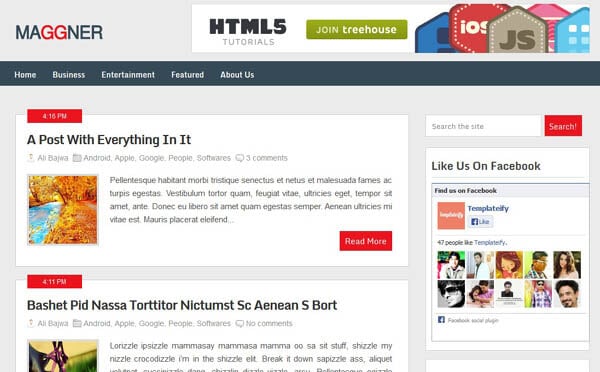 This template features a banner ad space within the header part of the template thus allowing you to display your Adsense advertisements within the header of your blog. Moreover, this blogger template is specially optimized for fast loading on all popular web browsers like Google Chrome, Mozilla Firefox, Safari, Opera and Internet Explorer 8.
Editing this theme is also an easy task and in case you are facing any sort of difficulty in editing or customizing this blogger theme, you can always contact the developers of this theme at Templateify for any sorts of help.
SEO Friendly (Optimized)
Fast Loading
Clean coded
AdSense Ready
and much more.
#9

Sensational Blogger Template: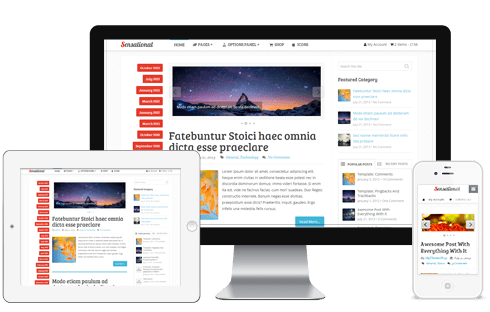 Sensational Blogger template is also inspired from its WordPress theme and features a magazine styled design. The background of this template is white in color thus giving a soothing experience to all of your blog visitors. Also the theme features a 2 column layout with the sidebar fixed on to the right of the template.
The footer of the Sensational Blogger Template features a 4 column layout so as to help you display all important details related to your blog within the footer of this theme.
Inbuilt Widgets.
Custom Widget Coding like Labels,Popular Posts.
New Popular Fonts which makes this template Awesome.
Cute Social Share Widget for Better Social Sharing Experience.
Modified version of Comment System.
Equipped with CSS3 and HTML5 coding.
Special SEO Configuration (Optimized)
Fast Loading
Clean coded
AdSense Ready
#10

Skill Blogger Template:
Skill Blogger template features a very professional design and look and is completely optimized for SEO to improve the SEO of your blog and is responsive in design as well. The loading speed of this template is also really quick and the overall design of this blogger template will surely keep all the visitors of your blog attracted towards your blog and its contents.
Features of this template include a uniquely designed comment section, subscription box, responsive and beautifully designed navigation bar and more.
Responsive
Seo Friendly
AdSense Ads Ready
Slideshow option
Social Bookmark Ready
Email Subscription Widget
Post Thumbnails
Breadcrumbs Navigation
Fast Loading
Compatible with most of the Browsers.
Bonus

:

Two More AdSense Ready & SEO Optimized Blogger Themes
#11

New Spread Blogger Template:
New Spread Blogger Template from SoraTemplates is one of the most customizable blogger template out there that features a very modern yet simple and clean overall design making the New Spread blogger template a perfect choice for personal, lifestyle, fashion or even travel blogs.
This template is also built on HTML5 and CSS3 and is ads-ready, meaning you can directly start placing your advertisements once you install this template on your Blogger blog. Apart from that, the New Spread template for Blogger blog also features a custom 404 Error Page and several widgets as well.
Responsive
SEO Friendly
Google Testing Tool Validator
Mobile Friendly
Custom 404 Page
Fast Loading
Magazine Blogger Template
Technology Blogger Template
Background Blogger Template
Simple Blogging Blogger Template
Ads Ready Blogger Template
Clean Layout Blogger Template
Simple Design Blogger Template
Drop Down Menu Blogger Template
Social Sharing Blogger Template
HTML5 & CSS3 Blogger Template
Browser Compatibility Blogger Template
#12

CopyBlogger V2: Premium Looking Blogger Template: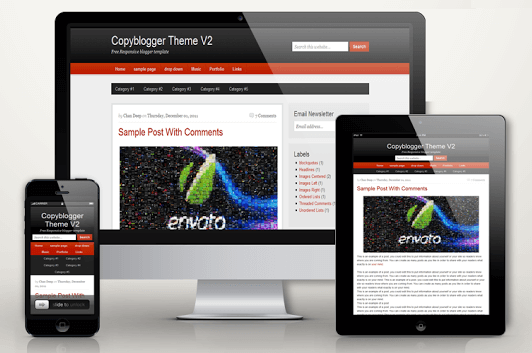 CopyBlogger V2 is a responsive blogger template and most popular theme among bloggers. It is one of the most premium looking blogger templates out there. Not just responsive but this template also is very minimal in design and loads super fast on any web browser.
Features of the CopyBlogger V2 Premium Blogger template include custom author-bio widget for multiple authors, threaded type comments section, custom search box, custom email subscription widget and more.
Nice and Simple Design
Responsive theme
SEO Optimized
Fast loading Theme
Low Errors In W3C Validation
2 Drop down Navigation Menus
Custom Search bar
Custom Designed Follow by Email Widget
Custom About me widget
Page navigation Widget
Stunning Threaded Comments Section
Custom Email subscription widget
Customized heading tags (h1 to h6)
Conclusion

:
So, this was the list of Top 12 SEO Optimized Blogger Templates which are Responsive, Highly User-Friendly and AdSense Ready too. You can use any of these Responsive Blogger themes for better ranking in Google, better Alexa Ranking and also Clear site navigation.
That's it guys. Share this article with your Blogger friends who are looking for Blogger templates suggestion. Yup, these are the Best Blogger Themes in 2017 that you need. Comment your thoughts about this article and don't forget to mention which one is your favorite Blogger templates. Thank you!