MS Windows is most popular Operating System for Computers.
Are you a Windows PC user, Looking for the list of best software for Windows PC?
Well, Today, I have listed some Top, Popular & Best Software for Windows PC or Computer which are great and all are for various uses.
When you install new Windows on your PC then you need some good software for performing the various operation.
Every software has their own greatness, advantages & disadvantages, and every software is made for performing different works.
Because, it is well-known fact that, there is no any software made till now, which can perform every work.
Here, I will be sharing Top 20 Best Software for Windows 10/8.1/ 8 as well as for Windows 7 and XP Users.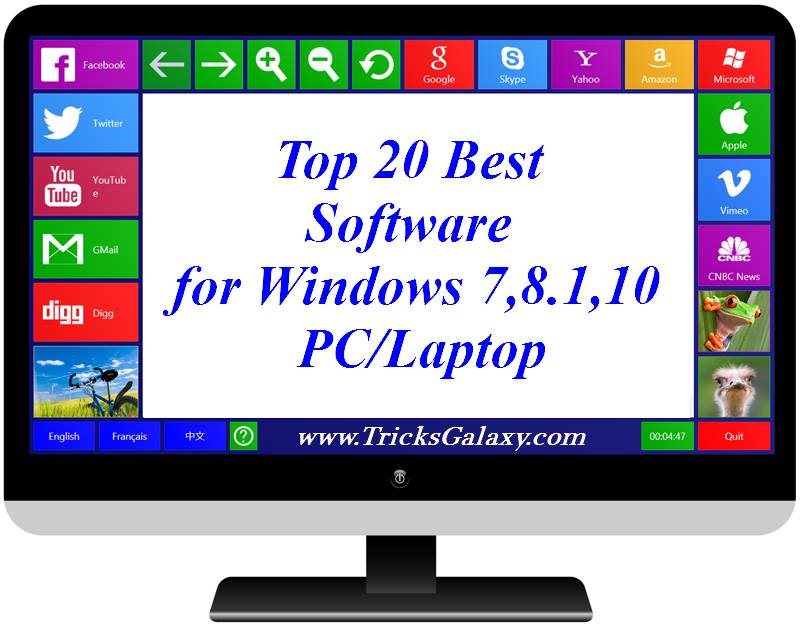 Some software's are cleaner software and use to clean unnecessary junk files which make your PC slow down.
Some are Internet browsers, Antivirus which protects your Computer from threats, virus and some are designed for official works and some software's are used for playing multimedia files etc.
I got too many messages from many of my friends regarding softwares. Some of them are – suggest me any best software for editing photos, best tools for managing office documents, Best media players, the best antivirus for my Windows PC etc.
This reason leads to the creation of the List of Top 20 Best Software for Windows 7, 8, 8.1, 10 for Multi-Work.
These software's are very useful for any basic Windows users. Below is that list of top 20 software, hope you will like & enjoy it.
Top 20 Best Software for Windows PC or Laptop
#1

CCleaner (Best Cleaner & Optimization Tool)

CCleaner is best and simple software for cleaning useless files and optimizing your Windows PC for better performance.

Using CCleaner you can easily speed up your Windows PC by cleaning & removing temporary files, cookies, junks and other unusual files.

The first software you need to install is CCleaner to clean your PC. Its simple, if you will not clean your PC then today your PC is working well, but tomorrow it will be slow, at that time there will be no use of other software without cleaner.

So, CCleaner lets you clean your registry files for boosting your computer speed in very easy steps. Finally, CCleaner is the best cleaner software for Windows PC.
#2

VLC Media Player (Best Multi-Media Player)
VLC Media Player is one of the most popular media player for playing and watching movies, videos, listening to music etc in your Windows PC. VLC media player has lots of features.
And the reason for using VLC Media Player is that Windows Media Player doesn't support all file format such as .mkv .flv files. But using VLC Media Player you can play any videos file like – .mp4, .mkv, .flv, .3gp etc.
It allows you to watch movies with subtitles and much more exciting features. So, VLC is awesome Media Player for your Windows OS computer.
#3

Chrome Browser (For Browsing Internet)
Google Chrome Brower is the superb browser for surfing the Internet.
Google Chrome is one of the fastest web browser for your Windows PC, if you're still using Internet Explorer then must try Chrome Browser.
It has own Chrome Store, where you can get apps and lots of extensions for your Chrome.
Using extensions in Chrome browser, you can do many things, perform many jobs just in one click without closing your browser.
You can download Google Chrome Offline Setup from Official Site.
#4

Microsoft Security Essentials

(Antivirus Security Software)
Microsoft Security Essentials is built-in security software in your Windows. Off cause, it is made by Microsoft.
The wide variety of antivirus security software is available these days.
But, if you don't want to buy any antivirus then use official security software from Microsoft which is Microsoft Security Essentials.
MSE is the software which can scan your whole Windows for virus, malware, trojans and protect your Computer from many online threats.
Microsoft Security Essentials available in free of cost you can update it to the latest version.
#5

Winrar

(No.1 Archive Tool)
Winrar is the software for Windows PC which you can use for Extracting and Compressing Files.
Means, if you have a  list of files related to one thing then you can compress it to the single one with less size which can be extracted whenever you want.
Most of the files, you are downloading from the Internet is the compressed file. So, you can use Winrar to decompress it.
Finally, Winrar is the fastest & best tool and support many formats which you can compress and extract.
#6

Adobe Reader (PDF Rea

der)

Adobe reader is the best software for viewing and reading any PDF (Portable Document Format) document.

Generally, ebooks, guides, you are finding is in .pdf format. So, you must install Adobe Reader on your Windows PC to open any .pdf file.
#7

Internet Download Manager

(Download Files at High Speed)

IDM i.e. Internet Download Manager is most powerful downloader software for your Windows Laptop/PC.

Using IDM you can download any file from the web at Ultra High Speed. No one software can give you speed as good as IDM.

IDM has too many features like resume supported downloading. So, install IDM and enjoy truly full speed.
#8

Picasa (Photo

Viewer and Editor)

Picasa can perform both the functions viewing and editing images. Picasa is another great software from Google Company.

Using Picasa user can view any images with good appearance and you can edit your best photos if you have Picasa installed in your Windows.
#9

VirtualBox (Virtual

PC Environment)

VirtualBox works like a virtual machine. It allows you to Install another Windows inside your Windows.

Using Virtualbox, you can run 2 or more Operating System at once.

Basically, penetration tester, security analyzer use this software like – for using BackTrack, Linux, or other Windows OS without formatting current running OS. See How to Run or Try Windows 10 without Doing Format your Current Windows.
#10

uTorrent (For

Downloading Torrents)

uTorrent is most popular among torrent lovers. Using uTorrent you can easily download your favourite Torrent File directly on your Windows PC.
#11

Teamviewer (For Remote Desktop Viewing)

If you're looking for the best way of viewing your friend's computer online from your computer then your search is over.

Just install Teamviewer on your PC.

Teamviewer is awesome and best software made for Windows User for Remote Desktop Viewing.
#12

MS Office (Making and Editing Documents)

Microsoft office is the pack of Softwares which you will see at any official place like- In your Office, Ohh..!

You are a student then check out your schools, college's computer or in Cyber Cafe etc.

You will find Microsoft Office installed there. It is the office software for making and editing documents.

You can easily create professional documents, presentation slides for your office, colleges at your home from your Windows PC. Officially, MS Office is not free, you can get

It is the office software for making and editing documents. You can easily create professional documents, presentation slides for your office, colleges at your home from your Windows PC. Officially, MS Office is not free, you can get the trial version from Microsoft website.
#13

SHAREit (Wirelessly Transfer file Mobile-PC )

SHAREit is the software using which you can transfer your files from Windows PC to Mobile or vice versa.

SHAREit allows you to send content including files, photo, video and documents at lightning fast speed. You can share your files wirelessly.
#14

Evernote

Evernote is one of the best windows software for saving notes.

Using Evernote you can save your ideas, thoughts on your Windows PC and if need you can see or save another idea from mobiles or from any devices from Evernote website.
#15

Notepad++ (Best Text Editor)

Notepad++ is the powerful text editor for Windows OS running PC.

You may have already used windows default notepad which comes with comparatively very fewer features. Just install Notepad++, it has many more awesome features e.g. it supports HTML.
#16

BlueStacks:
BlueStacks is one of the top Android Emulator for Windows PC users. You can run any Android Apps (.Apk) on your Windows7, Windows 8.1 or Windows 10 etc.
Sometimes, some company like- FreeCharge, Paytm, eBay etc provides some for only for their App users.
So, using BlueStacks Emulator Software you can take benefits of those offers even if you don't have an Android phone.
#17

Revo Uninstaller: Best Advance Uninstaller Ever

Revo Uninstaller – as the name implies – is the best Uninstaller software for Windows 10, 8.1, 7 PC.

Why Revo is the best Windows software for uninstalling because it allows you to uninstall any windows software completely from your computer.

Revo Uninstaller lists all the programs and components which are currently installed on your Windows PC/Laptop and lets you uninstall any installed program and also allows you to clean the unnecessary files which are not automatically removed when you normally uninstall any software.

Revo Uninstaller provides you with the option to delete everything from your PC related to the software you wanna completely uninstall.
Features of Revo Uninstaller Pro:
Let's you remove programs easily
You can Uninstall stubborn programs
Allows you to Delete leftover data after regular uninstall
Avoid installation errors
Show you what changes programs make on your computer during their installation
Helps you Achieve best uninstall results and experience
Portable Version available i.e. unlimited computers
#18

 PhotoScape:

PhotoScape is quick Photo or Images edition software available for Windows PC and Laptop. You can quickly add some special effects to your pictures.
#19

Real Player:
Real Player is another Media Player for Windows OS PC/Computer. Using Real Player you can also watch movies online.
#20

Adobe PhotoShop:
Photoshop is most powerful and best photo editor software for Computer/Laptop having Windows OS.
It is great tools developed by Adobe Company,  for all your editing needs.
Final Word:
There is no direct software by which you can do everything. For performing different work, you need to have different software installed on your PC/Laptop.
So, these were the List of some basic best Software for Windows PC & Laptop Users.
I will be Happy to See You in the Comment Box. Share your Suggestion & Feedback about this post regarding Windows Software. Thanks for Reading.