Of all unblocked online games you can play, some deserve a special attention. It means that they are more interesting to a higher number of gamers. We did our research and we discovered some games that are, let's just say specific. They are interesting, but they are also different, meaning that they should be tried. Probably, you will continue to play them every day, but it is up to you.
1. Tank Trouble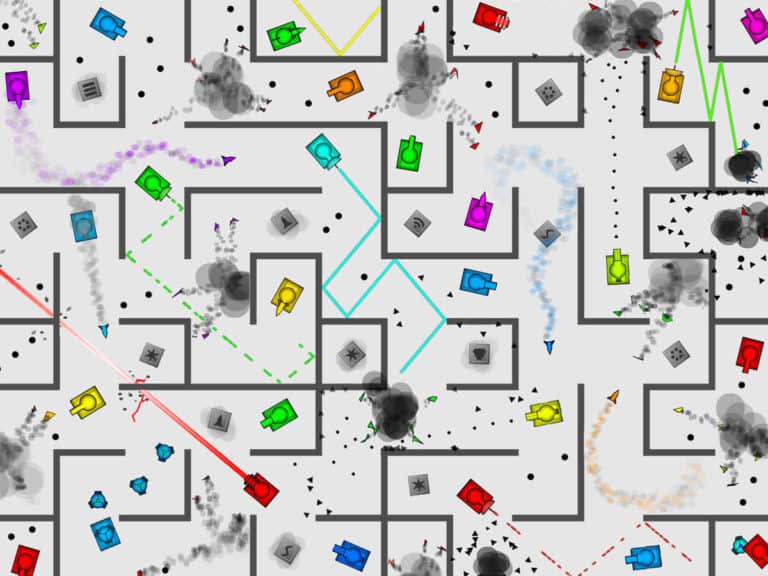 Tank Trouble is a small and very simple tank game, but at the same time, it is more than just something you must play. We say must, because it is a new game that is already becoming extremely popular. The main objective is to destroy the opponent's tank. You have your own tank that is equipped with the latest weapons, but it isn't the most powerful there. We also loved the game because it is a multiplayer version. You will be in the direct battle versus your friend, who is playing on the keyboard as well.
The controls are conventional (AWSD and arrows). All the maps are based on a maze, so it isn't actually simple to move around. Even more interesting is the speed of a tank. It is higher than you may expect.
2. Tron
Since the first sequel of Tron movie, gamers are obsessed with the related game. This movie is a completely different than anything else and the games and actions in the movie are something that should be explored. Tron flash game is available and it is on the list. Why did we like it? First and foremost, it is a modern, newer generation flash game. It offers a modern gameplay and a modern interface. You will see all of this once you start playing it.
Yes, it is as simple as you may expect. Your mission is to direct a line which is related to the snake game. If you hit something, game over. The same applies to your opponent. The time is limited and you will have to avoid corners and borders as well. Expected playing time is longer than 2 hours.
3. Gun Mayhem 2 More Mayhem
Gun Mayhem 2 More Mayhem is one of those unblocked games 66 that will bring you back in the past, but a much better one. The gameplay is completely different than you would expect. It is advanced, modern and it offers a lot of options. The characters share the same passion and the sound is borrowed from much bigger PC games.
The main mission is to move through the levels, shooting and throwing bombs and kill all your enemies. It is much harder than you may believe and the game has a very fast pace, which may be harder for some players, but at the same time, it makes the game more appealing. Yes, it is a multiplayer game, so two players can play it at the same time. Another one will use arrows for movement.
4. G-Switch 2
There isn't a better game than the G-Switch 2 to play in the morning or before going to bed. The G stands for gravity and this is the second sequel of a very popular game that was launched a few months back. You only have to press one button to control your character. It may be any button you like. The goal of the game is to oppose to the gravity and to help him understand the world where he is.
When you press a key, your character will flip to the opposite side. When you press it, but there isn't anything above him, he will fly away in the space. Make sure you don't make this mistake on the higher levels because you don't have a lot of lives available.
5. Ronaldo vs Messi Fight
Right now, two the most popular football players are Ronaldo and Messi. There are a lot of places where you can see how they play and even play games where you can control one of them. All of this is fun, but the game in question is slightly different. Ronaldo vs Messi Fight features these, two football players in a ring and they are boxers rather than footballers. Your mission is to control one of them. Your friend will control another one and the best one will win.
The game is intense because these football players are idols to most of us and they are treated as icons in their home countries. The music also must be mentioned. It increases the stress in the game and it makes tension huge. If you are a fan of one of these two footballers, this is a game that you will have to play and master and show to your friends that you are better than they, at least in boxing.