Well, I'm the guy who love to watch my favourite TV shows and channels online on the Internet. Yeah, there are several website which officially allow you to watch the live stream or full episode. When I tried various website and what I found that –
This Content Is Not Available For Your Country.
There are a lot of websites that offers stream movies and TV show, but the problem is that the most of Streaming and TV Show is available only to US or UK. That's really too disappointing. Even YouTube videos are often blocked to International viewers. That means, if you're not in UK, you can't get access to BBC programs or other which are available for UK only. But, Today, I am introducing a cool service which I used to access these all things. Yeah, It is no other than UnoTelly.
Many websites restrict access to other countries, that may be simply because they are protecting their assets. To offer their programs, other networks would need to pay royalties. Well, this understandable, but what about general public that just wants to watch good TV and Programmes.
I know this is a problem, you know this is a problem, the world knows this is a problem!!! But how cares? This is very limiting and disappointing. So, to overcome these limitations I am sharing an awesome product/service i.e. UnoDNS and UnoVPN by UnoTelly.
By using UnoTelly Service you can bypass these all geographical restrictions. Isn't it cool! Yeah, it is. Move forward to read about UnoTelly.
Introducing UnoTelly (Review)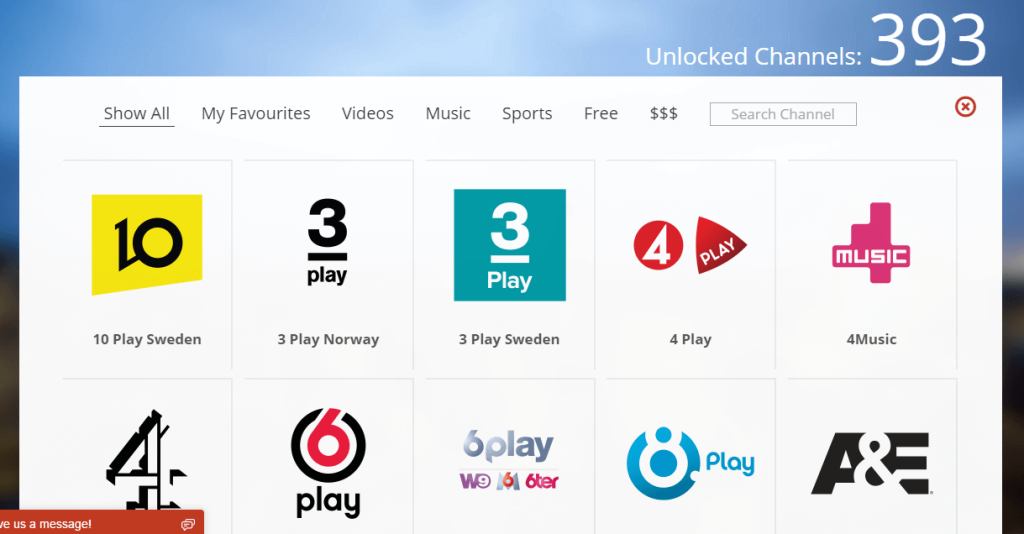 What is UnoTelly?
What UnoTelly is, it is the fastest service which helps to access online streaming or TV shows of any country while setting at Home in other counties with UnoDNS and UnoVPN. UnoDNS is DNS based service which is faster than any ordinary a VPN. It lets you access blocked channels like Netflix, Hulu, BBC iPlayer and many more.
How UnoDNS (UnoTelly) is Better than Other Traditional VPN?
Well, the basic difference between UnoTelly and other traditional VPN service is that by using UnoDNS, you will have much faster and better connection for streaming as compared to VPN service.
Yeah, what you have heard is right, It gives most faster speed for streaming Videos, Movies, TV etc. This is because unlike VPN and other alternatives, with UnoDNS service, there is no "middle-mane" and as the result, you can stream directly from the streaming media station (i.e. BBC iPlayer, Netflix or other).
If we complete it in one line then, "UnoDNS" gives you the freedom to stream directly with your Full Internet Speed.
And, the second reason is that, With UnoTelly, you can stream content on almost any Internet-connected device if it is Tablet, Game Console, Smart TV, Smartphone or Laptop/PC. It is available for almost all the internet connected devices.
Unique Feature: UnoDNS Dynamo
It is worthwhile to mention here that UnoTelly have also developed a unique feature which is UnoDNS Dynamo. UnoDNS Dynamo is an intelligent DNS technology that lets you switch between channels regions or choose channels from different countries
How Does UnoTelly Work?
Most of you might have used VPN or Proxy providers in order to bypass Geo-targeted Blocking, but, the reality of VPN and Proxy is that they all work on their own speed. Yeah, It almost every time gives lower speed than your actual speed and bandwidth are actually slow. So, now, you are probably things about UnoTelly i.e. How UnoTelly is faster and better?
Well, Unotelly is really faster, smarter, better and well optimized because you don't need to use any VPN, In fact, It work just by altering/changing the DNS to you UnoDNS. There is no "middle-man" assuring you the same bandwidth and ultimately gives faster connection speed.
Stream 300+ Geo-Blocked Channels with UnoTelly: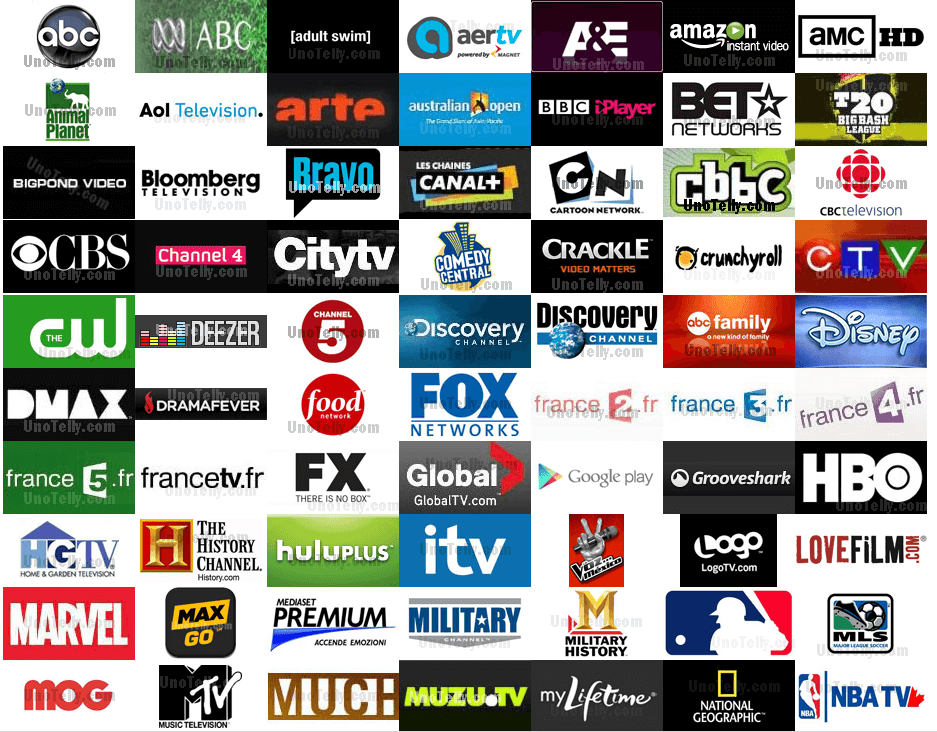 With UnoDNS, you can watch 70+ Geo-Blocked streaming media stations from many different regions. Means, You can stream the channels even which are not available outside USA.
UnoTelly offers a lot of hottest channels and movies hubs which you always dream to watch.
Netflix (all regions via Dynamo)
Hulu Plus
BBC iPlayer
HBO Nordic
Spotify
Amazon Instant
en.beinsports.net
nowtv.com
and many more that you can find on our channels list: http://www.unotelly.com/unodns/channels
No Device Restrictions (Compatible with All Device):
Well, UnoTelly smoothly works with many devices including PC/Laptop, Mac, PS3, iPhone, iPad, Android Smartphones, Apple TV, LG Smart TV, Google TV, Sony TV, Samsung TV and many more devices and players.
Also, UnoTelly have their separate Android App, you may install. Download It from here.
So, you can opt for any UnoTelly package and use it as normal TV, you may have access to all the channels worldwide without any Geo-Restrictions or Speed capping.
Package and Pricing (Plans):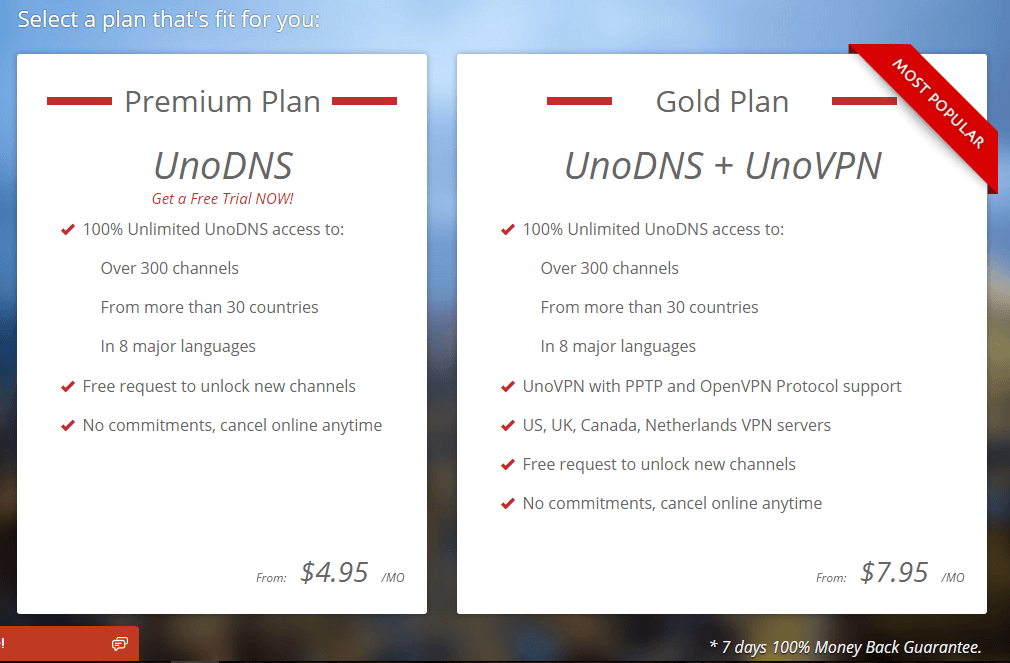 There are various packages offered by UnoTelly. The price is really reasonable. I'm not hiding anything, In fact, I am just trying to speak the truth.
Believe me guys, UnoTelly is much worthy that their cost. If you're interested with UnoTelly then you can buy their premium package and enjoy watching all hottest amazing channels for just $5/month. Yeah, even your Dish Antenna Provider wouldn't charge low. With UnoTelly, for $5 you will get rocking streaming quality, high speed no need to wait for buffering and even no advertisement, enjoy 3000+ channels and much more.
Trial Available: As we know, a good product provider always offers their users a Trail Pack by which people or user can try their premium pack before buying it. Similarly, for customer satisfaction, UnoTelly also offers 8-days free Premium using "Free Trial". You can Officially Try UnoTelly Premium For Free Here.
Moneyback Guaranteed: If you purchased the premium plan and if you didn't like the service (rarely happens), you can get you money back within 7 days of purchasing and cancel the service anytime if you want.
PS: If you buy their Gold Plan you will also get UnoVPN along with UnoDNS.
Final Words:
UnoTelly is what you need. It provides what it promises to give. Many of the good programmes and shows are restricted by major countries for no reason. But, you can bypass those restrictions and limitations by using UnoTelly. It performs well and gives smooth display with clear quality. The most awesome feature of UnoTelly is that it doesn't take your bandwidth unlike the VPN providers do. Therefore, UnoDNS gives you the BEST SPEED.
If you want to stay connected with geo-restricted content and looking for a service which allows that then UnoTelly is what you need.