Here I talked about How to Create Free VCC / Virtual Credit Card in 2021. Before we start, Let me ask you, What is VCC?
Virtual Credit Card (i.e. VCC) is the Prepaid Card provided by the VCC Provider companies.
It is actually a Virtual Debit Card because they will not provide you Money as Credit or Loan. You first need to Top-up your Card and then use it.
Virtual Card is the best for online shopping or other uses because even if your Card is compromised, the Hacker cannot use your VCC Card to purchase anything if your Card is not loaded.
So hi guys, today Tricks Galaxy is going to show you the Top 10 Best FREE VCC Providers Site/App to Get Virtual Credit or Debit Cards Absolutely FREE.
Before going to the list of VCC, let me explain some awesome benefits of having Virtual Credit/Debit Card?
There might be many different reasons for all of use. But first and the most common reason is that nowadays online sites like PayTm, FreeCharge or other app gives many exciting offers and they're very smart, along with offers they set limitations of cards, So one user can avail offer only once or twice as per Offer's T&C.
So, You can create many VCC cards you want and bypass cards limitations on online purchases.
Another common reason is that We can't pay/purchase on International sites with our normal ATM cards (Non-Global Debit Cards).
Many sites like PayPal etc. don't accept normal Indian cards, we need Global Credit/Debit Cards with activated International Transaction in order to buy anything on PayPal or other International sites.
There are some sites/apps by which you can create an International VCC > Load balance and make the purchase.
However, these sites are not free, you need to pay some service TAX.
Top 15 Virtual Credit Card Providers (VCC for Free) 2021
#1

EntroPay VISA Virtual Credit Card
If you need a virtual visa card in just seconds then EntroPay is the best among all VCC providers.
EntroPay will help you to own a prepaid virtual visa card by which you can do all the online transactions easily. The first virtual card will be created free of cost and there will be no transaction fees.
Once used you can delete the virtual card and can make another card whenever required. The services of the virtual card are offered in three different currencies (GBO, USD, EUR).
Another feature of EntroPay is that you can switch to any of the currencies anytime.
#2

Pockets App by ICICI Bank
Pockets App is powered by ICICI Bank which is the very useful thing for all those who are looking to have online wallter and to create the virtual card.
You don't need to have an account in ICICI bank to use Pocket App, in case if you have a/c then there is the plus point for you.
Pocket App allows you to do the online transaction and online shopping. Along with this, you recharge your smartphone, Set-top box or Datacard.
The application is available on Play store. It is the first app in India that will provide you with UPI, NFC, and Bharat QR code payments.
BY using the app instantly you can get a free virtual card. Through the application, you can also request for the physical prepaid card.
#3

Udio Wallet VISA VCC Card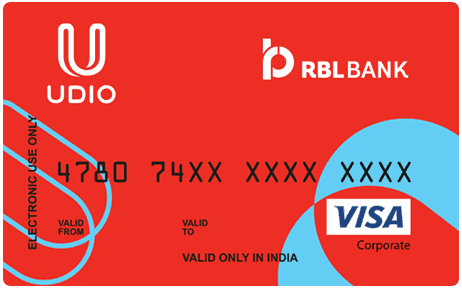 Another Virtual card provider – Udio is a newly established company that gives you a Virtual Visa Card which can be used as a Normal Debit Card.
Along with this, you have the privilege to perform several basic activities such as You can recharge your smartphone, Set-top Box. You can pay your electricity bill.
Also, there is a unique feature of Udio Wallet is that you can divide the bill and can share the bill with your friends. If your kid is having his birthday then you can give him a Gift card too that can be used for online shopping.
#4

DigiPurse by Union Bank

Like Pocket app, DigiPurse is also an app and basically the online wallet where you can create virtual cards for free of cost.

The best thing about Virtual credit card generated by DigiPuse Wallet is that you can their VCC anywhere on the Internet.

Even, it works for internet transactions. The only bad thing about DigiPurse is that, if you add your money into that wallet, it will reflect in next 24 hours in your DigiPurse wallet.

You can use DigiPurse by Union Bank for the payment of Bill, Gas and Electricity bill too. It is a One-step solution for all utility payments. The maximum top-up amount is of 20000 whereas there are no transaction fees.

Instant money transfer feature (IMPS) is also available in this wallet offered by Union Bank. This wallet can be easily downloaded from Play Store, Mac Store or from Microsoft store.
#5

FreeCharge GO MasterCard
We all are familiar with the Freecharge Wallet powered by Yes Bank but we might haven't heard of the FreeCharge GO MasterCard.
Freecharge doesn't only provides you with basic features such as Paying bills and all. Along with this, you can get a virtual MasterCard from the FreeCharge app.
Your virtual MasterCard will be secured by a special passcode known as M-pin which you have to enter while doing any transaction from MasterCard offered by FreeCharge Wallet.
However, you can't request for a real MasterCard from the FreeCharge wallet.
#6

PayZapp Visa Card by HDFC Bank
PayZapp is one of the best ways to get the free virtual credit card. PayZapp app is HDFC bank's product and it offers loads of features. You can use Payzapp app for free and also you don't need to have an account in HDFC bank in order to use PayZapp.
So, by using PayZapp app, you can easily create or get your own Prepaid VCC or Virtual Visa Credit Card.
One of the best parts about PayZapp Visa Card is that it provides Global or International Visa Card.
So, you can use your VCC anywhere on the web. Interested? You can download PayZapp app on Google PlayStore to get your free Credit card.
Also, PayZapp card works well at DigitalOcean etc.
#7

PayApt By IDBI Bank

Formed in 1964 IDBI is a Financial Service Company that is owned by Indian Government and is known as Industrial Development Bank of India and has its headquarters in Mumbai, India.

PayApt By IDBI Bank has the main feature which allows you to go cashless for your day to day transactions.

With the help of this help you can pay your entire Mobile and other bills, can shop online and can send money to anyone and anywhere using Mobile Numbers/Qr Code of the Beneficiary and email ID.
#8

M-Clip Visa VCC Bank of Baroda
Bank of Baroda is an Indian based financial service and International banking company whose headquarters are in Vadodara (which was earlier known as Baroda) and is in Gujarat, India.
After State Bank of India Bank of Baroda is the second largest bank in India.
Their online payment app which is known as M-Clip Visa VCC which can be easily accessed by all your smartphones and can help in making easily online e-commerce payment as the service offered by them is in partnership with Wibmo.
M-Clip Visa VCC app can be accessed all over India.
#9

Slonkit – DCB Bank

It is a private sector commercial bank in India which has a network of 262 branches and 510 ATMs. DCB Bank is rated as the Best Small Bank by Business world Magna Awards 2017.

Slonkit is an online money payment app by DCB Bank which is linked to Slonkit prepaid Debit Card.

It also comes with various features that provide online shopping, money transfer and can book movie lights and rail tickets without keeping and carrying cash in the pocket.

It also provides the facility with the help of which parents can use the app and can load money and can also monitor the expenses of their children's card.
#10

Digibank by DBS Bank India

DBS Bank is multinational banking which has its headquarters in Marina Bay, Singapore and is known as The Development Bank of Singapore Limited.

Their online payment App Digibank is one of the most convenient App.

Using this App you can easily transfer money with light speed and can also manage your bank records online also.

Digibank offers to shop online and pay all your bills anywhere in India.
#11

Oxigen Wallet

Oxigen Services India Pvt.LTd is a certified Fintech Company who is providing major payment solution in India. It was first started in the year 2004 by Parmod Saxena who is alumina of IIT Roorkee.

The payment solution provides customer to make all online recharge and Bill payments.
#12

YES PAY Wallet by Yes Bank

It is the fourth largest private bank in India and was founded by Rana Kapoor in the year 2004.

Yes Bank is the Full-Service Commercial Bank and their online payment App named YES PAY WALLET which provides full online service which provides facilities for online payment, DTH recharge, and Money Transfer.
#13

Zeta – RBL Bank

Ratnakar Bank Limited is a commercial bank whose have headquarters in Kolhapur region of Maharashtra and was founded in 1943.

Their online payment App Zeta is the most convenient safest and fastest for online money management.

With the help of this Virtual Credit Card app, one could easily transfer money anywhere and to anyone in India.
#14

Axis Bank Lime Wallet

Axis Bank is the third largest of the private bank in India was founded in 1993.and has its headquarters in Mumbai.

This online payment App offered by them is user-friendly as one could easily book movie tickets, flight tickets, rail tickets and can buy things from online e-commerce sites .they also provide a feature of money transfer.
#15

Virtual Credit Card by Kotak

Established in the year 1985 Kotak Mahindra Bank has its headquarters in Mumbai.

They have a huge network of banks and ATMs all over India. Axis Bank Lime Wallet is the name of their online payment App.

This app provides their customers to maintain their bank records and can have access through their smartphones not only this with this app one could easily do all online payments and can transfer money across the country to anyone.
Last words: So, by this way, you can Bypass All Cards related restrictions on any sites or apps and avail one offers many times and loot online sites/apps where cards restriction is Set.
We have just shared Various Online FREE VCC providers or various ways to create free Virtual Cards online but it's uses depends on You. Share your feedback in Comments, Thank You…!