Looking for Best Highest Paying Google AdSense Alternatives in 2019? Well, You're at the right place. I have shared the well-researched list of 30 Sites like Adsense.
As we know, AdSense is truly the #1 Highest Paying Ads Network by Google.
You can earn a huge amount of money from your blog if you do it in the right way. It is considered to be an amazing choice for those individuals who are into blogging.
But wait for a moment, please.!!
What if your Google AdSense account gets banned due to any reason. You will have to look for the best high paying AdSense alternative?
Yeah, that's why after thorough research, I have shared the list of Top 30 Best Alternatives to Google AdSense.
If you have been into blogging, then you must be aware that creating an account on AdSense and getting an approval of the same is a meticulous task, especially for those who have just started blogging.
I have already shared: How to Approve Google AdSense in the very first attempt.
Frankly speaking, there is no any ad network that can compete with AdSense and give CPC like AdSense. However, there are some High paying ad networks like AdSense that deserve to be in the list of Best Google Adsense Alternatives.
So, If your blog is banned by Google AdSense then no worries, you can use any best of the Best Alternative to Google AdSense depending on your choice from this well-researched list.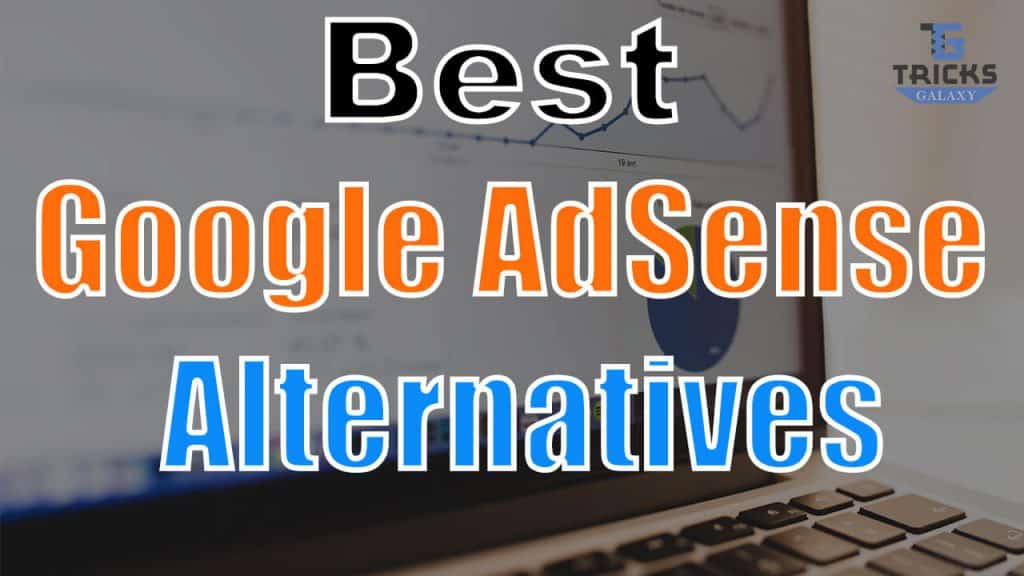 Top 30 Best Google AdSense Alternatives for 2019
#1

Media.net

Website: https://www.media.net

Media.net is the first name that comes whenever we talk about the best Google AdSense alternative.

It is an exceptionally largest network in the world when we talk about contextual ad networks. They provide a variety of ad styles to their publishers.

Some of the prominent and styles include content ad, search targeting ad, web bars, mobile ads etc. however, one should keep in mind that this particular alternative is quite well known for suspending accounts without even mentioning the reason for doing so.

So, prior to creating an account, you must go through all their rules and follow them carefully.
#2

Infolinks

Website: https://www.infolinks.com

Infolinks is another huge and reputed monetization networks in the online advertising world today. It has been serving and catering for more than 200K publishers online in more than 120 countries for earning more money by utilizing their advertisement space.

The users have reported the excellent experience as it offers free native advertisements with all ad solutions.

It offers an amazing customized products list that will surely generate a lot of traffic on your website. It also has dynamicity in providing services ranging from contextual ads to video ads to display banners for engaging more audience.

Infolinks is quite convenient to integrate its platform in your own blog or website. Major advantages of this particular alternative are that it can be assessed by any publisher, there are no setup charges, there is no minimum standard for page reviews or number of visitors and there are no latent commitments from their side.

Furthermore, Infolinks is very particular about the quality while selecting their advertisers and hence is largely involved in association with big brands like Facebook, Amazon, Ali Express etc.

So, Infolinks is also the best AdSense alternative. Interested? You can go with it.
#3

Amazon Associates

Website: https://affiliate-program.amazon.com

Amazon, as we all know, is one of the biggest online shopping stores in the world so they definitely must be doing something exclusively great. In case your website or blog talks about any particular product that is available on Amazon, then Amazon Associates would be a great choice for you.

It has a dynamic functioning so, the image ads can be added to your blog so that you can go ahead for the promotion of posted ads. Amazon Associates do not work on a pay per click policy or CPM program; rather it offers some minimal amount of money as a commission for all the things that Amazon sells through your links.

Let's understand this better! For instance, you are running a blog on the beauty products and you put up an ad to make your readers buy Lakhme Eyeliner or a Lakhme Kajal. If your readers buy it, then you will get a reward in the form of some commission. The profit would depend upon the cost of the product. Selling an eyeliner could give you a few cents but if you sell a laptop, then you will get a higher amount.
#4

BuySellAds

Website: https://www.buysellads.com

This particular alternative works by selling the advertising space for you to the advertisers on your site. It is known for supporting a variety of ads such as display type; email newsletter, image plus text, content containing ads, background takeovers etc.

The 75% of income generated by your ad space is reimbursed by this network. But the number of views per month should not be less than 100K. Also, one has to buy a domain as they do not entertain sites made on wordpress.com or any blogger etc.
#5

RevenueHits

Website: https://www.revenuehits.com

RevenueHits is a novel ad networking alternative but people found it potentially good as if provides a considerably great variety of ad types such as banners, sliders, buttons, interstitials etc.

It offers the geo-targeted ads, as well as the contextual ads and the working, is based on performance, unlike other networks that follow CPM or CPC system. So, you should understand that you will get some income only if visitors are performing a desirable course of action after visiting your site rather than simply clicking on the advertisement.
#6

Chitika

Website: https://chitika.com

Chitika is an online advertising network that caters around 35K publishers and provides 4 billion targeted ads every month. It will be the best Google AdSense alternative choices for those people whose websites get a lot of traffic from the search engines.

However, if you get more traffic from links or type-ins then you should choose some other alternative. The payment to the publishers is done through PayPal.
#7

Adversal

Website: https://www.adversal.com

If your site is running at a very well speed and you are able to get around 50K views from your visitors per month, then surely Adversal is a good choice.

However, You should be able to complete all the requirements of this network before applying as a publisher.

Adversal gives approvals at a faster rate. They provide the banners of different sizes and of various kinds, pop up ads, ministerial ads etc. the payment is done using PayPal generally.
#8

Viglink

Website: https://www.viglink.com

You may not be able to generate good profit if you are creating ordinary links for the products on your website or blog. Viglink helps in converting these ordinary links to the affiliate links that can help you in generating more money from the same work. It is well known for establishing and maintaining good relationships with their customers and users.

They provide excellent services and in return, they charge some money from your earning and will pay you the rest of the amount that you have earned. There are different Viglink services, so, depending upon the type of service, they may take either 25 per cent or any other unknown per cent of your earnings.

The threshold of the payment is $10.00 and it can be received via PayPal with no additional fee. The publishers can get their payment after 60 days.
#9

Bidvertiser

Website: https://www.bidvertiser.com

It is another good choice as an advertising network. It works on Pay per click policy. It can prove to be really helpful if you are not able to open a Google AdSense account or your account has got banned by Google.

Whenever a visitor will click on your ad, you will get some amount and if the conversion is there after clicking on the ad, then extra income can be generated.

You can also customize the ad layout as per the requirement of your website or blog so as to maintain the quality of your website.
#10

Taboola

Website: https://www.taboola.com

Taboola is a good replacement option for Google AdSense because it is very well known for content recommendation. This means that it helps in directing the traffic from your own site to the advertising site by utilizing personalized related posts. These posts are placed somewhere after blog posts or on the sidebar or as per your convenience. If you have a site that is getting a lot of traffic, then Taboola is best for you.
#11

Adsterra

Website: https://adsterra.com

Adsterra is an efficient network for advertising. It incorporates novel and creative ad formats along with a large number of huge brands by using the platform. It is considered to be one of the best Google AdSense alternatives. It is growing at a fast pace and has a good reputation in the online advertising business world.

Adsterra is a unique brand as it does not follow the customary traditions of Google and offers amazing solutions to the interested publishers and bloggers who wish to go for something "different".

It is easy to get to attract the audience to your website when you use Adsterra because it offers a fantastic platform for users that is easy to access. It has established its position in almost 190 countries in the world. It is leading 20K dynamic programmes related to advertising and campaigning. Every individual (be it a publisher or a blogger) will get a separate account manager to deal with the issues and for any help required.

Since it serves more than 10 billion ad impressions every month; Adsterra is worth giving a try
#12

PopCash

Website: https://popcash.net

It is a wonderful network which is not in discussions for a very long time. Its functioning is very much similar to Pop Ads. If you access your blog through mobile phones, androids and desktops, then also it works efficiently. It works on the principle of CPM and comprises of a good collection for all the countries of the world.

The payment collection is also convenient as one can request their payments by clicking on Dashboard. They utilize services of PayPal, Payza and Paxum for paying their customers and users. The money gets transferred within a duration of 1 or two days.
#13

Meridian at Sovrn.com

Website: https://www.sovrn.com

Meridian is a CPM based advertisement network which allows getting associated with any publisher. The publisher receives payment depending on per ad impression. If your ad is served to any of the readers or visitors on your website, then you will get paid regardless of the fact that whether the visitor has clicked on the ads or not.

It also enables you to decide the minimal amount for acquiring the website's or blog's ad space. There is also an option of backfill because there may come a time when this ad network is unable to fill all the ad impressions available in your ad space.

It will allow you to give instructions for displaying a substituted ad. For instance, if you have access to AdSense Google account, then you can opt for displaying the AdSense ads if Meridian is unable to fill whole of ad impressions.

The threshold of the payment given by Meridian is $25.00 and the payment can be received through check, PayPal, global ACH, eCheck, international transfer etc.
#14

Yllix Media

Website: https://yllix.com

Yllix is another great choice and one must have heard a lot about this ad network for its considerably good CPM and the offers related to monetization. They have a fantastic dashboard however; the homepage still holds a simple outlook. It is very convenient to use especially for beginners. The biggest advantage is that you will get really fast approval.

To get a good Click Through Rate (CTR) and making a lot of money out of it, Yllix offers Pop-under advertisements, mobile redirects, layer advertisements, full-page advertisements and many more such wonderful service options.
#15

Easy Monetizer at Monetizeasite.com

Website:

Rather than calling it an ad network, it is a wonderful tool that enables affiliate linking in an automatic fashion which in turn helps in making money via an ad network. Thus, it is also considered to be a wonderful AdSense alternative.

To generate money from affiliate marketing is a cumbersome process as it requires a lot of time, unlike other ad networks. However, Easy Monetizer helps you to make money quite conveniently. And for this, you need to follow certain steps.

Firstly, you have to upload and enable a WordPress plug-in on your blog or website. Then it will take around three minutes for Easy Monetizer to get set.

Secondly, once the setup is complete, then the tool will start working. It will look for the best products that your visitors must look at. It will automatically generate affiliate links.

You can get these links placed anywhere on your website or blog as per your convenience but you have to careful that links should not break in between. Also, the displayed prices on your pages must be all accurate.

The Easy Monetizer works under Amazon.com and the details of the payment go accordingly. It does not have any in advance cost. However, it charges a bare minimum amount that is quite reasonable for the services it provides in return. If your blog or website is successful in earning consistent commissions, then this tool is worth to choose.
#16

OIO Publisher

Website: http://www.oiopublisher.com

OIO Publisher is another good tool that enables you to manage your own ads on your website or blog and generate money out of it. It is quite convenient to use however, the process of setting up this tool takes a little more time. Once the system is set up, then its automatic functioning will impress you throughout the ads selling process. Also, it is important to employ advertisers.

Though the OIO marketplace helps you in getting connected with a lot of advertisers from time to time, still you have work on your part. You have to make an effort to choose your advertisers wisely as you cannot rely on the OIO ad marketplace fully.

OIO Publisher can prove to be an exceptionally successful AdSense alternative if you have a lucrative blog or a website that could attract many advertisers. This particular tool allows you to receive payment in advance from other advertisers without any need of waiting for payouts.

You do not need to provide any commission or share any of your profits with OIO Publishers. There is no risk of the ban on your website or blog or account. There is no possibility of making money loss while dealing with this tool. The negotiation can be easily done with the advertisers on your part and you can also form good relationships with them.

However, you have to pay a minimum amount of money before you get started with OIO Publisher but it is worthy of what you are getting in return from this network.
#17

RevContent

Website: https://www.revcontent.com

RevContent is considered to be another best Google AdSense alternative as it offers really fast approvals. It is especially a wonderful alternative for those whose websites or blogs who receive lesser traffic. So, or beginners, it works best.

You just have to sign up and receive the code. The ads appear at a very fast rate and abundance of media is provided along with a choice for popup when you this RevContent. Also, international traffic is supported and even a single dollar will get paid to you.
#18

Skimlinks

Website: https://skimlinks.com

It is a very amazing Google AdSense alternative especially if someone is interested in making money through content on their blog. It is very effective in generating income for you by utilizing the content related to your business or product or any brand. URL shortener can be utilized for generating income through links which you can further use on different social media websites such as Twitter, Facebook, and YouTube etc.
#19

AdRecover

Website:https://www.adrecover.com

It is also a very effective AdSense alternative even for those people who utilize Adblock software for blocking ads. It is very easy to install and many people like this network because many people are utilizing Adblock software while browsing for getting rid of advertisements.
#20

AdMaven

Website: https://ad-maven.com

It is an amazing advertising network especially famous in popup and pop-under advertising. If you become a publisher, then you can be able to make money through your blog or website as the popup ads are ruling the digital world.

This AdSense alternative makes use of the most advanced technology for tracking and optimizing the website ad performance. One can conveniently make a track record of all the ad reports and analytical findings from the account. You can also look for the best advertisers in the digital market for monetization of your site.
#21

Superlinks

Website:

It is an advertisement which can prove be of much use to those people who are frustrated by getting low CPM rates for their advertising programmes. Superlinks s known for offering different types of ad formats for blogging such as full-page ads, sliders, footer ads, exit links etc. The individuals who are running their blogs or websites quite well and are able to get considerably higher traffic, they should go ahead for using this alternative.
#22

GumGum

Website: https://gumgum.com

It is an absolutely unique alternative for advertising as it offers in-image ads. These ads will be displayed in an overlaying manner on the images present on the website. Those bloggers who run websites having large images, they should opt for this Google AdSense alternative. However, one must have at least 500K page reviews on a monthly basis to receive approval from this site program.
#23

Adbuff

Website: https://adbuff.com

Adbuff is also an advertising network which has an exceptional feedback system as it reverts to all your queries within a single business day. It is well known for its amazing offers related to revenues.

The overall score is calculated on the basis of various parameters such as Alexa Rank, Domain age, Inbound Links, Social Signals etc. they have higher advertisement standards. The content should be G rated and the content should be free from malice, downloads or pop-ups. Their approval may take at least 5-7 business days and it is hard to get their approval due to its strict measures against excessive advertisements and violation f copyrights.
#24

HilltopAds

Website: https://hilltopads.com

This particular advertising network is a great option for novel bloggers and for well-experienced website runners. It offers a variety of ad formats like in-video banners, display banners, direct links etc. it also works with all the type of campaigns for advertisements such as CPS, CPC, PPI, CPM and CPA.

The threshold of first payment should not be less than $50 and the payment is usually done via PayPal, Paxum, WebMoney, ePayments, ePayServices etc. Another crucial feature that sets this alternative in a different category is the Anti ad blocking solution which works well for publishers who deal with traffic through their mobile phones. Some of the other popular services include Video Streaming, Gaming, Pin Submits, Entertainment and many more.
#25

Clickadu

Website: https://www.clickadu.com

It is a rapidly growing advertising network as it generates nearly thousands of impressions on a regular basis. The primary focus of Clickadu is pop-under ads. It covers all the publishers and advertisers worldwide. This alternative does not have any requirements for minimum traffic on website or blogs, hence, very effective and efficient for new publishers.

It is a wonderful option for freshers who have just started their careers in the advertising industry. The payment is made usually by PayPal, WebMoney, Wire Transfer and some other ways. The minimal threshold for payment is $100.
#26

ShareASale

Website: https://www.shareasale.com

ShareASale is one of the leading affiliate marketing networking programs which helps you making money through promotion of the products that you register through their program.

If you want to make money really quick, then this is an appropriate alternative as it offers a variety of affiliate offers so that you can make a great choice for your products as per the traffic on your blog.

It also helps you in signing up for every product as per your choice. It follows the verticals of pay per sale and pays per lead. It has proven to be effective for blogs related to fashion, technology, food, weddings, dating, fitness, and many more. It gives a really fast approval and minimum payment threshold is $50 which is quite convenient to reach.
#27

Sulvo

Website: https://sulvo.com

Sulvo utilizes a price optimization algorithm which can help you in predicting the worth of an impression and also provides appropriate information to the advertisers. It is based on the CPM based pricing model. The payment is done via wire transfer.
#28

Adengage

Website: https://www.adengage.in

It is an advertising network which helps the advertisers in purchasing the ads and selling of space on their sites. Through this, the advertisers could target their customers with appropriate text, banner, rich media ads etc. Also, one can see the place where ads are displayed and the respective cost of each segment. This will surely help the advertisers in increasing their profits.

This alternative offers wonderful payout rates to the publishers, the payment is fast and all the tools are provided to support the efforts.
#29

Ezoic

Website: https://www.ezoic.com

Ezoic is worth giving a try if you are looking for something like split testing. This is a certified AdSense publisher which helps in managing and optimizing the placement of your advertisements.

This allows you to have five advertising units on your website or blog. However, in the beginning, one has to keep a lot of patience as revenue generation is quite less in comparison to other alternatives. But eventually, it increases.
#30

Shorte.st

Website: https://shorte.st

Shorte.st is a company that works with bloggers and web runners for monetizing their blogs and websites through links. All you have to do is that shorten the links and spread links by sharing these on social media websites such as Facebook, Twitter, Google+ etc. when someone clicks on the link, you will get paid for every link.

Like Shorte.st, there are many Highest Paying URL Shortener available on the web (Must Check).
At the Glance:
Therefore, these were top 30 Best Google AdSense alternatives that you can ponder upon for your blog or website and make a profit in the online business.
You can opt for any one or many of these above-mentioned advertising networks for generating a large amount of money. Also, before, buying or paying for any of these, you must test or check which one of these suits best for your blog or website.