Do you know which landing page builder will work like a miracle for your business? Here we are to help you find the right one depending on your budget, goals, and current platform.
But before jumping to the best available options, let's understand the significance of a Landing Page.
What is a Landing Page?
This is a freestanding web page, which is designed to be customized for a particular marketing campaign. Potential clients land on a landing page when they click on an ad banner, social media advertisement, or display advertisement.
Our main purpose in creating landing pages is to test the effectiveness of several calls-to-action (CTAs) and determine which are most effective.
Main motive of a landing page is to convert prospect into customer.
Likewise, you can test what kind of messaging, pricing, colors, and images bring you the best results.
Let's say you are about to introduce a new product to the market.
It is hard for your CTA to garner sales traction on your website if you list it on your existing website.
Besides showing off your new product, your website displays a lot of extra information that can distract your customer.
Thus, the landing pages aim to place a specific product or service at the center of attention.
This is incredibly beneficial in determining your cost of acquisition (COA) and determining what will sell your product the best.
Here are some landing page builders that you can consider to create professional-looking pages.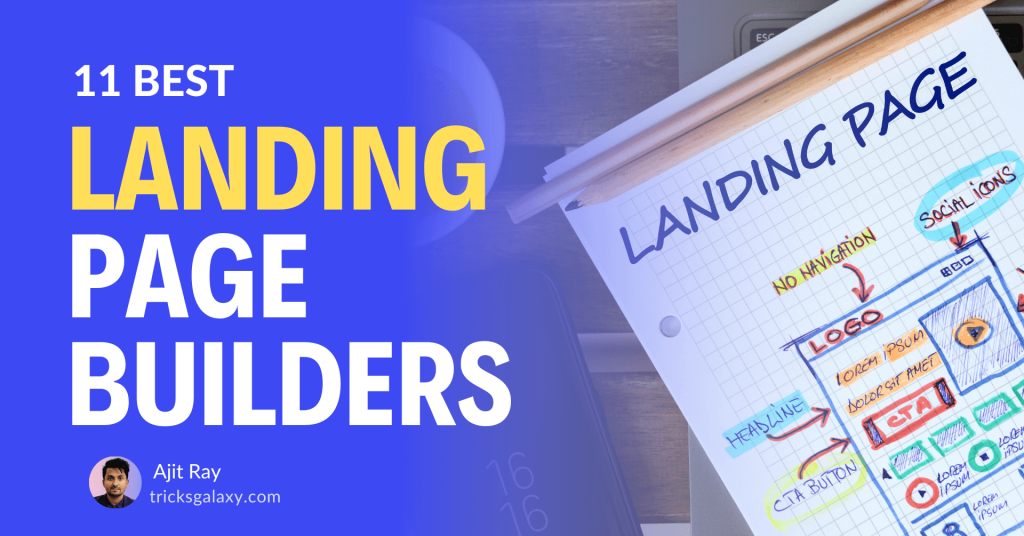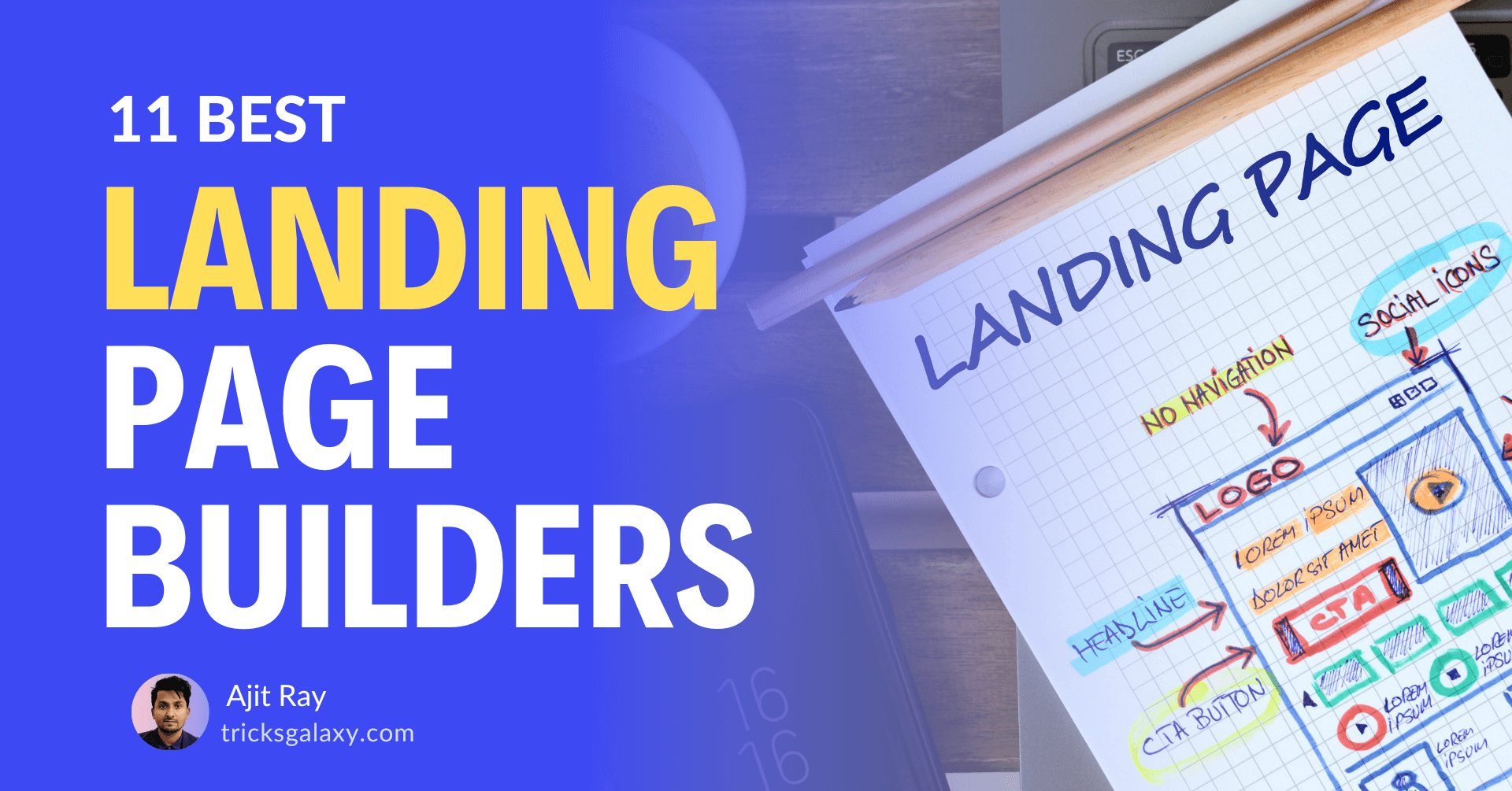 Best Landing Page Builder in 2023?
You can create impactful landing pages with ease using these landing page builders.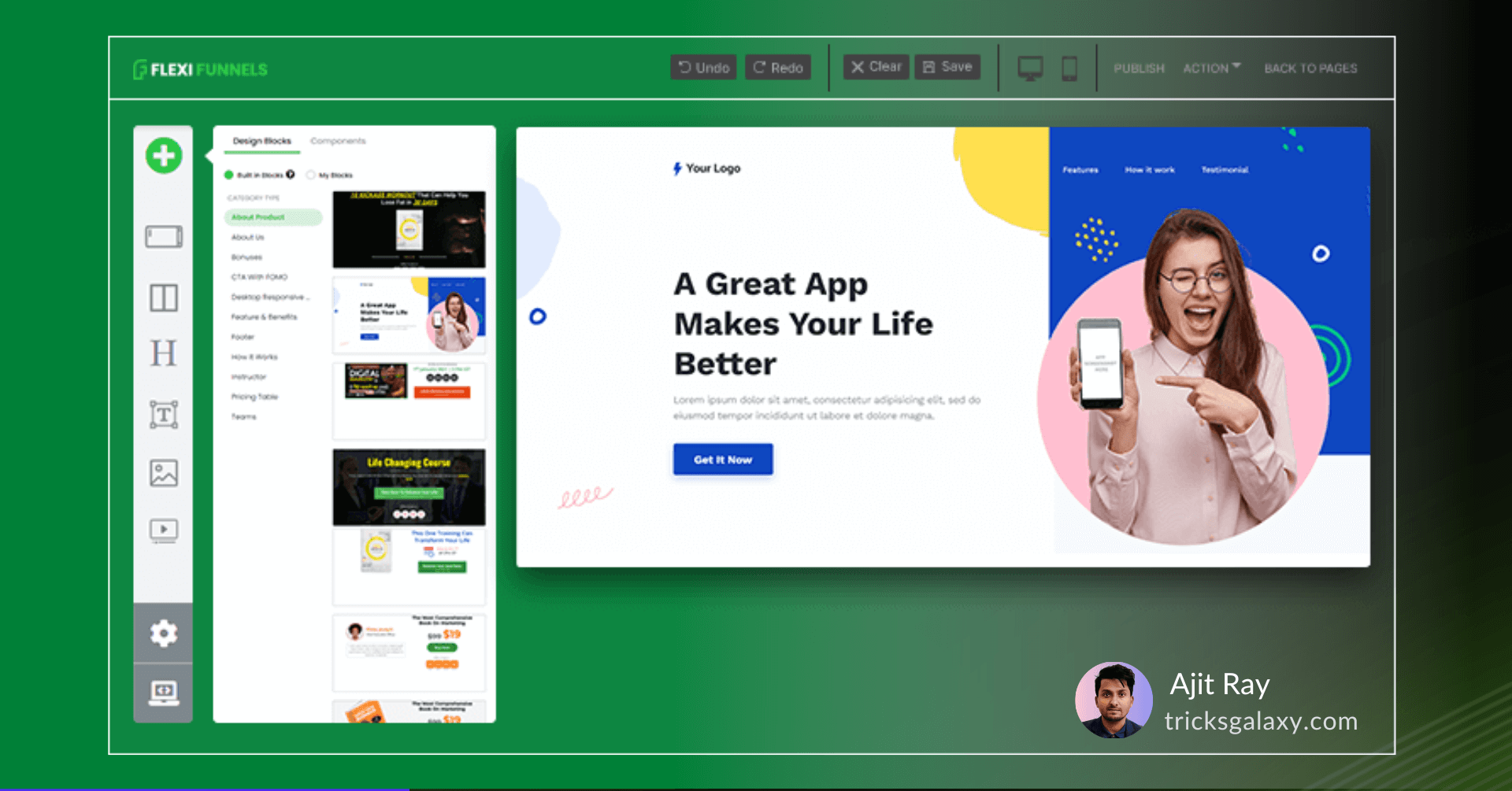 FlexiFunnels is India first Funnel Builder software that comes with simple drag and drop landing page building feature. It allows you to build funnels from the ground up. If you do not have prior experience with coding, FlexiFunnels is ideal for you.
FlexiFunnels funnel builder eliminates the need to toggle between multiple tools.
With this tool, you can improve your conversion rate and user experience by increasing your page speed. Faster loading pages will result in more conversions.
The platform offers multiple funnel types, including webinar funnels, one-click upsells, and the ability to collect payments on the same page, giving access to whatever product or course you're offering.
Have you run into a snag while setting up your funnel? You can chat live with FlexiFunnels. Your questions will be answered within a matter of minutes.
Features of FlexiFunnels:
Instamojo and RazorPay integration for direct payments
Domain-specific functionality
Page loading speed: blazing fast
Support for live chat
Timer for the daily countdown
Thank you page & checkout page by default
Is FlexiFunnels Free?
FlexiFunnels is the first funnel builder in India. It's paid software. FlexiFunnels is launching on 15 August 2022. Pricing will be updated accordingly.
WordPress page builders like Elementor are claimed to be the best in the world.
When it comes to creating a landing page on WordPress, this platform is one of your best options.
The platform will come in handy for beginners and professionals alike, whether you're creating a landing page or a sales page.
Features of Elementor:
A one-stop-shop for creating landing pages
Easy-to-use and flexible visual design features
Performance-driven web forms
Developer-friendly and extensible
Highly customizable in all aspects, as well as Add-ons available
Designing attractive pop-ups
Customization is possible with more than 80 design elements
Compatible with any theme and plugin
There are tutorials and educational materials available
You can try a limited feature package for free
World-wide support community
Is Elementor Free?
Yes, there is no charge for the Free plan.
A Personal plan costs $49 per year.
The business plan costs $99 per year.
For unlimited plans, it costs $199/year.
Learn: How to Build Sales Funnel in WordPress.
This landing page builder is easy to use, comes with a suite of other advanced tools, and the drag-and-drop feature is particularly powerful.
Additionally, ClickFunnels gives you access to a fantastic management dashboard that will allow you to optimize everything from email marketing campaigns to complete sales funnels.
Additionally, the software supports full eCommerce capabilities, including upselling tools.
Features of Clickfunnels:
An easy-to-use landing page builder
A great tool for building marketing funnels
You can start with one of the many templates available
Conversion and sales optimization tools built-in
Outstanding customizability available
Easily create your own website with drag-and-drop
Is Clickfunnels Free?
Plans start at $97 per month for the Basic Plan
In the case of a premium plan, it would cost $297 a month (a premium plan includes ClickFunnels, Backpack, and Actionetics).
Clickufunnels offer a free 14-day trial period for all of our products
As it is very simple to use, Unbounce is extremely popular among landing page builders. Consequently, it is a fantastic tool for startups, marketing agencies, and small businesses.
The company's software lets you create mobile-friendly landing pages without even hiring developers and UX designers.
It has an array of tools and templates you can use for free during the trial period, along with a rich collection of professional website-building templates.
The best thing is- the free version allows you to try everything out before you decide whether to spend money.
Features of Unbounce:
More than 125 customizable templates
If you want more templates, you can pay for them
Mobile-friendly templates
It's easy to use and includes helpful guidelines
Analytic tools and A/B testing
Live chat support is great
Startups with limited funds can afford it
Drag-and-drop feature (video, images, and text)
Integration with many tools including WordPress, Mailchimp, Google, Zapier, HubSpot, Salesforce, etc
Is Unbounce Free?
Unbounce offers the core plan for 199/month, which should give you everything you need to get started and begin capturing leads in 15 minutes.
A team plan starts at $999 per month. Despite its cost, it is among the most powerful in terms of enterprise feature sets.
Whether you're a beginner or a pro, Instapage is one of the most effective landing page builders. Within minutes, you can create a beautiful, mobile-friendly landing page.
There are more than 200 landing page templates available, and they are easy to customize without any coding knowledge.
Perhaps this is why bloggers, startups, small and medium-sized businesses, and agencies love the tool.
Before purchasing, you can request a demo to see how the software works and to explore its tools and features.
Features of Instapage:
Easy to use and very easy to understand
Create by dragging-and-dropping
A detailed analysis of the data is provided
It allows the user to make use of plug-ins
A rich collection of Templates that are mobile-friendly
The best tools for A/B testing
View heatmaps to see where on your landing page people are spending their time
You can easily integrate Mailchimp with Mailchimp, Salesforce, AWeber, Google, and many other tools
Is Instapage Free?
You can set up and capture leads in 15 minutes with the core plan, which costs $199/month.
Plans for agencies and teams start at $999/month. Although it is very expensive, it definitely has the most robust feature set for enterprise companies.
An e-mail marketing platform, MailerLite stands out from the competition. However, few people realize that it also has a landing page builder.
You can use MailerLite in eight languages. What's even better?
There is a free version for testing out the service, which is a huge plus.
Features of MailerLite:
Easy drag-and-drop landing page builder
With the landing page editor, you can customize every aspect of the page to your liking
Lead generation integration with signup forms
Provides engagement features like quizzes and surveys
You can run A/B tests on up to five pages at the same time
Integrates with custom domains and SSL
GDPR compliance settings are available
Adapts to all devices automatically
Stock photos and landing page templates are available for free
Is MailerLite Free?
Yes, for subscribers up to 1,000, the basic plan is free.
Growing Business Plan costs you $9/month or $108 per year if billed annually
The advanced plan costs you $19 per month or $228 per year
For people who are looking for a cost-effective landing page builder, Leadpages is one of the best options.
There are many benefits to using this platform, which is listed below. However, if you are concerned about the design of the page, you should look elsewhere.
If you're looking for a software solution to help you capture leads through your landing page, then it might be a good option.
Features of Leadpages:
Drag-and-drop enables you to move content easily
Mobile-friendly landing pages can be edited
More than 40 additional tools are supported
The best way to capture leads with a user-friendly interface
An A/B testing option is available
Designed to work with WordPress
Is Leadpages Free?
For the Standard plan, you will need to pay $35 per month.
The Professional plan costs $74/month. Advanced plans are available upon request from the team.
If you want a landing page builder for your eCommerce business. Zipify's landing page builder, Zipify Pages, is the ideal fit for eCommerce business owners.
That's because this platform was primarily designed to cater to the needs of these businesses.
Their drag-and-drop page builder efficiently simplifies the process of creating your landing pages.
Additionally, they offer many native integrations to improve your landing page.
Features of Zipify Pages:
Dedicated mobile page builder
An easy-to-use drag-and-drop builder
A comprehensive reporting suite
An A/B testing option is available
Easy to customize
Here's a countdown timer
There is no need for previous technical or design experience
You can access all the pages on your Shopify store
Quick problem resolution within the community
New templates are regularly added to the template library
Is Zipify Pages Free?
Your basic account will cost you $67/month and you will be able to Publish Your Offers Faster.
The Plus plan costs $97 /MONTH and allows you to optimize your offers for enhanced performance.
Whether you are an entrepreneur, a marketer, or a small business owner, you need to launch marketing campaigns by using PPC, email marketing, and social media.
You might be better off with Lander:
Anyone can create an amazing landing page using their easy-to-use editor, no matter what technical background they have.
Features of Lander:
Automated text replacement
Offers A/B testing
Templates that are elegant and beautiful
You don't need any coding skills
An easy-to-use drag-and-drop editor
Fully customizable
Page landings that are mobile-responsive
It also creates Facebook landing pages
Automation of forms and integration of email marketing
You can create unlimited landing pages
Analytical tracking of conversions
Integration with PayPal
Get a free 14-day trial of both packages
Is Lander Free?
The Small Business plan costs $16 a month.
Your In-House Marketers plan costs you $83/month.
Additionally, you will be able to take advantage of a 14-day free trial.
Your landing page can easily be designed, built, and published with Smoove.
Those who are interested in building up to 3 landing pages can take advantage of the free package offered by this software solution.
You can upgrade to their Professional package if you need more pages. The Professional package allows you to create an unlimited number of landing pages.
Besides email marketing, Smoove also offers lead generation, marketing automation, and lead collecting.
Features of Smoove:
Beautiful selection of templates
The forms and pop-ups are available
Integration with SMS marketing and Mobile Wizard is available
Create anything with a drag-and-drop interface
Adaptable to mobile devices
Integration with CRM
There is no need for previous technical experience to use Smoove software
You can customize your landing pages and website by adding personalization features
Is Smoove Free?
Yes, for beginners, the Lite version is free and includes all basic features.
You will pay $13 a month for the professional version if billed monthly, or $15 if billed annually.
Flauntly helps you create high-converting landing pages in minutes using an easy-to-use landing page builder.
Without coding knowledge, you can design pages and add videos and images with ease.
By using their responsive templates, you can create landing pages that work on a variety of devices.
Features of Flauntly:
A wide variety of ready-made templates
An easy-to-use drag-and-drop editor
There is no prior technical experience required
Templates with high responsiveness
An emphasis is placed on customized design and colors (fonts, themes, and colors)
Keep track of customer segments
A/B testing
Tools for collaborating with a team and capturing leads
Protection of personal information
Integrating email management with CRM
Is Flauntly Free?
Yes, the basic version is free and provides you with 2 landing pages with unlimited bandwidth and storage.
The premium version costs $25 per month and is perfect for small businesses, marketers, and teams of all sizes.
The team plan costs $25 per user, per month. This is ideal for businesses and universities.
Summing It Up!
If your primary goal is to achieve a high conversion rate for your landing page, then the platform you choose may have different functionality depending on what your big focus is.
When it comes to choosing a landing page builder, there is no right or wrong option.
There is no doubt that each platform has its own strengths and weaknesses.
In order to evaluate your options, bear in mind your budget and business goals as well as which platform is most closely aligned with your specific needs.