BHIM APP APK Download: Hi friends, Today I'm gonna show you all about BHIM App & What is BHIM App? How to Download BHIM App Apk? How to Use BHIM UPI App to Send/Receive Money? and all other FAQs related to it.
BHIM (i.e. Bharat Interface for Money ) is the latest digital payment app launched on 30 Dec 2016 by our present PM Narendra Modi at Talkatora stadium in New Delhi. BHIM app is developed by National Payments Corporation of India (NPCI) and is totally based on UPI – Unified Payments Interface and is launched to boost Digital Payment in India.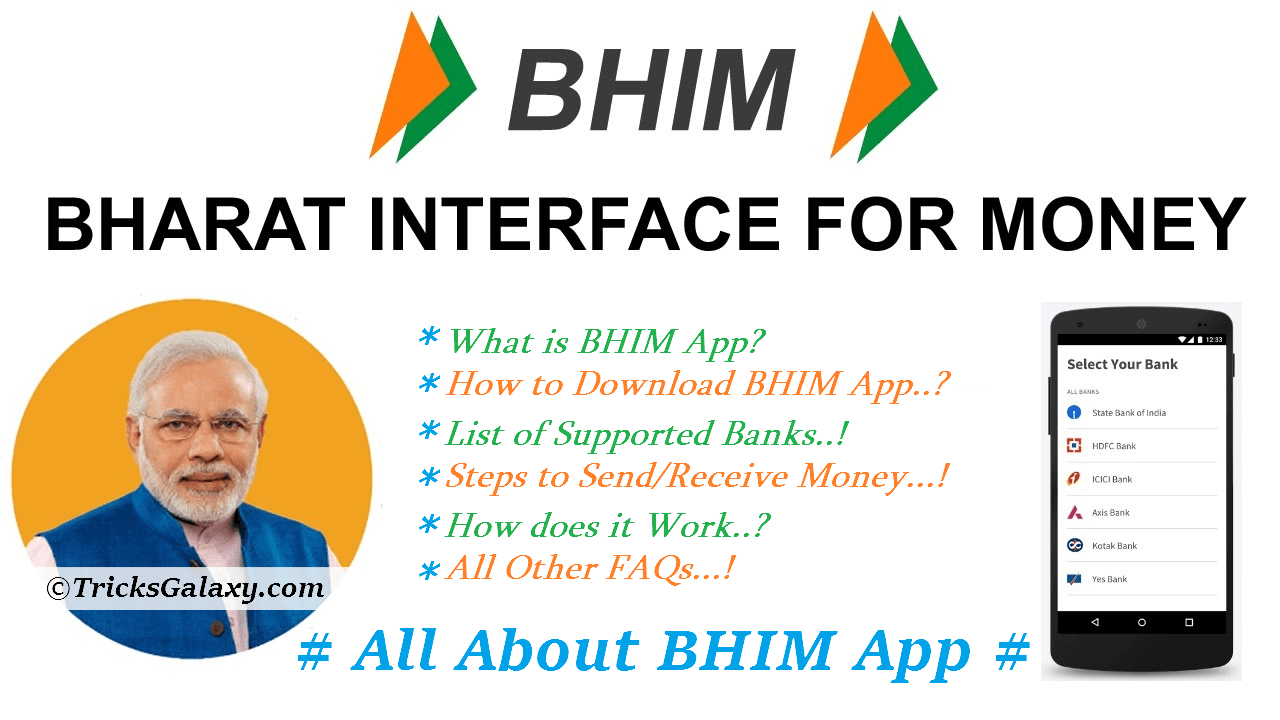 You can download BHIM App Apk & if fact it is installed by over 5 million users so far on Google Play store. And, after demonetization of the Indian currency, finally, BHIM app as an android apk has been launched for cashless transactions. It's #1 on Top App List in PlatStore.
BHIM App enables you to Send money securely to anyone in India through a mobile phone with the phone number. That means – You can do cashless transactions by means of Unified Payment Interface (UPI) which is a secure network for online transaction created by National Payment Corporation of India (NPCI). Here's how to download BHIM App by PlayStore or APK to start sending & receiving Payments.
How to Download BHIM Apk for Android, iOS & Windows Phones?
BHIM App can be easily downloaded from PlayStore for all Android phones and Apple device users can download this app from App Store.
Download BHIM App for Android:
At first download BHIM Apk app via Google Play store from below link. There might be many fake apps as same name BHIM, make sure you download BHIM which is developed by NPCI
Once you have installed it, just open the App.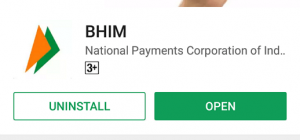 You'll be provided with two options – English and Hindi.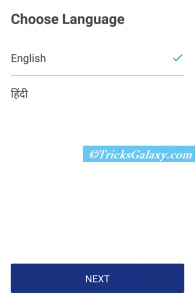 Select your preferred language and click Next and also allow for granting permissions to the BHIM app (if it asks)
Now lick on "Let's Get Started"
Now verify your Mobile Number.
Note: It'll only work if your bank account is connected to your mobile number.
For verification of Mobile Number, BHIM App will send you an SMS containing a 4 digit passcode and if your number is attached to your bank account, your app & number will get automatically verified.
Now select the bank from the list of registered bank accounts with your phone number.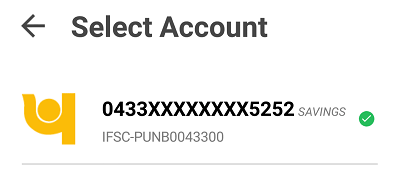 Finally, select the bank account that you want to use for receiving or sending money using BHIM App.
BHIM App Download for iOS & Windows:
BHIM Apk App for Android got millions of installs and it come on the first spot (#1) on the top list in PlayStore but unfortunately, BHIM App for iOS has not been launched yet.
The reason is that there are more Android Phone's users than others in India. So, Government decided to launch Android version prior to iOS version. BHIM App for other platforms like iOS & Windows Phone will also be launched in few days.
List of Supported Banks by BHIM App

:
Below is the list of Banks which support Unified Payment Interface. As BHIM App is based on UPI, so it allows these banks.
Allahabad Bank
Andhra Bank
Axis Bank
Bank of Baroda
Bank of India
Bank of Maharashtra
Canara Bank
Catholic Syrian Bank
Central Bank of India
DCB Bank
Dena Bank
Federal Bank
HDFC Bank
ICICI Bank
IDBI Bank
IDFC Bank
Indian Bank
Indian Overseas Bank
IndusInd Bank
Karnataka Bank
Karur Vysya Bank
Kotak Mahindra Bank
Oriental Bank of Commerce
Punjab National Bank
RBL Bank
South Indian Bank
Standard Chartered Bank
State Bank of India
Syndicate Bank
TJSB
UCO Bank
Union Bank of India
United Bank of India
Vijaya Bank
Yes Bank Ltd
BHIM App (Reason Behind the Name)?
The reason behind why Narendra Modi named it as BHIM because Dr. Bhimrao Ambedkar who transformed India with social reforms and his vast knowledge in Finance and Law.
How to Use BHIM Apk App to Send/Receive Money Online?
Bharat Interface for Money is an initiative to enable fast, secure, reliable cashless payments through your mobile phone. Below are the steps on How to Send Money or How to receive Money using BHIM app.
How to Send Money Using BHIM UPI App?
Considering that you have installed and verified your bank-linked mobile number. Now Open BHIM app Home screen,
Step 1: First click on Send Money Option;
Step 2: Enter or select the receiver's mobile number or Payment Address (you can select from your phone's contact list or just enter it manually) or Aadhaar number
Step 3: Enter the amount in INR that you want to send
Step 4: Your default bank a/c gets selected
Step 5: Enter UPI PIN and finally Send it.
Alternately, you can also scan a QR code and pay via the 'Scan & Pay' option very quickly.
How to Receive or Request Money with BHIM App?
Go to the Bharat Interface for Money (BHIM) app Home screen,
Step 1: Select Request Money
Step 2: Enter or select the receiver's mobile number or Payment Address or Adhaar number
Step 3: Enter the amount you want to request
Step 4: Click Send
Note: This transaction will remain pending until the payment is received. You will be automatically get notified when the money is transferred to you. You may also request money by sharing your QR code. Go to Home Screen->Profile->Choose account to get QR code.
How To Use BHIM App Offline (Without Internet)?
You can easily Use Bharat Interface for Money Offline without 4G (LTE), 3G (HSDPA) or 2G (GSM). Yeah, you can use this BHIM Offline mode just using USSD. So, let's see the how to use bhim app offline.
First of all, Open your Mobile's Dialpad screen and dial *99# from any operators such as BSNL, Vodafone, Airtel, Idea, Reliance etc.
Now, you'll see a lot of options like – Send Money, Request Money, Check Balance, My Profile, Pending Requests, Transaction, UPI PIN etc as shown in below screenshot.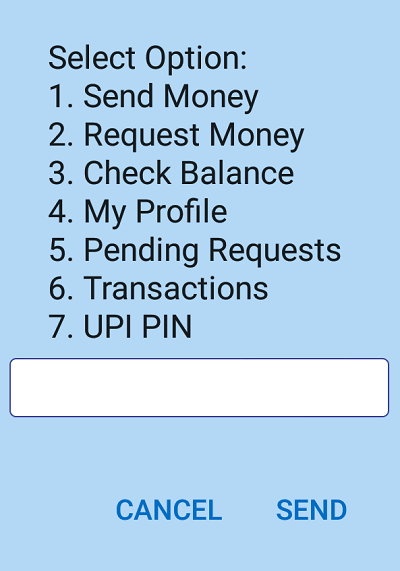 So just Select any option by typing their respective serial number and click SEND or OK
As for example, I've selected first option i.e Send Money Option and in the next screen it provided me option to Send Money to

Mobile Number, Payment address, Save Beneficiary, IFSC (Indian Financial System Code), account no. and MMID (Mobile Money Identification Number).
So finally, by this way you can use BHIM app offline on any of your Phone.
How does BHIM App work?
Register your bank account with BHIM, and set a UPI PIN for the bank account. Your mobile number is your payment address (PA), and you can simply start transacting. Yes! It is that simple.
Features of BHIM App (Details):
Send / Receive Money Digitally: You can send & receive money from family, friends, customers, etc. with a mobile number or a virtual payment address (VPA) or Adhar Card Number. Those banks that don't support UPI till now can also receive money via IFSC and MMID methods. Payments can also be requested and reversed if required with your BHIM App.
Checking balance in your Account: Account balance at your bank can also be checked with details of transaction made previously.
Custom Payment Address: If you don't want to provide your phone number than a custom payment address can also be given to make payments in your account.
QR Code: Payment address can also be made optional as a phone number with your QR code. You can produce your QR code and payee can scan it with BHIM App to pay money instantly.
Limits of Transaction: Currently, the limit has been set to Rs 10,000 per transaction and in 24 hours you can transact up to Rs 24,000.
Supported Languages: Hindi and English are initially launched and later with updates in the app you can get more languages on your BHIM App.
Aadhaar Enabled: BHIM App is an Aadhar enabled app, which means e-wallets like PayTM and others will suffer due to launch of this app.
FAQs on BHIM UPI APP

:
#1

Can I Send Money to My Friend who is Not on Bharat Interface for Money (BHIM) App?
Yes, Payment can be easily made via (IFSC, Account number) or (MMID, Mobile number) if the person is not registered on BHIM App.
#2

Do Money Transfer Happens on BHIM App Only During Banking Hours?
All payments are instant and 24/7, regardless of your bank's working hours! So, You can Send/Receive Any Time.
#3

What is the Transaction Limit Currently?
Maximum of Rs. 10,000 per transaction and Rs. 20,000 within 24 hours is the transaction limit as of now.
#4

How fast is a transaction over Bharat Interface for Money?
As fast as it can get! All payments over BHIM App are linked to your bank account and the transaction can be completed within few seconds.
#5

Are There Any Charges for Using Bharat Interface for Money (BHIM) App?
No charges for making the transaction through BHIM App.
Note – Your bank might charge a nominal charge as UPI or IMPS transfer fee which is not under BHIM App control. Please check with your bank & ask them for more details.
#6

What do I need to start using BHIM App?
To start using BHIM App all you need is a Smartphone, Internet access, an Indian bank account that supports UPI payments and mobile number linked to the bank account. Link your bank account to UPI through the app.
#7

Is BHIM app compatible with every Mobile OS?
BHIM app is currently available on Android (Version 4 & above). NPCI will be making our app available on other platforms very soon. It can be downloaded from Google Play store for smartphones. For feature phones by dialing *99# one can use BHIM.
#8

Do I need to enable mobile banking on my bank account to use Bharat Interface for Money?
Your account need not be enabled for mobile banking to use Bharat Interface for Money. But, your mobile number shall have to be registered with the Bank account.
#9

Do I need to be a customer of a particular bank to use Bharat Interface for Money?
To enable transfers directly using your bank account, your bank needs to be live on UPI (Unified Payment Interface) platform. All the banks, which are currently live on UPI, have been listed in the Bharat Interface for Money (BHIM) app.
#10

How do I set the UPI-PIN for my Bank Account from BHIM App?
You can set your UPI PIN by going to Main Menu -Bank Accounts -Set UPI-PIN for the selected account. You will be prompted to enter the last 6 digits of your Debit/ATM card along with the expiry date. You will then receive an OTP which you will enter and set your UPI PIN. Note – 'UPI-PIN is not the same as MPIN provided by your bank for mobile banking'.
#11

Can I Link Multiple Bank Accounts with (BHIM) Bharat Interface for Money App?
Currently, BHIM App supports linking of one Bank at a time. At the time of account set-up, you can link your preferred bank account as the default account. In case you want to link another bank account, you can go to Bank Account > Click on the three dot on right side top of the page > Choose Change Account.
#12

Why my Mobile Number with BHIM App and the One Registered with my Bank Account have to be the Same?
This is a banking network requirement (i.e. UPI works on this). The mobile number which is used to register with BHIM App is used to match the bank accounts linked to it.
#13

Do I have to give Bharat Interface for Money(BHIM) my Bank A/c Details?
At the time of registration, you will be providing us with the Debit card details and with the use your mobile number registered to your bank account, They will pre-fetch the details from your bank. All the information exchange happens over secure banking networks and they don't store it, your information is safe!
#14

Why is My Bank Not on BHIM?
36 banks are live on UPI currently. Many banks are on-boarded soon. All the banks, which are currently live on UPI, have been listed in the Bharat Interface for Money (BHIM) app.
#15

Can I Send Money to Anyone using Bharat Interface for Money (BHIM)?
Yes, you can send money using the Bharat Interface for Money app from your UPI enabled bank account. You will need to register and set a UPI PIN using the debit card details linked to the bank account.
If your beneficiary's bank account is also linked to UPI, you can simply use their mobile number or Virtual Payment Address to transfer. If not, you can use IFSC code, Bank account or MMID, Mobile number to send money.
#16

I have Paid for My Transaction but not Received Anything. Why is that, What should I Do Now?
Once you complete a transaction, you should see a success status on the Bharat Interface for Money screen and receive an SMS from your bank.
In some cases, due to operator issues, it can take longer time. In case you have not received your confirmation within an hour then you should contact customer support at your bank or you can lodge the complaint from the BHIM App itself by using "report the issue" option that is available for a failed transaction.
#17

How can I View my Transaction History?
Go to Bharat Interface for Money (BHIM) App's Home Screen >Transaction History. to view all your past and pending transactions.
#18

What Types of Transactions can I Do Using BHIM App?
You can download bhim app apk and then using BHIM App, you can make following type of transaction,
Request or Send Money via Payment Address
Send Money to Aadhaar Number
Request or Send Money to Mobile number
Send Money through MMID, Mobile No.
Send Money through IFSC code, Account No.
In addition, you can do QR Code scan to pay the Merchant payments.
#19

My Send Money Transaction is Failing, Need Help!
To avoid transaction failures in BHIM UPI app,
Ensure that the UPI-PIN is entered correctly.
If the receiver is not on BHIM choose to pay via IFSC instead of mobile number.
#20

 Collect Request is Not Reaching the BHIM App. What Should I Do?
In this case, please first check the data connectivity. If you have entered your Payment Address at the merchant app, please re-check your Payment Address and re-try the transaction. Please check your pending transactions tab to check if the collect request has reached you.
#21

How will I Know if My UPI Transaction is Successful?
For any transaction, you will see a status instantly on your screen. If for some reason the transaction is delayed or pending, the result will be posted on your Transaction History page along with a UTR# or bank reference number. In addition, you will receive an SMS from your bank.
#21

What if I Change My Mobile Carrier?
No problem at all. You can continue using Bharat Interface for Money (BHIM) app as usual.
#22

What if I Change My Handset or Phone?
If you change your phone/handset, you will have to
Download the Bharat Interface for Money (BHIM) app again on your new device.
Login with your mobile number and password.
Allow BHIM App to verify you; This is for your security purpose.
After verification, your account will be restored.
#23

What if I Lose My Phone/Device?
If you lose your phone, the UPI-PIN required to authorize all transaction will not be known to third persons and hence they will not be able to use BHIM App. Also, you can please contact their customer support at your bank to be more security.
#24

Will you ever auto-deduct payments from my account?
We will not auto deduct payments from your account.
#25

How are You Getting All My Bank A/c Information?
This is a feature of the UPI payment platform (built by NPCI which is a RBI regulated entity).
The UPI platform retrieves the accounts details linked with your mobile number in a masked manner i.e. Bharat Interface for Money (BHIM) can't see all the details. This exchange is done over secure banking networks and they don't store or ever use it.
#26

How Soon will a Refund from a Merchant be Available in my Account?
As soon as your merchant has processed the refund from its end, it should be instantly available in your deafult bank account.
#27

My UPI Transaction has Failed but My Bank Account has been Debited. What to Do Now?
In case of failure transactions, money will be refunded back to your account. Sometimes this takes longer than normal. If you do not receive the refund within 1 hour, please contact customer support at your bank.
#28

How do I Set My UPI-PIN with the Bank Directly?
You will be to able to set your UPI PIN through any other UPI enable Bank app.
BHIM APP (Final RoundUp):
So in short, BHIM APP (full form Bharat Interface for Money) launched on 30 Dec 2016 by PM Narendra Modi. BHIM App based on UPI (Unified Payment Interface) is developed by NPCI (National Payment Corporation of India).
BHIM App Apk Download: You can download BHIM App & Use it to Send Money, Receive Money instantly 24×7 using Mobile Number or Aadhar Number or MMID & Mob. Number or IFSC Code & A/c No. or directly by scanning QR Code. If you found this helpful, must share this article with your friends on Facebook, Twitter, WhatsApp etc. and also share your views/ideas/suggestion/questions related to BHIM Apk App in the comment box.