How to Root Android Without PC is the biggest question among Android users who haven't rooted any android phone. Isn't it?
I've seen a lot of users searching everywhere for "how to root my android", "best root apps for Android" and many other questions like this.
So, I am going to share Top 10 Best Ways to Root any Android Device With or Without PC / Computer.
Android is well known Mobile operating system powered by Google. Most of us have heard about Android rooting anywhere.
I am covering the full guide to rooting an Android device so doesn't matter if you know or don't know about rooting because. You will be able to root any of the Android phones with or without a computer.
No matter which Android phone do you have, you can Root any Android mobile of any brand like – Samsung, OnePlus, Oppo, Vivo, Micromax, Lava, Intex, Karbonn Mobile, HTC, Sony Ericsson, Lfy, and all other brands.
These Android rooting methods can easily Root almost all Android version 2.2, 4.0, 4.1, 4.2 jelly bean, 4.4 KitKat and 5.0, 5.1 Lolipop, Android 6.0 Marshmallow, 6.0.1, Android N 7.0, 7.1.1, Android Oreo 8, Android Pie 9 and also may be able to root Android Q future
Before you proceed to root your android device, you must know about Android rooting, what it does, what are the advantages and disadvantages of android rooting.
I hope, it will help you to understand better about rooting an Android.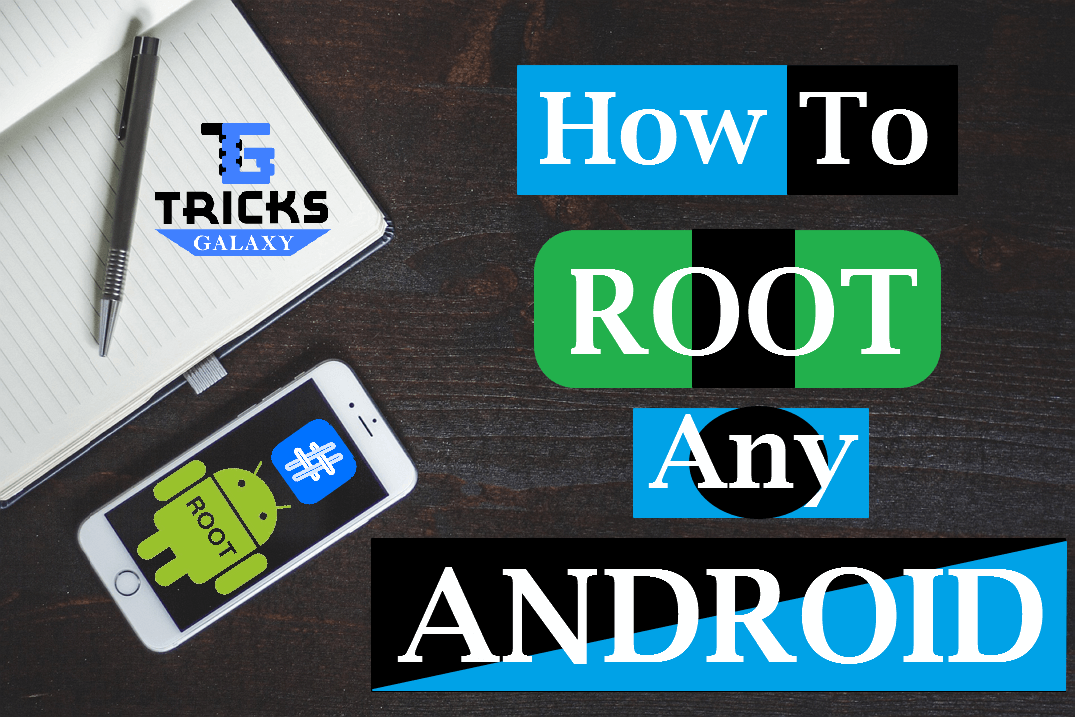 What is Android Rooting?
Rooting an Android is the process of gaining Administrative access or Admin Permission or Root access over the Android device.
Android is an open-source mobile OS powered by Google.
You won't be having full root access to your phone by default when you buy a Smartphone.
Rooting allows you to access the root directory of your Android phone and after rooting you can change, modify or customize anything of your Android device you want.
If you're iPhone or iOS user then you must have heard about Jailbreak, yeah rooting is very similar to jailbreaking an Android to access or modify all the things that are blocked by Phone's manufacturer for security reasons or maybe to avoid accidental damage to Phone's System software.
Finally, Rooting is the process to cross all limitations and attain full privileged control (i.e. Root access or directory) over the Android Smartphone, Tablets or other Android devices.
What is Root Apk Apps?
You must have heard about Root apk or root apps… Right?
What these are, actually?
Root Apk is simply the setup file (an Android app) to install that particular Root application.
Root Apk is also known as one click root apps because it roots your Android device in just one click and generally doesn't requires any PC/Computer for rooting.
Root apps made it very easy and simple to root any Android device and the success rate of getting an Android device rooted is also very high.
It's not necessary to have knowledge of programming in order to Root Android using any one-click Android rooting app mentioned in this article. So, using these apps allow you to easily root your Android with or without PC/Laptop.
Advantages of Rooting Android:
Below are the main advantages of Android rooting which makes the big reason why you should root your Android right now.
#1 Install Incompatible" Apps:
There are many interesting root apps are available only for the rooted android phone which will not work on an unrooted android phone.
Actually, apps require root access to your Android for full functioning. So, you can enjoy those apps just by rooting your android without PC.
#2 Boost Your Phone's Speed and Battery Life:
This is the most important reason why I have rooted my Android.
You can really boost your Android phone's speed and battery life of your rooted Android device.
#3 Block Ads:
We all know that apps owner make money by placing ads into their apps. It's ok. But, these ads will eat your phone's data. If you want, you can easily block ads in any app by using some tools (app) which are available for the Android phone.
#4 Backup Everything of your Phone:
In case, if you move to a new Android device or restore your device to stock ROM for the reason whatever may be.
You can make it easier by backing up your full Android apps, data, settings, and everything.
If you aren't rooted, you can backup apps and data but you can't backup system apps, data etc as you can do with a rooted phone.
#5 Remove Preinstalled apps:
You can also remove those apps which come with your phone just by rooting your Android.
#6 Flash a Custom ROM:
This is the biggest reason why I have rooted my Android phone.
You can flash custom ROM on your Android and enjoy the latest version of your Android mobile before the official release.
Check out: Top 9 Interesting things to do after rooting Android in 2020
Dis-Advantages Of Rooting Phone:
#1 Risk of Bricking Device:
Sometimes a small mistake can put your Android in trouble and process will end up with a bricked phone – never happened with me :p.
#2 Security Issue:
There may be some security issue.
#3

Voiding Phone's Warranty:
If you're rooting your device then get ready to end your phone's warranty. Rooting will void the warranty of your phone.
However, you can reinstate the warranty by unrooting your device if you can.
This is the reason why some people don't want to root their Android phone.
Preparations before Rooting:
#1

Charge Your Android Before Start Rooting:
I recommend you to charge your phone battery enough before going for rooting. If you know rooting process for your Android properly then It can be also done with a low battery in less time.
It all depends upon the rooting methods but better to charge your mobile at least

40-50%

in case if anything goes wrong because a problem doesn't tell you when they arrive.
#2

Backup Your Important Data
Once you have rooted your Android device successfully, you might install Custom ROM or something and you may forget to backup your Data in excitement. 😛 So, better to have a backup of your important data before playing with your Android.
How to Root Android without PC / Computer
Now, come to the main point which is "How to Root Android Phone".
Well, here are all methods by which you can root your android phone without PC.
Almost every old Android phone can be rooted using Framaroot (1st method).
However, Framaroot app might not work on some new Android phone. Then try another method, you can get success in rooting your android without PC for sure.
[thrive_lead_lock id='4619′]
Summary of Top 10 Best Rooting Apps for Android
SL No.
APP NAME
1
Framaroot
2
Universal AndRoot
3
Vroot
4
SRS One Click Root
5
KingoRoot
6
Towel Root
7
Easy Rooting Toolkit
8
Z4Root
9
Unlock Root
10
Root Master
(BONUS)
ROOT CHECKER
Root Checker Basic
[/thrive_lead_lock]
Top 10 Apps to Root Android (With Steps & Instructions)
#1

Framaroot can Root your Android in One Click:
(Root Android without PC using Framaroot APK App)
Framaroot is a one-click app which you can use to root almost any Android phone or device without making use of Computer.
Framaroot developed by Alephzain from The XDA-Developers forum is the app which made it easy to root any Android without PC just in a single click and can also unroot any rooted Android whenever desired without PC.
In a single click, it can install Superuser and Su binary on your phone. Framaroot will work with most of the android phones with Android versions from 2.0 to 4.2 (Tested).
Steps to Use Framaroot to Root Your Android Phone:
Download the root apps on your Phone or PC/Computer.
In case, you have downloaded APK File of Framaroot on your computer then send it to your Phone.
Install Framaroot normally like any other app you install.
Once installed, Open Framaroot app and choose "Install Superuser" option.
Now you can see many exploits are there. Select any exploit and after a few seconds, it will show the Success message.
If you are able to see the good news message as "Success:-)… Superuser and SU binary installed. You have to reboot your device" then just reboot your device. If it shows "

Failed., Try another exploit if available

", then don't worry. Just select another exploit.
After rebooting, Your Android Phone is Successfully Rooted by Framaroot without using PC.
See: Best Download Manager for Android (Top 10 List)
#2

Root Android without PC using Universal AndRoot:
Universal AndRoot is a simple Android rooting app that lets you root your Android smartphone with no requirement of PC or Laptops. Yes, within a few steps (shared below), you can have your Android rooted.
It is a freeware software which supports many Smartphones including Google Nexus One, Samsung Galaxy series, HTC Hero, HTC Tattoo, Motorola, Sony Ericsson, Acer, Vivo, Lenovo, LG etc.
Universal AndRoot.apk is what you need to download and install on your Android and you're ready to root or unroot your device within a few clicks.
According to the developer of this root app, you can still get OTA Updates on your Device even after rooting your Android with Universal AndRoot which is plus point of this app. Well, let's see the process of rooting using this app.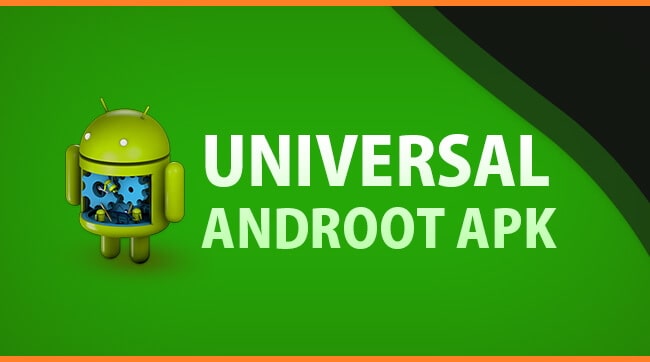 Steps to Use Universal AndRoot to Root/Unroot Android
First of all Download and Install the Universal AndRoot to your phone or PC.
Once you installed successfully, launch the AndRoot app to your phone.
Select appropriate version of your Android Phone and click on Root🙂
Now your Android phone is Successfully Rooted.
#3

vRoot APK – Root Any Android Without PC in One Click:
Vroot is one of the best software that roots any android phone and supports the wide range of Android versions, Android 2.2 (Froyo), Android 2.3 (Gingerbread), Android 4.0 (Ice Cream Sandwich), Android 4.2 (Jelly Bean) and Android 5 (Lolipop) etc.
Vroot is available for both Computer as well as Phone. That means you can Root and Unroot any Android with or without Computer.
VRoot apk Android rooting tool is developed by Mgyun in China and it is the first app which I will recommend after Framaroot for Rooting and Unrooting any Android running devices.
Many of our friends have rooted their Android with vRoot App. This app is just like one click root apps because it roots your Android mobile in just one click.
You can download vRoot apk file to install vRoot app on your device in order to root your Android without PC. Below are the steps on How to Root with vRoot Apk.
Steps to Root Android phone with vRoot App
At first, download vRoot Apk on your Android phone (link shared below)
After that, go to Phone's Setting > Security > tick the option "Install apps from Unknown Source" (ignore if already did)
Disable the antivirus app if you've installed any.
Now, install vRoot app on your Android smartphone.
Now, follow the next, next instruction :p
Done..! You've successfully rooted your Android phone.
vRoot support many of the Android smartphone from lower version to Android 7.1.1 Nougat. If you're not able to root your Android with vRoot, then no need to worry. Just try next rooting apk app.
#4

SRS One-Click Rooting Software to Root Android with PC:

SRSRoot is a bit less popular but one of the most effective rooting software available for Windows 10/8.1/7/XP Computer that can easily root your Android with PC.

SRSRoot has multiple exploits which let you gain root access on your Android device without any risk of damage.

SRS Root tool is considered as one of the best one click rooting tool which makes it easy for any Android users to enable Super-User just by rooting their phone.

They can also unroot their Android just within one click. SRS-Root is totally free from the official developer, so you don't need to spend any single penny for rooting your Android.
Features of SRS Root Tool:
One Click Rooting Tool: SRSRoot allows you to root/unroot your Android in just one click.
Multiple Exploits: SRS Root tool offers many exploits so if one failed you can try another exploit to root your Android. So, there is a high possibility of getting rooted successfully.
SmartRoot: This rooting software "SRS Root" has one advanced feature called "SmartRoot" which helps in deciding the best possible strategy to root your device. So, by using this special feature, you can easily root your Android smartphone or tablet in less time.
ADB Toolbox: Using this feature, you can perform many advanced functions on your Android like " Reset User Lock", "Reset Gesture Lock", "Reset Gmail", "Wipe All Data" and many more interesting things.
Easy UnRoot: SRSRoot tool offers the easiest way to unroot your rooted Android device with PC. So, if you want you can tap/click on "Unroot" button to get your Android Unrooted successfully.
Steps to Root Android with PC using SRS Root Tool:
Step 1: At first, Enable 'USB debugging' on your Android device.
Step 2: Then, Enable 'Unknown Sources' on your device (You'll get in Settings)
Step 3: Download SRSRoot tool latest version on your Windows PC.
Step 4: Now, Connect your device to the computer (Install the android drivers if required)
Step 5: Open SRSRoot Software and Click on ROOT options in this software, and wait till it's finished
You Android will be successfully rooted!
If you haven't got success in rooting your Android with above shared rooting techniques then you can give a try to SRSRoot tool.
You can download SRS Root latest version software and follow the rooting process. Even if you're new to the Rooting world, you can easily root Android with SRS Root tool because of the user friendly interface.
#5

KingoRoot – Best One-click Android Root Software:
KingoRoot lets you root your Android device from mobile and computer. It's an ultimate solution for rooting.
You can easily root/unroot through KingoRoot without using a PC.
KingoRoot software is available for both Android and Computer (Windows only) just like Vroot Rooting Application. KingoRoot has become all in one Root solution for all Android device.
Steps to install KingoRoot on Android:—
It would be better to root your phone without PC as it is more convenient. So, just go through these steps
First of all, go to Settings – Security – Enable 'Install app from Unknown Source'
Now, download 'KingoRoot APK' for free and begin installation right away.
You will notice an icon after installing successfully; click on it to launch the app.
Click 'One Click Root' and wait for some time to result vanish from the screen.
Are you facing any problem? You may try to do the same from your computer then. It may solve your problem. Just give it a try.
#6

Towel Root – One Click Rooting Software
Towelroot can easily root most popular devices like – Samsung Galaxy S5, AT&T GS5, Nexus 5, GS4, HTC, Note 3 and all the other Android mobile devices released before June 2014 (Supports Android 2.2 to Android 4.4).
Towelroot is developed and distributed by Geohot (XDA Developer). So, thanks to him for sharing this Root Application free for Android which lets you root your Android in a Tap only.
Features of TowelRoot App APK for Android:
Root your Android in One Click.
Root your Android without Intenet Connection i.e. No need to connect Your Android to Internet while rooting.
It's an Android Apk App for Rooting. So, no need to connect Your Phone to PC i.e. rooting without PC.
Very small size (just around 110 KB in size).
Potential Root Application that roots Android easily up to Kitkat version with more success rate (Not support beyond Kitkat i.e. Lolipop, Marshmallow, Nougat).
How to Root your Android with Towelroot Apk:
At first, you need to Download Towelroot Apk (latest version is Towelroot V3.0), D/L link given below.
Enable "Unknown resource" and Install it on your Android device.
Just wait for a minute until the installation gets completed.
After installing, Open that Root App.
Finally, tap on "Make in Rain" button.

That's it. Your device is rooted now !
#7

DooMLoRD Easy Rooting Toolkit App

Easy Rooting Toolkit is also one of the best android rooting app. It is developed by DooMLoRD and can root most of the phones without a computer.
#8

Z4Root App can Easily Root your Android without PC

z4root is 100% safe app that has a single button which can root your android device. It can easily root most of the android phones like – Sony. Samsung Galaxy, Droid 2, Huawei, LG, Motorola, Garmin-Asus and many more.
#9

Unlock Root – Best Way to Root your Android

Unlock Root is truly genius software which can easily Root/Unroot most of the android devices.

It is tested and rooted successfully the devices from Android 2.1 till 4.0. You can try with your phone.
#10

Root Master – The Best APK for Root:

As the name implies, Root Master app is really the master of all rooting technique.

Yes, You can not only ROOT your android without PC but also it has many more features. If you're interested you can go with Root Master.
How to Root Marshmallow, Nougat & Oreo?
If you're having latest flagship devices running on Marshmallow, Nougat (7.0.0, 7.1.2, 7.1.2) or Android Oreo 8.0 then these rooting apps may not directly work for you. You need to Unlock Bootloader of your device first.
Keep in mind that unlocking bootloader will wipe and erase all your data of your Phone. So, you must take backup of your important data before doing it. Let's see what you have to do actually.
Checklist to Root Any Android Running on Android L, M, N or Oreo or Pie:
Well, here is some checklist that you need to follow and you can root any Android device.
Step 1: Backup Important Data i.e. Contacts, Message, Files etc to your Google account or SD Card or PC.
Step 2: Unlock BootLoader by using Minimal ADB and Fastboot software on your PC.
Step 3: Once the bootloader is unlocked, download TWRP or CWM recovery (.img) file and install it to your Android by using Minimal ADB and Fastboot.
Step 4: Now download SuperSU.zip for your Android device and move it to internal memory.
Step 5: Reboot your phone into recovery and install the SuperSU.zip. Once done, install SuperSu app from play store.
Step 6: Congrats, your Android is rooted successfully. Finally, install "root check" to verify root access.
That's it. If you follow this tutorial then you will end up with a rooted Android device. All the files mentioned in this tutorial is available on the XDA-developer forum. Make sure you download which is for your Device.
(Bonus:)

Rooted or Not, How to Check It?
Download Root Checker Basic app to check and verify if your Android phone is rooted or not.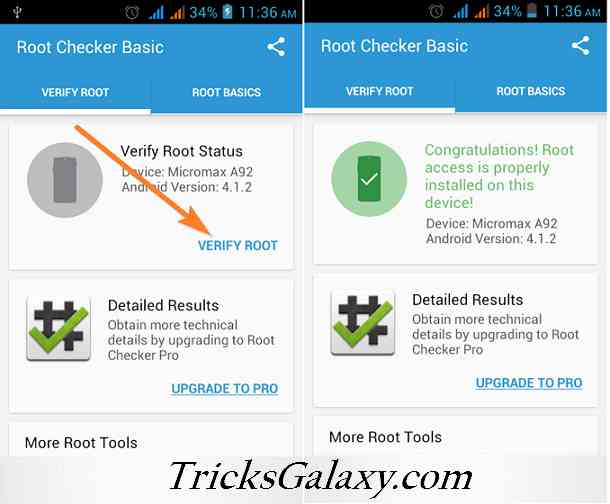 Final Words:
Now, I'm sure this article solved the most popular question "How to Root Android without PC? ".
These are the Top 10 Root Apps, or Android rooting Softwares & Methods (or APK to Root Android device without PC and if you want, you can also Root your Android with PC/Computer.
You can Root any Android Phones using this app. I suggest you to first try Framaroot App which works on almost all Android devices.
In case, if not work then go with others. You will successfully Root Any Android OS Devices.
The process of rooting Android is almost the same for all of these one click root apps mentioned in this article.
So, to root or unroot your Android, you just need to download root app apk file and install it on your Android phone that you want to root and finally open the app and click/tap on "Root" button. Your Android should be rooted successfully.
I hope you like this article. Share your feedback in comments.
Don't forget mentioned which Method or root app worked on your Android. Finally, go & Root your Android without PC and enjoy.