Have you ever visited a WordPress Site and got impressed by their Theme design?
You might be wondering that Which theme is being used, What is the name of that WordPress theme.
Isn't it? Yes, of course…!
Have any of your friends ever asked you just by giving the blog link and asking for What's WordPress Theme is that?
So, what do you generally do in that case??
If you know about that theme then you can directly help them by just saying the right Theme name.
What do you generally do if that theme is not known to you? You may probably say – No sorry don't know, I will tell you later. etc etc… and even some may not prefer to reply to such messages…!
This is because of what? The reason behind this is you don't even know How to Find Which WordPress Theme a site is Using.
But I am sure, after reading this tutorial, you will learn every single possible method to Know Which Theme Is Currently Running on A WordPress Site.
No matter if you're Newbies into Blogging or you're expert, this article is for all, by this method you can not only find WordPress Theme name but also list the of all active plugins used by that WordPress Site.
So, come directly to the main point without wasting too much time in the Introduction.
How to Find Which WordPress Theme & Plugins A WP Site/Blog is Using?
Guys, if I say honestly, then there are unlimited methods by which you can find the name of any WordPress Theme that running on a blog. I have divided these all methods into three categories. You can easily find what theme is running on a WordPress blog by any of the below-mentioned methods.
By General or Common sense Method: Footer Links & Source Code Methods to Get the Name of WordPress Theme.

By Browser's Extension Method

: You can also detect theme name just by using Chrome/Firefox extension.
By Website Method

(Best Method)

: By this method, you can check the theme name as well as all the active plugins.
Method #1

Check Footer Link

In the General (Common Sense) Method, I am going to teach you two ways to get the name of WordPress Theme. You can know the name just by checking footer link, by viewing the source code of the WordPress Blog.
Find out WP Theme Name by checking Footer Link (

Footer Link Method

)
First of all, Open that WordPress site/blog of which you want to know the theme name,
Scroll down to the footer section,
In the footer section, you will see the Theme Name just in the below screenshot.
Congrats you got your desired WordPress Theme Name.
View Source Code To Find Theme Name of WordPress Blog (

Source Code Method)
Just as the first method, open the WordPress blog.
View their source code (Just click "Ctrl + U" to view source code)
Now press "Ctrl + F" and search for the following line
wp-content/themes
The theme name will be there after "wp-content/themes/" Just look at the screenshot shared below for extra clarification.

Method #2

Knowing Theme Name by Using Extention

There are also many extensions are available for your popular internet browsers you use daily (like Google Chrome, Firefox etc) by using which you can get the WordPress Theme name just in one click.
Use "WPSNIFFER" to Find WordPress Theme Name in One Click
WPSNIFFER (also known as Chrome Sniffer) is the great Chrome extension which detect active WordPress Theme name in just one click.
Just install the extension named WPSNIFFER to your Chrome Web Browser.
Visit the WordPress Blog of which you wanna detect the Theme Name
Click on WPSNIFFER icon from the extension icon bar which is on Top Right position of your Chrome.

Hurrah….!! It gives the Theme Name.
Method 3:

WordPress Theme Detector

WordPress Theme Detector is a free tool that allows you to find all the details about the WordPress theme and plugins currently being used by a site.

This is the best method of detecting or knowing WordPress Theme Name because it doesn't only give your active WordPress Theme name but also it provides the list of all active WordPress Plugins which is running on that WordPress Blog.

It it will give you the complete list of the Plugins.

Are excited??? Ok, don't wait just come to the main steps.
Open WordPress Theme Detector Website.
Enter the URL of the WordPress Site (says http://www.tricksgalaxy.com) and click on "Experience the magic of WPTD!"
Just wait a few seconds it will show you the Theme Name (including Parent Theme/Framework and their child theme), List of active plugins and much more about the site.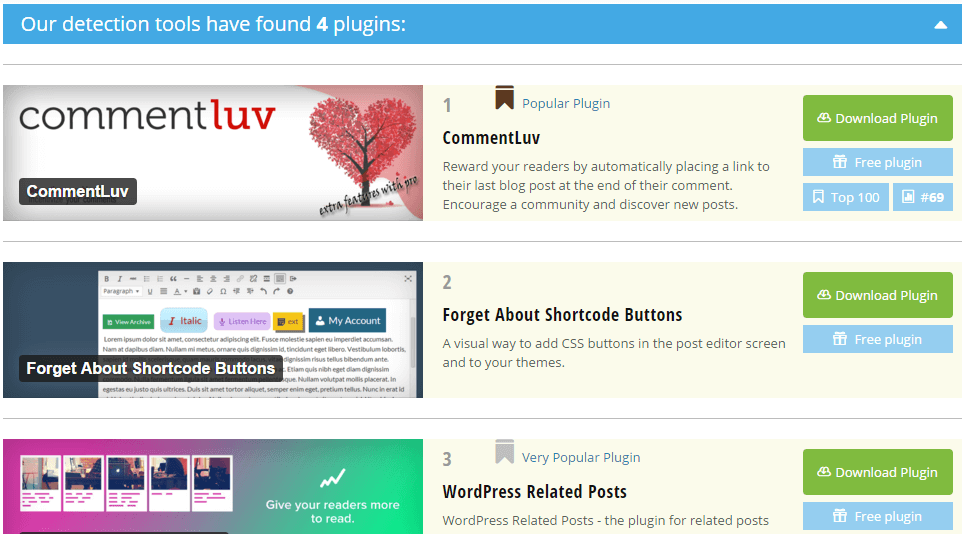 Method 4:

Using What WP Theme Is That

WhatWPThemeIsThat is similar to WordPress Theme Detector. It can reveal the theme name as well as plugin names. The positive point is that WhatWPThemeIsThat is faster than other sites, the process is really fast.

You're done. It will show you all the details.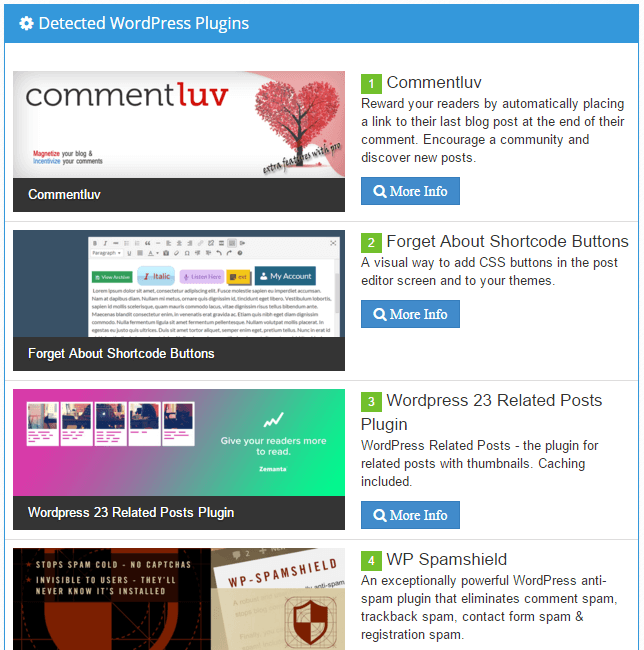 Further Reading:
Conclusion:
So, guys, these are the tips on How to Find Which WordPress Theme A WP Site is Using. For me, method #3 & #4 is really the best because We don't need to install any plugins or extensions to our browser and not only it can detect active theme but also you can check all the plugins which are currently active on a WP Blog. That's all.
Hope you have enjoyed this article, kindly share this with your friends and don't forget to comment which method is best for you.