Facebook is not only biggest but also #1 social networking site in the world. Facebook has many different features for connecting with our friends and other people by using Groups, Pages, and Events etc.
As in previous posts, I shared two Facebook Tricks:
But, Today here at TricksGalaxy, I brought to you an interesting and awesome Facebook Trick by which you can make Facebook ID without name or you can remove your name completely. Maybe this trick is old for some of you but It's working perfectly without any doubt.
I have seen at different places on the Internet, users are asking/searching for – Tricks to Make Hidden Facebook account, Invisible Name Tricks, Facebook Ghost ID Tricks etc…….So finally I have decided to write a tutorial on How to Make/Change Facebook ID with No Name in 2015 by using a Simple Trick. Let's see…
Advantages of Invisible Name Facebook ID (Fb Profile without Name):
You can Hide Your Name.
One of the Best Way to Prank Your Friends.
Do Anonymously whatever you want to ….on Facebook.
Much More Benefits…
Steps/Tricks to Make Facebook Profile with No Name:
Login to your Facebook account.
Go to Account Settings  and Change the Language to Bahasa Indonesia.
Now, Open following URL in a new Tab in your browser.
http://www.proxynova.com/proxy-server-list/country-id/
or
http://www.hidemyass.com/proxy-list/   or from any other sources
Take any Indonesian proxy address which has good speed. Recommended to take/copy recent proxy and don't take which has been checked long time ago. Just note down the proxy and port.
Now open Run Command by pressing Win Key + R and type "inetcpl.cpl" (without quotes).
Click on Connection tab and click on LAN setting.
Just Enable it (Tick the check box) and enter Proxy server and port which you have noted in above step.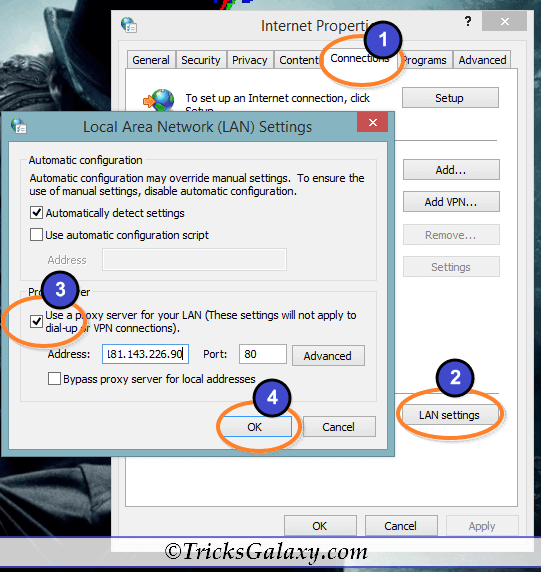 Click OK and now return to the Tab where you have left your work with Facebook Setting of your Facebook account.
Now click on Your Name for changing it and making Invisible.
Delete all entries from your Last Name and Middle Name. (if Any)
Paste the following character  in your First Name.
Paste This
Now Type your password and click on Save Changes.
You'r Done. Your Facebook Profile is successfully changed to No Name.
Note: After changing Remove Proxy Server from your Computer/PC.
Method 2: Make Invisible Name ID without Changing IP Address:
There is another tricks to make or change facebook with no name. However sometimes in some browsers it's showing empty boxes, but you can try this also. Just see following points:
Go to Account settings.
Click Edit in front of your Name.
Just Copy the rectangle box given below and paste it in the front of name in account settings page which you have to Hide.
First Name:
Last Name: 
Middle: 
Now click on Save Changes!
You have Done Succesfully.
So, use this tricks to hide your name of facebook profile.  To make Single Name Facebook ID use above method to use Proxy server to for changing your IP Address to Indonesian IP then in Account Setting just remove Middle Name and Last Name and Save It. You'r done.
If you find this post Helpful then Don't forget to share it. Any problems, leave your comments. Visit Daily For More Tech, Tricks & Tutorials. Thanks.