Send Unlimited Friend Requests on Facebook
Facebook is the #1 social networking site used in almost all over the world. It provides many awesome features- you can make friends by sending the friend request (by adding people you know) or by accepting friend requests.
Facebook is the best way to connect with the unlimited peoples.
You can view the profiles or list of the users/peoples who are on Facebook and add them if you're interested in his/her profile or you know him/her.
Recently, I shared a trick to accept all friend requests at once. So, if you're getting too many friend request then you can accept all in one click.
But, if you want to make too many friends by sending friend request to many peoples then as per Facebook rules and regulation you can send request to only limited peoples, limited number of peoples in a particular time, and you can't send to all unknown peoples.
If you will send Unlimited Friend Request then Facebook will block you from sending friend request 3 days, 7 days, 15 days and after all final warning, you will get blocked for thirty days (30 days).
I am sharing the Trick to Send Unlimited Friend Requests on Facebook. Isn't interesting, yes of course.
By this trick, you add unlimited people of Facebook without any banning issues. As I always test all trick before I publish here, this is working trick and safe too. Let's see the trick to add unlimited peoples.
Why Facebook Blocked Me?
Whenever you cross the limit and go against the Facebook rules then Facebook will block you from doing that for some time and for positive reasons.
Actually, Facebook never wants to block any users (off cause who will ban their own users..!), this blocking is a temporary banning to protect your account/profile if you account is hacked or for other reasons.
Suppose, if you facebook account is hacked then how Facebook will able to know whether you're using your own FB account or other people is using your account in case if you have exposed your password somewhere by mistake.
So, this blocking is only to protect your Facebook account from doing the same things which crossed the Facebook limit.
If you send multiple or unlimited friend request to unlimited people then they simply block you from sending friend requests for some time and after blocking period, you can again add friends.
So, come directly to the main trick to send unlimited friend requests.
How to Send Unlimited Facebook Friend Requests on Facebook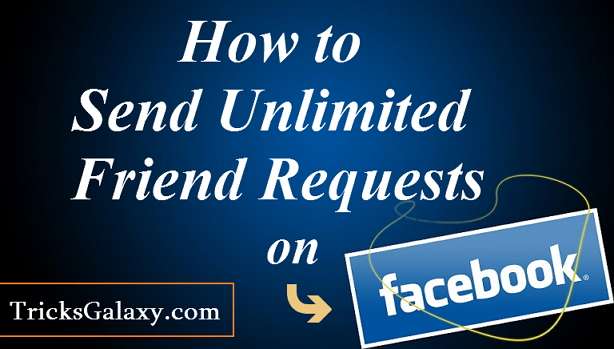 Trick 1: Automatically Sending Friend Request Method:
Do you wanna send unlimited friend requests on Facebook automatically in one click without getting ban? You can go with this trick. Using this trick I made 300+ friends to my new Facebook profile, you can make more friends.
Steps to Send Unlimited Friend Requests on Facebook without Blocking Issues
Step 1: First of all Install Google Chrome Browser and install and Chrome extension named Facebook Social Toolkit from here.
Step 2: Once you've installed it, Open Facebook and log into the Account you want to send multiple friend requests.
Step 3: Now open below link and click on Facebook Social Toolkit icon.
Link: https://www.facebook.com/friends/requests/?fcref=jwl
Step 4: When it appears, Click on Send Multiple Friend Request At Once which you will see under Free Tools.
Step 5: Now Click on "Send Multiple Friend Request" as shown below.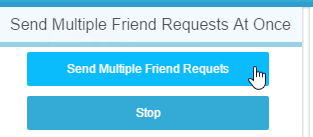 Step 6: When it says sent successfully, FST will ask to Reload this Page or Don't Reload.
Step 7: Now, there is nothing left, reload that page or close it. You have successfully Sent Unlimited Friend Requests.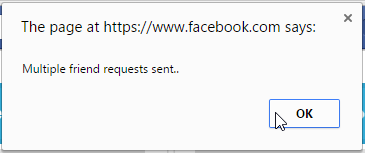 Trick 2: Manually Sending Friend Requests Method:
If you want to increase friend list of your main account then I suggest you go with this method.
Follow the below-mentioned points to Send Unlimited Friend Request Without getting banning issues.
This is manually but the best method. Why this is best..! because you don't need to install any third-party extension or any script.
Send about 50-60 Friend requests per day
In the next day, you will see that many of them (say 70-80%) have accepted your request accepted your request.
Now you need to cancel those all friend request which is not accepted.
First of all, do like the below screenshot and click on See All.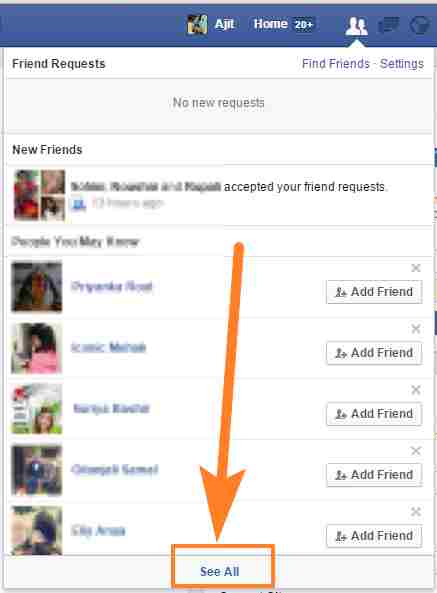 In the next page, click on View Sent Requests to check whom you have sent friend requests.

or
You can also see all the Sent Friend Request by directly the below link
https://www.facebook.com/friends/requests/?fcref=none&outgoing=1
Now you have the list of all Friend Request sent by You. Click on Cancel Request and confirm it. (as shown)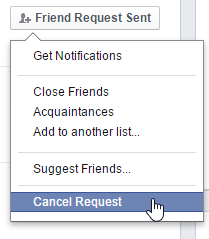 Once you're done. Just follow the same step again.
Important FAQs about Unlimited Friend Request:
Here, I will update all the most frequently asked question and their answer. If you want your question to be added in this section then you can comment below and we will include in this list.
#1

What's the Limit of Accepting Friend Request without Ban on Facebook

There are neither any hard and fast rule to decide the limit of accepting friend request nor Facebook has told the exact number of the friend requests.

Banning on Fb all depends on suspicious activities i.e. how suspicious your method or script or tricks are in the eyes of Facebook.

To avoid ban on FB, use only trusted tool. You can read here How to Accept or Reject All Friend Request at Once.

Final Words:

These are the two best methods to Send Unlimited Friend Requests on Facebook without getting banning or blocking issues.

I have tested these tricks and working fine.

If you need more help on this topic feel free to ask and share your views in comments.

Send Unlimited Friend Request on Facebook and Make A Big List of Friends, All the best. :p