Ever wondered how come some presenters seem to create absolutely marvelous presentations that seem effortless yet still effective? The kind that you always look forward to seeing?
And then, when you try to create your own presentation, it doesn't even come close to those you are emulating.
Well, many of these wonderful, adept, and highly engaging presenters have one secret—templates.
Templates are great tools for creating presentations that look great and are interesting slide after slide. Presentation templates are also great because they help cut down the hours of creating a presentation so you can focus more on what matters, such as rehearsing for your spiel or speech.
Use PowerPoint Templates for Fantastic Presentations
The PowerPoint themes and templates available at FPPT for free download are already user-friendly and easy to modify and customize. The program also offers a set of predesigned and high-quality slide templates for you to use. The problem with these templates, however, is that everybody with PowerPoint might have already used them and their variants. So relying on these templates can make your own presentation lack uniqueness and creativity. In short, you'll end up with a generic slideshow that more or less looks like everyone else's.
What you can do is to use other templates, such as those from Free PowerPoint Templates (FPPT). The portal houses a continuously growing collection of templates specially created for PowerPoint. These templates are all carefully curated to ensure high-quality designs, user-friendly features, and easy customization for all users. The templates are also meant to be tremendously useful for whatever purposes you need presentations for, whether for business, corporate, educational, or personal use.
What's great about FPPT templates, aside from being high-quality, is that they are free. Therefore, you don't need to pay to sign up or subscribe to anything. You also can just hit download on whatever slide you choose and immediately customize it to your preference.
You also don't need to use any other platform or software to make changes to the FPPT templates. You can modify and personalize them right off PowerPoint.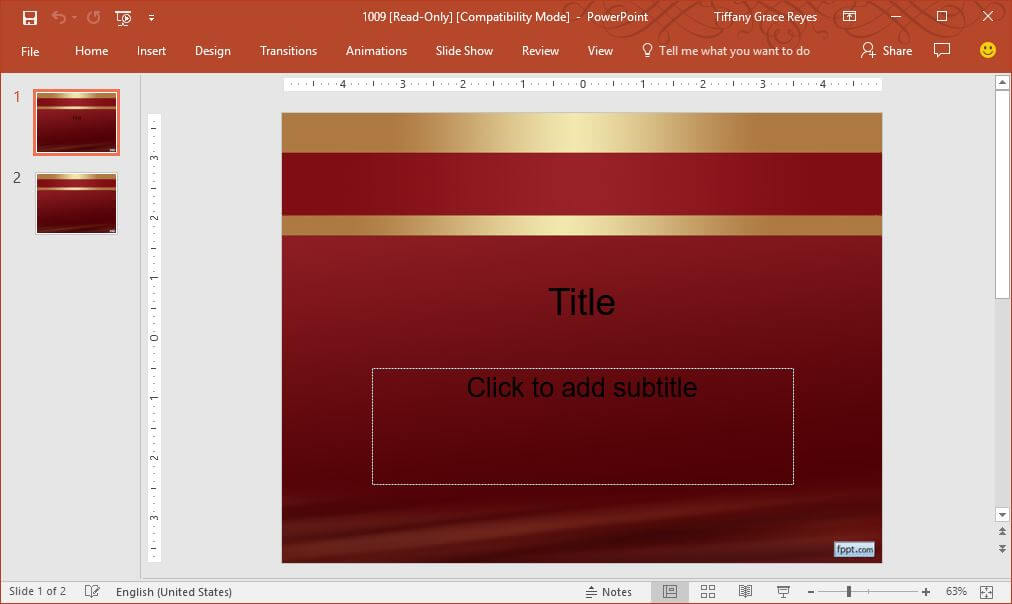 Explore Thousands of Free Professional, High-Quality Templates
The FPPT portal can provide you with high-quality templates for all your needs. Since presentations should be a demonstration of your expertise, passion, creativity, and design skills, you can be sure that FPPT templates have it all covered.
By going over the thousands of templates available on the website, you can see that they are all high-quality so the templates are clear and readable right off on the projector. You can also choose from standard to widescreen presentations to make the most of your slide space.
Easily Customize the Slides to Fit Your Exact Needs
Aside from this, since the templates are compatible with PowerPoint, you can easily modify it in the software without affecting the quality and the design itself. You can modify the slides to suit your theme or preferences.
You can go to the Design tab to format the background, use slide variants, change themes, and apply quick styles. You can also move around the slide layouts that are already pre-arranged in the templates. You can add more slides, delete some, duplicate them, and add the needed layouts as you go along. Furthermore, there are blank slides that you can customize by creating your own layout.
For these templates, you can add images, text, diagrams, tables, charts, and many other visuals to keep your slides concise. After all, you have to steer clear of using long lines and blocks of text as these can make your slides look dull and therefore bore your audience. The visuals already come with a color scheme that complements your selected template. However, you can also customize your charts, diagrams, flowcharts and tables by clicking on the object and then clicking on the Format tab that populates on the Ribbon.
There are also slide templates that come with animations and complex effects that would otherwise take up a lot of time to create from scratch. These come with instructions and tips that you can find on the Notes Pane so you can replicate the effects or customize them. You can insert these slides throughout your already existing slideshow or build from it using the same background and theme.
The templates are fully compatible with major versions of Microsoft Office, such as Microsoft Office 2010, 2013 and 2016 for PC and Mac. Presentations are also compatible with other popular presentation tools such as Keynote, OpenOffice and LibreOffice. Furthermore, the templates can be uploaded to GoogleSlides as well.
You can go ahead and try the templates yourself. Just visit the FPPT.com to search for your desired templates and download them for free.
Disclaimer: This article is sponsored by FPPT. TricksGalaxy is not responsible for any part of this content.