Block Internet Access to Desired App or Game on Android
In Android, Some Apps are the most useful tool which extend or increase the features of your smartphone, provide you the option to customize it and to make you phone smarter. But, most of the apps are using your Internet frequently without letting you know. Today, I am going to share very interesting trick by which You will learn How to Block Internet Access to Desired Android Apps.
Why Block Android Apps or Games from Accessing Internet?
You should block your selected apps and games from using Intenet because of the following reasons –
Apps may request a list of permissions during installation or upgrade and one of those permission is to access the Internet. Did you ever read it? of course Big No. Generally, most Android users do not go through the list of permission that an app requests it gets installed.
Once you have installed some apps, games, file explorers or different utility apps, it may use one of those permissions, means it may use your phone's Internet whenever required. And it may connect to their server on the Internet. But we are not aware of it unless we install a monitoring app.
Especially, the most of free apps and games uses Internet data to download and to display advertisements. So, removing ads, less internet data uses, Speed up Android performance etc. are the advantages which becomes the BIG Reason to block Apps & Games from accessing or from using your costly Internet data on your Android.
How to Block Apps & Games from Accessing Internet on Android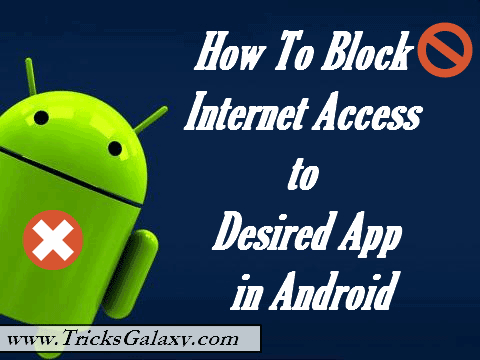 There are various ways to STOP any App or Games from using Internet data. Even Android has a built-in feature to do this. As I already told, if you have installed free apps and games and you are using data connection instead of WiFi then you may be thinking about how to deny access to the Internet to those games and apps. Did you god the success? No matter if you got or not, I have shared 3+ Best Methods/Tool to Block Access from the Internet to Desired App or Game on your Android phone.
Method 1:

Block Apps from Accessing Internet on Android

If you have Android 4.0 or above then you can do this without any third party app. Yes, By using Android's default feature, you can block any App from accessing the Internet. I recommend you to go with this method if you have a few apps or games installed.
Steps to STOP Android Apps from Accessing The Internet
Step 1: Goto Setting >> Data Usage
Step 2: Now select the Data Connection Tab. In my case, it was "AIRCEL ASSAM" as shown below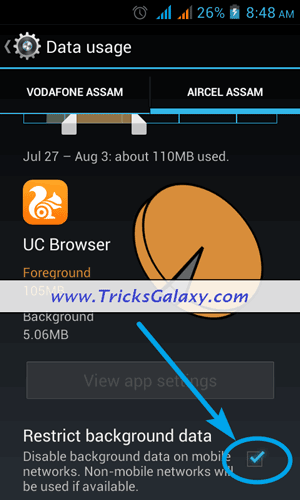 Step 3: Click on any App you want to block it and then at the bottom you will see an option called " Restrict background data. Just check the option.
You have successfully blocked apps from accessing your phone's Internet in the background.
Method 2:

How to Block Internet Access to List of Android Apps With NoRoot Firewall

The above method is for doing manually and good for you if you have a few app. But what if you have a list of Apps installed in you Android device. So, even if your Android is not rooted you can easily use "NoRoot Firewall App" to block Internet Access. Want to root you Android? Then check out what is Android Rooting & Easiest 10 Way to Root Android.
What is NoRoot Firewall?
NoRoot Firewall is a special app for Android devices which puts you back in control. It offers all you need to block Internet access for selective apps. The app has a neat interface spread over different tabs. You can select if you want to grant internet access for individual apps on WiFi and on Mobile data by simply putting a check mark or cross in front of each app in the list. What makes the app special is the fact that you do not need to root access for its functionality.
Steps to Follow?
Step 1: Download and Install the NoRoot Firewall app.
Step 2: Once installed Open it and you can manually select and decide which apps will use the Internet.
Step 3: Just either Allow or Deny it.

Congratulation, you have successfully blocked Internet access to these apps.
Method 3:

Block Internet Access to Android Apps using Net Blocker

Do you know about "Net Blocker"? No…? Ok, let me describe
Net Blocker is the best tool which you can use to prevent apps from accessing the Internet. No matter the Internet is either WiFi data or GPRS/3G/4G mobile data, you will have the seperate option to Block any type of Internet Access to any apps or games installed on your Android phone.
Features of Net Blocker
You can block access to the Internet on a per app basis.
It provides you separate control over mobile date(GPRS/3G/4G) and WiFi
One click Restore he blocked networks by tapping the notification icon.
Steps to Block Internet Networks for Specified Apps
Step 1: Install Net Blocker app.
Step 2: Once installed Open it.
Step 3: Tap the app that you would like to STOP it from Internet access.
Step 4: Check the network types i.e. Mobile Data or/and WiFI.
Step 5: All done, Net Blocker will automatically disable the Internet connection when app you have blocked running in the foreground.
Step 6: It will show you a new notification icon telling you which networks are blocked.
Step 7: Now just tap the notification icon to restore the Internet connection and tap again to disable the Internet.
(Bonus):

List of Other Apps to Block Internet Access to Desired App on Android
Some other tools or apps which can help you in Blocking Internet Access to Applications on your Android are:
You may also read: 10 Best Cleaner & Booster Apps to SpeedUp Android's Performance
Conclusion:
These are the list of app and best method by which you can Block Internet Access to Any Android Apps or Games. By blocking  any app or game from accessing the Internet, you will have several advantages like you can remove ads from those free apps, you can save your Internet Data to some extent, your phone's performance will slightly improved.
So, If you want you can easily block Android app from accessing the Internet. Share it with your friends and social sites and don't forget to share your views in comments.