How to Remove Pattern Lock on Android
Today I am going to share How to Remove Pattern Lock on Android Device. Built-in pattern lock is very useful tool for adding an extra layer of security to your Android smartphone as you know. But, What will you do if you have forgotten the pattern of pattern lock on your Android phone? Some people having misunderstanding that they can't remove pattern lock on android. Don't panic. I have shared some best tricks on How to Remove Pattern Lock on Android device.
Pattern lock is most important security option for those people who have sensitive data or have personal files in their android phone. This lock tool will help you to prevent your device from unauthorized use but the trouble starts when you forget it. You may have heard about – A very good things may be sometimes become very bad if goes to wrong people or wrong condition.
If you forgot the pattern that locks your Android device, or a child or relative was playing with it and entered the wrong password or pattern enough(maximum) times that it's now locked. Whatever the reason, this tutorial will help you in removing your android device's lock pattern. You can also learn How to Root Any Android Phone with/without PC Computer (10 Methods)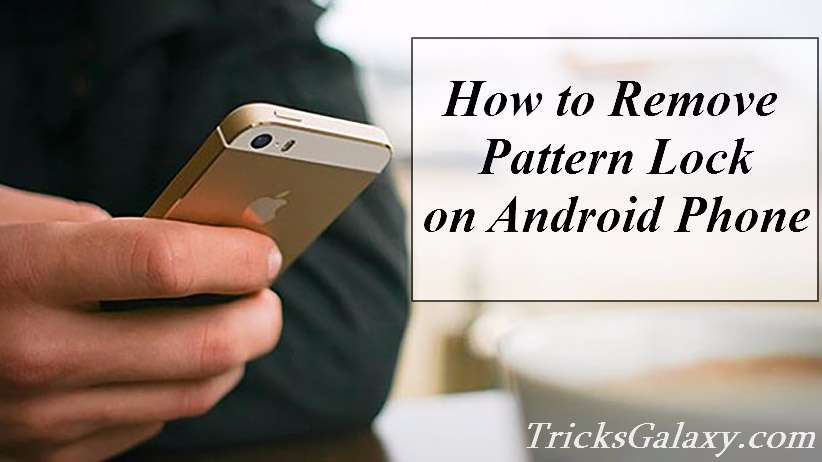 How to Remove Pattern Lock on Android?
There are several tricks or ways to unlock pattern lock of your device without resetting it and losing all of your data. In this article, I have shared 2 different and latest way to reset the pattern lock.  Try any method which is easiest solutions for you.
Unlocking Pattern Lock with Google Accounts Offline
Resetting Pattern using Recovery Option etc.
#1

Remove Pattern Lock on Android without Factory Reset
When you try different wrong patterns and unable to unlock android in five attempts. Then a message pop-up and shows two buttons "Next" and "Try again".
Click on "Next" button and you see two options for unlocking your android phone. The first option is answer the security question and the second is to provide Google account details.
Generally most people don't set a security question. But if you set it then simply answer the question and get your phone unlocked quickly. Otherwise, you need to check the Google account option and click "next".
Now enter your Google account username and password attached with your device and click on "sign in" there.
In the next screen, you will be directed to choose new pattern, just set a new one and then you can unlock with this pattern.
#2

Reset or Unlock Pattern Lock without Google account using Recovery Option
Firstly, switch off your android phone and then wait some time to get switched off completly.
Now hold "Volume up + Volume down + Power Button" buttons all together at the same time until the phone boots.
Select Recovery Option.
Use the volume key to move up and down then scroll down to "wipe data/factory reset" and click on it using the power button.
Now click on "Restore Factory Defaults" or "Delete all User Data" depending on which is on your device.
Once you click on the settings above, now scroll down to "Reboot System Now " and wait for your phone to reboot.
Important:
First of all, let me tell that this method will delete all your data and apps.
In step 2-3, you are using Recovery option. Basically we use three keys Volume up, power and home for this purpose. But in some phones home button is not available (if your phone) so you need to press Volume up + Volume down + Power button. It may be different your phone, so you can try all combination of buttons for factory reset. Use Google to search for your specified tablet or android smartphone.
Conclusion:
This was How To Remove Pattern Lock on Android. Nowadays, many android phone users use the inbuilt unlock pattern to give security to their phones. This is very easy to use but after many wrong attempts it locked permanently. So, hope this tutorial help you in Unlocking/removing pattern lock on your Android device. Don't forget to share your views in comments.