Searching for the best Photo Editor app for Android?
The quality of images captured by Android devices in recent times has become so superior that it can now compete with even the point and shoot type camera devices out there.
What could make the images that we capture using our Android devices look even cooler are some Photo Editor Apps for Android which can help us bring out the details in the photos that we capture.
If you are in search of the best Photo Editor apps for Android, then today we bring you a list of the top 10 photo editor apps for Android. Also, download WhatsApp Plus APK for Android.
Top 15 Photo Editor Apps for Android 2019
#1

Snapseed: Best Photo Editor App
Among the best photo editing apps for Android, the first application that pops into everyone's mind is Snapseed. When released, the Snapseed photo editor application had become so popular that Google bought the application.
Snapseed photo editor application focuses on simplifying the experience of photo editing for users by bringing in one-touch tools for enhancements and sliders for simpler modification of details. The application also features several filters and even support for RAW images.
#2

PicsArt: Collage Maker & Pic Editor
With over 450 million installs, PicsArt is definitely one among the really popular photo editing apps for Android. PicsArt claims to be the No. 1 photo collage and editor application for mobile and given the features of the application, there is no doubt why.
The application lets you create collages, edit images, draw photos, create animated type GIF and even come with a camera interface so that you can capture images with filters applied already.
The application also features a very active community where you can find images to use as backgrounds while editing and share your own images as well.
#3

Pixlr – Free Photo Editor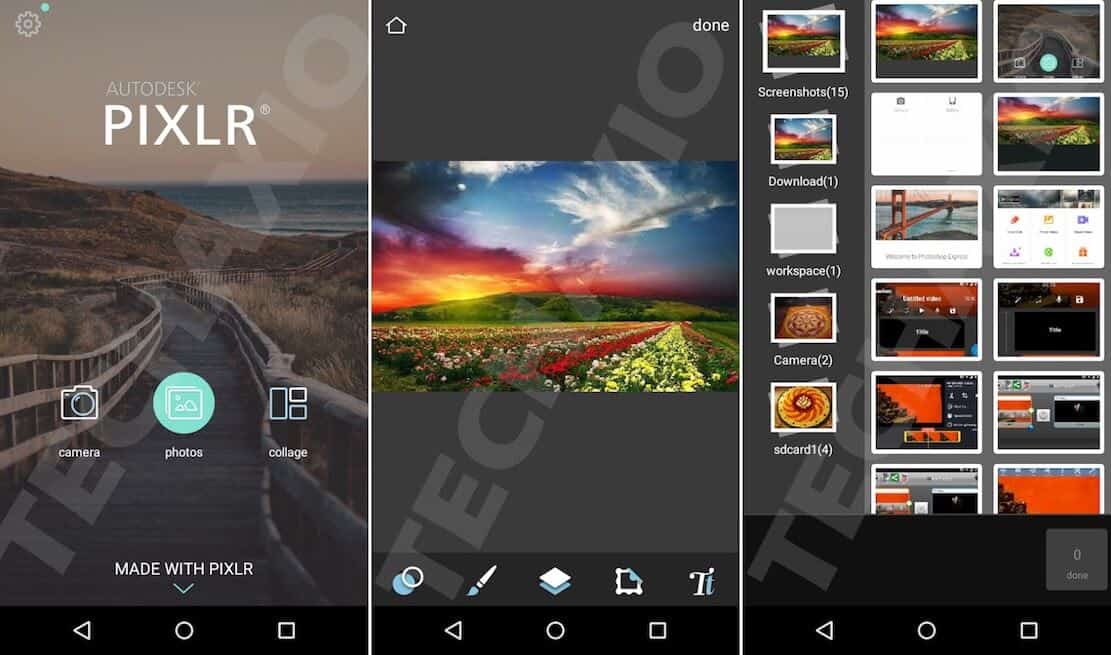 Pixlr is a free photo editor app for Android, and even before the Android app, the editing tool was really popular as an online editing tool. This application features a lot of tools, filters and other options and you can make over 2 million combinations of the editing tools that are present.
Pixlr also features a one-click "Auto Fix" which balances out the color of your photos. Other options include the ability to remove blemishes, whiten the teeth, remove red eyes and more. You can also add cool effects to your images and make it look like posters, drawings made by pencils etc.
#4

AirBrush: Easy Photo Editor
AirBrush application is perfect for selfie lovers or people who take a lot of portrait photos. Using AirBrush you can edit photos and remove blemishes, acne or a pimple, make your face look slimmer, whiten your teeth, brighten your eyes and retouch the skin color and more.
Apart from these features, AirBrush also allows you to do basic edits like blurring and cropping and also features a set of filters. The application also lets you apply filters and other edits in real-time while clicking photos.
#5

 PhotoGrid: Video & Pic Collage Maker, Photo Editor
PhotoGrid has an active global user base of over 300 million and over 15 million images are edited every day using the application. PhotoGrid allows you to do basic edits on your images and also lets you create videos out of images as well.
The application also allows you to create GIFs, Memes, Video/Picture Collage, Face Filters using AR, Slideshows and much more. The application also features more than 60 filters and more than 300 templates to edit images as per your desire.
#6

Adobe Photo Editing App: Easy & Quick Photo Editor
Adobe Photo Editing applications are a suite of photo editing applications for Android that excel specifically in several photo editing options. The applications included in the list of Adobe Photo Editing apps are Adobe Photoshop Mix, Adobe Photoshop Express, and Adobe Lightroom.
Using these applications you will be able to do everything from basic edits on images captured by your Android device or even editing RAW images.
#7

AfterFocus:
As the name suggests, the AfterFocus app can be used to set the focus on images after you click the picture. This application really helps in creating cool looking bokeh effects. Some of the after focus edit tools of this application include Smart area selection for focus, blur effect on background and effects by a filter. You can create different combinations of these features to create unique and professional looking images.
The ability to focus anywhere on the image after clicking, combined with the standard set of edit tools and features offered in this application can help you be really creative with the images you capture.
#8

Photo Lab Picture Editor: face effects, art frames
Photo Lab Picture Editor features over 800 different photo effects to choose from. The application also features some smart artwork styles that you can choose from in order to make your pictures appear more artistic.
This photo editor app also lets you do face swap editing which is backed by an algorithm for face detection so that your face fits perfectly in the scenario that you are swapping your face for.
Photo Lab Picture Editor features some really good photo filters to choose from. Also, new photo effects and photo frames are added with each update for the application.
#9

Fotor Photo Editor: Photo Collage & Photo Effects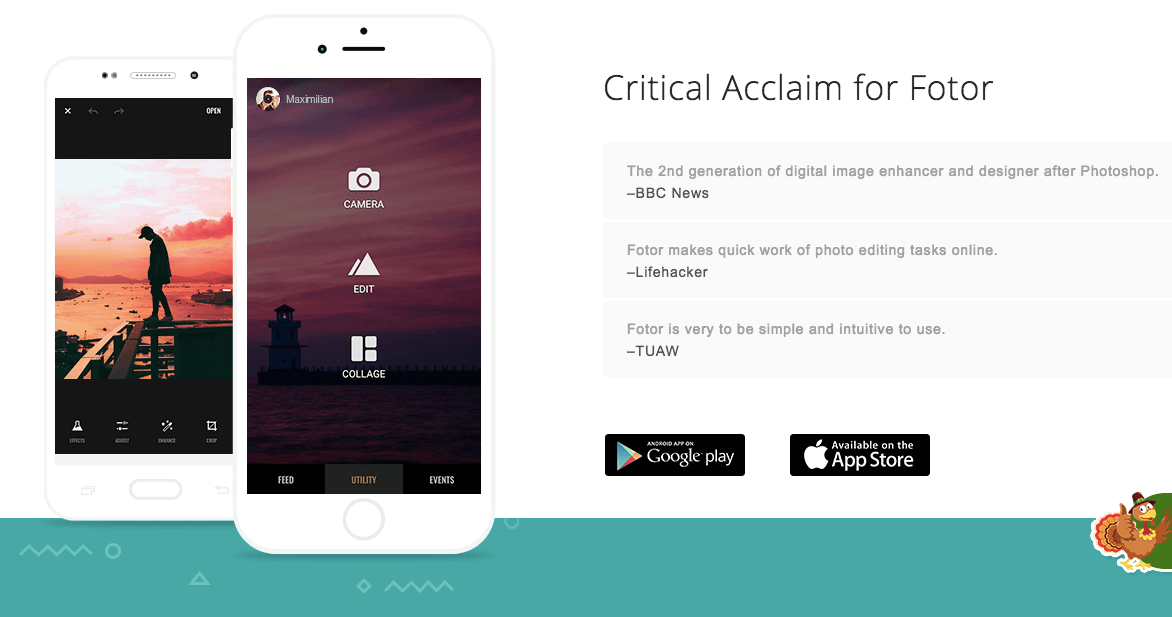 Fotor Photo Editor tool is also a very popular photo editor app for Android. The application features a big list of tools for editing and also allows users to enhance their images with just a single tap.
Apart from offering users with the regular set of edit tools like exposure, highlights, crop, brightness, rotate etc., there are 100+ filters to choose from as well.
#10

Toolwiz Photos – Pro Editor:
Toolwiz Photos Pro editor is a powerful edit application features over 200 edit tools to choose while editing your photos. This application also features over 40 different Prisma type image filters to choose from. Apart from that, there are also art filters that can add different artistic looks to your image.
Other features include the ability to change the image tone, beautify selfie shots and add painting type styles as well. You can also add texts, HDR and Blur effects on images using this tool.
#11

 PicSay – Photo Editor
PicSay Pro application allows all the basic edit tools to enhance the look of your images. Apart from that, you can also choose to add stickers to make the images look unique.
Also, you can create funny comics by choosing the head swap feature or add HDR mode after clicking photos to make it look more professional as well.
#12

Photo Editor by Aviary:
Photo Editor by Aviary application features a huge list of features and options to choose from. Some of the really useful features of this application include one-touch auto enhancing of photos, funny stickers, photo frames, photo filters, photo effects, color splash, meme creator and so on.
You can also perform cosmetic edits on photos that include removing spots on faces, whitening the teeth and fixing redeye.
#13

PhotoDirector Photo Editor App:
PhotoDirector Photo Editor app for Android is a powerful image editing app for Android and still allows users to enjoy all of the editing features easily without having to hassle around with all the options.
This application offers all the standard editing tools and options and apart from that also offers with live photo effects feature wherein you can apply and check filters before you click a photo right from within the camera app. You can also use this application to remove unwanted faces and objects from your photos and also add HDR effect to your photos.
#14

YouCam Perfect: Selfie Photo Editor
YouCam Perfect application features some really cool features like the ability to add one-touch filters, add your selfie photos in fun scenes, add stickers to your photos, create cool looking collages, edit your face and body features to look attractive, remove black eyes, smoothen your skin, touch up faces and much more.
This app also allows you to add beauty filters and effects in real-time while clicking pictures and also allows you to create short timed videos out of your selfies as well.
#15

Bonfire Photo Editor Pro:
Bonfire Photo Editor application feature a set of professional editing options to make the images you click look stunning. The application also features a very friendly user interface.
The application features over 100 filters and effects that are unique and are optimized using AI to suit each and every image. You can also use this application to remove blemishes from portraits and also make skin appear whiter.
Further Reading:
Last Words: So, this was our handpicked list of Best Photo Editor App and we shared the top 15 best free Photo Editor App for Android smartphone. Hope you have enjoyed this article. Let me know your views about this article in comments and also don't forget to share which one is your favorite picture editing app? Which photo editor app do you frequently use?