How to Auto Post in Multiple Facebook Groups at Once. Facebook is the No.1 & most powerful Social media platform for bloggers, advertisers, internet marketers, brand to promote their business. Once you publish an article on your blog/website, you need to share it among the big amount of audience to get traffic.
If you don't expose your latest post on Social media then How others will come to know about your post.
Facebook Groups are the first and best way to expose your new post. As Facebook has the huge amount of users, you can drive a good amount of traffic to your blog by Sharing your Post into the Facebook Groups.
Are you a Blogger, internet marketers etc? Then, I hope you have joined lots of Blogging Facebook Groups or others of your Niche. But, if you share your posts in all Facebook Groups manually then It will eat a lot of valuable time.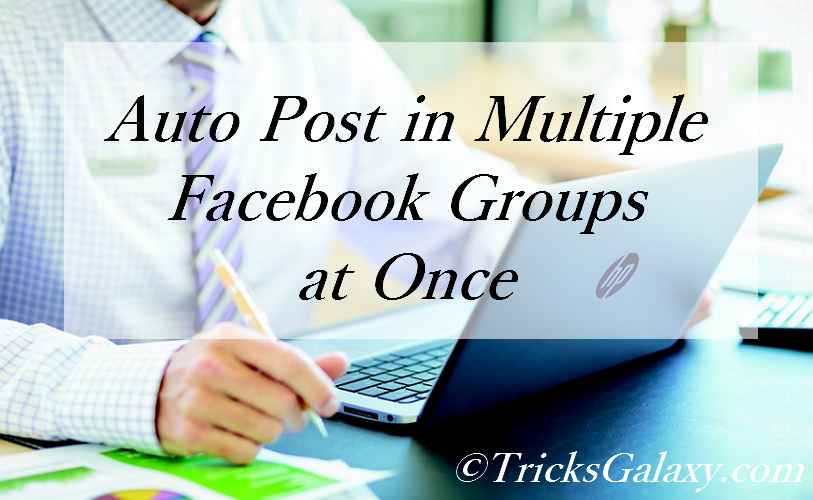 Today, I'm going to Share my personal method to Post in Multiple Facebook Groups at Once. That means you can share your latest or any post into multiple groups on Facebook may be 10, 20, 50 or 100+ in just 10 seconds.
The interesting point of this Facebook Auto Poster Trick is that you do not need any Auto Poster Script or Websites, It's totally official and free.
Hope it will save your valuable time and internet data which would be consumed in browsing such Groups otherwise. Below are the tricks for posting in multiple groups without script or codes.
How to Auto Share your Post in Multiple Facebook Groups:
There are two processes you have to follow for Posting in all Facebook groups without Script.
Collecting Email Addresses of Fb Groups: This step is not easy but also not difficult. It is a little bit time-consuming but the one-time process.
Posting into Multiple FB Groups: This process you need to follow whenever you want to share your posts in these groups.
# To Collect Email Address of Fb Groups:
At first, you need to have a list of Username of all Facebook Groups where you want to share your post.
Open any Group in your browser and collect the Username from their URL. See the example from the URL of an Fb Group.
If the Facebook Group URL is https://www.facebook.com/groups/TricksGalaxy
Then you need to collect Username which is "TricksGalaxy".
Join lots of Facebook Groups in your niche and paste all the Username of all the Facebook Groups (where you want to post) into Notepad or any text editor.
Once you made a list of Username, you have to create Email Address of those groups from their username, don't worry it's too easy. Just add @groups.facebook.com after username which will look like below e-mail.
Username@groups.facebook.com
Now you have the

list of Email Address

of that Fb Groups, just separate it with a comma (,)
# Trick to Post into Multiple Facebook Groups:
The main job/trick starts from here.
Login to your Email/Gmail which you have used to create your Facebook account or which is currently set as Primary Email in your FB Account.
After that, click on Compose mail option.
In BCC field, paste all email addresses which you have collected in above steps.
Now enter your mail/post with text, links etc whatever you want to post into those Groups and finally click on Send button. You're done.
Now go to any of that Facebook Group, you will see your post has been successfully posted there.
Recommended: How to Delete Facebook Account Permanently in 2018
Final Thoughts:
Alternatively, you may also use Auto Poster Script Code which allows you to Publish your post in all Facebook Groups.
But, I recommend not to use them because of some security issues, you may get red-flagged or banned for sometimes for using that script and then you can't post anything in any group in the banned period.
Here, I have shared the best method, one can call this the "Official Way to Share Post in Multiple Facebook Groups in One Click" without any Script Code Just Using Gmail. Hope you liked it. Share your feedback in comments.