Looking for the Best Apps for Rooted Android?
Well, here I have shared Top 50 Apps if You've Rooted your Android. These root apps are for Rooted Android users for almost every needs.
There are lots of reason you might want to root your Android phone.
Whatever was the reason to Root your Android, if you've rooted your Android smartphones then you have already crossed the line and capable of doing the things a non-rooted user can dream of it.
Now, you have full control over your Android smartphone.
IN CASE: If you've still not rooted your Android then here are Top 10 best app to Root Android with or without PC.
I have shared best 50 Apps for Rooted Android phones by using which you can easily tweak your phone and bring it to the next level and you'll say "I have unlocked the world of amazing Android apps and mods"
These root apps offer many tweaking options to enrich your Android device in terms of Performance, Appearance, battery life etc.
So, have you rooted your Android and ready to explore the list of best apps for rooted Android smartphones? Let's begins.
Top 50 Best Apps for Rooted Android: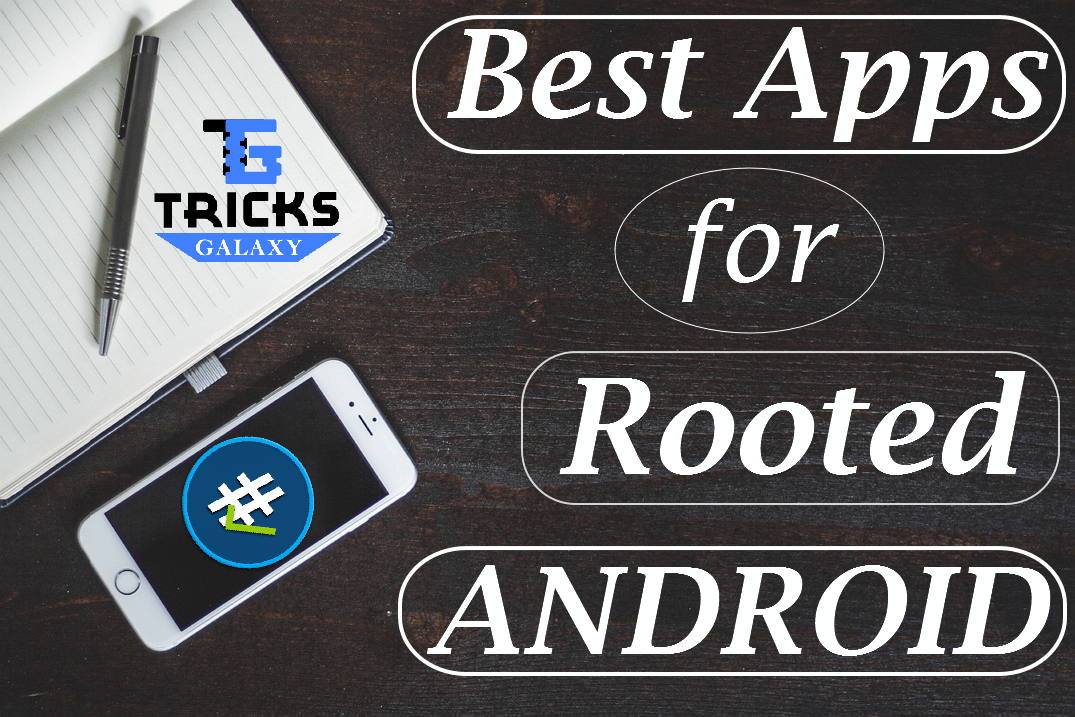 Here is the most awaited list of best Apps for Rooted Android phones which helps you to get most out of your Android phone.
These apps take advantages of the root permission to control the Android operating system and the device in order to provide the best customization for you according to your needs.
There are multiple best root apps available on the market for the same purpose. Here we brought to you the latest list of my favourite and handpicked best apps for rooted android.
Best 50 Root Apps for Rooted Android:
#1

Lucky Patcher – Powerful App for Rooted Android

Lucky Patcher provides complete control over on every installed app on your Android device.

You can get rid of exercise ads, edit the permissions and take backups for all apps.

However, you need to root your device to avail these features by using Lucky Patcher.

So, if you've rooted Android device then Lucky Patcher is one of the best root apps for you.
#2

Xposed Framework – Must Have App for Android

Xposed module is one of the best solutions for Android users. It has features like custom reboot menus, theme modifications, and so much more.

It supports the material design, and so it looks fantastic. You can toggle it (on/off) on the go. It means that you can flash (OTA) update, disable Xposed and reboot without any issue.

You can re-enable Xposed modules to get it back whenever you desire. Isn't it cool?

Further Read: Top 20 Best Xposed Framework Modules (Amazing List)
#3

Titanium Backup Pro – Best Backup/Restore App for Rooted Android Phones

Titanium Backup apk is an excellent backup tool or backup restore app for Android that lets you backup, restore, freeze apps and data. It can safeguard all system apps and external apps on your SD card.

Titanium Backup app lets you do a 0-click batch and scheduled backups. It won't close any app during this process.

By using this root app, you can move the app date from/to SD card. If you're looking for any best Backup-Restore Apps for your rooted Android smartphone then Titanium Backup Pro is perfect for you?
#4

AdBlock Plus – Perfect AdBlocker App for Rooted Android Devices

Do you want to get rid of ads on your Android device once and for all? You should try Adblock Plus then. It's the best app to go ad-free on your mobile without a doubt.

AdBlock Plus has been removed from Google Play Store recently. You can go to the official website (Adblockplus.org) and download AdBlock Plus.apk file for free of cost.

So, I can say AdBlock Plus is the best ad blocker app for rooted phones.
#5

Greenify – Optimize Apps on Rooted Android

You must have heard about Greenify app if you are a rooted Android user.

It's one of the most popular apps to optimize your smartphone to get maximum performance on your rooted Android device. Greenify app is a potent app to optimize running applications on your Android device.
#6

SuperSu: – Manage Root Access to All Apps

SuperSu is yet another popular app among rooted Android users. It lets you manage rooted access to all apps in a smooth interface and user-friendly manner.

So, do you want to control root access to every root app installed on your Android phone? You must download SuperSu on Android your smartphone or tablet then.
#7

ROM Toolbox Pro – Best app for rooted Android

Looking for an app to manage root, ROMs etc. on your Android device?

You should take a look at Rom Toolbox Pro APK. It makes rooting hassle-free with proper controls. Also, it takes care of ROM and works as an app manager.

You can understand by its name that it allows you to install, and manage ROMs. But you can manage apps to block or force stop as well.
#8

Root Explorer – best file explorer for a rooted Android phone.

Root Explorer is a file manager to browse hidden and unavailable files from your mobile. It lets you access hidden, locked and even most secured files quickly.

You can consider it as an ultimate file manager for a rooted Android device. It lets you tweak root directories, system folder (with permission), text file etc.
#9

Quick Boot – best booting app for Android (Rooted)

Quick Boot is an excellent app for all rooted Android device users. You can take a boot and use bootloader with one touch.

It requires root access to run on your device.

You should install Quick Boot if you want to boot, reboot, turn off or boot into recovery mode in advance way. Also, you can make a shortcut/widget for one-click boot on your home screen.
#10

WPS WPA WiFi Tester (Root):

WPS Wpa Tester App helps you to find out whether WPS protocol has an issue or not.

By using this app, you can check whether any wifi network is vulnerable or not. You should have a rooted Android device to use WPS Wpa Tester or else it won't work properly.

It shows every password with all connected Wi-Fi networks apart from checking the security of point of access.
#11

Android ID Changer:

Android ID Changer lets you modify/view Android_ID to a custom value.

It acts as a system app, but we can use it as a standard app with the sqlite3 as well. It can make a random no. of valid ANDROID_ID value.
#12

Terminal Emulator:

Terminal Emulator allows you to run Linux OS on your Android device that means you can use Linux command lines on your smartphone or tablet.

Kindly remember that it can't emulate video games. You can access the Linux command line and run from your Android device. It would be helpful to install Linux commands from your SD card.

You can tweak various things such as color, fonts size, keyboard type etc. on your mobile. Furthermore, you can insert widgets with direct access on your desktop.
#13

XPrivacy

Xprivacy hides all of your personal information from apps installation.

You share your info whenever you install an app. But you can use Xprivacy and send fake data to their server without any hindrance.

You should try this app if you don't want to share your info with the app servers.
#14

WiFi Kill App (Root*)

Wifikill.apk is an excellent Android app to disable internet connection of others on the same network.

Hence, you will get full bandwidth from the connection.
#15

Repeti Touch:

RepetiTouch allows you to record and reply at ease, unlike any other Android apps. Just click on the record button and begin recording. You should monitor on touch events as it can cause some problems if you don't pay attention.
#16

Tasker

Tasker is an awesome Android app for automating tasks on your phone. It's an amazing app that you can download for free of cost on Google Play Store.

You can automate settings to SMS with more than 200+ inbuilt plug-in. No kidding. It lets you make your own standalone apps to sell or share as well.

You must try Tasker on your Android device right now.
#17

DPIChanger

DPI Changer allows you to tweak DPI on your Android smartphone. You can get some extra free spaces by using this app. Are you interested in downloading this free app? Just go to Play Store and install it on your device at once.
#18

SetCPU:

SetCPU is an extremely necessary app for tweaking CPU settings on a rooted Android phone. It enhanced your Android device performance and battery.

You can use SetCPU with several setting like when your phone sleep or charge or run particular apps and much more.

It enables a voltage control menu to save more battery by proper charging.
#19

Flashify:

Flashify is an excellent tool to retrieve lost data from your Android smartphone or tablet. Did you lose any important file?

You must download Flashify to recover it at once. Then you must download the APK of Flashify Root from this post or anywhere to done the job easily.

It's the best Android app for recovering lost data among all other APKs in this category undoubtedly.
#20

Link2SD

Managing files isn't very easy always for Android users. Plus, it takes a fair amount of time from our busy life as well.

So, what should you do? Isn't there any faster solution?

Yes. There are many tools available on the Play Store which makes the kind of difficult to pick the most appropriate one most likely.
#21

Nandroid Manager:

Nandroid Manager is a complete tool for taking Nandroid backups. It lets you recover data from your Nandroid like apps+data, text messages, call logs, and so on.

Furthermore, you can flash memories with this app too. It is compatible with Nandroid backups from TWRP and Clockworkmod (v5.xx and v6.xx) recoveries.
#22

Dumpster:

Dumpster app is similar to recycle bin in Windows with a twist. It allows you to retrieve deleted files after recycling from your phone.

It lets you recover all files like pictures, music, videos, SMS etc. Just select the files and click recover to get it back. As you can see that it requires only two clicks.

That's all. You can call Dumpster as Recycle Bin for Android, of course, it needs root access to perform this function smoothly.
#23

GL Tools:

GLTools is a custom OpenGL driver i.e. compatible with OpenGles 2.0. It doesn't support x86 processor (Galaxy Tab 3).

It comes with a custom recovery mode; you can flash uninstall_gltools.zip for recovery always.
#24

Servicely:

Are you facing quick battery drain on your Android apps? It could happen for several reasons. But the most common reason would be background apps.

You should Servicely after rooting your Android smartphone or tablet. It checks every minute to see if there are any unnecessary apps.

Just keep in mind that it won't kill foreground apps and it makes sense after all. You wouldn't want to close the app which you are using right now. It takes care of background apps solely.

You can enable/disable Servicely whenever you need.
#25

SD Fix:

Are you facing "SD card error" for a while? Is your phone's battery draining quickly?

No problem. Just leave everything to SD Fix Tool. You should root your smartphone before running this app.
#26

System App Remover:

System App Remover lets you uninstall a system app, regular apps, move apps from phone to SD card, SD card to the phone, install APKs and delete as well. Keep in mind that it requires root access to use this app.
#27

Better Battery Status:

Battery drain is a major concern for all Android users nowadays.

But you can minimize your concern by using Better Battery Status app. It detects all app which are inactive and consume battery unnecessarily.

It allows you to analyze the performance of your Android device to find out the reason behind quick battery draining. You can try Better Battery Status to enhance your smartphone battery backup.
#28

Device Control:

You can manage various features of your smartphone or tablet through Device Control app. It comes with some additional features such as App manager, Editors, Entropay Generator, Wireless File Manager and much more.
#29

Boot Animations:

Boot Animations show up at the startup of your Android phone. You need to root your device to install custom boot animations.
#30

Viper4Android:

Are you unhappy with your current sound quality on your Android device?

You can try an audio optimization APK to improve the quality. The app is known as Viper4Android i.e. compatible with both smartphone and PC.
#31

GMD Gesture Control:

Wouldn't it be cool to control your Android phone just like iPad?

You can do it by installing GMD GestureControl APK. You will be able to control your Android device with gestures like just swipe fingers to hide status bar and repeat the same to unhide as well.

Plus, it has many more features to make your phone like an iPad.
#32

Root Call Blocker Pro:

Root Call Blocker Pro is a potent call, SMS, MMS blocker for Android users. You must root your device before installing this app on your phone.
#33

Screen Standby #Root:

Screen Standby takes care of outgoing calls by calling *77# through authentic activation. It doesn't store your personal information, unlike any other apps.
#34

Root Firewall:

Looking for a powerful ad-blocker? Want to prevent over-billing, battery drain and your privacy? You should take a look at Root Firewall app if your answer is yes.

It allows you to block internet access, differentiate 3G and Wi-Fi data for particular apps as well.
#35

Chainfire 3D:

Are you unable to play high-graphics Android games due to your low-end specs? But there is a way to play such games with your Android smartphone?

Chainfire 3D makes this task possible.

It's like a middleman app which comes between the game and Processor/GPU. Games lag on low-end Android phones because it can't handle the load of high-graphics to display proper output from the game.

But Chainfire 3D catches the graphics of the game and turn it into low quality and revert to processor/GPU next. You will be able to play HD games by this way.
#36

Pimp My ROM (Beta):

Are you looking for a decent app to customize your Android's ROM without any hassle? You can go with Pimp My Rom (Beta) app then.

It takes a backup before installing a new ROM. Hence, you can go back if something goes wrong along the way.

You can add numerous tweaks and mods to customize your ROM. Also, you can change values of CPU and GPU, decrease black screen, ad-blocker and disable boot animation too.

Pimp My Rom is safe, sound and simple. What else do you need to install Pimp My ROM (Beta) app?
#37

CatLog – Logcat Reader:

CatLog is a debugging Android app. It helps to find stack traces. You will find everything in the system log i.e. Logcat.
#38

Donkey Guard – Best XPrivacy alternative:

Donkey Guard lets you access private info. But you must root your device.

Also, it requires Xposed Framework to run. You can apply 42 restrictions for every app on your phone via this app.
#39

RAM Expander by ROEHSOFT:

Not enough RAM? Is it possible to increase memory with an external app?

Yes. You can expand your phone's memory by using RAM Expander by ROEHSOFT. It need root permission to run on your device, though.
#40

SCR Screen Recorder:

SCR Screen Recorder is a perfect solution to capture screen from your smartphone or tablet directly.

It runs on a hardware accelerator for recording. It's one and only app to support Tegra device alongside Nexus 7.
#41

Total Commander:

Total Commander is an astounding file manager for Android. It has a desktop version as well.

The best thing is that it doesn't show any ads. You can download it from Play Store for free.
#42

Disable Service:

There's nothing much to say about this app. You should've understood after looking at the title of this app.

Disable service is an excellent app for stopping background services like "push service" , "upload service" and "pull ad service" and much more.
#43

Drony

Searching for an outstanding Android app for conversation? You should download Drony on your smartphone or tablet then. It's available on Google Play Store.

The interface is simple, clean and user-friendly for communication.
#44

KingRoot:

KingRoot is a popular app for rooting among Android users.

You can root your device within a few moments with this app. Just keep in mind that your Android device is above 4.2.2 before running on your mobile.
#45

Network Spoofer:

Network Spoofer allows you to change site on another people computer.

Yes. That's right. But what can you do exactly? You can flip images, alter fonts, redirect sites, swap YouTube videos and so on.
#46

ChameleMAC App – Change WiFI Mac Address:

ChameleMAC app developed to overlook eavesdropping and data mining. It allows you to change your MAC address with a single click.
#47

OG YouTube App:

Looking for the best way to download YouTube videos on your Android device?

You should try OGYouTube app then. However, there are some other apps for this purpose as well. It looks similar to Youtube regarding interface and features. You can download in all available resolutions and MP3 too.

What are you still thinking? Download the best YouTube downloading app for Android, OGYouTube now.
#48

Game Killer:

Gamekiller Apk lets you generate coins, gems etc from your favorite Andriod games. It has received over 10 million downloads from across the world.

But it's not available on Google Play store at present. Game Killers is very easy to use, and it's compatible with many games on the latest Android OS like Lollipop and Marshmallow.

Are you a regular gamer? You can't afford to miss this opportunity. Install Game Killer now.
#49

Instwogram:

Do you need to use two Instagram account on a single phone?

You should download Instwogram app then. It makes a clone of official Instagram to use another account for logging in.
#50

LiveBoot:

LiveBoot shows a startup movie to display logcat and dmesg outputs on the screen.

You can set the background as transparent to overwrite the previous animation. LiveBoot runs on Android 4.3+, but it would be better to use it with Android 5.0 and above versions.
Conclusion

:

This was the list of top 50 best apps for rooted Android phone.

Most of the root apps from this list works on Non-rooted Android too but it needs root access for full functioning.

So, rooting is necessary to enjoy this root apps on Android. I hope you have rooted your Android if not here is How to guide on Best Apps to Root Android w/ or w/o PC

These root apps work well on Rooted Android smartphone. There are various benefits of rooting Android and these apps are just one of them.

There are many more interesting things to do after rooting Android. Hope you have liked this article on Best Must have Apps for Rooted Android Phone. If we have missed any best root apps then share your views/questions/ideas in comments.