Looking to download Android ID Changer App to change Android ID of your Smartphone? Well, here it is…
Most of the Android Apps track your Android Device ID in order to provide recharges & offers for the limited time for a specific Android mobile. But once you Change Android device ID then no one will know what's your real Android Device.
You can use that Offers for Unlimited Times. So whatever may be the reasons if you are looking for any Trick to Change Device ID of your Android then your are at the right place. Just you need one app called "Android ID Changer Apk" or ID Changer Pro"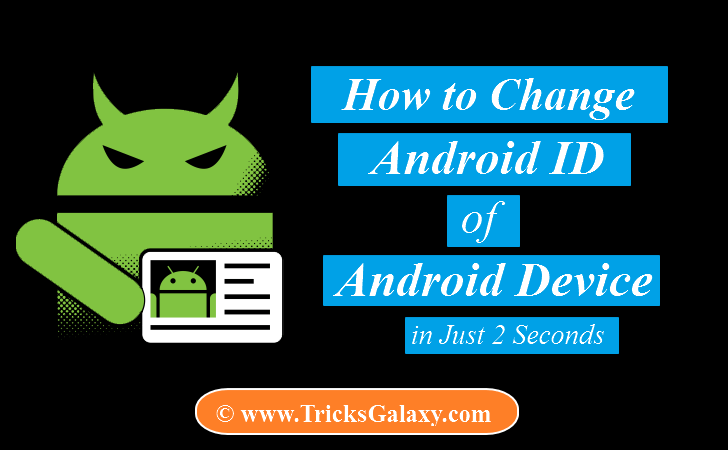 Have you remembered one popular post which I have posted at TricksGalaxy that is about "9 Best Interesting Things You Can Do After Rooting your Android".
And in the 5th point I have mentioned that you can easily change your android device id. Many users started contacting me How to Change Android Device ID, How to Change Android ID….etc etc.
So on our reader's request and for all those who are looking for the App or Steps to change android id I am today going to show you How you can change ID of your Android device. That's the main topic of this article. Yeah…It's too easy. But before going to the main topic let me share some info about What is "Android Device ID" & What's the minimum requirements to change Android Id. Let see.
What is Android ID?
Android Device ID is a unique alpha-numeric identification code associated with your mobile device. When we change the device ID then no will can track us.
Actually, many websites & Android applications track your Android device id and make a log of your data. But once you change your android device id no one know you who you are, what's your real Android phone. Android Device ID is the main identity of your Android device. Also, the Android Device ID may be needed if you need some assistance from Customer Support with certain issues.
Requirements to Change Android Device ID?
An Android phone.
Unknown Sources Enabled (In case if not enabled or to enable it, Go to Setting >> Security >> Tick on "Unknown Source")
Android ID Changer App APK File (shared below)
Your Android must be Rooted ( In case if you haven't rooted your Android, Here is Top 10 Apps to Root your Android device with/without PC)
Download Android ID Changer APK Latest App:
[sociallocker]
Android ID Changer App is very small in size (around 100KB) but powerful app by using which you can change your Android Device ID in just a few seconds. So, wanna download it? You can download Android ID changer apk file from the link provided below. It's 100% free & safe to use. I have tested this ID changer app personally before uploading it. Ok, below is the download button.
[/sociallocker]
How to Change Android Device ID of your Android Phone?
I think there is no task easier than changing the Device ID of an Android smartphone. Because it's a very easy process. Below are the necessary steps that you can follow to change Android id quickly.
Steps to Change Android ID in Just 2 Seconds:
First of all download and Install the app name "Android ID Changer" (from above download section)
Once you installed it, open the Android ID Changer App.
Then it will ask for

root permission

just

Grant it

(allow it).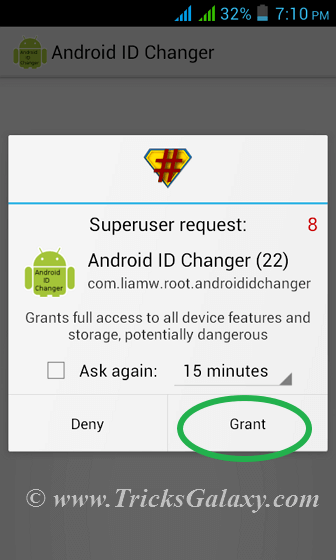 After that Android ID Changer will show you your Current ID.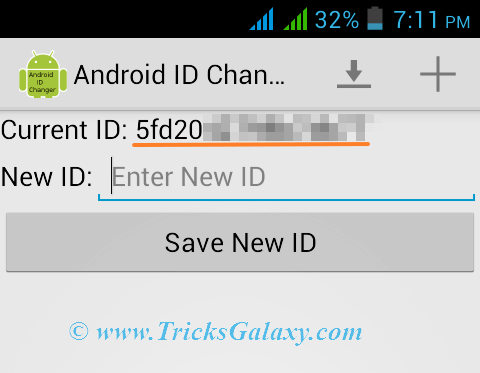 I recommend you to take backup of your Current ID before your change it because it may need in future.
Just click on Download Icon from the top right corner and in the next screen click on Backup ID, and you're done.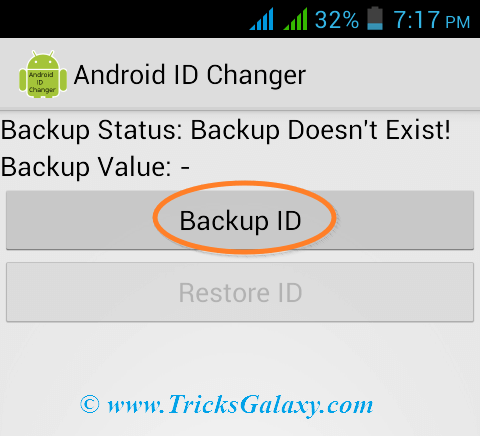 Hurray..! It's Time To Change Android ID in 2 Seconds.
Click on + icon from Top Right Corner, It will generate a new ID and after that click on "Save New ID".
Also Read:
Conclusion:
In this post, you have learned How to Change Android Device ID of your Android smartphone with simple Android ID Changer Apk App. You can also change Your Android Device ID to Samsung, LFY or Other Handset as per requirement. As I already said that Many Android apps provide a particular recharge or other offers for an Android device only for limited time. So it's time to bypass those limits. Change your Android ID in 2 Seconds. Enjoy & Stay Tunned for more Tricks.